Shipping terms define what the seller and buyer should do, and who should pay for the costs and bear the risks in the process of cargo transportation. Among these terms, EXW is a common one. If you are considering using EXW shipping term, this article will help you better understand it from the following aspects:
What Is EXW Meaning in Shipping?
EXW or Ex-Works, is a shipping term. It means that the seller only needs to deliver the goods to you at his factory or warehouse. After that, you get ownership of the goods and have to bear all the risks and costs.
Suppose you buy a batch of cups from a seller in Yiwu, China. And you will ship the cups to your warehouse in Los Angeles, USA. Then you need to:
Contact freight forwarder to ship your cargo from the seller's factory to your warehouse, including picking up goods at the seller's warehouse, shipping your goods to Los Angeles by air or sea, and then sending your goods to your warehouse.
Pay all related shipping costs, which also include various other handling expenses during the transit.
Deal with export customs declaration and pay related fees.
Handle import customs clearance and pay import duties & taxes.
Bear the risk of loss and damage of the goods in transition.
As you can see, you are responsible for everything from the seller's warehouse to your warehouse. The most inconvenient thing for you is to make export declarations. This is a flaw of EXW delivery term. In actual business, you can ask your seller to help you declare the export and you pay the declaration fee.
So, a very important thing is to confirm with the seller who makes the customs declaration and which company's title to declare at customs. Generally, if you import from China, your seller will want you to use his title to declare so that he can apply for a tax refund later.
If you declare by yourself, please ensure that the seller provides you with the correct declaration information. If the seller's information is wrong, it will be troublesome for customs clearance, especially in case of random examinations. And you will have to bear the additional cost and results of delays. Also, the seller should offer you required documents like Bill of Lading, packing list, invoice, Certificate of Origin, etc. 
In practice, if the seller pays the shipping fee, customs declaration fee, etc., then he will eventually count these costs into the product quotation. For example, the original price of a product is $2. If the seller adds other fees to the product price, then the unit price of each product may become $5.
Under the EXW shipping terms, the seller does not need to pay any costs for the process from his warehouse to your warehouse. Thus, EXW price is the original manufacturing price of the products. If you just want to compare the product price of two factories, you should ask the seller for EXW price.
And if you sign an EXW price term with your seller, generally the seller will require you 100% payment before shipping. Because once the goods leave the warehouse, they will belong to you. The seller can no longer control them. So the seller will not be at ease if the balance has not been paid, while the goods are already in your hands.
JingSourcing helps you get competitive product prices from our reliable suppliers.
When you import products from other countries, if you are familiar with the exporting country or you have offices there, then you can choose EXW. It will be easier for you to deal with customs clearance and shipping in the exporting country. Also, you can arrange the most cost-effective transportation method so that you can well control the logistics time and costs.
In addition, if you want to use express, such as FedEx, UPS, etc., to deliver goods, you should ask the seller EXW Price. The express company will go to the seller's location to collect goods.
However, in practice, more buyers will choose other shipping terms like FOB, CIF, DDP, etc. Because many buyers are not familiar with the export country. It will be trouble for them to pick up the goods from the seller's factory and deal with export formalities. They often choose other shipping terms to let sellers help them handle these things. Of course, the seller will include the fees he pays into the product quotation.
To distinguish EXW from other shipping terms, we will still use above example: you buy a batch of cups from a factory in Yiwu, China, and will ship them to your warehouse in Los Angeles, USA
FCA shipping term means that the seller will first send your goods to an agreed delivery location, usually the warehouse of your freight forwarder or agent, and deliver the goods there. Also, the seller has to deal with exporting customs declarations.
While under EXW, the seller only needs to wait for your truck to pick up the goods at his factory. However, in practice, you can also negotiate with the seller to help you send the goods to the warehouse of your freight forwarder or your agent, and deliver the goods there. This sounds similar to FCA.
But in fact, they have one major difference. Under EXW, whether the goods are delivered at the seller's factory or at your designated warehouse, the seller will not be responsible for export customs declaration, while under FCA, the seller has to do this.
Compared with EXW, FCA seller also pays the cost from the factory to the delivery location and the export customs declaration fee, which are finally included in the FCA quotation:
FCA price = EXW price + shipping cost to the delivery location + export declaration fees
Compared with FCA, FOB seller will not only handle the export declaration and pay the fee, but also send your goods to Port of Ningbo (the nearest port to the seller) and deliver goods to your freight forwarder there. After that, you will be responsible for everything and costs.
So the main difference between EXW and FOB is whether the seller is responsible for export declaration, shipping the goods to a nearby port, and bearing these costs and risks during the period. The final FOB quote you get will also include these fees.
FOB price = EXW price + shipping cost from the factory to Ningbo Port + export customs declaration costs
If you are an experienced buyer and have your own freight forwarder to help you ship from a China port to a US port, you can choose FOB.
Based on FOB, the seller also needs to help you to send the goods from Ningbo Port to Port of Los Angeles, pay the freight, and purchase cargo insurance. The seller should be responsible for the risks and costs from the factory to Port of Los Angeles. The buyer should bear all costs and risks after that.
So the CIF quotation you get is:
CIF price = EXW price + Export declaration costs + shipping cost from the factory to Port of Los Angeles + cargo insurance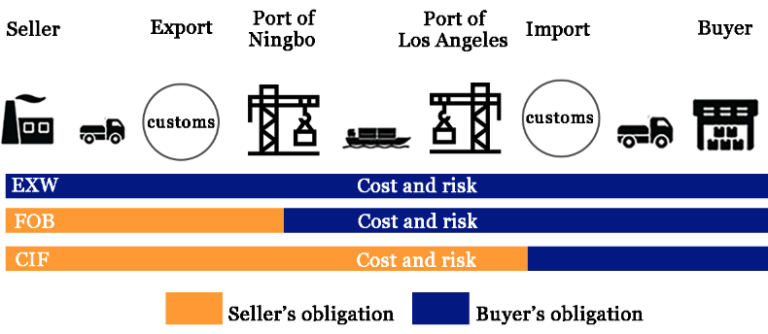 If you are a new buyer without the ability to arrange shipping from Port of Ningbo to Port of Los Angeles, you can choose CIF. You only need to find a local freight forwarder in your city to help you collect goods and send them to your destination.
FOB and CIF are two most commonly used shipping terms in international trades. Many transactions are done under these two terms. As a buyer, you'd better have a more detailed understanding of them. 
JingSourcing can help you ship under FOB and CIF.
If under EXW, you need to take the most responsibility and the greatest risk. But DDP is just the opposite. From the seller's factory to your door, the seller will help you deal with all import-related matters, such as all transportation,import and export customs clearance and duties, etc., and bear all related costs and risks. It does sound a lot easier than EXW. You can devote more energy to running your stores.
DDP price = EXW price + shipping cost from factory to your door + import and export customs clearance fees + import duties and taxes
If you do not have any shipping resources, or you don't want to spend time handling things related to shipping, you can choose DDP. But your seller should have the ability to provide door-to-door services. Also, you can choose DDU. The main difference from DDP is that under DDU, you have to pay import duties and taxes by yourself.
JingSourcing can help you ship from door to door.
When you are comparing the total cost of buying products from China, be sure to calculate all the costs from the seller to your door. You can't just compare the quotations given by the sellers. After all, sometimes import duties and the cost from the port in your country to your warehouse are also large expenses, while some shipping terms, such as EXW, FOB, and CIF, do not include them. The cost details are very complicated and you'd better ask your seller, freight forwarder, or sourcing agent.
After reading this article, hope you know everything about EXW and the differences from other shipping terms so that you can choose the right one for your business. If you have any questions, please leave a comment below.
We are JingSourcing, a leading sourcing company in China. We specialize in solving any problems of importing from China for you. From buying, customizing, product quality inspection to shipping, we can provide you with excellent services and competitive prices. Feel free to CONTACT US if you need any help when you import from China.
Further Reading about Incoterms