If you're looking for reliable and suitable Chinese suppliers for your upcoming shoe business, you've come to the right place. China has long been the world's largest producer and supplier of footwear, offering a wide range of high-quality shoes at competitive prices.
This blog serves as a comprehensive guide, highlighting key information for sourcing shoes from China.
Top 5 wholesale shoe markets in China
China is the world's largest footwear manufacturing base, accounting for nearly 70% of global shoe production. Additionally, China is a major processing and production hub for internationally renowned shoe brands like Nike.
In China, there are countless shoe factories, with the main industrial clusters located in the following four regions:
Guangdong province: represented by Guangzhou and Dongguan, mainly produces mid to high-end shoes.
Fujian province: represented by Quanzhou, Jinjiang, and Putian, mainly produces sneakers.
Zhejiang province: represented by Wenzhou, Taizhou and Yiwu, mainly produces mid to low-end shoes.
Sichuan province: represented by Chengdu, mainly produces high-quality women's shoes.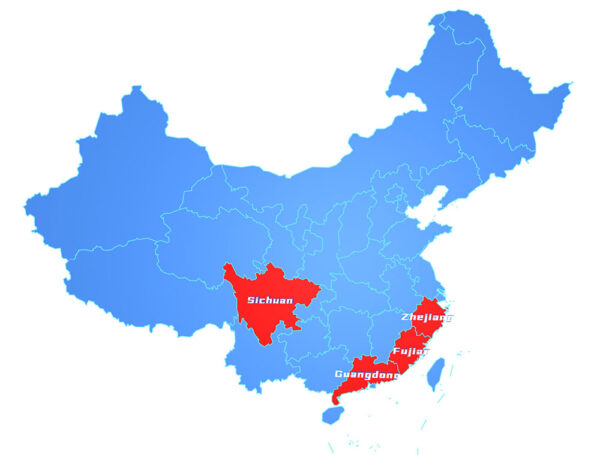 These provinces have rich experience and specialized industrial chains in shoe production. So you can get high-quality and diversified shoe choices. Below, I have listed 5 well-known shoe markets in these areas.
Guangzhou Metropolis Shoes City (广州大都市鞋城)
It is the largest wholesale shoe market in Guangzhou, with a history of over 100 years. As the leader in the shoe industry spot wholesale market, Metropolitan Shoes City mainly sells medium to high-end genuine leather shoes. Here, you can find a wide variety of genuine leather footwear products.
Fuzhou Da Shoes City (福州大鞋城)
Fuzhou Da Shoes City is renowned for its vast scale and diverse range of footwear products. It supplies various types, including sneakers, leather shoes, sandals, etc.
For businesses and individual buyers seeking shoe suppliers or purchasing footwear products, Fuzhou Da Shoes City is a place worth considering. Here, you can find a wide variety of shoe styles and brands that meet different requirements and budgets.
Jinjiang International Shoes & Textile City (晋江国际鞋纺城)
Jinjiang International Shoes & Textile City offers a wide range of footwear products with complete varieties and specifications, including sneakers, genuine leather shoes, sandals, etc.
The professional market primarily deals with synthetic leather, hardware accessories, shoe soles, and other footwear-related materials. This enables customers to conveniently source all categories of shoes and materials.
Wenzhou International Shoes City (温州国际鞋城)
Wenzhou International Shoe City is a global footwear trading center. It is a massive shoe market that offers millions of shoe products ranging from ordinary sneakers to high-end fashion shoes.
The trading method in Wenzhou International Shoe City is also unique. It follows the "one street, one type of goods" approach, which means that each street specializes in a particular type of footwear, allowing you to find a wide variety of similar shoes on that street.
Dazheng Shoes Market (成都大正鞋城)
Dazheng Shoes Market is the largest wholesale shoe market in Chengdu, specializing in the wholesale of medium to high-end footwear products. It is a large, systematic, intelligent, and distinctive wholesale city for shoes in the central and western regions of China.
The first and second floors are dedicated to branded shoes, the third floor is for fashionable casual shoes, and the fourth floor is the international brand exhibition area.
B2B platforms dilemma: factory or trading company?
Many of our clients who want to import shoes prefer to directly find factories for production, rather than trading companies. They believe that factory prices are more affordable, but this is not entirely accurate. It depends on your business scale and specific situation.
If you need to buy various types of shoes, such as slippers, sneakers, and leather shoes, with a relatively small quantity for each type, it is advisable to choose trading companies. They are more likely to accept your small orders, and you can place orders with a same trading company.
Many wholesale websites in China, such as Alibaba and Made-in-China consist of approximately 90% of trading companies. It is easier to find suitable partners on these platforms to help you with production.
If you intend to import a large volume of a specific type of shoe, such as slippers, a factory would be a better choice due to its more competitive pricing.
However, finding a reliable and real factory in China can be challenging. Most Chinese factories are small-scale and focus more on production rather than marketing. Additionally, some factories primarily serve Chinese foreign trade companies, so they mainly publish their information on Chinese websites like 1688, making them difficult to find.
Therefore, I recommend directly engaging a trustworthy sourcing company like Jingsourcing to assist you in finding shoe factories. Jingsourcing has its own factory resources database, and can quickly match suitable ones based on your requirements. They are not only professional but also reliable.
Contact Jingsourcing to find shoe factories 
Practical advice when importing shoes from China
Pay attention to the shoe sizing chart
There are seven major shoe sizing systems worldwide, with the United States, United Kingdom, Europe, and Japan being the most common ones.
Each country and brand may have its unique sizing system and standards. The shoe sizing systems also differ between men's and women's shoes. Taking the example of a size 37 shoe in China, it corresponds to size 6 in the United States, 3.5 in the United Kingdom, 36 in Europe, and 22 in Japan.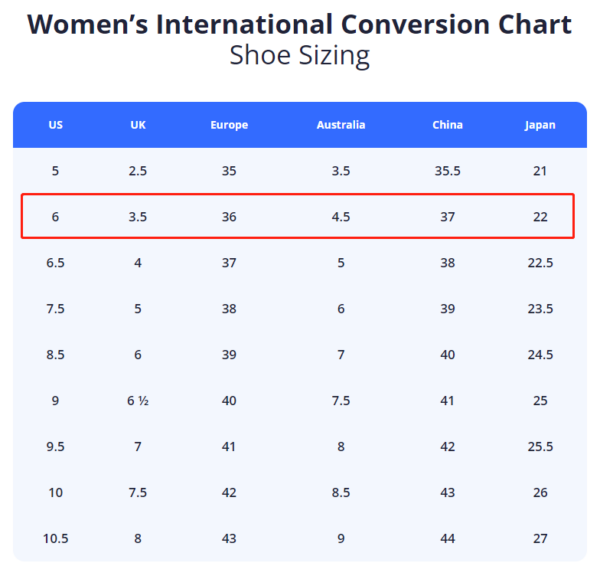 Therefore, before importing shoes from China to your country, you'd better inquire with your supplier about a shoe sizing chart to ensure accurate shoe sizing. Asking your supplier to attach a size chart to each shoe box is also important.
Know the shipping time to avoid outdated shoes
Different seasons and fashion trends can have an impact on the demand for shoes. If you plan to buy seasonal footwear or follow the latest trends, it is crucial to ensure timely ordering, delivery, and market availability. Therefore, you need to ask the supplier some questions, including product lead time, supplier's production capacity, and logistics arrangements to ensure the timely availability of the desired shoe styles.
For example, if you intend to import a large number of sandals from China for the summer season, it is essential to ensure that they are shipped before the summer begins. The same applies to winter or any other occasion where specific footwear is in demand.
Not import branded or fake shoes without authorization
There are many OEM factories of well-known shoe brands in China, such as Nike, Adidas, Converse, UGG, and so on. China also produces numerous domestic shoe brands, including ANTA, Li-Ning, and ERKE.
Whether you're looking to wholesale branded shoes like Nike or import Chinese brands, it is not possible. These factories have agreements with the brands, and the shoes they produce are exclusively supplied to authorized online and offline retail stores. If you want to obtain inventory for resale, you must first obtain authorization, and the prices are not cheap.
Another situation is that many factories in China cannot obtain brand authorization and mainly produce replica shoes for popular brands. Putian in Fujian province is known as the "source of 90% replica shoes in China" and has abundant production experience and a well-established industry chain. Some high-quality replica shoes even surpass the original in terms of quality and craftsmanship, while being priced at half or even less than the original.
Nevertheless, importing replica shoes from China is not permitted. Generally, suppliers will not sell large quantities of replica shoes to you since manufacturing and operating replica products is illegal in China. Additionally, even if you manage to wholesale from a supplier, there is a risk of customs inspections. If caught, not only will your goods be seized, but you may also face legal prosecution.
Jingsourcing safeguards your shoe import business
We can source a wide variety of shoes for you.
Jingsourcing is a leading sourcing company in China that has successfully assisted over 4,000 clients in sourcing shoes of various materials, craftsmanship, and styles. Apart from conventional leather shoes, fabric shoes, and rubber shoes, we offer a range of more functional shoe options.
Whether you need electrically heated shoes, air-conditioned shoes, height-increasing shoes, or trail illumination shoes, we can find the right manufacturers and suppliers to help you produce.
For example, if you are selling shoes in cold regions, we can help you find factories capable of producing high-quality electrically heated shoes. These shoes may incorporate special lining materials and carbon-fabric technology to ensure warmth and comfort in cold environments.
Source various shoe types by Jingsourcing 
We have extensive experience in shoe customization.
We have assisted numerous clients in customizing different styles of shoes. And we have a deep understanding of the technical requirements, craftsmanship processes, and material selection involved in shoe manufacturing.
With a professional design team, we can help bring your shoe ideas to life. If you can not provide a design sketch, simply provide us with a shoe image, and we can use tools like CAD to create parameter drawings of the shoe. In addition to traditional 2D drawings, we also offer 3D representations in formats such as STP, STEP, and STL.
This approach provides a clear visualization of the shoe's structure and the materials used, allowing us to consider whether certain parts such as the sole and heel require mold development. Personalized pattern printing or embroidery on the shoes is also possible.
We prioritize the production of a 3D-printed prototype, so you can observe the actual appearance of the shoe instead of investing thousands of dollars in creating new molds. The benefit of this approach is that if you are not satisfied with the prototype, we can make multiple revisions, whereas the cost of remaking molds will be higher.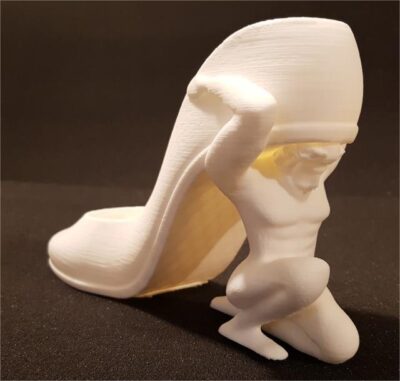 Design your unique shoes by Jingsourcing
We offer many extra services.
Our extra services include product inspection, factory auditing, personalized shoebox design, photography services, and warehousing. Furthermore, we can also arrange customs clearance and transportation. Our aim is to be a reliable partner for our clients, providing them with a one-stop solution to ensure a streamlined and efficient process throughout.
Enjoy the extra service of Jingsourcing