Shipping marks are important for shipments during international transit. So I write this shipping mark guide, with a focus on the following 5 aspects.
Believe that you'll have a better understanding of shipping marks after reading. You can navigate to related content via the above links.
What is Shipping Mark in International Trade?
In export and import, shipping marks can be any identifying word, picture, number, or symbol that designates the consignee, destination, weight, and related product info.

Simply put, shipping marks are kinda like the "resume" of goods. In global commerce, the relevant staff will get a rough idea of goods by their markings, no matter wherever products are. Benefitting from shipping marks,
Manufacturers can effectively calculate the weight and volume of goods and arrange transportation in the right way, reducing the risks of missing shipments or wrong delivery.
Customs officers can efficiently check and release the goods in batches by the easy-to-read box marks.
Carriers can quickly handle goods throughout the entire process, from the warehouse to the delivery and transit to the destination port.
Buyers can easily find goods in the port of destination and sign for them, saving time and energy.
As you can see, this "resume" makes it easier for all concerned to identify goods and handle them in the right way.
Most Common Type of Shipping Marks - Carton/Crate Markings
The most common type of shipping mark is the marking on crates/cartons, in which goods are packed. It can be the text info, symbols, and labels.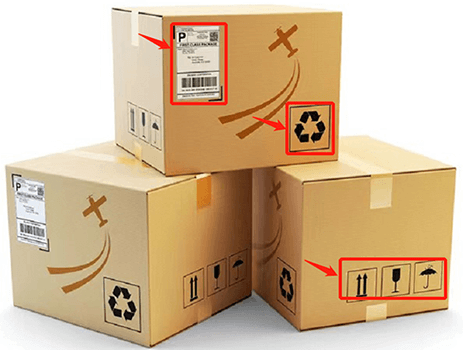 This type of shipping mark is important for goods imported or exported in batches, although there is no need to mark any info in the legal sense. Because such markings play a key role in the identification and handling of products shipped by sea, air, or land. Especially if your shipment is small and delivered in the way of LCL.
Suppose your goods are loaded into a shared container with another 20 orders. In this case, markings on your boxes can help handlers easily find the same batches, then unload and sort them in the right manner. If without key product and recipient info, your products are likely to be mixed up or lost when the container is unpacked.
So what should be marked on cartons/crates for international shipping? In real businesses, the following 5 marks should be covered.
1. Consignee Marks
Buyers need to provide basic info such as the company name and destination port, to take delivery of goods.
If buyers want, it is OK to add the company's logo, order number, plus prominent product info such as the size and color. With these details, it is more convenient for buyers to receive goods, and quickly distinguish products without opening the carton box.
2. Carton Number
Basically, suppliers will mark the total number of carton boxes and the serial number of a certain box. Suppose your products are packed into 250 cartons, your supplier will number these boxes from 1 to 250. Take the 15th box for example. It will be labeled as "CTN No.: 15/250". This mark is of great help to handlers when collecting, sorting, and dispatching your shipments.
3. Carton Size & Weight Marks
The carton size marks = the carton dimensions: Length, Width, and Height, i.e. "__ x __ x __ CM or INCHES." 
The weight marks = the gross weight and net weight of a single carton, i.e. "G.W.:xx KG or LB", "N.W.: xx KG or LB".
With the carton size and weight info correctly labeled, carriers can quickly calculate the shipment volume in CBM and arrange packages by using space as economically as possible. 
4. Country of Origin
Just as products are marked with the country of origin, their outer carton boxes also require this sign. If you import goods from China, there must be such a sign as "Made in China" or "Made in PRC" on your cartons.
5. Indication Signs
Handling Marks
As the most common type of indication sign, handling marks are visual symbols used to remind the transportation, loading and unloading, and storage personnel of dos and don'ts when handling shipments.
If your goods are fragile, the shipping packages should be marked with the signs for "handle with care" and "this way up". Such shipping mark labels clearly tell the people handling your packages the right processing methods against damage.
Dangerous Goods Markings
It is a must to stick dangerous goods signs on cartons if your shipment involves hazardous items such as flammable liquids and toxic materials. These pictorial warnings are used to tell people what to expect when packaging, transporting, storing, loading, and unloading goods. Dangerous goods markings are required to be permanent and easy to read. Here is a list of common dangerous goods labels for your reference.
Practical Template for Carton Shipping Marks
Based on the placement of shipping marks on cartons, we divide them into:
Main Mark/Front Mark — placed on the long side.
Side Mark — placed on the short side.
The two can be the same or different, without the special demands for the format. The key is to clearly show vital info concerning the consignee and product, plus necessary indication signs.
If buyers have no requirements for shipping marks, sellers will handle it based on their experience. Here I share a template of carton shipping marks for your reference.
Carton Marking Sample Template
Note:
For large orders, these markings are usually printed on boxes; for smaller orders, suppliers use labels in most cases. Either way, shipping marks have to be clear-cut, accurate, and hard to get blurred by friction or other influential factors. To this end, it is advisable to,
Use the direct printing method, which is easier to read than handwriting.
Use a color that is obviously different from the cartons', oftentimes black.
Choose waterproof ink and other printing materials.
Equally important is that you'd better confirm shipping marks with your supplier to ensure info accuracy.
If there is something wrong with the destination, your shipment is likely to be wrongly delivered, causing a big loss to you.
If the side mark is not correctly labeled, chances are that shipping marks might be different from those on documents. Once your cargo or container happens to encounter customs inspections, the checking will be much less efficient. And there are also possibilities of being detained by customs.
Amazon FBA Carton Shipping Marks and Requirements
There are strict requirements for goods shipped to Amazon FBA. First, all carton boxes should have the FBA shipping label. Moreover, all products require the FNSKU labeled on their outer packing box. Here's a quick overview.
FBA Shipping Label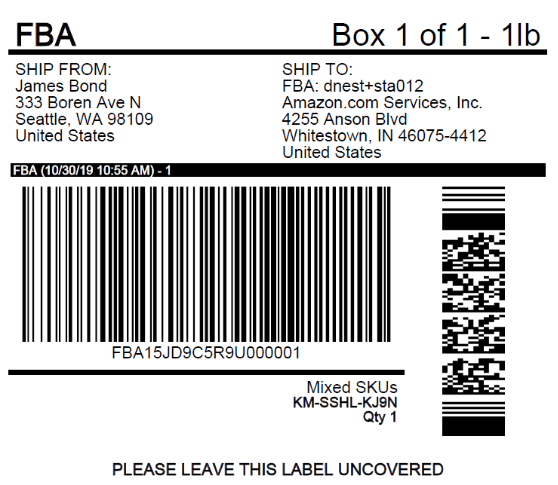 For each batch of FBA goods, Amazon sellers need to apply for the FBA shipping label based on the actual number of packages. Usually, your supplier will provide the necessary info for you to apply, including the carton size, weight, and actual quantity of items in a single carton.
The FBA shipping label includes the shipment ID: FBA xxxxxxx. If there is more than one carton box, the shipment ID will end with 001, 002, 003, etc.
There are 5 key requirements to keep in mind:
Add "Made in China" to the FBA shipping label or directly print "Made in China" on cartons, if goods are imported from China.
Stick the label on the box at least 1.25 inches from the edge, and avoid being put on the opening or corner. Besides, never cover the label with adhesive tape or anything else.
Make sure that there is no website info or the third-party logo on the box. If you are reusing boxes, remove all old shipping labels or markings.
Put a relevant label once your shipment is overweight. If you are an Amazon seller in the USA, attach a "Team Lift" sign on the box in case of a single oversized item that exceeds 50 lb; or attach a "Mechanical Lift" sign on the box in case of a single oversized item that exceeds 100 lb.
Place 2-4 FBA shipping labels on each carton, just in case of scanning failure caused by the stain or damage on the one label.
Last but not least, Amazon warehouse workers will relabel the carton once there is a lack of the FBA shipping label or the label becomes too blurred to be distinguishable. This not only costs extra money but also delays the sale of products.
FNSKU
It is a need to stick FNSKU on the outer packing of FBA goods. Amazon sellers can obtain this barcode. Any FNSKU you use on a unit must be unique and must correspond to one unique item. For example, each assortment type, such as size or color, must have a different FNSKU.

Make sure that FNSKU is clearly printed, scannable, and hard to fade. To this end, use a laser printer with a print resolution of 300 DPI at least; print it in black ink and on a white sticker. Besides, the FNSKU label size should be within the range of 1*2 inches – 2*3 inches.
If you are a new Amazon FBA seller in the USA, you might wonder who labels it? Typically there are 3 ways available.
1. Ask your Chinese suppliers to do it.
Oftentimes, this is free. Remember to clearly inform your supplier of labeling requirements. At this point, finding a reliable supplier is important, who will redo it in case of any adjustment.
2. Do it by yourself.
If this is your first small trial order for Amazon, you can consider spending time labeling it by yourself.
3. Ask the 3rd party Prep service company to do it.
There are many prep service companies in the US. These companies charge higher prices than China's. Make a choice according to your budget. If you use a prep service company in China, you are likely to find it is a purchasing company. Don't be surprised. Because in China, it is usually the sourcing company that plays such a role.
Let Jingsouring simplify your FBA product labeling.
Other 4 Types of Shipping Marks Plus Examples
All the aforementioned are shipping marks placed on cartons. According to where shipping marks are displaced, it is also common to see the following 4 types:
Product outer packing labels
Shipping pallet marks
Shipping container marks
Marks for shipping documents
Marks on The Outer Packing of Goods
Just like carton markings, the product's outer packing labels should be clear-cut, waterproof, and hard to get blurred by friction or other influential factors. Buyers decide whether to mark packaging boxes or bags and what to include. Your suppliers will handle it as required.
For instance, if you purchase women's T-shirts from China and pack 1pc into an individual polybag, you may not mark any signs on the polybag, or just put your logo on the polybag. If you want, it is OK to add any info you think is significant, such as the item name, article number, size, color, weight, etc.

Shipping Pallet Marks
As its name implies, it means markings attached to the pallet that carries a certain number of carton boxes.
The pallet marks will be involved only when your shipments use the pallet. For any special requirements, you can ask your supplier, who arranges shipping, to help you communicate with the freight forwarder.
In most cases, freight forwarders will handle it well. Shipping pallet marks usually include the product name, number of cartons per pallet, weight marks, etc. These marks are attached to the thin film of stacked cartons/crates whereby products are packed, as shown in the below image.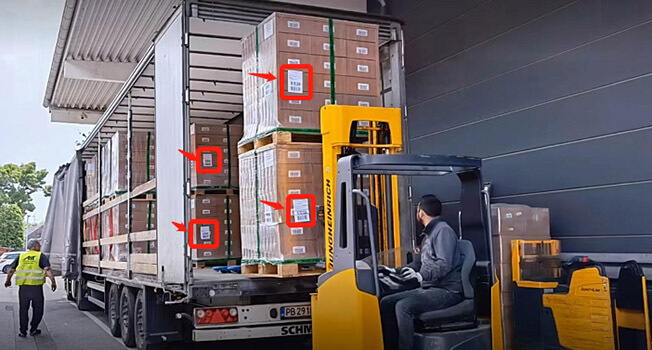 Shipping Container Marks
All types of shipping containers are attached with a series of markings, that is, shipping container marks. The main makings include the container ID (BIC Code + Check Digit), Size + Type, Weight marks, ISO Code (e.g. ISO 6346), Warning/Handling Instruction, etc.
You don't have to worry about how to deal with them. Because some markings are put on the containers once they are manufactured, while some are marked when the shipping company registers the containers.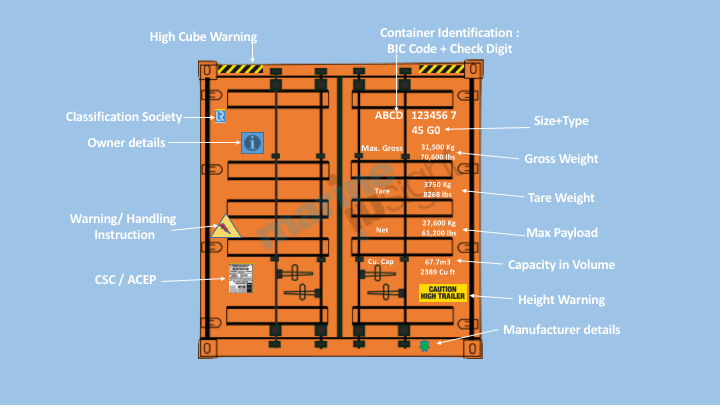 Marks for Shipping Documents
Except for the bill of exchange, all shipping documents should include one or more marks. Ensure this info is in line with the shipping marks attached to your shipments.
Typically, the packing list shall include shipping marks as many as possible. Besides that, the bill of lading and commercial invoice speak of relevant shipping marks.
As for shipping marks on the bill of lading (B/L),
FCL cargo B/L — the shipping mark column can be written with N/M, short for "No Marks". Also, it is OK to display the same contents as actual carton markings. What we suggest here is to present shipping marks, with which buyers can quickly identify their freight.
LCL cargo B/L — the shipping mark column should cover specific shipping marks. This info is used for

customs clearance

, plus unpacking, distribution, and receiving of goods.
If your cargo needs special treatment, make it clear on the shipping mark column of B/L.
I hope you'll better know the 5 main types of shipping marks and get a template to label carton boxes. Should you have any further questions, just let me know by leaving comments below.
We're Jingsourcing, a leading sourcing company in China. We have helped clients in different scales of business to complete product sourcing, labeling, and shipping from China. Contact us if you need any support for your importation.