Wholesale Custom and Printed Backpacks From China?
As a leading sourcing company based in China, we've gained the best manufacturers' resources in China and helped hundreds of people wholesale backpacks directly from manufacturers. We will guide you step by step when importing backpacks from China.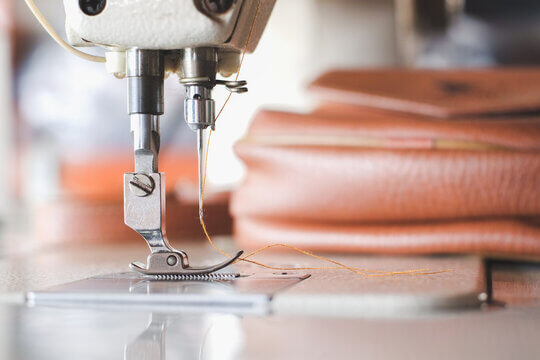 How to Wholesale Backpacks |Bulk Supplies in China & USA & Canada
If you want to start a backpack business or just buy several backpacks in bulk for your personal use, a great option for you to wholesale backpacks is sourcing and customizing from China. Because China is the largest backpack manufacturing hub in the world. You can easily find a backpack manufacturer to get a competitive wholesale price.
If you want to find China's backpack suppliers, please contact us directly. If you just want to know some information about wholesaling and customizing backpacks, you can continue reading my guide. It contains everything about sourcing backpacks that you should know.
You can click any section for further details below.
1. 12 Backpacks We Sourced for Our Clients for Your Reference
2. Teach You to Find Chinese Backpack Suppliers
When it comes to finding backpack wholesale suppliers in China, there are always two common ways:
If you want to search Chinese backpack suppliers online, you can use Alibaba and some other Chinese wholesale platforms as listed above. And there is almost no gap among these wholesale platforms so you can choose any website you prefer.
But if you want to wholesale backpacks in a small quantity, you can find backpack suppliers with low MOQ or even no MOQ easily on DHgate and AliExpress. The two platforms are good for small businesses.
What's more, there are many wholesale backpack markets in China. They're mainly concentrated in Yiwu, Guangzhou, Baigou, and Nantai.
The backpack wholesale markets in different areas may have different features. You should tell the differences among these markets and then you can decide which one is right for you according to your business.
If you want to wholesale leather backpacks or replica backpacks, you can go to Guangzhou because there are many large-scale leather markets.
If you want to wholesale low-end leather backpacks, you can go to Baigou Bag Wholesale Market. There are not only backpacks of native brands, but also many famous brands at home and abroad.
If you want to wholesale types of cheap backpacks, you can go to Yiwu International Trade City. You'll find different types of backpacks of different quality, which offers you more options.
Besides, if you have no idea about choosing a reliable backpack manufacturer, you can also find a sourcing company to help you source and customize backpacks in China such as Jingsourcing.
In short, there are various ways for you to wholesale backpacks in China. You can just choose any way depending on your practical situation.
3. Backpack Wholesale Suppliers in the USA & Canada
I find that some people want to find backpack wholesale suppliers in the USA and Canada. In fact, these suppliers all focus on small wholesale, such as selling for several or dozens of products. They're not real manufacturers, but only a wholesaler, namely middle man.
Now, many e-commerce websites for retail also offer this kind of service, for example:
Amazon
AliExpress
Costco
Kole Imports
Target
Noticeably, Target's wholesale service is mainly doing with products in stock at a low price such as customer returns. That is to say, many backpacks that you can source in bulk might not be the latest style.
There are also some websites on Google, for example:
They wholesale backpacks, bags as well as school supplies in bulk in the USA. And they mainly offer classic school backpacks, clear & mesh backpacks, and drawstring backpacks, which include blank ones and character printed ones.
Their wholesale prices are $2-$6 per pcs and the MOQ is one case with 24 pieces. They also include free shipping on all orders for 3-5 business days.
They focus on backpacks, bags, and school supplies wholesale. The backpack types they offer include regular school backpacks, clear & mesh backpacks, diaper backpacks, and drawstring backpacks.
The wholesale prices of the backpacks range from $3 to $15 per unit. The MOQ of them is one case and there are 24 pieces per case.
They offer free shipping to the USA and Canada on all orders over $60. If you want to add logos to your orders, screen printing can be done on orders of 500 units or more but only in the USA.
They're the wholesaler of different kinds of products including backpacks. They mainly offer classic backpacks and drawstring backpacks.
They wholesale backpacks by case with mainly 12 or 24 backpacks in a case. The wholesale prices range from $1 to $24 per pcs and the minimum order amount is $24, which is good for small wholesale.
DollarDays is an online supplier of kinds of school supplies including backpacks. They offer classic backpacks, drawstring backpacks, clear & mesh backpacks, and laptop backpacks.
They have no minimum order quantity but they sell backpacks by case. There are usually 24 backpacks per case. And the wholesale prices of them are $3-$40 according to different styles.
4. Identify the Right Backpack Manufacturer (4 Factors)
If you want to wholesale backpacks, you can choose to wholesale blank backpacks or printed backpacks. And you can create text and clipart designs directly on the blank backpacks that you wholesale from a backpack manufacturer.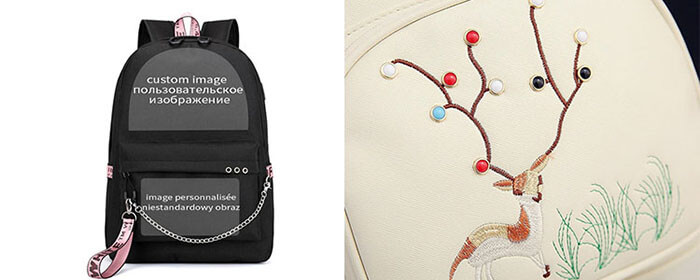 When it comes to backpack customization, you should take into consideration the backpack types, materials, decoration instructions, and location. There are some steps for you to customize the backpacks for your business.
Needless to say, if you want to wholesale backpacks, you should identify the right backpack manufacturer for you to produce and customize backpacks.
When you identify a backpack manufacturer, you need to think about several factors as follows.
OEM/ODM service
You can identify if the manufacturer supports OEM or ODM services. If you want to customize your backpack but lack research and design ability, you need a backpack manufacturer who can offer ODM. They can provide you the blank backpacks and then print your logo.
MOQ
You need to check the MOQ of the backpacks. If you're new to the backpack business or you have a small backpack business, you should choose a supplier with a low MOQ. If you have a steady backpack business, you can accept a high MOQ for a lower price.
Lead time
Lead time is from the moment that you place the order to the time that you receive the products. If you buy backpacks in stock, the lead time depends on the shipment. Express shipping takes 3-7 days, while sea freight may take 20-45 days.
If you want to customize backpacks, the lead time contains production time and shipping time. Thus, you must make sure the production time with the supplier, especially around the holidays. Because the factories are so busy at that moment that you might need to wait in line. It might take 40 days to produce while it originally needs 20 days.
Quality
You should focus on the quality of the backpacks that a manufacturer produces. You'd better get a sample to check the quality in advance. But it will also cost you some money and time.
Since the production of custom backpacks is kind of complicated, a reliable manufacturer should control each process strictly.
You should also check if the backpack manufacturer has passed some certifications, which increase the credibility of the backpacks' quality or the sale service.
5. Make Sure the Types and Materials of the Backpack
Deciding on the backpack types and materials is a critical step in customizing the backpacks. Only make sure the backpack types and materials can you determine how you can design the backpacks.
Some manufacturers may specialize in producing a certain backpack type, so you can look for these manufacturers if you have confirmed your backpack types.
Also, when you search for backpack manufacturers, there may be trading companies or factories that wholesales a great range of kinds of items.
For instance, if you want to wholesale outdoor backpacks, you can find a professional manufacturer specializing in outdoor backpacks or a trading company specializing in different kinds of outdoor products.
Besides, backpacks of different materials vary in wholesale prices. Thus, you need to consider the backpack materials according to your budget.
For example, the wholesale price of genuine cow leather backpacks is around $50-$80 per pcs while that of the vegan leather backpacks is around $5-$40 per pcs.
Thus, the backpack fabrics will also affect the wholesale prices to some extent. You should know what the differences among these materials are. Check the pros and cons of 21 backpack materials to choose which one is right for you.
6. Three Main Printing Methods You Should Know
After picking the backpack types, you can determine the printing methods for your backpacks. You can print your logo or images to make your backpacks unique through different printing methods.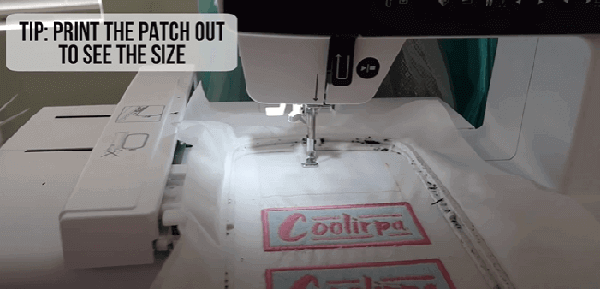 Embroidery is a high-quality method so that the price of it is relatively higher. And it is better to print embroidery on the fabrics rather than on the finished backpacks.
Moreover, the embroidery logos or images can be kept for a long time without any change. And they can be printed in multiple colors.
But one con is that the embroidery method is not good for printing intricate or large designs.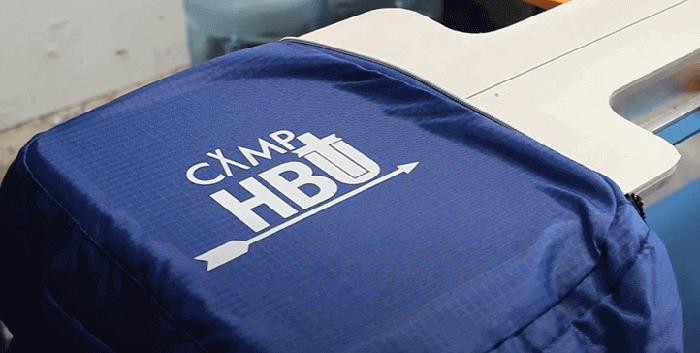 The screen printing method is the most popular and cheapest technique used by backpack manufacturers. The printers press the ink into the backpack through the mesh screen.
Additionally, it is suitable for large orders and the screen-printing design can be resistant to washing and sunlight.
However, each screen has just one color so that it is not suitable for multi-color designs. Or else it is not cost-effective to have a small order.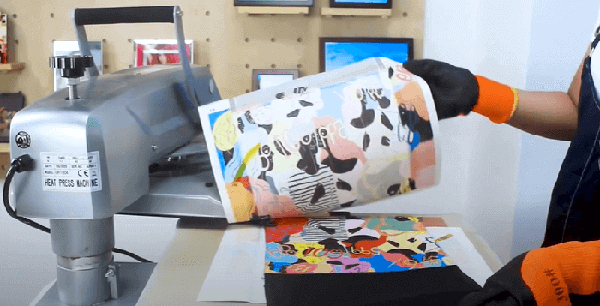 The sublimation printing method has a simple and fast process, which transfers the design from sublimation paper to the backpack fabric by using pressure and heat.
It can not only allow printing on rigid fabrics but also offer a variety of options for color so that it is great to print photos with high resolution.
In general, the sublimation printing method is applied to polyester. But it is also possible to use this method on many fabrics after adding some special materials to the fabrics.
Conclusion
All in all, you can source backpacks either from your home country or from China. If you buy some backpacks for your personal use and don't want too much trouble, you can buy them on the e-commerce sites in your home country.
If you want to have more choices with lower prices and accept much higher MOQ, it's the best choice for you to wholesale from China. At present, no matter what products you want, it's quite more convenient to source from China.
Leave us messages if you have any questions, and we have sufficient experience in helping source and customize kinds of backpacks in China. If you need us, please feel free to CONTACT US.