Backpack types can be classified in different ways. For instance, by their uses, you can class them into school backpacks, hiking backpacks, military backpacks, travel backpacks, etc. Different uses of backpacks may vary in the bag materials, shapes, sizes, costs, etc.
As a result, whether you want to buy backpacks for your personal use or your business, consider first what types of backpacks that you need according to their functions. Now, I'll list some common types of these backpacks based on their functions.
You can check directly any type of backpacks you like by clicking one of the links below.
1. Eight Types of School Backpacks
Classic backpacks feature a basic and simple design. They usually have two compartments: one is large, and the other is small. And the small pocket is usually organized in front of the backpacks for smaller items like erasers, pens, etc.
They are versatile in our daily life. And for their simple styles and utility, many trendy backpack brands have one type of classic school backpack.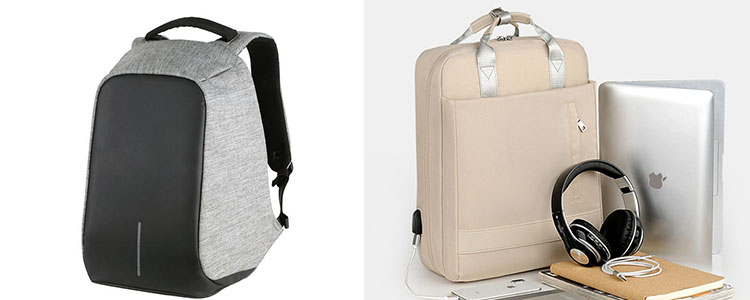 As students today need to finish their most assignments online, laptop backpacks are more convenient and utility for them to carry these mobile devices.
Laptop backpacks usually have a compartment for a computer with a protective function, which can prevent your laptop from physical damage. Moreover, they can provide you an easy way to carry your laptop.
Drawstring backpacks are a kind of backpacks with an open-top. They have only one main compartment so that it's convenient to sack or search for your items.
Additionally, they are customizable because there are typically large areas to print logos. Compared to regular backpacks, they're thinner but easier to store.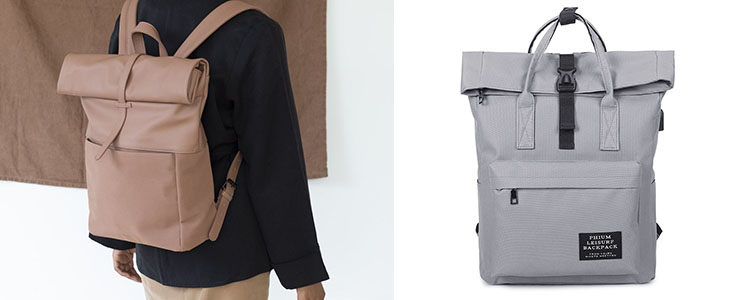 As versatile and utility backpacks, tote backpacks can be a perfect option for a busy lifestyle. They are almost always rectangular and expandable with plenty of room.
Moreover, they're convertible. Most tote backpacks have two handles so that they can convert to handbags.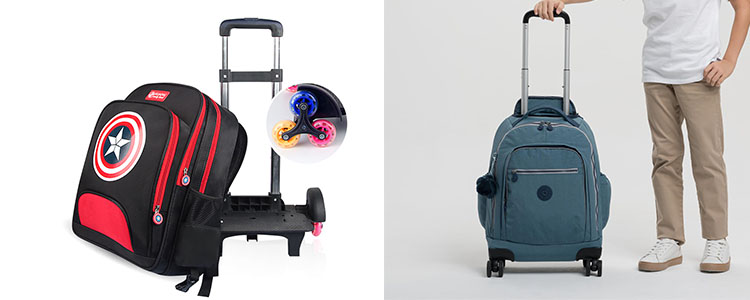 Rolling backpacks are suitable for students who have lots of books and stationery. They have not only wheels but also shoulder straps so that you can still wear them like a regular backpack.
Plus, the rolling backpack can also give your back a rest. However, some of them are not so comfortable to wear as the regular backpacks due to their fixed back system.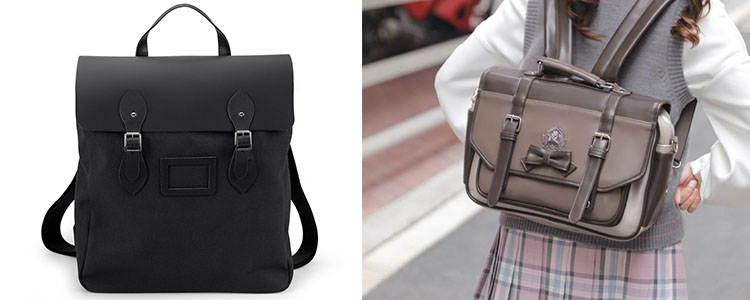 Satchel backpacks are often made of leather to protect them from tearing and rain. They feature a flap to cover the top to protect the items inside.
Satchels backpacks are often market for women but they are unisex. Plus, satchel backpacks give people a sense of academia so that they're suitable for school students of all ages.
Clear backpacks are typically made of transparent and waterproof plastics. The particular benefit for students is the clarity of the backpacks' material so that everything inside can be seen without opening the backpacks.
Furthermore, for students and schools, they can both supervise belongings and reduce the potential of harmful stuff brought by students.
Sling school backpacks are a kind of backpacks with just one strap. You can wear the backpack across your back or just in front of your body. They can be handier than regular backpacks.
What's more, there are many different sizes of sling backpacks. But compared to regular backpacks, most sling backpacks have less space. Hence, they're more practical when carrying smaller items.
2. Six Types of Backpacks for Hiking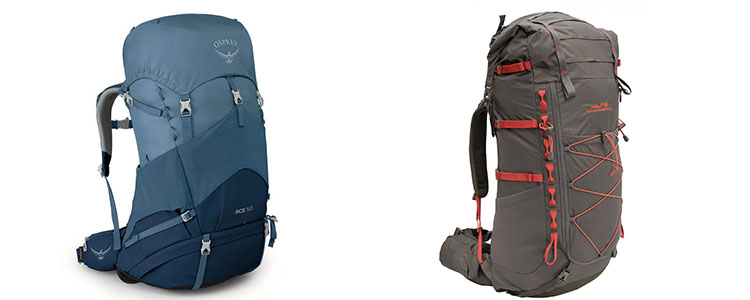 Speaking of a hiking trip, frameless backpacks have been one of the ideal options for many hikers. They are comfortable enough to suit your back.
In general, they have simpler and lighter designs. Thus, they have limitations to carry heavy loads, which hikers should take into consideration.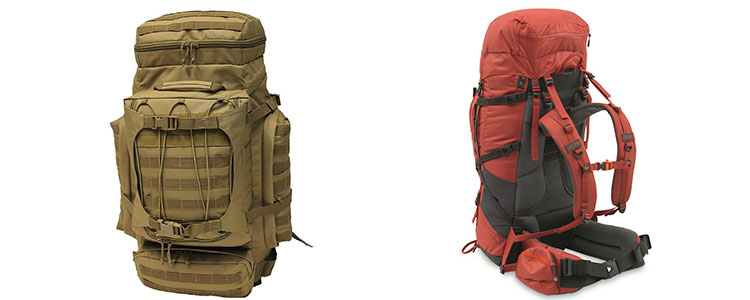 There is a larger space between the body and the internal-frame backpack, which can offer ventilation between the body and the backpack to keep your shoulder cooler and more comfortable.
Compared to frameless backpacks, they are relatively more expensive but they have better load capacity.
Though similar to internal-frame backpacks, external-frame backpacks are less comfortable. However, they increase the ventilation to reduce the sweat on your back better.
They are also better options to strap items and support heavy loads. You can put your gear directly on the external frame, which allows you to carry more items.
The main feature of a hydration backpack is its hydration reservoir, which makes your drinking easier. Not only can you save space for two or even more large water bottles but also reduce the risk of water leaks.
Surely, you can choose a different hydration pack capacity to meet your need. Thus, it is worthwhile to own hydration backpacks if you exercise frequently.
When you go hiking, having a waterproof backpack can keep your items remain dry in case of a rainy day or wet environment. In general, waterproof hiking backpacks are ideal for outdoor adventures especially to some places near a river.
Besides, the waterproof materials are durable enough, too. To find more information about the pros and cons of waterproof materials, you can check the post about 21 backpack materials that I published before.
When you plan for short hikes, a mini hiking backpack can be more perfect to carry with you. It has compact size and lighter weight so that you can handle it with ease.
Also, small hiking backpacks usually have a simple design at a lower price than larger backpacks and they're really easy to use.
3. Five Military Backpacks Types
Expandable tactical backpack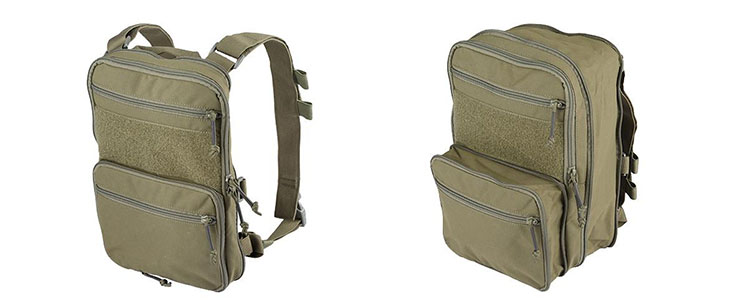 Expandable tactical backpacks feature a compressed and expandable design. Thus, you can carry massive amounts of belongings with you. Meanwhile, you can also choose to go out with fewer burdens.
Moreover, the compression straps can still make your backpacks remain compact so don't worry your belongings get damaged when you move drastically.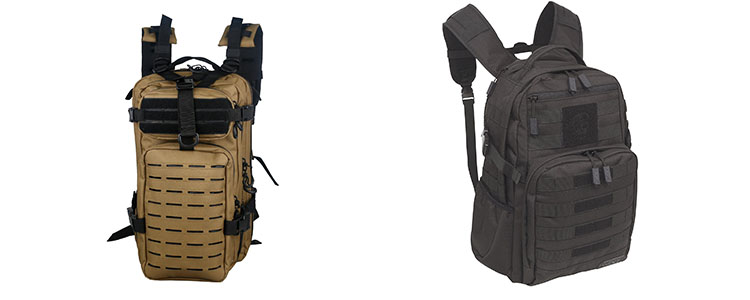 Small tactical rucksacks are perfect to pack necessary stuff for outdoor activities. And the smaller size and lightness can be conducive to your hunting during the adventure.
Thus, you can move more quickly with lighter burdens in the small tactical backpacks.
Sometimes basic tactical backpacks are too big for certain activities. At this time,