Is it strongly attracting you to make a profit by selling your private brand underwear? Then you are in the right place as we have created a series of guides about how to start a private brand underwear business. We start from what makeup bras, how to produce underwears, to how to sell underwears online. 
Customing packaging is the last but not the least step in the underwear production process. There are lots of packaging methods for women's underwear. Generally, we will give our advice according to the product features, sales channel, and their budget. Many customers of ours will also give us their own packaging designs, then we will help to find a factory for them.
 In this article, we will share our experience about how to customize your own packaging and introduce some common packaging ways in the market. I bet you will know the process of customization well after reading it.
I divided the packaging into 2 categories — packaging bag and the Packaging box. Let's take a close look into them.
Packaging Bag
Packaging Box
Packaging Bag
Plastic packaging bag is commonly used packaging in the market for its easy production process and the cheap price. There are zipper bags, zipper stands up bags, OPP/PP adhesive Seal bags, non-woven bags and so on. We will introduce them separately in the following paragraphs.
1. Plastic Zipper Packaging Bag
Plastic zipper bag is the most popular packaging, which is easy to produce and customize, the production cost is also cheaper than other packagings, so many people choose it. The common materials are PE, OPP/PP, EVA, PVC, CPP, the most widely used materials are PE and EVA.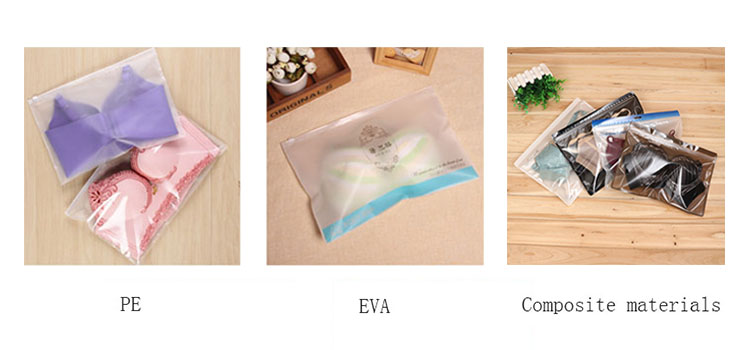 There are 3 types for PE/EVA bag: double-sided transparent style; double-sided frosted style; Semi-frosted semi-transparent style. Generally, the factories will use 10-12s thickness material for one side frosted and one side-transparent style; 16-18s for double-sided frosted style; 13-15s for double-sided transparent style. (1s is about 0.01mm). 
Thicker the bag, more expensive the price will be. The composite material is blended with 2 or more materials and has a better property than other plastic materials. But the price is slightly higher.
2. Self Adhesive Seal OPP Packaging Bag
You can tell from the picture above that this kind of bag is the cheapest, right? It looks fragile and thin. This kind of package can be seen everywhere in the supermarket. It's self-adhesive seal bags, made from OPP or PP. It's not so solid as other materials, the thickness we used is about 1.8s-5s. We seldom print logo on it.
3. Zipper Stand Up Bag
Zipper stand up bag is made from composite materials, (CPP, PET, OPP, aluminum foil…). This kind of bag has a good visual design and can show the products in a more textually way. It's worth mentioning that it is more suitable for printing if the outer layer is aluminized. You can print all kinds of patterns on the bag.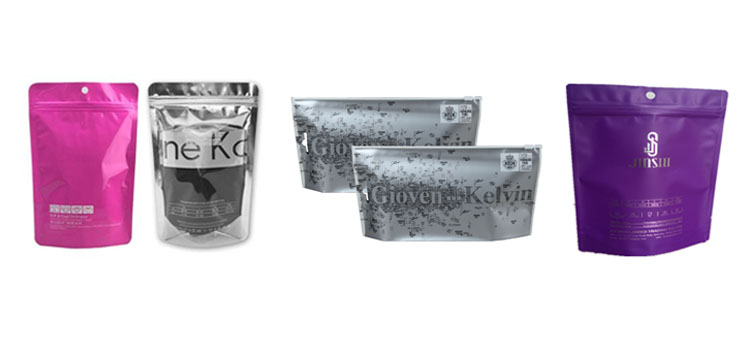 Printing for the 3 bags above
The printing for the 3 bag types is similar, so I made a brief introduction in the following text. You can take it as a reference if you want to customize your own pattern or logo.
a.Simple pattern
If the pattern and logo are very simple, applies only 1- 2 colors, it's better to use silk-screen printing. Silk-screen printing is manual printing, which can be hard to operate if there are many colors on the pattern.
 As the colors are very easy to mix, it's charged according to the number of color kinds. Generally, the factory will charge about $15-$50  for the mold fee. The production time is about 3-5 days. Please note that this printing technology is a one-time version, return order need to pay the version fee again.
Complex pattern
If the pattern is complicated and multi-colored, color printing is a better option for you. It applies to metal mold and requires big MOQ. Under most cases, the mold fee is over $50, and it's only charged once. The most common color printing types are gravure printing and offset printing.
4.Non-woven Fabric Bag
Non-woven fabrics are eco-friendly, air-permeable and waterproof. It always splices with OPP and CPP.  The common designs are a handbag, zipper bag, and button bag. The common printing technology for non-woven fabrics is watermark printing. 
Packaging Box
Comparatively speaking, packaging bags are convenient and easy to use, and packaging boxes are making the products more sophisticated and formal. 
The packaging boxes can also be divided into the following categories:
1. Transparent Foldable Plastic Box
Common materials: PVC, PP, PET

Common printing technology: UV printing, screen printing, hot stamping, etc

Common materials: PVC is the most commonly used material for its cheap price. Based on the environmental protection concept advocated globally in recent years, PP and PET will be more and more popular in the near future.

Application: sports underwear and underwear.
2. Collapsible Paper Bag
This kind of packing bag is light and solid, usually used as gift bags. To go with this kind of bag, we often use plastic bags and paper boxes as inner packaging. The paper bag is much cheaper than boxes, more eco-friendly than plastic bags, and more sophisticated than non-woven bags.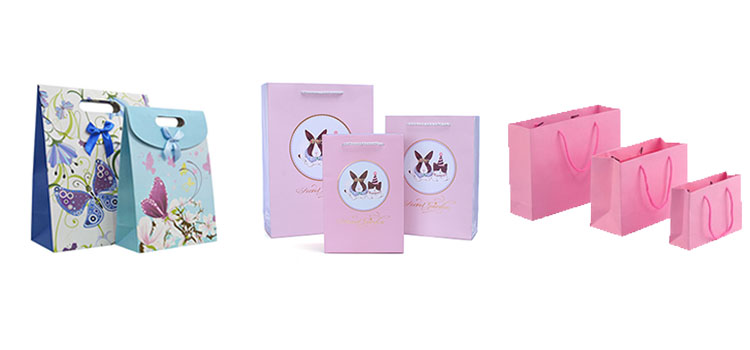 Hand grasp of the bag: the hand grasp of up-scale underwear bags are made of silk ribbon, three-strand rope, and cotton rope. While the low-grade package is preferred to apply the herringbone tape as shown in the picture of the third, which is much cheaper. 
3. Non-folding Box 
The common design of the unfoldable box is the lid and base box and drawer box, which are suitable for high-grade packaging. comparing to folding paper boxes, it is more solid and gives better protection for the productions inside. 
Meanwhile, it takes up more space while transporting and takes more transport cost as it is can not be folded. This kind of unfoldable boxes is made by hand or semi-mechanized production, which lead to lower production efficiency and higher cost than folding cartons.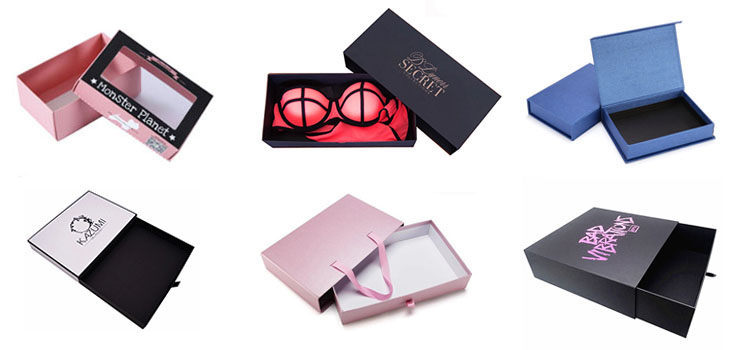 4. Collapsible Box
Comparing to the non-folding box, the collapsible box is much easier in production. As it can be folded, the transport cost can be greatly reduced. Besides, it is also flexible and can be designed into different shapes. Thus this type is much more preferred by our customers.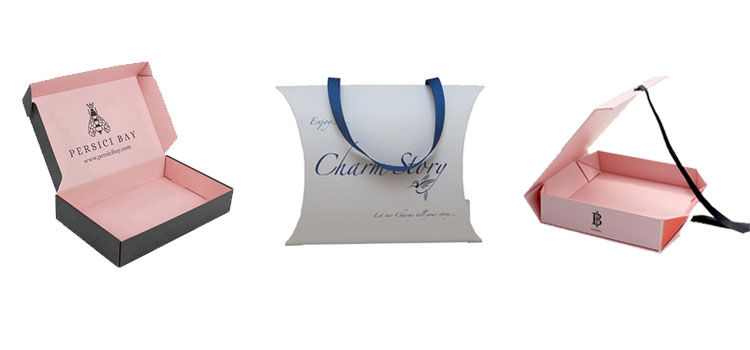 5. Packaging Tube
Most of his kind of packaging tube is made from PVC plastic and paper ( coated paper, ivory board, brown paper). Occasionally, we will apply the iron cap to this while use paper cap for common use.
This packaging is solid and waterproof, it can protect the product well. It can be a good option for fragile productions such as silk bras, cotton bras. If you want to lower the packaging cost, I will recommend you the brown paper packaging tube and apply label rather than printing.

6. Silicon Adhesive Bra Packaging
Since the silicon bras are adhesive and easy to be dusted, the packaging for the invisible bras should be individual and reusable packagings, like foldable boxes, plastic bags. As you can see EVA packaging and tube packaging in the second picture (cardboard and flanneled cloth) are the most expensive. Following are the packagings for adhesive bras we made for our customers last year, you can take it as a reference.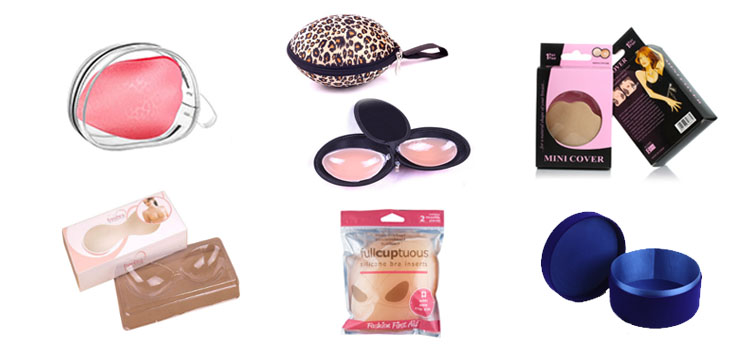 It needs to be noted that if the packaging you order is of existing style and size, and simple printing, the minimum order quantity will be smaller. If it requires the customized size, and the complex pattern, the minimum order quantity should no less 10000 pcs. 
Above are the 6 main packagings for bras, it might seem complicated to customize packaging for you, indeed, it takes only 6 steps to complete.
Process of customizing a packaging
Step 1: Confirm the design
We will help you find a reliable factory if you bring your own design. If not, we can also help you with the design.
Step 2: Quote the Price
We will quote the price according to the size, material, logo and order amount you require.
Besides, we can also advise you on what you kind of design you can expect for your budget.
Step 3: Making the Sample
After the price and the design confirmed, the factory will make a sample and we will send it to you for approval. The sample fee will be charged according to the material and crafts.
Step 4: Production
The bulk production shall be based on the sample, but there may be some losses in the production and process, there might be some errors in the delivery quantity. (Plus or minus 5%)
Step 5: Quality Inspection
You can find a third party to inspect the goods, or entrust us to inspect the goods. Under most cases,  we will go to the factory for inspection and take some pictures or videos for your confirmation.
Step 5: Arranging Shipment
If there is no problem with the inspection, the shipment can be arranged. You can find your own forwarder, if you don't know which freight forwarder to trust, we will find one for you as we help to ship goods every day.
Above are the introduction of the most commonly used packagings, I hope it can help. If you have any other questions, please leave a message to us and we will provide you with professional solutions.