Want to Wholesale/Customize Lingerie from China at a Good Price?
Tell us your requirements. We guide you step by step until products are made and delivered.
Get Your FREE Quotation by Filling Out This Form
From Concept to Lingerie Production
Step 1 – Get a Conception & Develop a Techpack 
Tell us your idea or simply send a picture. We can visualize it. We'll send you a document covering such essential information as lingerie styles, design drawings, colors, size tables, fabrics, quantity, etc.
Step 2 – Get a Quotation & Customize Samples
Our lingerie factory will estimate the total cost and give you the best price. Then we make the sample and send it to you for visual checking. We'll improve it until you're satisfied.
Step 3 – Information Confirmation & Mass Production
If you're satisfied with the sample and price, it's time to place an order. We'll confirm the quantities of each color, the size of each style, and all the details of every accessory. Then the mass production will start.
Step 4 – Quality Inspection & Shipping Arrangement
We'll conduct strict checking, from raw materials, production supervision, to final product testing. After ensuring no errors in the quality, we'll arrange the shipment to your country.
Different Lingerie Manufacturers, We Help Contact in China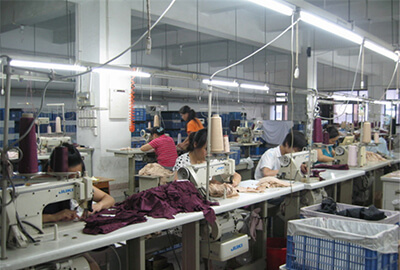 Small lingerie manufacturers are suitable for small and start-up businesses. The offered prices are competitive and the MOQ is relatively low. They depend on the handwork of fewer than 50 workers. If you want to try the market by ordering a small number of bras, small factories are good.
With 100-200 workers, medium lingerie manufacturers require a higher MOQ. They have a wide range of clients like medium and large retailers, wholesalers, & newly established underwear retail brands. Brand building business and larger quantity orders are welcomed.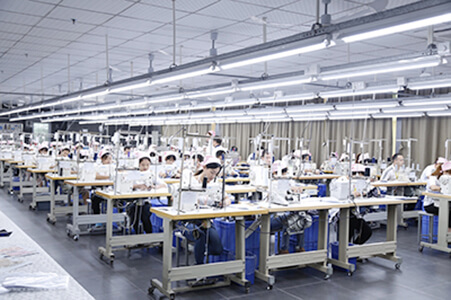 Large lingerie manufacturers (200+ workers) require large MOQ and center clients on large retailers from China and overseas like Victoria's Secret. They have to meet diverse quality compliances like ISO and possess better quality control. If you're sourcing for large firms, they're the best.
Featured Lingerie We Help You Wholesale/Customize in China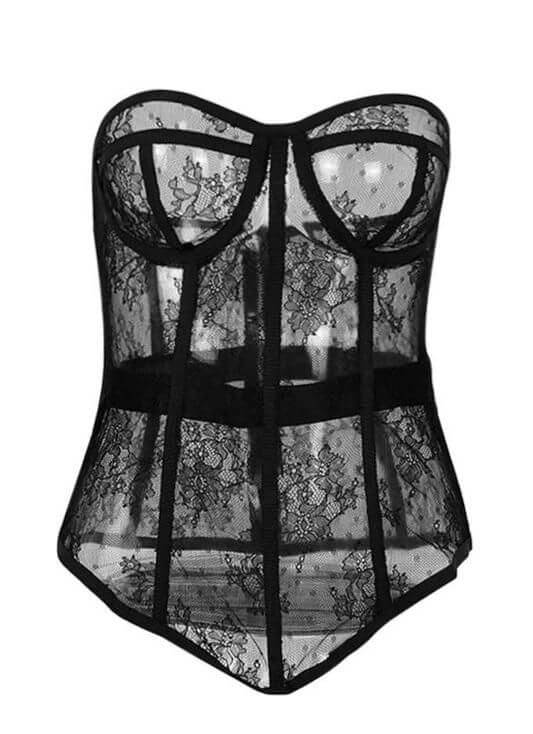 Corset
One of the most sensual lingerie items. Custom steel-boned corsets are profitable due to the high price per piece. 
Why expensive?
Steel boning is harder to bend or deteriorate than others. Corsets made of steel bones can offer the body better support, and hence become a very good choice for waist training. But the price is high.
The diversity of corset functions means a higher textile material cost. The used fabrics are commonly hard to wear out. For instance, the floss is better but pricer than the normal cotton. Satin enables corsets to go from bedroom to boardroom. However, it's higher in price. 
More accessories (e.g. glue bones, garter belts) mean more time for corset making. And specialist equipment is used for different procedures, for example, inserting bones, stitching layers, and attaching laces.
Delicate craftsmanship is needed, especially in the inspection. Skill cost is not low.
Custom craftsmanship means more payment.
Teddy
It's one-piece underwear. The differences in color, material, and style designs endow teddy lingerie with many types. Furthermore, teddy lingerie can be tailored to different market demands and consumer preferences, for example, Christmas-themed teddies. Teddy has a firm foothold in the lingerie market.
It's the sexiest among all the lingerie types, always made from sheer material and with a thong cut. Fabrics include sheer lace, silk, satin, and mesh. Silk is fine but luxurious. With the help of exquisite embroidery techniques, transparent lace can be well sewed with satin. That is very suitable for the high-end route.
However, the majority of sexy lingerie on the market comes from nylon, polyester, and spandex. Though not as elegant as silk, chemical fiber materials are cheap and cost-effective.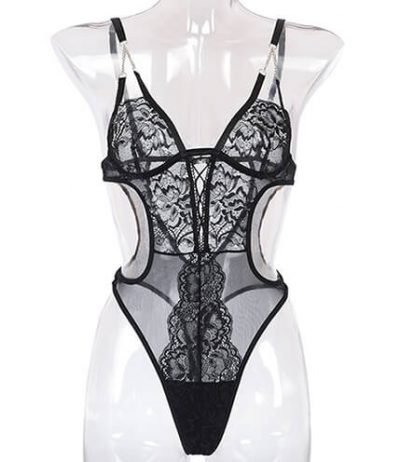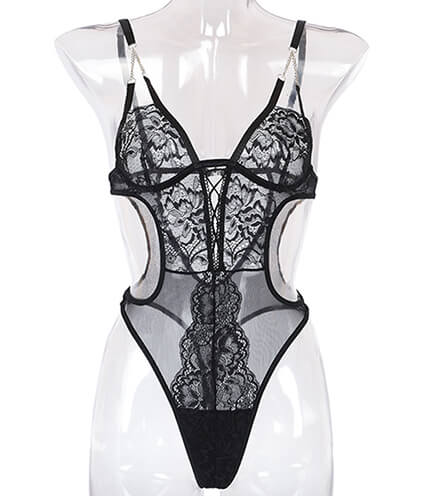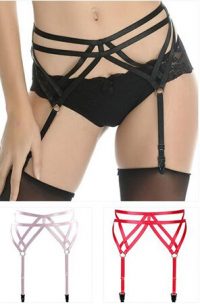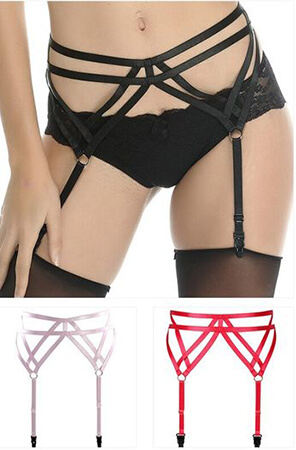 Garter/Garter Belt/Suspender Belt (British)
When thinking of sexy lingerie, silk stockings come into our minds. And the most common type is Garter. It's usually composed of stockings and garter belts keeping stockings in place.
It has changed from rubber at the very beginning to stretchy Lycra. Lace is commonly used to make garter belts. Other fabrics include satin and silk. Of course, micro-velvet is good but expensive.
Nylon and spandex are applied to enhance the support. They are commonly durable, but weight light. And nylon-spandex blend fabric (nylon 84%, spandex 16%) is better in transparency.
Trending Lingerie
Lingerie Set (Bra & Panty)
Garter Lingerie Set
G-string Sexy Lingerie
Sexy Body Stocking
Babydoll Lingerie
Backless Nightdress
Robe with Lingerie Set
Cami Set
The aforementioned are the styles we often help clients make. We can't list all the styles on this page. Directly tell us your needs, whether you want to wholesale lingeries from stock or have private label ones.
Knowledge Hub About Lingerie (Manufacturer Selecting, Fabrics, Lace VS Mesh, Lei's Story with Lingerie)

How to Find Right Lingerie Manufacturers in China
Make a list of lingerie manufacturers you search for online. Remember to consider the following: product categories, pricing, MOQ, delivery methods, average lead time, main markets, annual output value, certification, ODM/OEM, etc. Notably, you need to request MOQ from underwear factories in advance, because many major ones tend to bulk orders instead of small quantity orders.
Optimize the list via comparative analyses. There are 4 characteristics featured by good lingerie manufacturers: balanced quality and price; effective communication; a positive attitude towards both big and small orders. The optimized list includes at least three manufacturers you think appropriate. 
Call or email them for further contact. Remember to communicate with potential lingerie manufacturers in a professional, confident manner, with a focus on lingerie orders and related project proposals on hand.
Identify a reliable lingerie manufacturer. Is the largest the best for you? The answer is: not really. It's actually up to you, especially in relation to the most influential factors you consider. Make sure you make a wise decision after careful consideration.
Ask for samples and place a trial order. That can also help you ensure massive production to a large extent.
Lingerie Set (Bra & Panty) Fabrics
Bra and panty set is a category of lingerie. The fabrics used are mainly classified as natural and man-made.
Natural fabrics cover plant fiber and protein fiber (very close to our human body). The aforementioned pure cotton, modal, and bamboo fiber belong to plant fiber. Of course, the above-mentioned mainstream underwear materials are also applied by factories to make and produce bras and panties.
Besides, silk is also widely used. It's a typical kind of protein fiber. Silk is extremely soft and silky, breathable, and good at sweat absorption and dyeing. It's characterized by being durable, warm in winter, and cool in summer. The only disadvantage is the care required of gentle hand-wash or dry-clean. Hence, its price is not low.
Man-made fabrics typically include nylon, polyester, spandex, polyurethane, lycra, lace. They're easy to wash, quick-drying, wrinkle-free, affordable. Nylon, also called Tactel, is a high-quality nylon fiber. It's transparent and hence easy to help achieve the sex effect. Nylon mesh is used to manufacture sexy lingerie. The higher the nylon content is, the more expensive the fabric would be. Although the craft to produce the mesh style is simple, yet factories require a higher MOQ for this style.
Notably, wool is warm and ever more popular as a material for undergarments. Though wool underwear is expensive, it's still favored by modern people. However, here I want to tell you the skin damage of wool undergarments is the same as that of polyester fiber.
Milk fiber is the best material for thongs. It's a new animal protein fiber different from natural fiber, regenerated fiber, and synthetic fiber. It's better than cashmere in terms of softness and skin affinity, with the same heat retention as cashmere. Most of the fabrics containing milk fiber on the market are just nominal, so you need to figure out the real ones. Additionally, its price would fluctuate with the change of each season.
In sum, the materials for lingerie are similar to that of ordinary underwear. Commonly used fabrics include lace, ice silk, cotton, silk, modal, Lycra, polyester, spandex, etc. Although the price of polyester is low, it's not durable and rough to the touch.
Nylon and spandex are usually added to lingerie lace. Nylon (also called polyamine) is one of the most wear-resistant and strong synthetic fibers. Lighter than cotton and viscose fiber, its stretchy is second only to polyester. Most bra straps and stockings are made of this material. Spandex (also called polyurethane) is more stretch than rubber. It's always used for bra buckles. Notably, it's usually blended with other fabrics.
For more detailed information on the fabrics of bras and different parts (cup, bridge, band, straps, slide, ring, hook & eye closure), you can go to Knowledge Hub About Bra (Suppliers Selecting, Cup Types, Fabrics).
Lace Fabrics VS Mesh Fabrics
Lace is key to lingerie. There's both stretch and non-stretch lace. Stretch lace is made of 10% spandex and 90% nylon. Non-stretch lace can be made of 100% nylon, 100% polyester, 85% cotton + 15% nylon, or 65% nylon + 35% polyester. Spandex is added in lace in the production of lingerie to enhance the stretch. Nylon spandex or other blends are quite appropriate for lingerie making.
According to craftmanship differences, there mainly exist handmade and machine-made laces. Here I list some types you're most likely to encounter in lingerie.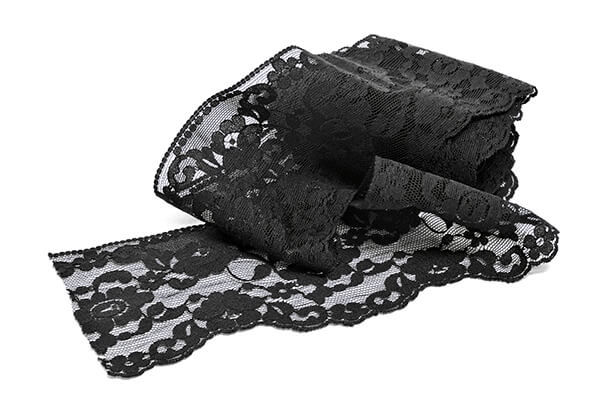 Cotton Thread Lace
With cotton thread as raw material, it's woven through jacquard or embroidery. Generally, there's only white available, leading to fewer styles. But it can be ironed at high temperatures, which is very different from traditional laces. Thicker than ordinary lace fabrics, it's tough to the touch. In sum, it's lower in price and mainly applied to some small laces not easy to attract attention.
Cotton Lace
100% cotton cloth is embroidered with cotton thread. Then cut off the hollow position of the cotton cloth. It's similar to Cotton Thread Lace but diverse in shapes and pricer. Generally, if you want comfortable fabrics but have a limited budget, cotton lace is a good choice.
Chemical Fiber Lace
Made of nylon and spandex, it's the cheapest. Its features are being thin, hard, and tough to the touch, not able to stretch and be ironed at high temperatures.
Embroidery Lace
Cotton, polyester, and other yarn are used to embroider lace flowers on a layer of tulle and then the outer contour is cut off by technical means. Embroidery lace woven from soft tulle is much smooth to the touch. It's very suitable for lingerie making. And the fabric price is relatively high, belonging to medium and high-end lace fabric.
Schiffli embroidery is the most common among machine embroideries. Complex designs are lockstitched onto a tulle base.
Water-soluble Lace
It's made by machine on water-soluble backing. With the design finished, it's put in water to make the backing dissolve and thus leave the lace. The production process is complex and long, with high technical requirements. Hence, it's pricer, belonging to high-end lace fabric. Water-soluble lace fabric with good workmanship is likely to be priced at a few hundred RMB per meter.
Raschel Lace
It's built on Jacquard apparatus to develop lace patterns and knit thread at a time. You'll find synthetic fibers like nylon widely used. It's fast and easy in terms of production, so the price is not high.
Leavers Lace
It's mostly made in France since the machine came into being there in 1813. It's also known as "Dentelle de Calais". Leavers lace highlights itself with delicacy and complex patterns.
Mesh is used in various types of lingerie. It's made of synthetic materials, commonly polyester and nylon. Most polyester and nylon are produced in China. China is the major supplier of this fabric across the world. Woven loosely, it's lightweight and very breathable. The high breathability also makes it ideal for athletic wear such as famous brands of Nike and Adidas. And its high elasticity makes it a great fabric for shapewear. There exist different-version mesh fabrics. For example, bra tulle mesh is but and non-stretch.
Here I want to share some key points concerning stretch mesh fabrics you need to know.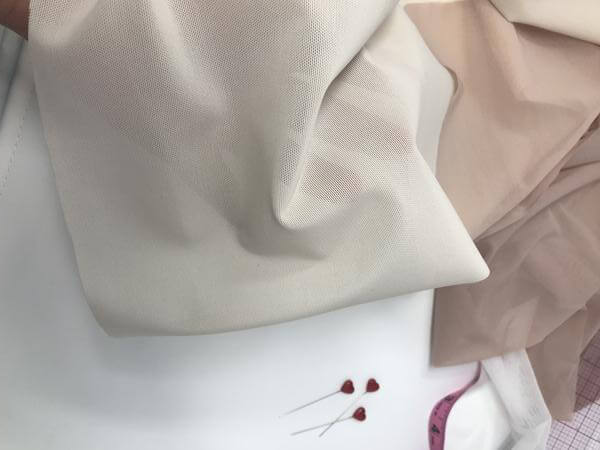 Super Lightweight Stretch Mesh
Made of polyamide and at least 6% Spandex, it's applied as lace lining of small size bralette cups.
Medium Weight Stretch Mesh
Made of 79% Polyamide and 21% Spandex, it's suitable to make panties, teddies, and other sheer sexy pieces.
Power Mesh
Made of nylon and spandex, it's stretchy, breathable, sheer, smooth to the touch, and good at recovery. Usually, there exist 2 options: 4-way stretch and 2-way stretch. It's suitable for bra-making (especially sports bras) and lingerie. Specifically, bra bands are often made of such fabric (4-way stretch preferable). Besides everyday bras, power mesh is often used as the lining of sports bras.
The mesh price is closely related to the specific used material and woven style. Generally, brightly-dyed mesh woven in a hexagonal Tulle pattern is expensive. Moreover, mesh made of silk is higher in price than mesh made of synthetic materials. In addition, you should pay attention to certifications for mesh fabrics like "ISO 9001".
Which fabric is the best one? There's no definite answer. The best is not necessarily the most expensive. It varies from person to person, up to the individual consideration and demand.
Lei Congrui and His Story With Lingerie -- Build China's "Victoria's Secret" and Become the Most Shining Self in Life
On the Alibaba.com International Website, you'll see sexy lingerie made in Guanyun, no matter the keyword is lingerie or sexy underwear. Guanyun is called "sexy lingerie town", producing more than half of sexy lingerie in China. Mr. Lei Congrui (post-90s) is known as the maker of sexy lingerie. Here I want to share his story.
At the age of 15, he began to assist his mother in Taobao store running. In his first year of high school, he started his own Taobao store selling condoms, health products, and cosmetics. Taking his mother's advice, he focused on sexy lingerie in his freshman year and made the first 1 million in his life.
With sales volumes higher, Lei chose to quit school in his junior year (2011) and opened a studio. To make the business more popular, Lei decided to make a product in vogue. With his mother as the "art director", he created a type of fashion sexy lingerie with high stretchy and less requirement on figures, suitable for most women. Most importantly, the production cost was very low. A worker produced 100 pieces a day. Once it launched, it received high sales volume and high popularity. It hit a fresh all-time high of sexy lingerie sales volumes in China.
"I wear much more sexy lingerie than my wife." Said Lei. Devoted to making good products, he tried on at least 200 pieces of sexy underwear, two or three times for each type. In addition, he made efforts to ensure 300+ new products every year, with an overall 1400 ~ 1700 products. Besides the basic requirements for comfort, he also considered "how to make lingerie talk" when designing.
His favorite story is to imagine that this sexy lingerie was still there when he was 80 years old. The scene may be the wedding night, the day when women are in the best shape. The style must be pure, defensive, and seductive. It looks wrapped around the whole body but transparent. " He named the series "bride".
With the improvement of women's self-consciousness in gender relations, the concept of sexy lingerie is also changing. Lei wanted to convey such an idea through his products: sexy lingerie is beautiful and normal; you don't need to show it to anyone; it's more important to make yourself feel beautiful and happy. Sometimes we don't know what the value of our products is, but many details can help improve the quality and user experiences, for example, the ultimate pursuit of united fabric color and patterns, and symmetry."
Lei and his story show us that chances are in favor of those who are brave and thoughtful. Entrepreneurship is always difficult, but it's a must if you want to make more money. Lei would continue to write his story with sexy lingerie, and so do we.