Want to Wholesale/Customize Lingerie from China at a Good Price?
Tell us your requirements. We guide you step by step until products are made and delivered.
Get Your FREE Quotation by Filling Out This Form
From Concept to Lingerie Production
Step 1 – Get a Conception & Develop a Techpack 
Tell us your idea or simply send a picture. We can visualize it. We'll send you a document covering such essential information as lingerie styles, design drawings, colors, size tables, fabrics, quantity, etc.
Step 2 – Get a Quotation & Customize Samples
Our lingerie factory will estimate the total cost and give you the best price. Then we make the sample and send it to you for visual checking. We'll improve it until you're satisfied.
Step 3 – Information Confirmation & Mass Production
If you're satisfied with the sample and price, it's time to place an order. We'll confirm the quantities of each color, the size of each style, and all the details of every accessory. Then the mass production will start.
Step 4 – Quality Inspection & Shipping Arrangement
We'll conduct strict checking, from raw materials, production supervision, to final product testing. After ensuring no errors in the quality, we'll arrange the shipment to your country.
Different Lingerie Manufacturers, We Help Contact in China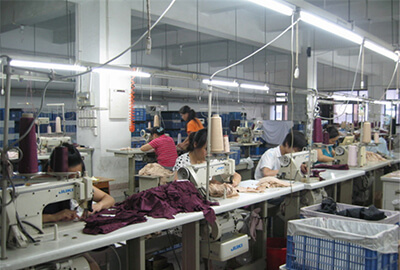 Small lingerie manufacturers are suitable for small and start-up businesses. The offered prices are competitive and the MOQ is relatively low. They depend on the handwork of fewer than 50 workers. If you want to try the market by ordering a small number of bras, small factories are good.
With 100-200 workers, medium lingerie manufacturers require a higher MOQ. They have a wide range of clients like medium and large retailers, wholesalers, & newly established underwear retail brands. Brand building business and larger quantity orders are welcomed.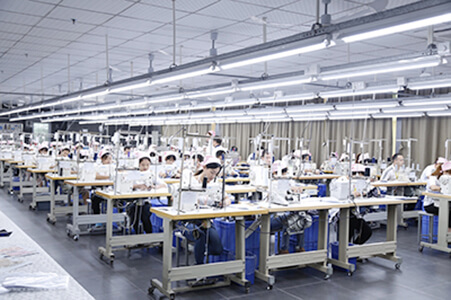 Large lingerie manufacturers (200+ workers) require large MOQ and center clients on large retailers from China and overseas like Victoria's Secret. They have to meet diverse quality compliances like ISO and possess better quality control. If you're sourcing for large firms, they're the best.
Featured Lingerie We Help You Wholesale/Customize in China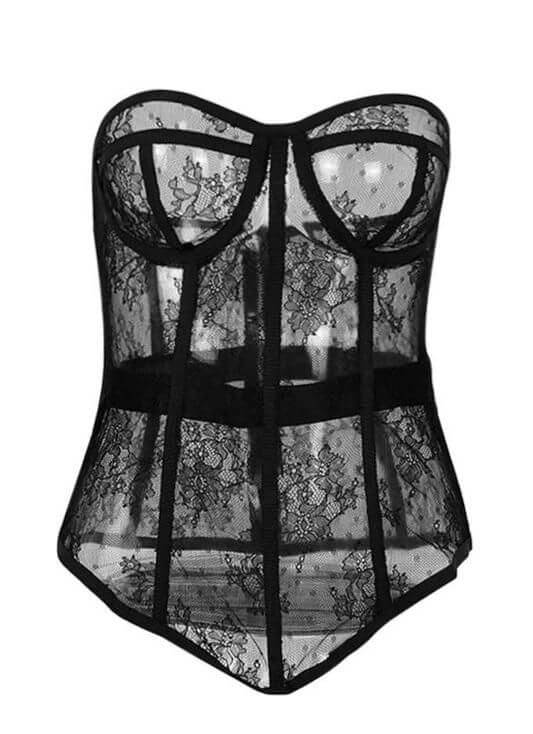 Corset
One of the most sensual lingerie items. Custom steel-boned corsets are profitable due to the high price per piece. 
Why expensive?
Steel boning is harder to bend or deteriorate than others. Corsets made of steel bones can offer the body better support, and hence become a very good choice for waist training. But the price is high.
The diversity of corset functions means a higher textile material cost. The used fabrics are commonly hard to wear out. For instance, the floss is better but pricer than the normal cotton. Satin enables corsets to go from bedroom to boardroom. However, it's higher in price. 
More accessories (e.g. glue bones, garter belts) mean more time for corset making. And specialist equipment is used for different procedures, for example, inserting bones, stitching layers, and attaching laces.
Delicate craftsmanship is needed, especially in the inspection. Skill cost is not low.
Custom craftsmanship means more payment.
Teddy
It's one-piece underwear. The differences in color, material, and style designs endow teddy lingerie with many types. Furthermore, teddy lingerie can be tailored to different market demands and consumer preferences, for example, Christmas-themed teddies. Teddy has a firm foothold in the lingerie market.
It's the sexiest among all the lingerie types, always made from sheer material and with a thong cut. Fabrics include sheer lace, silk, satin, and mesh. Silk is fine but luxurious. With the help of exquisite embroidery techniques, transparent lace can be well sewed with satin. That is very suitable for the high-end route.
However, the majority of sexy lingerie on the market comes from nylon, polyester, and spandex. Though not as elegant as silk, chemical fiber materials are cheap and cost-effective.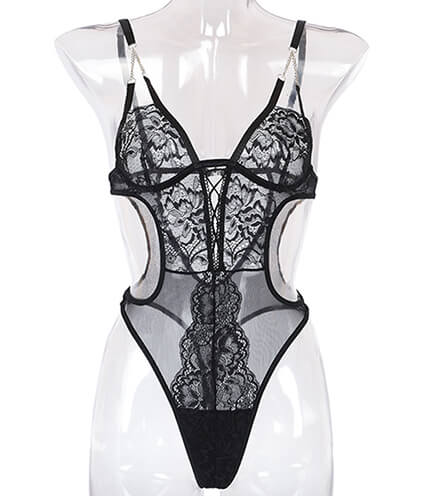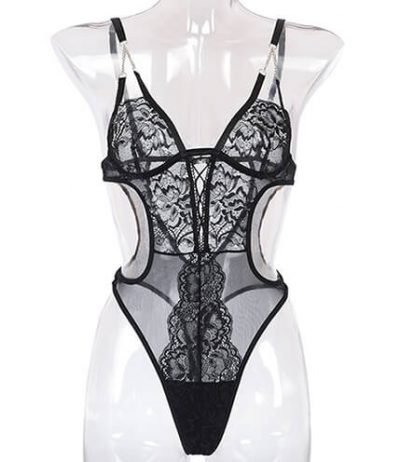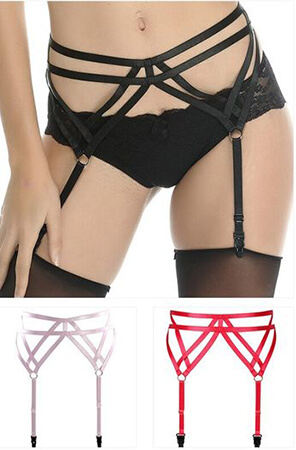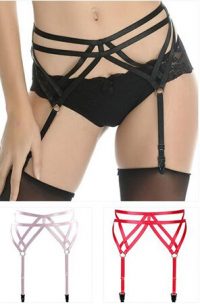 Garter/Garter Belt/Suspender Belt (British)
When thinking of sexy lingerie, silk stockings come into our minds. And the most common type is Garter. It's usually composed of stockings and garter belts keeping stockings in place.
It has changed from rubber at the very beginning to stretchy Lycra. Lace is commonly used to make garter belts. Other fabrics include satin and silk. Of course, micro-velvet is good but expensive.
Nylon and spandex are applied to enhance the support. They are commonly durable, but weight light. And nylon-spandex blend fabric (nylon 84%, spandex 16%) is better in transparency.
Trending Lingerie
Lingerie Set (Bra & Panty)
Garter Lingerie Set
G-string Sexy Lingerie
Sexy Body Stocking
Babydoll Lingerie
Backless Nightdress
Robe with Lingerie Set
Cami Set
The aforementioned are the styles we often help clients make. We can't list all the styles on this page. Directly tell us your needs, whether you want to wholesale lingeries from stock or have private label ones.
Knowledge Hub About Lingerie (Manufacturer Selecting, Fabrics, Lace VS Mesh, Lei's Story with Lingerie)

How to Find Right Lingerie Manufacturers in China
Make a list of lingerie manufacturers you search for online. Remember to consider the following: product categories, pricing, MOQ, delivery methods, average lead time, main markets, annual output value, certification, ODM/OEM, etc. Notably, you need to request MOQ from underwear factories in advance, because many major ones tend to bulk orders instead of small quantity orders.
Optimize the list via comparative analyses. There are 4 characteristics featured by good lingerie manufacturers: balanced quality and price; effective communication; a positive attitude towards both big and small orders. The optimized list includes at least three manufacturers you think appropriate. 
Call or email them for further contact. Remember to communicate with potential lingerie manufacturers in a professional, confident manner, with a focus on lingerie orders and related project proposals on hand.
Identify a reliable lingerie manufacturer. Is the largest the best for you? The answer is: not really. It's actually up to you, especially in relation to the most influential factors you consider. Make sure you make a wise decision after careful consideration.
Ask for samples and place a trial order. That can also help you ensure massive production to a large extent.
Lingerie Set (Bra & Panty) Fabrics
Bra and panty set is a category of lingerie. The fabrics used are mainly classified as natural and man-made.
Natural fabrics cover plant fiber an