Want to Find Right Bra Manufacturers in China?
Tell us your requirements. We guide you step by step until products are made and delivered.
Get Your FREE Quotation by Filling Out This Form.
Different Bra Manufacturers, We Help Contact in China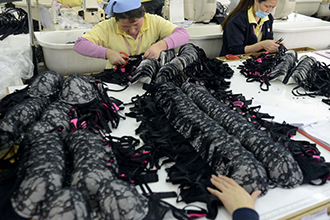 Suitable for small businesses and start-up businesses. The offered prices are competitive and the MOQ is relatively low. They mainly depend on the handwork of fewer than 50 workers. If you want to try the market by ordering a small number of bras, small factories are good.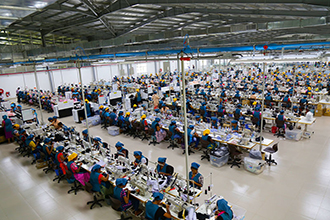 With 100-200 workers, they usually require a higher MOQ. They have a wide range of customers like medium and large retailers, wholesalers, and newly established underwear retail brands. Brand building business and larger quantity orders are welcomed.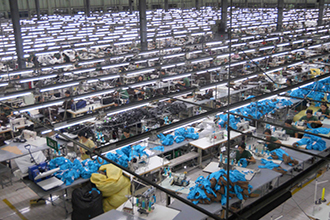 The main customers are large retailers from China and overseas like Victoria's Secret and L'Agent. They have to meet different quality compliances like ISO, and thus have better quality control. If you're sourcing for large firms, they are the best as they have 200+ workers and require large MOQ.
Featured Bras We Help You Customize in China
Seamless Bra
Why expensive and custom MOQ high?
It's woven at one time by special equipment, unlike other bra types that need splicing. A production line is always accompanied by thousands of pieces. Therefore, many factories require a high MOQ.
Seamless underwear equipment is expensive, and the precision varies from one brand to another. For example, our factory adopts Santoni seamless underwear equipment, currently the best.
The main fabrics include nylon, polyester, cotton fiber blend, modal, ice silk, and spandex. They are featured by elasticity, breathability, and perfect fit. For bra cups, we adopt 3D vertical cotton, 3D upright cotton, combed cotton, and memory foam. Compared with ordinary sponges, fabrics we use for bra cups are not easy to deform.
Sports Bra
Comfort combined with function is key. Generally, the fabric is high elastic cotton, suitable for perspiration, warmth preservation, and limb extension. However, the strong warmth retention of cotton might bring a thick feeling in summer. Cotton combined chemical fiber helps reduce warmth retention.
Nylon and spandex are also common fabrics. The two are very strong, not easy to deform, with high elasticity and contraction. Hence, such sports bras are quite suitable for running and a large number of high-intensity sports.
Generally, the lining fabric is pure cotton for its comfort, breathability, water absorption, without stimulation to the chest. And nylon is blended to strengthen the bra elasticity. In addition, the back strap is always designed I-shape or U-shape to strengthen fixation effects.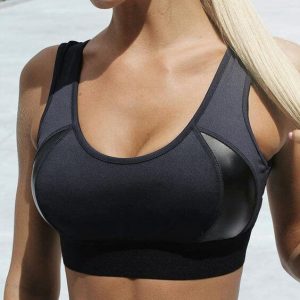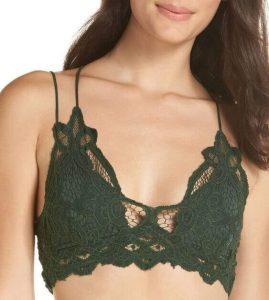 Trending Bras
Lace Bra
Lingerie Bra
Triangle Bra
Silk Bra
Strapless Bra
Cross Strap Bra
Body Shaper Bra
The aforementioned are the common styles we help clients make. We can't list all the styles on this page. Directly tell us your needs, whether you want to buy from stock or have private label bras.
Professional, Flexible Support | From a Concept to Bra Manufacturing
Knowledge Hub About Bra (Suppliers Selecting, Cup Types, Fabrics)

How to Find Right Bra Manufacturers in China
Make a list of bra manufacturers you search for online. Remember to consider the following: product categories, pricing, MOQ, delivery methods, average lead time, main markets, annual output value, certification, ODM/OEM, etc. Notably, you need to request MOQ from bra manufacturers in advance, because many major ones tend to bulk orders instead of small quantity orders.
Optimize the list via comparative analyses. There are 4 characteristics featured by good bra manufacturers: balanced quality and price; effective communication; a positive attitude towards both big and small orders. The optimized list includes at least three bra manufacturers you think appropriate. 
Call or email them for further contact. Remember to communicate with potential bra manufacturers in a professional, confident manner, with a focus on bra orders and related project proposals on hand.
Identify a reliable bra manufacturer. Are the largest manufacturers the best for you? The answer is: not really. It's actually up to you, especially in relation to the most influential factors you consider. Make sure you make a wise decision after careful consideration.
Ask for samples and place a trial order. That can also help you ensure massive production to a large extent.
Triangle Bra 
Soft-cup triangle bra (made by silk)
Mold cup triangle bra (made by very thin sponge, ultra-thin mold cup)
Single-layered triangle bra (sewed with single- or double-layer fabrics, without cotton; with the single-layer lace style the most common)
Features: comfortable, wire-free, mostly with narrow straps, light, and sexy. Without adjustment, lateral retraction, and anti external expansion functions. 
3/4 Cup Bra
Cup Fabrics: sponge, 3D vertical cotton, memory foam, and silicone.
Features: V-shaped, with the strap design fixed and non-removable because of the force point. With the best concentration effect. Suitable for suits, etc.
You can apply it for some special functions, for example, placing the insert pad to make the breast look bigger, and thickening the lower half to hold up the sagging breast.
1/2 (Half) Cup Bra (Demi-cup Bra / Balconette / Balcony Bra)
Features: with push-up styling to create great curves; mostly designed with removable straps, known as Strapless Bras fit for off-shoulder, off-back, and similar clothes. 
Full-cup Bra
Fabrics: matched with a quilted cotton cup (made of silk cotton bonded knitted fabric, with mold cup as the common)
Features: with maximum support. Mainly suitable for women with large cups (CDEF) or bosom prolapse/expansion. Fit for sportswear and casual wear.
5/8 Bra
Very similar to a 3/4 Cup Bra. Suitable for girls with small breasts to look plumper.
Bra Cup Materials Comparison
Sponge cup is the most common mold cup type, formed at one time after sponge compounding and high-temperature treatment. Stereoscopic effects and a smooth, round surface. Although good at moisture absorption and air permeability, its moisture dissipation decreases over time, turning yellow after long-time use. And it's easy to retain cleaning product residues and thus breed some bacteria. Usually, the use circle of sponge bras is 3-5 months.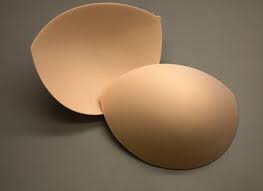 3D vertical cotton is a kind of new environment-friendly non-woven three-dimensional material. Due to the special physical structure, it has incomparable advantages: lightweight, ultra-breathable, hard to deform and turn yellow, without the production of toxic substances, and high rebound performance (better than a sponge). Remember its good stability also means the special attention paid to the fit with your chest when choosing.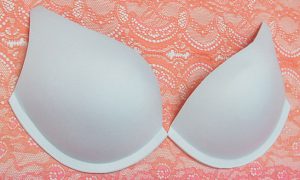 Memory foam is a popular new material featured with good elasticity and impact resistance. It's comfortable and healthy for the chest. Wearing the memory foam bras for sleep has no hurt to our chest. So memory foam is widely applied in sleep bras or health care bras.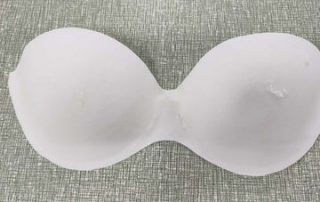 Silicon is soft and elastic, with good adhesion. It's commonly used in invisible bras (also called adhesive bras) for better viscosity. But its compactness means weak air permeability. Thick and dense, silicone invisible bras lead to pressure on the chest. Long-time wear is easy to cause sagging and is unfavorable to breast health.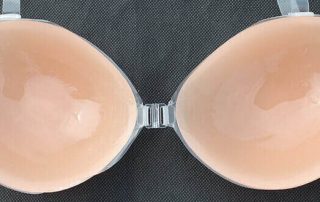 Latex is soft and advantageous in bacteriostasis and mite control. However, latex is easy to oxidize, and the cup will slowly turn into hard blocks, slag, and finally powder. The comfort will continue to decrease.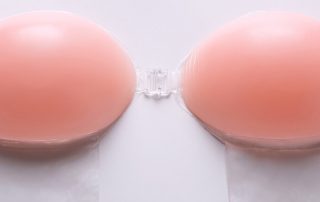 Which fabric is the best one? There's no definite answer.
It varies from person to person, up to the individual consideration and demand.
Commonly Used Bra Fabrics
Bra fabrics are divided into natural and man-made. Natural fabrics cover silk, cotton, linen, etc., with a breathable advantage.
Natural Fabrics
The silk is extremely soft and silky, breathable, and good at sweat absorption and dyeing. It's characterized by being durable, warm in winter, and cool in summer. The only disadvantage is the care required of gentle hand-wash or dry-clean.
The cotton possesses unique breathability and naturalness. It's absorbent, warm, and easy to dye and print. Adding chemical fibers to cotton can help adjustable bras to enhance the supporting effect, without being muggy.
Man-made Fabrics
Typical man-made fibers include nylon, polyester, Spandex, Polyurethane, lycra, lace. They are easy to wash, quick-drying, wrinkle-free, affordable.  
Nylon is strong and will not deform. Most bra straps are made of this material.
Polyurethane is more flexible and elastic than rubber, widely used as a buckle.
Lycra, a type of Polyurethane, is featured by the excellent elasticity, comfort, and support, making bras closer to the body and not out of shape. It cannot be used alone and needs to be interwoven with any other man-made or natural fibers.
Lace is generally divided into warp-knitted lace and embroidery lace, adding the bra mystery.
Fabrics for bra lining, bra cups, and bra padding includes a wide range, such as the aforementioned nylon, polyester, cotton, and Spandex. Silk, silk with Spandex, and merino wool are representative of luxury bras. Of course, sponge, 3D vertical cotton, memory foam, silicon, and latex are common.
Blogs for Bra Wholesale and Customization