What if you plan to wholesale products from Guangzhou but know little about this city and importation? A Guangzhou sourcing agent can deal with the whole sourcing process. Here is everything you need to know about these agents.
Why are some sourcing agents in Guangzhou?
Guangzhou is a comprehensive industrial manufacturing base.
There are multiple industrial clusters and many huge wholesale markets located in Guangzhou. Factories and suppliers of various products gather here.
For example, Guangzhou is the largest cosmetics production base in China. Cosmetics are made, packaged, and sold at home and abroad from here. Guangzhou has the biggest cosmetic wholesale markets. Like Xingfa Plaza, Beauty Exchange Center, and Eva center. From there you can find thousands of suppliers. The products cover hair products, nail products, cosmetic products, care products, etc.
In addition, there are many other wholesale markets in Guangzhou for clothing, leather goods, bags, automobiles and parts, electronic products and parts, jewelry, lights, accessories, home appliances, and so on. This has attracted a large number of domestic and foreign buyers to wholesale in Guangzhou.
The rich product categories and large wholesale markets greatly improve the efficiency of sourcing. For example, to make a watch, you can find all the raw materials, accessories, packaging tags, etc., in Guangzhou, without going to other places to buy. Therefore, many sourcing agents are located in Guangzhou to occupy a geographical advantage.
The international transportation from Guangzhou is convenient.
Another reason why many Chinese soucing agents are located in Guangzhou is that Guangzhou is a coastal city with convenient transportation. It is good for export trade. For example, Guangzhou Port is the largest foreign trade port in southern China, with international shipping access to more than 300 ports in more than 80 countries and regions and connecting with more than 100 China ports.
Purchasing in Guangzhou requires a sourcing agent.
The distribution of wholesale markets in Guangzhou is very scattered. For example, more than 10 clothing wholesale markets are distributed in different streets and areas. They are not gathered in a shopping center. Therefore, for someone who is not familiar with Guangzhou, it is not so easy to find the right place. You will get lost on the way to different wholesale markets.
Moreover, foreign clients do not understand Chinese, so it is difficult to communicate. When they come to Guangzhou, they need someone to lead the way, translate, and communicate with suppliers. This is the predecessor of Guangzhou sourcing agents.
Later, they gradually developed into the current model: integrating supplier resources, obtaining inquiries from foreign clients through the Internet, and helping them complete sourcing projects even if they have not come to China.
What services do Guangzhou agents offer?
In the current market, there are mainly two mainstream sourcing service models in China.
Providing supplier information
One type is small-scaled sourcing agents, generally 1-5 people. They find suppliers for your product from 1688, Alibaba, AliExpress, and other platforms. Then, they send you the basic information of the supplier (name, contact details, website, etc.) You need to communicate with suppliers to deal with sourcing matters by yourself.
Providing one-stop sourcing service
The other is larger, generally consisting of dozens or hundreds of people. They do not provide supplier information. Because these supplier resources are integrated by themselves and cannot be found on wholesale platforms. But they will have a dedicated consultant to connect with you, help you manage the entire supply chain, and provide one-stop services for sourcing from China, including but not limited to:
This is the most basic service of every sourcing agent in China. They verify and select suppliers that meet your requirements, help you communicate product details with suppliers, get samples and send them to you. They will also negotiate for you to get the best product quote.
Following up on production
When you place the order, the sourcing agent will keep an eye on the production process. Supervise whether the factory is cutting corners and urge it to complete the order on time.
When your products are produced, purchasing agents can also provide quality inspection services. They have dedicated QC staff, or cooperate with a third-party inspection company to help you check out defective products, and communicate with the factory to modify and redo or compensate. So they can help you minimize the defective rate before shipment.
Many sourcing agents have cooperative freight forwarders. They can help you arrange the shipping of goods with various methods. They will help you communicate with the forwarder, and tell you what documents and certificates you should prepare for customs clearance.
If you want to print your logo on existing products, and custom packaging to make your private-label products, many sourcing companies can do it. Some professional sourcing companies, such as JingSourcing, can even help you develop new products from scratch.
How much do sourcing agents charge?
Most Gunaghzhou sourcing agents charge you based on one of the following two ways.
Fixed fees
Generally, these agents charge you fixed fees and provide you with supplier information. You need to directly build the business relationship with the supplier by yourself.
Some agents charge you every time when you want to get information from them. Generally, they are personal. The agent packs the supplier information and sends it to you within the agreed delivery time, and you pay him a fee, as shown in the picture below. After that, the transaction is over. Next time you want to ask him to buy information, you need to pay again.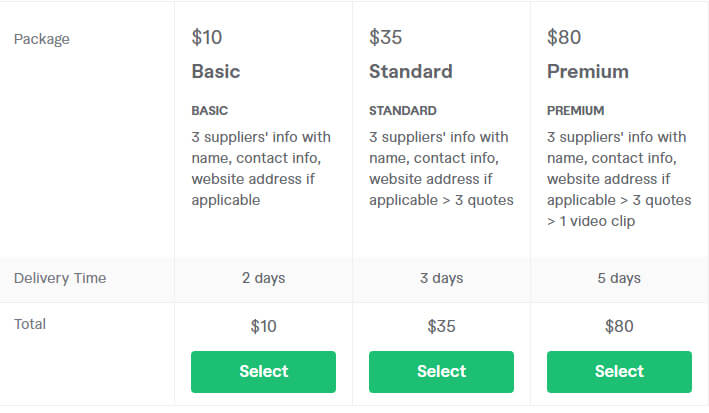 There are also some sourcing agents that charge membership fees monthly or annually. After you pay, you become their member. During the validity period, you can always enjoy the corresponding services. Just like the picture below: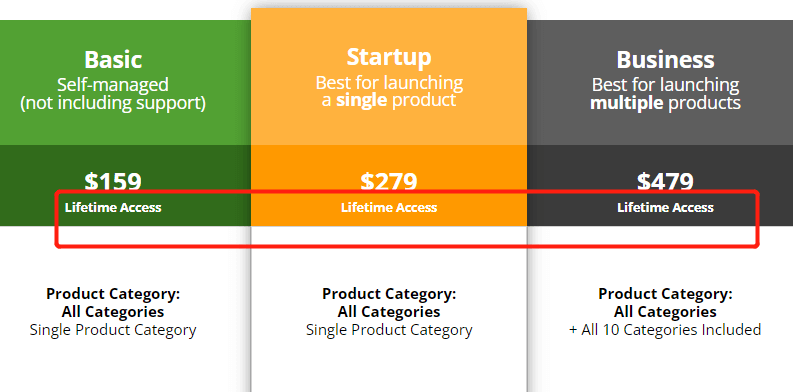 Percentage service fee or commission
These agents will engage in the product sourcing process. They will charge you a percentage service fee or commission. The amount ranges from 5%-10% of the total value of your order. And the specific rate is based on the service you need, the product, and the order size.
For example, if you have already placed orders with your own suppliers. But you need us to help you store products from different suppliers in our warehouse, do quality inspections, and arrange shipment to your door. Then we may only charge you a 5% service fee.
But if you want us to filter 5 suppliers for your orders and manage mass production, quality inspection, and international logistics for you, then we may charge you a 10% service fee.
When your order is huge, sourcing agents are willing to give you some discounts and waive some small fees. In many cases, you can get a reasonable price upon your request from most Chinese sourcing agents.
If you get a very cheap price from a purchasing agent, such as 1%, then, you need to consider whether the agent is reliable. Because the price it gives is lower than the market standard and can not cover its operating costs. He may charge fees in other places, such as quoting a little more when giving you the factory quotation or charging more freight for shipping.
Who needs a Guangzhou sourcing agent?
People with no experience in importing
If you import products from China and do all the things above by yourself, then you need to select suppliers to help you produce products, select quality inspection companies to help you inspect, and select forwarders to help you transport. You need to communicate with them.
But you are not in China and don't know Chinese yet. This will be a super complicated thing for you. You may have spent half a year, and you still haven't got your product, which is worthless. If you look for a sourcing agent, they are professional in sourcing and have many resources. They can make the entire sourcing process smoother and save you time and energy.
People with customization needs
If you want your customized products to meet your requirements, you should be able to clearly describe your needs to the factory. But many people only have a rough idea. Other than that, they don't know anything. However, factories usually have no time and patience to help you analyze the product. And they may not be able to 100% understand your needs.
But sourcing agents can provide these services. For example, many of our clients come to us just with a simple draft or a similar product image. We help them design customization details, such as making graphics, choosing materials, selecting production technics, calculating and saving costs, etc. We will fully stand in your position, understand your needs, and repeatedly communicate and confirm these details with factories.
In addition, sourcing agents are also very suitable for small-batch customization. For example, many of our clients only need to customize 300-500 products. But the quantity is too small to reach the MOQ of many factories. When they go to contact the factory themselves, they are rejected. But we can help them do it. We can find our well-cooperated factories to make the products, or help our clients negotiate with the factories.
People with multiple product categories to buy
To buy only one product, you need to filter out at least 2-3 suppliers from many suppliers, and then carefully compare them to select the best ones. If you want to purchase 10 types of products, the workload will increase by 10 times, which will be a very headache. And this is just the first step in sourcing.
But if you find a reliable agent, he can help you buy dozens of products. Therefore, many large retailers, grocery stores, and supermarkets generally wholesale goods through sourcing agents or trading companies, rather than directly looking for factories.
In short, anyone can find a sourcing agent to buy, as long as you want to import products from other countries. Because buying products that are out of your reach is a difficult thing. You cannot see or touch products, and there are also time differences and language barriers between you and your suppliers.
It will be much easier to have a sourcing agent handle things locally for you. They are professionals, and their efficiency will be much higher. But the premise is, you need to find a reliable sourcing agent likeJingSourcing, a leading sourcing company in China.
Want to import from China?
Guangzhou sourcing agent vs Yiwu sourcing agent
The locations of the Guangzhou sourcing agent and the Yiwu sourcing agent are different. Guangzhou is located in Guangdong Province, while Yiwu is located in Zhejiang Province. Nearly half of the factories and product categories come from these two places. Moreover, they are all coastal cities with convenient transportation, which is good for the development of international import and export trade.
Therefore, the efficiency of resource integration for sourcing, production, and transportation is high. From this point, no matter whether the agent is located in Guangzhou or Yiwu, it is good.
In fact, most of the sourcing companies are from these two cities and their vicinity. It is impossible to be very far away from them. For example, A sourcing company is impossible to open in the north of China, because it is not convenient for it to do business.
In addition, the industrial clusters of Guangzhou and Yiwu are different. Yiwu mainly exports low-value and daily used products. For example, 80% of the global Christmas products are produced in Yiwu. For another example, more than half of the peripheral products for the 2022 World Cup come from Yiwu, such as footballs, speakers, jerseys, trophies, flags, etc. In Guangzhou, there are more leather goods, clothing, and beauty products.
But as a professional China sourcing agent, its suppliers should not limit to Yiwu or Guangzhou. It can integrate supplier resources all over China to find suppliers that match your requirements. Just like JingSourcing. For example, if you want to buy a batch of mobile phones, we have many suppliers in Shenzhen in our database. We will find suitable suppliers in the corresponding industrial cluster of the product you want.
Our suppliers have cooperated with us many times, so we can ensure that they are capable and reliable. What's more, no matter where the factory is, we can go on-site inspection to confirm that they are able to complete your order and deliver products of good quality.
Get started buying products with JingSourcing.
Get started buying products with JingSourcing.