Bra is one of the most necessary clothing of all types, which is significant for millions of women wearing everyday. In this way, the bra can be a profitable commodity in the long term.
If you want to buy a bra, you should know some basic information and choose the most suitable one. If you want to run a business about it, you should have a basic understanding on how it is made up or how it is produced by different bra materials. So we created this guide to provide you a general idea about materials needed for bras. If you're new in this field or interested in it, here is some useful information may help you, do not miss it.
A traditional bra is usually made up of different parts, mainly including,
Cups
Bands
Straps and Adjusters
Hook and eyes
Underwire
Seams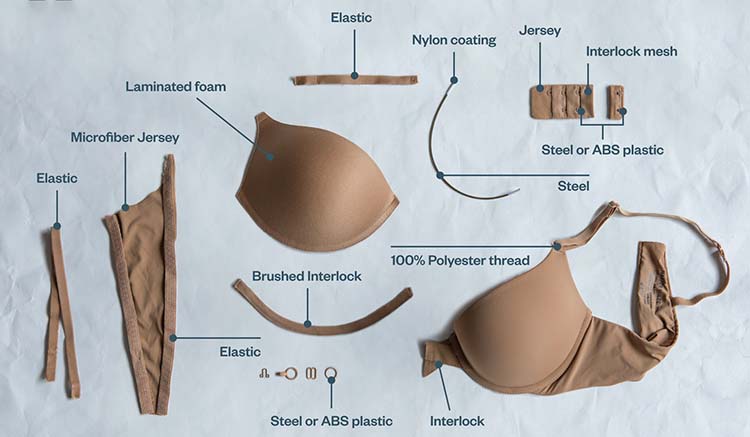 Source from VOGUE
I will list some materials used for every part of a bra for your reference.
The cups of bra are the place to put into your breasts, which is the mainly and important part of a bra. They're round or a little bit pointy, which are usually two cups. The function of cups is to protect and support your breasts for keeping in good shape. Common materials for making cups are eight as fellow.
1.1 Cotton
Cotton, as a material, has been used widely in varied industries over a long history. On the market, most bras are mainly made of cotton. This fabric has many advantages,  comfortable and breathable, soft and natural against the skin, warm and absorbent so it's popular with the public. However, it has some disadvantages as well, like being easy to deform and shrink with poor durability, compared to some other materials.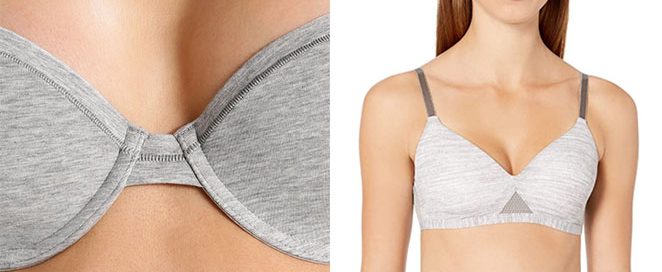 1.2 Silk
If you want a bra that feels extremely comfortable and breathable against your skin, silk is a good choice. Silk material is with a quite high comfort level, soft and smooth, always used as a high-end material. Obviously, it is very expensive, so the price of bras made of silk is on the high side. Meanwhile, silk material also has disadvantages, like inconvenient to take care of or maintain, so it needs hand-wash to keep shape and quality, and the cost of maintenance is high as well. If you have the budget to buy and want to show your taste, you can choose this kind of material.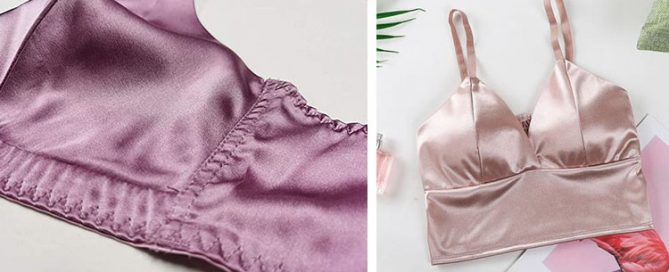 1.3 Wool
Yep, believe it or not, wool is also a popular and good choice for bras. In fact, this material is always combined with another material to make it stretchy more than it'd have otherwise. In this way, this kind of fabric is different from wool material from ordinary sweaters, not so chunky, itchy or coarse. On the contrary, it would be more soft, comfortable and breathable, and help to adjust your body temperature without odor. This kind of material costs high as well, and fewer people are willing to choose this kind of material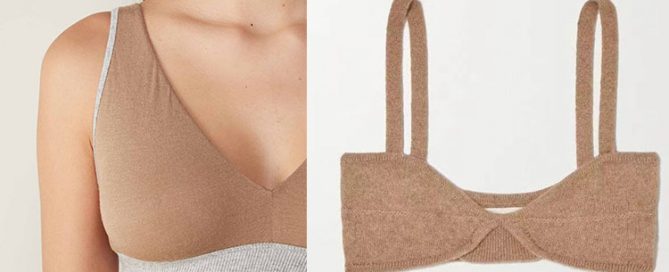 1.4 Duoplex
Duoplex is a low-stretch knit material made of 100% polyester, having very little mechanical on the cross-grain and no stretch lengthwise. It is a lightweight fabric with drapes used in bras. This kind of material is typically reversible with one side matte and the other side shiny while still being soft to the touch. You can choose either side as your main fabric, and this fabric has many colors for you to select.
Duoplex also has great support and is used for bra cups, bra frames and bridges. If you choose this fabric, you do not need to line your fabric. Duoplex is also considered a tricot so be careful not to get confused when shopping for this fabric. There is no doubt that duoplex is a good material for making bra cups and front frames because it provides great support.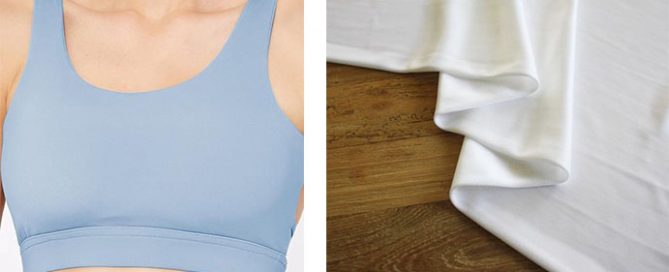 1.5 Elastane
Elastane is a polymer fiber that is usually used in materials that require lasting elasticity and won't deform when they wear out. It's common for a small amount of elastane to be mixed into fabrics. In this way, the material can fit tightly on the body but still be comfortable, such as bra cups and the back of a bra.
1.6 Spandex
Spandex material is used widely in making underwear and is always mixed in proportion with other materials into new material. This kind of material is comfortable, breathable with good stretch, not easy to deform, pilling or wear out. Its features are similar to cotton, but it has more choices of colors. Sports bras are always made of spandex material mixed with other materials, like polyester or nylon.
1.7 Nylon
Nylon is an extremely strong, elastic fiber that has been popular in lingerie and bras for decades. It is easy to care for and wash, resists stains, and lasts long with durability. But it is not very absorbent, and its look as well as style would be somewhat out of fashion.
1.8 Modal
Modal material is a semi-synthetic fabric, mainly used for clothing, such as underwear and lingerie. It is a form of rayon, another plant-based textile. Modal fabric is often blended with other fibers like cotton and spandex to add strength. Modal is considered a luxurious textile thanks to both its soft feeling and high cost, so it is more expensive than cotton or viscose.
The benefits of modal fabric are as fellow:
Stretchy
Soft
Breathable
Water absorbent
Durable
Drapes well
Eco-friendly
Doesn't pill
Colorfast
Doesn't shrink
Biodegradable
Doesn't crease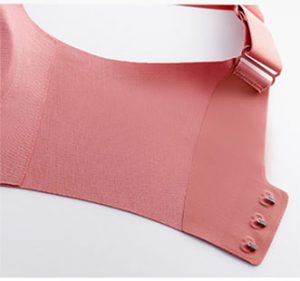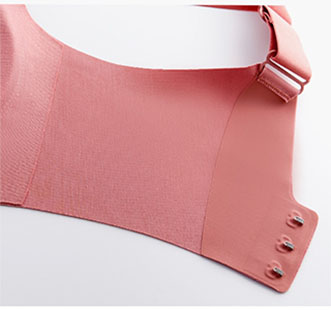 2.1 Polyurethane foam(PU foam)
Polyurethane (PU) foam sheets are used to mold three-dimensional (3D) bra cups of various softness and shapes, which eliminate bulky seams and reduce production costs. This material makes cups keep soft and comfortable. But polyurethane foam is expensive due to the fluctuating raw material prices.

2.2 Silicon and rubber
Silicon and rubber are two of the most common types of fabric used to make the padded bra cups, while foam-covered air and gel liners are also popular, but less common.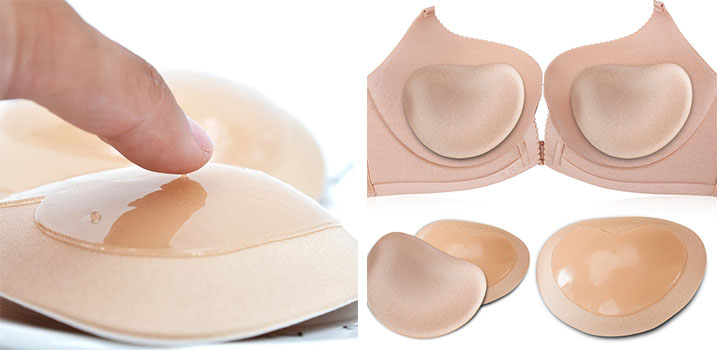 3.1 Denier Nylon
When opting for a stretchy fabric for bra cups, you need to consider a rigid fabric for the lining. In this way, 15 denier nylon is ideal. As well as being light and sheer enough not to add any unnecessary bulk to your bra, it's also rigid enough to give adequate support.
Characteristics of 15 denier nylon:
100% nylon
Lightweight
Sheer
Low denier count
Mechanical stretch on the cross grain
Comes in a variety of colors
Nearly invisible under bra main fabric
3.2 Stretch Mesh
Stretch mesh is a blend of nylon and spandex. Its features include excellent recovery and the virtual absence of stretch on the cross-grain so that it is a great choice for making bra lining. As an added advantage, it's light and sheer enough that cannot be visibly discernible from the main fabric of the bra.
Characteristics of stretch mesh:
Made of nylon and spandex
Lightweight yet durable
Sheer yet strong
Mechanical stretch on the cross grain
Very stretchy lengthwise
Great support and recovery
Nearly invisible under bra main fabric
Comes in a variety of colors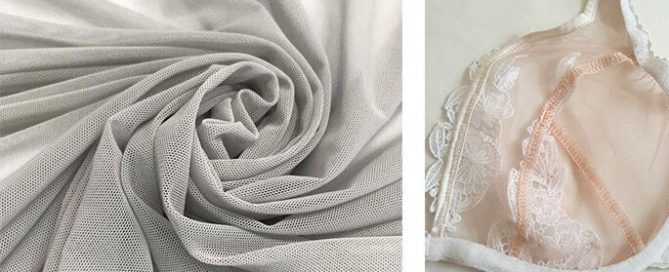 3.3 Sheer bra cup lining
Sheer bra cup lining is a supportive fabric made of 100% nylon. It is used to line under stretch lace, sheer or delicate fabric. It can also be used for the bridge and frame of a bra because of its minimal to no stretch characteristics. It is soft to the touch but also rigid. It adds reinforcement needed for various lingerie garments or bras that can be not visible. Sheer bra cup lining is also known as "marquisette".
Characteristics of Sheer Bra Cup Lining:
100% nylon
Minimal to no stretch
Strong and supportive
Invisible reinforcement
Lightweight
Sheer
Bands of bra, also called underband or chest band, is the most important part to support all the weight of the breasts, which runs around the rib cage of the wearer. The bands can also be divided into two types—front band and back band. The center gore is also a part of the band.
 4.1 Plush
Plush material is basic elastic, suitable for making bra bands or panties. Its edge is with small and delicate picot. The features are soft and comfortable. Compared to other materials, plush is not as common as other materials.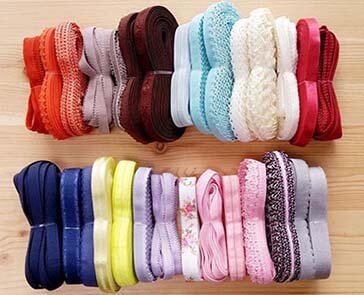 4.2 Charmeuse 
Charmeuse is a stiff satin-woven fabric with a semi-glossy front and matte back. It feels soft and comfortable against the skin and the texture gives an exclusive feel. It's perfect to use on the cups and bands of bras where its stiffness and stability provide good support. Charmeuse is traditionally made from silk, but now it's more commonly made from polyester fibers.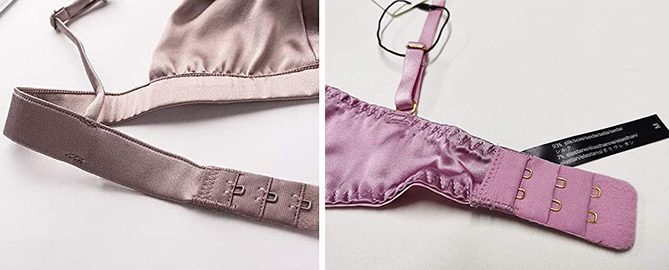 5. Bra Strap and Adjuster Materials
The function of straps is to connect the front and back of the bra over the shoulders, playing the role of making your breasts fixed and lifted. Here mainly list some materials used for making straps and adjusters.
5.1 Bra Strap Materials
Straps are mainly made of nylon and spandex materials because these materials are not easy to deform and always keep elastic. It also needs good resilience and toughness to keep lifting your breasts.
Satin fabric is also used for making straps mixed with some other material to add elasticity, because this kind of material is very smooth and not easy to pilling, feeling good and comfortable.
Plastic material is also used for making straps.  Many kinds of plastics, including TPU and PP, are used widely. The feature of this kind of strap is transparent and invisible. Women always choose plastic straps to match some special and fashionable outfits, especially in summer.
5.2 Bra Adjuster Materials
Metal materials are always used for making bra adjusters, including stainless steel and some alloy metal materials. These materials can last for long life, not easy to rust or wear out, but their cost may be a little bit high. To make adjusters more colorful and comfortable, the surface of it may be covered by rubber or paint in different colors.
Plastics are also used for making adjusters mixed with synthetic materials. This material costs low, easy to made in different shapes or types used for different bras. But the using life is shorter than metal materials.
6. Bra Hooks and Eyes (Closure) Materials
The hook and eyes are where you open and close your bra to help you wear and take off more conveniently. In view of different sizes of bras, the number of hooks and eyes are different. The larger size needs more hooks and eyes for better support than the smaller size.
Metal materials are mainly used for making hooks and eyes of bras, and stainless steel is the mainstream material. It is not easy to rust and is relatively cheap.
7. Bra Underwire Materials
Some bras are equipped with underwires in the lower part or at the bottom edge of the bra's cups. Its function is to provide extra support and lift up the breasts in good shape for preventing breast sag.
7.1 Plastics (PVC & PE)
Plastic underwire, also called soft underwire, is usually made of plastics material. Its plasticity is good, cost of production is low. Compared to the hard underwire, the soft underwire is more comfortable and suitable for long time wearing; its supportability is not as good as a metal underwire.
Plastic underwire is a great alternative to metal underwire. It can be cut easily and is much lighter in weight than metal. If you have metal sensitivity, plastic boning of bras is also a great choice. While plastic is not as strong as metal, it can be much easier to use. Because of its ease of use, plastic underwire has lent itself to a whole new realm of bras where metal is not practical or desired.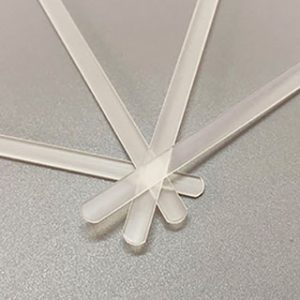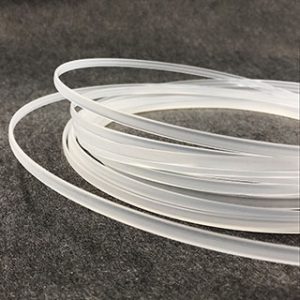 7.2 Metal
Metal underwire, also called hard underwire, is made of stainless steel or alloy metal materials, with poor flexibility and comfort. Underwire made of alloy metal material is more expensive than stainless steel, so many underwires on the market choose the latter material. To make the metal underwire more beautiful, it would also be covered with paint in light colors.
Stainless steel of model number 304 is mainly used for a hard underwire. It is cheap with technical maturity, environment friendly, and not easy to rust or wear out.
Nickel-titanium alloy is an alloy with a near-equiatomic composition of nickel and titanium. It's worth mentioning that titanium nickel alloy underwire has temperature sensitivity, the temperature of our body can make it soft and fit the body shape. It is also called memory alloy underwire.
8. Bra Embellishment Materials
8.1 Lace
Lace is mainly made from polyester, cotton and rayon, or spandex and elastane added to improve elasticity. It is used widely in the embellishment of bras so that bras would be more diversified.
8.2 Tulle(Net Fabric)
Bra tulle is much softer than craft tulle and doesn't tear like craft tulle.
It does not have any real stretch, and only a slight 'mechanical give' on the fabric, making it a great option for larger sizes and cups that need extra support. It is also the type of tulle that is used for the beautifully embroidered tulle laces and can be used for that extra rigid support under a tulle lace.
It has a wonderful sheer quality and lightness that is more breathable than a heavy knit. It is very commonly used in high-end lingerie.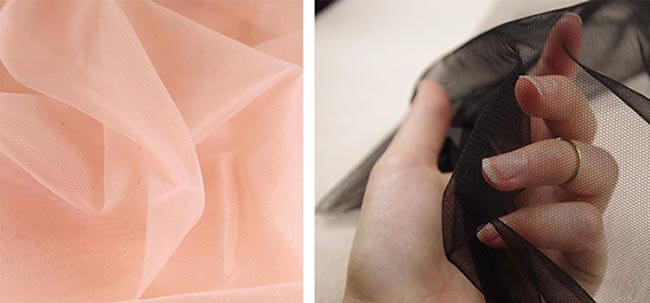 8.3 Jacquard 
Jacquard is always patterned, but rather than being printed onto the fabric the pattern is part of the weave itself. Jacquard is a technique and can be made from nearly any type and material of yarn, for example, cotton, silk, polyester and acrylic fibers. Jacquard can be woven with different colored threads to form patterns or made from a single color that creates a 'raised' pattern.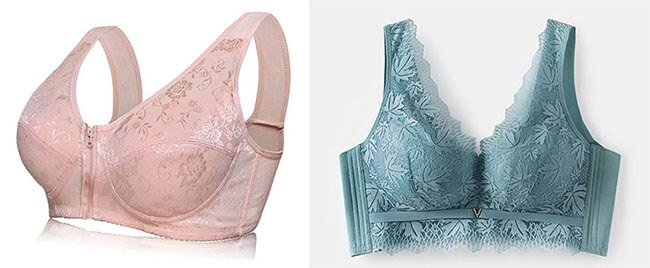 8.4 Seams
Seams are not the most concerning part, but showing the quality of design and production of a bra. The directions of seams are different in different bras. As parts of a bra mentioned above, seams make these parts connected and get together. The way and design of seams can help you judge whether the bra fits your body curve or not. So seam is not a concrete part but matches the whole bra.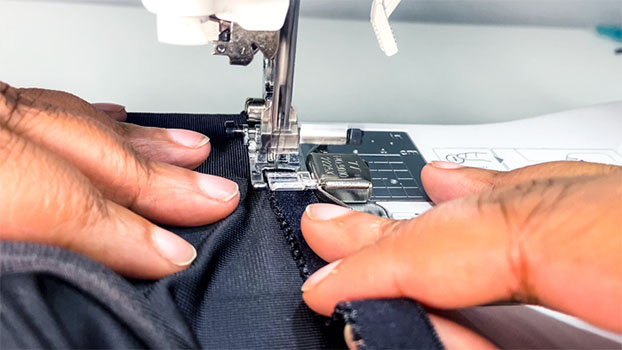 The End
Do you want to find the best price factory for women's bras in China? If you are not experienced, it's okay. We can support you and help you find the best underwear factory in China. You can also choose to produce your customized style. Just tell us your requirements. We will guide you step by step until products are made and delivered.
We're Jingsourcing, a leading sourcing company in China. If you want to wholesale or customize bras and bra materials from China, please feel free to CONTACT US.