Importing from China to Pakistan is no big deal if you know how to do it correctly. However, due to a lack of information and misguidance, people are afraid to import products as they think it's not easy. So if you want to know the important details on how to import from China to Pakistan, this article will help you in many ways.
Import Licenses Needed for Importing from China to Pakistan
Can I Import from China to Pakistan as an Individual or Corporate?
Presently, there's no specific import license requirement to import from China to Pakistan. Nevertheless, you are required to have the following documents to import products into Pakistan successfully.
Entity registration
Bank account
National Tax Number (NTN)
Sales Tax Registration
Chamber of Commerce membership
Let's discuss all the requirements one by one.
The first and foremost step is to register your business entity. Whether you're a sole business owner, partnership firm, or a Private Limited Company, you need to register your business with the Pakistani authorities.
So, for instance, if you have a Private Limited Company, you will need to register it to the Securities & Exchange Commission of Pakistan (SECP).
Likewise, as a sole proprietor, you will have to register your business in the Federal Board of Revenue (FBR) Pakistan to get the NTN.
You must have a current bank account for documents and import proceedings.
The National Tax Number (NTN) Certificate is one of the most important documents you will need to import from China to Pakistan. You can apply for the certificate by visiting the Income Tax Department along with a photocopy of your National Identity Card (NIC) or by applying online.
4. Sales Tax Registration
Sales Tax Registration Number is another necessary document you need from the FBR to import products into Pakistan from China.
5. Chamber of Commerce and Industries (CCI)
Lastly, you must obtain the membership certificate of CCI or any other official trade association of Pakistan.
Methods and Ways to Finding Chinese Suppliers
How and Where to Find My Target Supplier?
To begin finding the target supplier, first, you should know your requirements. Think of the products you are willing to import from China to Pakistan.  Ensure the items are chosen carefully after proper research, and they should be in demand and within your price range.
Once you are clear on your thoughts, there are three reliable ways to find your target supplier.
Visiting China and Chinese markets
Online B2B Marketplaces
Sourcing Agents
Visiting China and Chinese Markets
Going to China from Pakistan could be expensive, but if you can afford it, don't miss the Canton Fair. It happens twice each year, and almost every industry participates with its physical products. And because the event is huge, the fair runs in three different phases.
Phase 1: In phase 1, you can find suppliers from the electronics, chemicals, machinery, and building material industries.
Phase 2: Phase 2 is dedicated to home décor, gifts, and consumer goods.
Phase 3: You can find suppliers from textiles, office supplies, health, medical devices, and recreational products industries in this phase.
Another option is Zhejiang's Yiwu Market, with 40,000 shops and suppliers who deal in shoes, bags, watches, textiles, accessories, and many other low-priced products. The market has already attracted importers from Africa, India, Middle East, and Pakistan. So if you're new to all the import games, the Yiwu Market will surely make your contact with the desired supplier.
Finding your supplier on the internet is the most economical way to import from China to Pakistan. There are numerous B2B websites, such as Alibaba, Global Sources, and Made in China, where you can find hundreds of suppliers within a few clicks.
You can contact them through email or use the chat option to discuss the minimum order requirement and customization requirements.
Last but not least, you can hire an excellent sourcing agent/company in China for quality inspection after choosing the supplier online. The person or company will work on your behalf and make sure you get the correct details about the products.
Customs Duties for Importing from China to Pakistan
What is the Customs Duty I need to Pay when Importing Products from China to Pakistan?
The customs duty may vary depending on the nature of the product. Starting from 3%, the customs duty in Pakistan can go up to 100%. Moreover, there also products with 0% customs duty in the Pakistan Custom Tariffs.
Below are the 24 products and their Pakistan Custom Tariff Codes (PCT) customs duties (CD).
Babies garments – PCT 6209.9010 with 20% CD
Wheeled Toys – PCT 9503.0010 with 20% CD
Office and School Supplies – PCT 3926.1000 with 20% CD
Tools (Spades and Shovels) – PCT 8201.1000 with 16% CD
Tools (Pipe Cutters) – PCT 8203.4000 with 11% CD
Cotton Jackets – PCT 3103.1000 with 20% CD
Women Panty – PCT 6115.2100 with 20% CD
Women Socks – PCT 6115.3010 with 20% CD
Women Nightdress – PCT 3108.3100 with 20% CD
Sportswear – PCT 4203.2100 with 20% CD
Weightlifting Equipment – PCT 9506.9100 with 11% CD
Bags – PCT 3923.1000 with 20% CD
Wrist Watches – PCT 9101.1100 with 3% CD
Glass Ceramics – PCT 7013.2800 with 20% CD
Plastic Sheets – PCT 3920.1000 with 20% CD
Electronic Items (Laptops) – PCT 8471.3010 with 3% CD
Boilers – PCT 8420.1200 with 20% CD
Chemicals (Chlorine) – PCT 2801.1000 with 11% CD
Iron and Steel – PCT 7206.9000 with 3% CD
Fertilizers – PCT 3101.000 with 3% CD
Rubbers – PCT 4001.1000 with 0% CD
Manmade Filaments – PCT 5112.2000 with 16% CD
Sport Utility Vehicle (SUV 4×4) – PCT with 100% CD
800CC Vehicle Engine Parts – PCT 8409.9120 with 35% CD
You can also check out the entire list of products along with the customs duties and PCTs on the Federal Board of Revenue website. It is also vital to understand that each year the customs duties can be changed as per the annual budget of Pakistan.
Calculating Custom Duty and Other Taxes
Calculating custom duty is not a difficult process. All you need is the PCT of the product you are willing to import from China to Pakistan, then go to the Federal Board of Revenue's "Duty Calculator" to find the taxes you must pay when importing items to Pakistan.
Here's an example.
Suppose you are importing babies garments from China to Pakistan. Here's what you need to do:
Step 1: Visit the Duty Calculator website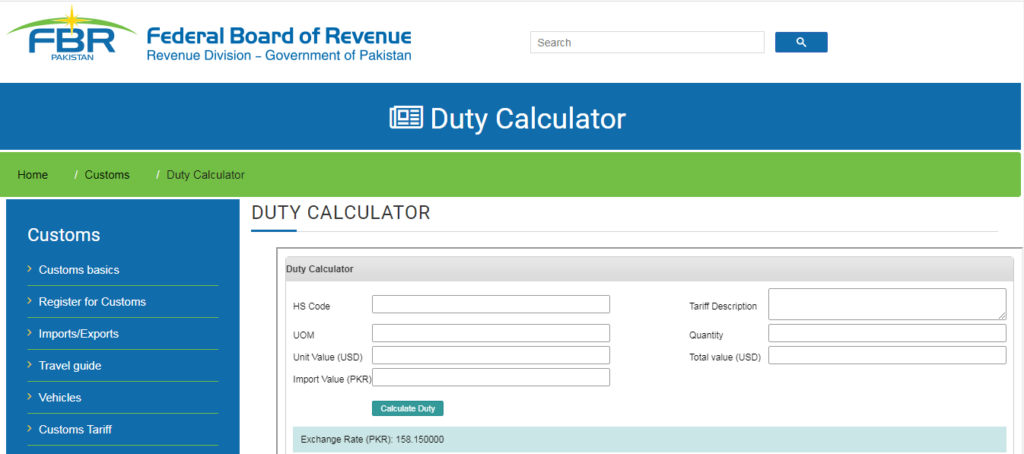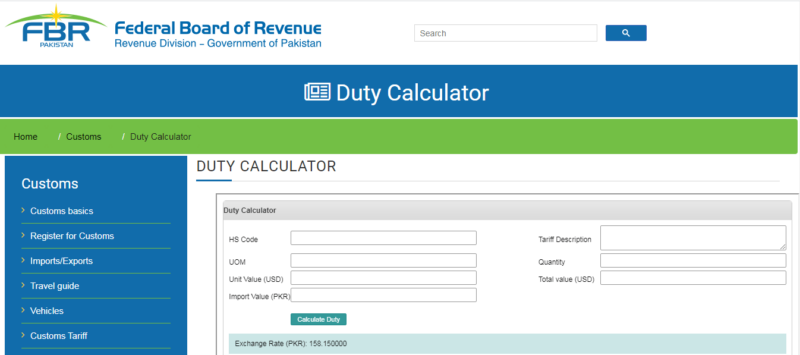 Step 2: Enter the babies garments PCT in the "HS Code" box.
As soon as you enter the PCT, you will find the product's name in the "Tariff Description." Also, the "UOM" unit is fixed to "Kilogram (KG)," and it's unchangeable.
Step 3: Enter the required quantity of the product.
For the sake of this example, you can see that the entered value is 10. That means you are willing to import 10 pieces of babies garments.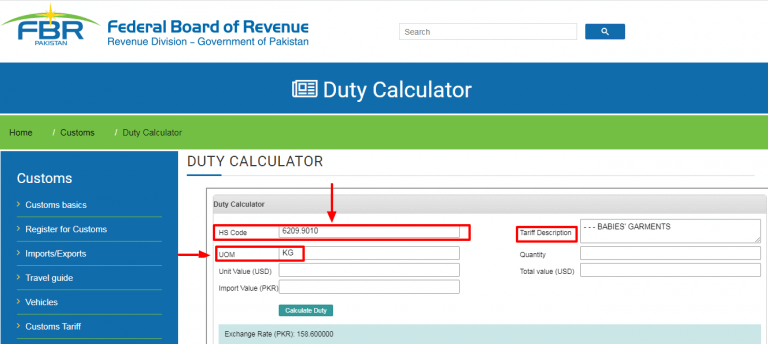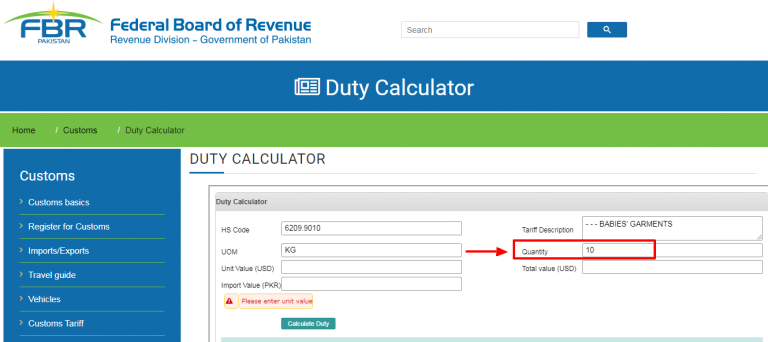 Step 4: Enter the price (in USD) per piece/item you would like to import.
Let's assume that the price per item (Unit Value) is $3. So as soon as you enter the price, you will see that the "Total Value (in USD)" and "Import Value" (In PKR) will be calculated and appear automatically.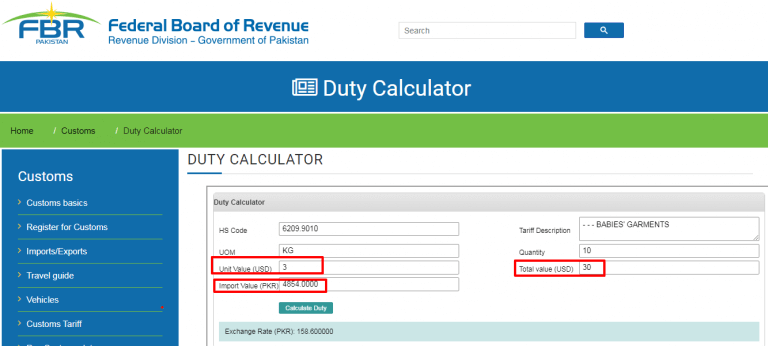 Step 5: Now, click on the "Calculate Duty" button.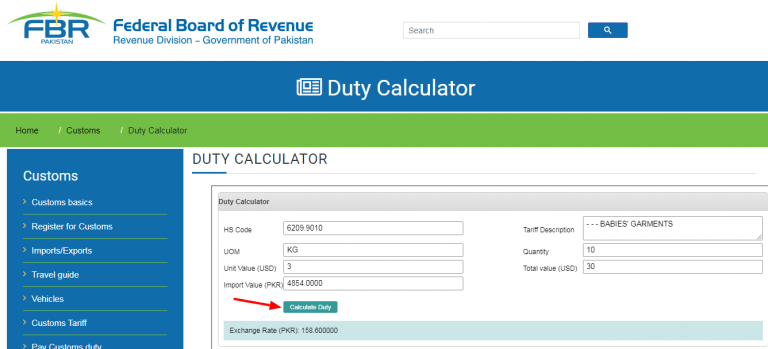 Step 6: A new window will appear, showing the "Grand Total" of the customs duty.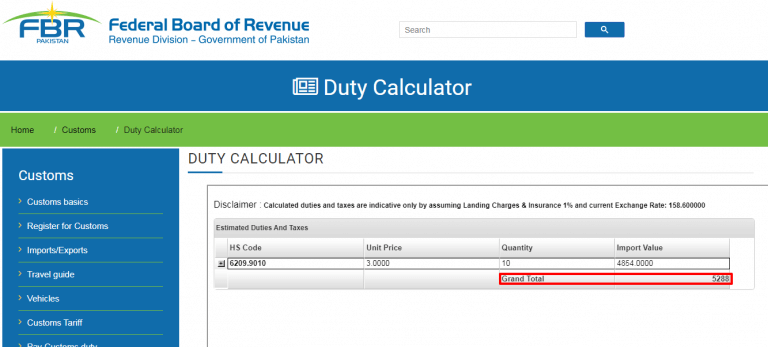 So, click on the small "+" button on the left side to view the tax details.

You will see the entire list of taxes along with the customs duty you will need to pay to import 10 pieces of babies garments, each available for $3, from China to Pakistan.
Apply the same procedure if you want to estimate the import duty and all essential taxes of any other item from the list. It is also important to realize that customs duty may change, but sales tax remains constant no matter what item and units you're trying to import from China to Pakistan.
Furthermore, it is always recommended to use the official duty calculator to get accurate values. Relying on any unauthentic source to calculate customs duty can produce incorrect results. So save yourself from trouble.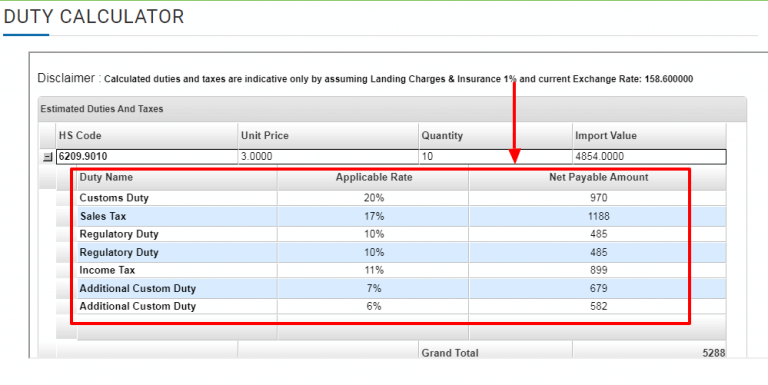 International Shipping and Domestic Logistics
This part of the article covers the documentation required by both the parties (exporter and importer) to send and receive products from China to Pakistan.
International shipping defines the process that helps you get the ordered items from China. Here is the list of documents the exporter or supplier will be asked for to send the consignment to Pakistan:
Export license
Certificate of manufacturer
Inspection certificate
Commercial invoice
Export letter of credit
Likewise, you will have to present the following documents to the Customs Department of Pakistan to receive the products from China:
Bill of lading or airway bill
Packing list
Commercial invoice
Insurance certificate
Shippers import/export declaration
Wondering why some of the elements are repeated in the above list? The above documents are shared between both parties (exporter and importer), and therefore, they must have identical information to clear customs.
Note: The bill of lading is an essential document, and it cannot be considered as complete if any of the following information is missing from it:
Shipper details
Vessel number
Notify party
Loading and discharge port
Place of delivery and receipt
Containers number
Goods description
Dimension or volume of the shipment
Net weight
Once both parties have the complete documents, shipping from China to Pakistan will become hassle-free.
Product Regulations when importing from China
What Products are Legal to Import from China to Pakistan?
After carefully understanding the Import Policy of Pakistan, it is pretty clear that most products are allowed to import. However, on the contrary, there are several banned and restricted items, which are divided into three main categories, such as "Appendix-A," "Appendix-B," and "Appendix-C."
To give you a glimpse and idea about each category, each Appendix is briefly discussed below.
Appendix-A
According to Pakistan's import regulations, the following products are completely banned:
Holy Quran's translation without Arabic text
Pornography and any other product that has obscene pictures, inscriptions, writings, or visible representation
Anti-Islamic books or literature
Any unhealthy edible product
Factory rejected steel and iron sheets
Cocoa leaves
Cannabis herbs
Poppy straw
Opium
Alcoholic beverages
Used cooking oil and vegetable ghee
Dyes made with benzidine
All kinds of hospital waste
Clothing made with asbestos
CFC gas-based deep-freezers, refrigerators, and air conditioning equipment
Gambling equipment
Sheesha
Ammunition
Stolen products
Appendix-B
These are the restricted items, which can only be imported when meeting certain conditions. Some of them are:
Live animals, semen, and embryos
Fish and fishery items
All types of plants
Seeds
Crude palm oil
Cigars and cigarettes, or any substitutes
All kinds of edible products
Calcium carbide
Human blood
Food colors
Dyes
Fireworks
Appendix-C
You cannot import products from China to Pakistan if they're in used or secondhand condition. A few names are:
Boilers
Air conditioners
Compressors
Household machinery
Auto parts
What Certifications are Needed to Import from China to Pakistan?
Here are the required certifications when importing products from China to Pakistan:
Certificate of the Origin (all products)
Halal certificate (for food products)
Fitness certificate (for machinery and equipment)
Phytosanitary certificate (for plants)
Hepatitis B and C, and AIDs free certificate (for human blood)
Certificate from China's government to confirm that the exporter is registered (for food colors)
Safety certificate (for cylinders, manufacturing machinery, etc.)
Approval from Pakistani Telecommunication Authority (PTA) and Certificate of Clearance (for tablets and mobile phones)
Original Equipment Manufacturer (OEM) certificate (if product imported from OEM)
Batch certificate (for Pharmaceutical products)
Disability certificate (when motor-cycle and tri-wheelers are imported for disabled persons)
Certificate of Conformance – CoC (for solar PV systems)
Product importing Demands of Pakistan
What Pakistan Needs and What to Import from China to Pakistan?
Pakistan is still an underdeveloped country, but it has many opportunities for doing business. Although agricultural activities are the primary source of earning for this nation, individuals and corporates are also engaged in many other businesses.
Therefore, the product demand is not limited to a specific category. So no matter if you're importing garments or fertilizers from China to Pakistan, you always have a chance to sell your products successfully.
According to the import data, the following products had been imported from China to Pakistan in 2020:
Electronic equipment worth $3.5 billion
Machinery and boilers worth $2.34 billion
Organic chemicals worth $927.60 million
Iron and steel worth $646.70 million
Plastics worth $420.04 million
Manmade filaments worth $410.29 million
Vehicles (excluding railway) worth $275.52 million
Fertilizers worth $271.03 million
Rubbers worth $258.18 million
Chemical products worth $254.05 million
Dyeing extracts worth $221.62 million
Medical apparatus worth $216.76 million
Manmade staple fibers worth $188.54 million
Aluminum worth $184.73 million
Paper and paperboard worth $156.89 million
Inorganic chemicals, isotopes, and precious metals worth $126.40 million
Edible vegetable, tubers, and specific roots worth $112.36 million
Distillation products, oils, and mineral fuels worth $108.96 million
Crocheted and knitted fabric worth $102.69 million
Glass and glassware worth $90.61 million
Tea, coffee, spices, and mate worth $89.69 million
Furniture, prefabricated buildings, and lighting signs worth $64.25 million
Laminated, coated, or impregnated textile fabric worth $64.15 million
Cotton worth $61.72 million
Pharmaceutical products worth $51.65 million
Ceramic products worth $48.03 million
Floating structures (boats and ships) worth $39.97 million
Games, toys, and sports necessities worth $36.51 million
Footwear worth $33.25 million
So if you're puzzled and not sure what to import from China to Pakistan, the above list can help you choose the product according to your business capital and investment.
Final Words
We are Jingsourcing, a leading sourcing company based in China dedicated to helping importers in sourcing products from China. If you need help in wholesaling, sourcing, importing, and droppshipping products from China, please feel free to CONTACT US.