Office furniture is an indispensable part of our daily work, and China is one of the world's largest producers of office furniture. From stylish and practical modern office furniture to classic European-style pieces, there is a wide array of product styles available. In today's blog, we will take you on a tour to explore them.
Guangdong dominates in China's office furniture production.
More than one-third of China's office furniture is produced in Guangdong province. With cities like Guangzhou, Shenzhen, Dongguan, Foshan, and Zhongshan forming the largest industrial cluster for office furniture, a significant portion of their products find its way to the American market. The entire industrial chain, from raw materials to finishing touches like paint, equipment, and packaging, is well-established in this region.
Longjiang in Foshan City -- furniture production and materials sourcing town.
Longjiang is the largest base for furniture raw materials, earning it the title of "China's Furniture Materials Town." It's also a key hub for furniture manufacturing in China. Based on incomplete statistics, Shunde has gathered 8,000+ businesses engaged in the production of furniture raw materials, components, and furniture manufacturing, with most located in Longjiang.
Connect direct office furniture factories
Dongsheng Town in Zhongshan City -- China's office furniture hub.
Over 40 years of development, Dongsheng has become the most concentrated center for office furniture production in China, boasting a mature industry scale. In terms of office furniture diversity, quality, production, and exports, it dominates China's landscape and has earned the reputation of "Dongsheng: The Go-To for Office Furniture in Guangdong". There are also China's office furniture brands like Huasheng and Jongtay Office Furniture.
Guangzhou, Shenzhen, and Dongguan: China leaders in smart office furniture.
These 3 cities are export-oriented. The main gathering bases are:
Longgang district in Shenzhen.
 Houjie town, Dalingshan town, and Humen town in Dongguan.
Tianhe district in Guangzhou.
Mid-to-high-end furniture manufacturers are predominantly located in the abovementioned places, such as Meet&Co furniture, MIGE, etc. BTW, Shenzhen and Guangzhou hold furniture exhibitions, for example, CIFF (China International Furniture Fair) in Guangzhou.
Connect direct office furniture factories
Zhejiang is another key office furniture production & export hub.
Hangzhou -- China's office furniture industry base.
Since the early 1980s, Hangzhou's furniture industry started and now has evolved from office desk and chair production to a diverse array of office furniture products, including normal desks and chairs, filing cabinets, partitions, sofas, swivel chairs, smart office furniture, IT furniture, and more, with a total of over 2,000 different styles and designs available.
The furniture supply chains are complete, including various raw materials, hardware, woodworking machinery, and other supporting firms. Some worldwide famous Chinese furniture brands include Kuka Home, Sunon, etc.
Taking Sunon as an example, it was founded in 1991 and specializes in the manufacturing of office furniture. More than one-third of the Fortune Global 500 companies are its customers, and its products are sold in 122 countries and regions worldwide, with the largest share of its sales coming from the American market.
Connect direct office furniture factories
Anji -- hometown of China's chair industry.
The Anji chair industry began in the early 1980s and has transitioned from single-chair production to more diversified and series-oriented manufacturing. Anji leads in terms of chair production scale, market share, and brand influence, not only within the province but also on a national and global scale.
Additionally, Foshan and Dongguan in Guangdong are the major office chair production bases, followed by Anji.
Connect direct office furniture factories
Yuhuan -- China's production hub for European-style classical furniture.
After nearly 30 years of development, Yuhuan furniture has evolved into a cluster economy with varied product types and complete industrial chains. Especially in the realm of European-style classical furniture, it holds a leading position nationwide in terms of quality and craftsmanship. Approximately 90% of the furniture companies here are engaged in the production of European-style classical furniture, with over 70% of their products being exported.
Starting in 2015, more Yuhuan furniture firms began manufacturing minimalist luxury furniture products. This aligns better with the aesthetic preferences of contemporary consumers. On the other hand, this also helps alleviate the issue of rising production costs for classical rosewood office furniture by conserving raw materials and eliminating intricate carvings.
Connect direct office furniture factories
Dongyang -- capital of Chinese rosewood (carved) furniture.
Dongyang, a small city, holds the distinction of being the largest hub for the Chinese rosewood market. It boasts several timber markets.
The primary advantage lies in the art of carving, earning it the reputation of being the "Capital of Chinese and World Woodcarving." Hand-carved rosewood office furniture caters to the high-end market, art collectors, and furniture enthusiasts.
Connect direct office furniture factories
Partner with Jingsourcing to customize office furniture in China.
As a leading sourcing company based in Yiwu, Zhejiang, China, JingSourcing has integrated quality office furniture suppliers into our database, including major industrial zones in Guangdong and Zhejiang, as well as some other regions with strong furniture manufacturers. All of them have passed strict factory audits and have fixed cooperations with us many times.
Moreover, for your office furniture items, we'll help you get precise, competitive quotes, at least 10% cheaper than Alibaba's. 
Support sourcing office furniture in diverse materials and styles.
We assist you in wholesaling or customizing any type of office desks and chairs, sofas, storage cabinets, workspace partitions,  accessories (e.g. tablecloths, sofa covers, carpets), etc.
In my experience, there are three trends in office furniture:
Recyclable materials that make spaces more environmentally friendly.
Incorporating eco-friendly concepts into materials such as steel, wood, plastic, fabrics, leather, and more. The use of recycled materials, such as bamboo, reclaimed wood, recycled glass, and recycled plastic, in the production of office furniture is also gaining popularity. Recycled glass, after undergoing processing and re-firing, performs as well as the original product.
Multifunctionality and ergonomic design.
Office furniture that is adjustable, foldable, and adaptable to different work styles and tasks, such as height-adjustable desks, standing desks, and ergonomic chairs, is becoming increasingly popular. Under today's high-stress work environments, people want ergonomic office furniture for healthy work. Moreover, in the current trend of home offices, office chairs, gaming chairs, and ergonomic seating have achieved cross-category integration.
These functions include, but are not limited to:
Adjust the height and angle of the headrest to make the head more comfortable.
Tilt the backrest to accommodate various sitting positions.
Raise or rotate the armrest horizontally, making the arm more comfortable and free.
Adjust the spine support frame to make your spine more relaxed.
The cushion can slide back and forth.
Gas springs can be adjusted to suit people of different heights.
Add the exercise, and cycling functions.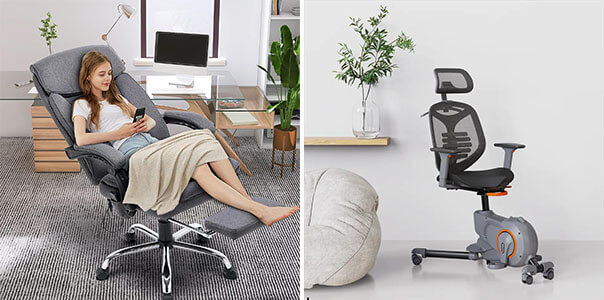 Small-batch purchase of disassembled office furniture.
Modular office furniture features versatility and maximizes utility. Taking the modular office sofa for example, it typically comes with built-in tables, storage, and laptop support, alongside power and data modules, suitable for private workspaces and public meeting areas. It's highly adaptable, easy to disassemble, and convenient for future maintenance and part replacement.
The short manufacturing lead time and quick assembly can help reduce labor costs, making it a suitable choice for companies with varying budgets.
Ask JingSourcing for trending office furniture
Inspect office furniture shipments before shipped out of China.
Semi-finished inspections of office furniture primarily focus on examining the furniture's materials and components. As for pre-shipment inspections, we'll check based on your focus.
Check if the furniture item's edge banding and sealing are smooth and secure. Examine the surface coating for evenness and the absence of noticeable scratches or defects.
We'll verify if components including hardware parts are complete as per the instruction and check adjustment and practical usage functions. Besides, the printing adhesion test is crucial. We use 3M600 tape (or equivalent performance tape) to examine the adhesion of spray paint, UV printing, gold stamping, etc. Usually, the detachment area should not exceed 10%.
Other checking includes transport drop test (excluding fragile items) based on ISTS1A drop test standards, static load test (usually for tables, chairs, and shelves), and stability test (especially load-bearing parts).
Regarding wooden furniture, humidity tests are necessary. Because significant changes in moisture content will lead to major defects such as deformation, warping, and cracking. Generally, the humidity of the product should be controlled below 12.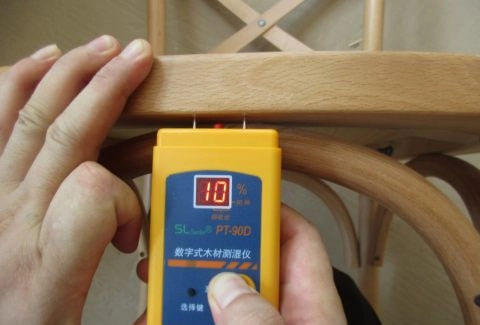 Most of our clients use our AQL sampling inspection services. Some with stricter requirements opt for full inspection services. Either way, once we find defective products in our warehouse, we will:
help you replace them for free, if you choose our Pro Plan and use our selected suppliers.
help you to talk with the supplier until problems are solved if it's your own suppliers.
Afterward, we'll arrange shipments to the port or your door at the best shipping rate.
Ask JingSourcing to inspect your office furniture