5 Steps to Start a Profitable Socks Business for Beginners
You may be in a real challenge if you choose sock as your profitable product to start your business or build a sock brand to compete in the market.  Yes,  some of you may take the sock business as a small and easy business, indeed the competition in the sock market is extremely fierce. If you want to be successful sock business ownership or make your brand a world popular sock brand, you have to make adequate preparation in the sock selection, wholesale, and marketing strategies.
Here are the 5 steps that are required to start a sock business smoothly. 
1. Decide Your Distribution Channels–Online or Offline
The first thing you need to consider is where to sell your sock, online or offline? Because the product positioning, pricing, and marketing strategy are also different according to the different distribution channels. And your business budgets fluctuate by different selling models.
Online business:
If you search online you can see there are a lot of platforms for you to sell. You can create product listings on eBay or Amazon, you can also build your own online store on Google as well if you do not want to use these marketplaces.
If you open your store on C2C e-commerce platforms like eBay or Amazon, then everything is preset and optimized for you–the shop templates, listing templates. So, you don't have to worry a lot about store designing. Also, you will be automatically included in their marketing campaigns, and your socks will be promoted.
I generally don't suggest starting sock businesses with an independent Google store. The C2C platforms will bring you a huge amount of traffic while you have to invest a lot in the early stage to lead traffic to your store if you establish an independent store. The worst is if you don't optimize your independent store properly, you may invest a lot but result in no profit.
Offline business:
You can open a store or set up a stall to sell the sock for small profits but quick turnover.
If you want to start a high-end sock business, you can private label your sock and open an independent brand store.
2. Do the Market Research 
For a small business to be successful, it must solve a problem, fulfill a need or offer something the market wants. So do the research and find out what the market requires is the most basic step for your sock business.
Primary Research: 
The first step is to gather current sales data and analyze the effectiveness of current practices. You should also take competitors' plans into consideration, in order to know the current situation about your competitors. As the Chinese saying goes, "know the enemy and know yourself, and you can fight a hundred battles with no danger of defeat"
Except for knowing your competitor's situation, you should also have a deep understanding of your customers' demands. So you can prepare the following questions below for your potential customers: 
What factors do you consider when purchasing socks?

What kind of function do you expect most for socks?

What is the appropriate price for different kinds of socks?

……
In addition to the face-to-face questionnaire, online research is also a great way to get an objective view of market trends and needs.
Online Research: 
When doing online market research, there are three main points you need to pay attention- visit big C2C platforms to see what are the best-selling socks, follow the comments below the popular socks, and notice the keywords that pop up in the search bar when you search for "sock". These are where you can get important information.
Amazon Bestsellers list: As to online research, you can go to the big sales platforms to find out what styles are the best selling. For example, you can refer to Amazon's bestseller list and wish list (wish list) to see which style sells better and which function sock is more demanded. (compression stockings, stink prevention socks, and sports socks, etc.).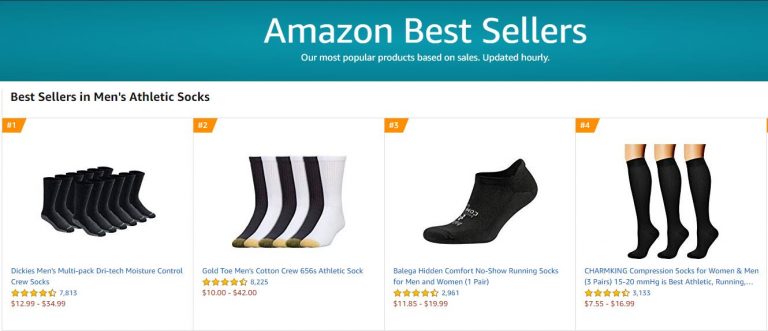 Customers reviews: Besides, in order to stand out in the fierce competition, an important point is to do what others cannot do, that is to make up for the shortcomings of others' socks, thus you will be able to compete with rivals and win the favor of customers.
The existing socks always have their flaws, some socks worn out easily and some may easy to deform. You can go to the Amazon and read through the reviews below the socks listings. As a well-developed C2C e-commerce website, customer reviews on Amazon are of great reference significance. 
Those comments pointing out the shortcomings of the socks can be your treasure as long as you can summarize the shortcomings and figure a way to improve the socks design or fabrics to optimize the socks and meet the demand of customers.  
Keywords prompt: when you search "sock" in the search box, it will show a list of related keywords prompt, which are the frequently searched keywords by customers. In this way, you can learn what are the most demanded socks.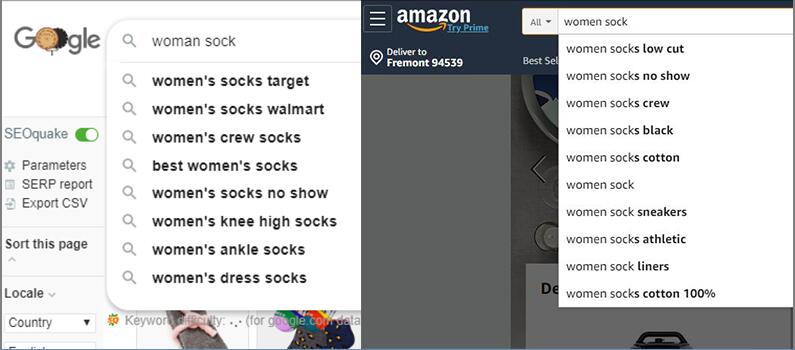 3. Pricing the Socks
Pricing is another essential element besides the sock itself in the sock business. We are living in an age when people can easily compare prices online without going to the shop and finding the exact same sock. So, the price of socks should not be determined according to your preference for socks but should be reasonably priced according to the general pricing in the market and the wholesale cost of your socks.
The easiest way is to check the average price for similar quality socks on Aliexpress, Amazon, and eBay,  if you find your competitors sell similar quality and style sock for $15 per pair, you can think of a price a bit less than that like $13-$14 to enter into the market.  For example,you can refer to the prices on the Amazon Best Sellers List, those are the prices acceptable for most customers.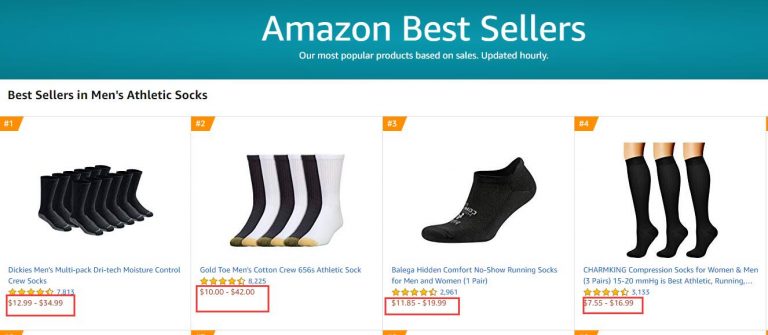 Pricing for regular  socks: 
As I have helped dozens of retailers to wholesale and customize sock in China sock factories, I would love to give you a general idea about the actual price environment of the socks market.  
Many of my client's wholesale regular socks for their business. The wholesale prices in China are about $0.47-$1.1 per pair, while some can get a lower price with a larger quantity. Those small business owners will price their socks 2-3 times their wholesale cost, and the brand socks will be priced 4-5 times the wholesale cost.
Take it as an example, we have just fulfilled an order for Puma sports socks, which cost $0.38-$0.42 per pair from production to packaging. And we can see their retail price on Amazon is $17.9/pair, which is about 4-5 times the production cost.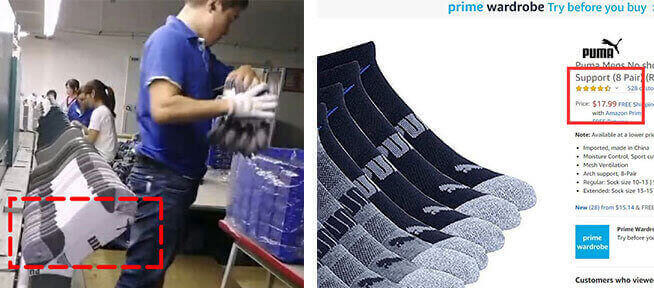 We have also produced the crew sock for Hush Puppies, and the production cost is around $0.46/pair.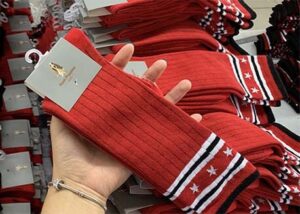 Pricing for high-end/ classy socks
Some outdoor socks require high functionality, those socks will go through some special process to achieve these functions, thus the production cost increase.
In addition, the expensive materials of some classy socks also add to the cost. The wholesale cost for those high- end socks from Chinese factories can be more than $1.8/pair.The retail price of functional socks can be 8 times the wholesale cost.
People that prefer high-end socks do not compare the prices a lot. Instead, they will compare your styles, functions, and quality. So, the majority of the people who visit your store are looking for high quality and noble designs. So, you can invest more in improving your sock optimization, and increase the prices accordingly.
Note:The above prices are calculated according to the exchange rate of USD to RMB 6.5
4. Decide Where to Source Socks with Competitive Prices
Where to source socks with competitive prices? Dropshipping? Local wholesale? Wholesale directly from China? Indeed, the answer is not the same for different scale of business. Small businesses need the smallest MOQ and more styles to test the market, while long-term businesses are more likely to pursue less cost to improve the profit margin. 
Start-up period:
If you've been thinking about venturing into the sock business but lack of experience and afraid to stock up, then drop-shipping is good for you. Drop-shipping socks is a low-risk, low-cost business idea for first-time businessmen like you. 
Dropshipping is suitable for business starters for a variety of reasons:
Easy to conduct. 

Low cost to invest. 

Low barrier to entry. 
Steady period: 
In this stage, you may have accumulated some experience and have a certain understanding of the stock market. You can choose to buy wholesale socks from your own wholesale website in your country or from a wholesale market in local. There are also advantages to this business model:
Less MOQ than import, you can order less quantity but more styles.

Lower price than drop shipping.

You can feel the quality of your product by yourself.
Long-term business period:
For long-term business, we must grasp the essence of the sock business to win the victory in the market, which is to strive for the lowest cost price and maximize profits. In this case, whether you intend to buy stock or customize new styles, sock factory is a good choice. I have selected Top 20 Sock & Stocking Manufacturers in the World. Among them, made in China is undoubtedly the most cost-effective choice for you. 
The inventory price in China is much lower, and they even sell stock by weight. You don't have to doubt the quality of Chinese socks when you get the lowest cost price as 80% of the world's socks to come from China.  
To wholesale from China, you don't have to worry about coming to China and find suppliers, you can just stay at home and search online for the Chinese wholesale websites, or search for Jingsourcing to help you collect socks and find suppliers.
Alibaba: The truth is only a few Chinese sock factories establish an independent website in Google, but the majority of them have set up shops on Alibaba, and many trading companies cooperating with factories will also have their own shops on Alibaba. 
However, it is also a heavy task to find the right supplier on Alibaba. You need to compare the price, style, material and so on. So here is the guide for you to learn how to place an order and how to find reliable suppliers on  Alibaba.
AliExpress: Aliexpress is a consumer-to-consumer and small-business wholesale platform. The wholesale MOQ of Aliexpress is lower than Alibaba, around $50-$200. If you want to try the market with a small quantity and more styles, then Aliexpress is a better choice. 
DHgate: Although DHgate is not as large scale as Alibaba, essentially they are the same thing–both of them are Chinese wholesale websites. Many sock suppliers open an online store on both websites. So you can compare the price and MOQ of the same product in Alibaba and Dhgate.
Jingsourcing: Those who have experience in importing from China know this sourcing company. Unlike Alibaba, Jingsourcing will help to compare prices and quality with many factories, offering you the most competitive price and the lowest MOQ. Jingsourcing will arrange a specialized team to follow your order from product sourcing to shipping arrangement.


5. Marketing  for Your Online Store
In the tens of thousands of socks products, it is not enough to rely on high-quality and creative socks only to occupy the market share. The products will be submerged in the huge market without reasonable marketing no matter how excellent the sock is. Here I will introduce some typical marketing strategies for online stores. 
As I mentioned above, the main online retail methods are the following 2 channels:
Independent Google store

C2C e-commerce platforms like Amazon, eBay
Sell on Google
As for Google's independent store, it's not a good choice for a small sock business. Because it takes a  huge investment in the early stage and the sock is not mainstream of clothing, it is difficult for you to survive if you sell socks only in your store. So you had better sell some other products. Just like the Google NO.1 store Happy Sock, you can also find it also lists underwear and swimwear for sale besides socks.
For retailers like Happy sock, it is important to take advantage of social media marketing and Google ads. 
Social media marketing: The socks can be a great niche as creative visuals can easily trigger the impulse customers(like the colorful, printed socks of Happy Socks). It is a good idea to post some eye-catching sock pictures and short videos on Youtube, Facebook, and Pinterest. You can also pay the web celebrity (Youtube/Facebook influencer) to promote your store.
Sell on e-commerce platforms
Optimize product listing 
If you open your sock store on e-commerce websites like Amazon, eBay, etc., the first and most important thing you should do is to make an attractive product listing, which includes product pictures, video, and product descriptions.
Set up advertising campaigns
According to your product positioning, you can invest reasonable advertising fees.
Offer Discount/coupons
When it comes to marketing, we cannot ignore the "customer factor." As an online sock store owner, your game plan should be modified according to your customers' behaviors and needs.
Some studies indicate that 2/3 of the people who are visiting an online e-commerce shop are just to compare the prices. 1/2 of them are looking for discounts and coupons. 
So you know how to attract more customers now–create offers. Offers and discounts attract customers a lot.
Now It's Your Turn  
Starting and running a business is not easy. Before you start, make sure you learn the basics of how business works. Hope this guide will help you to stay ahead of your competitors.
Here is guide on identifying wholesale socks' quality from Wholesalesocksdeal, click to read if you are interested.
If you have any questions or want to wholesale or customize socks from China, feel free to contact us and leave a comment.