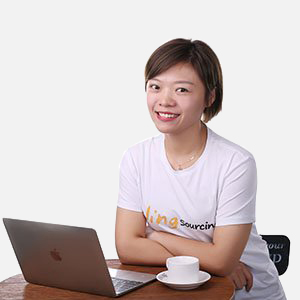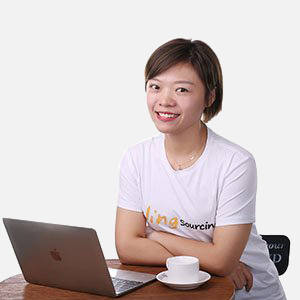 Hi, I'm Annie Ma,  I have been in the field of socks since graduated from college. China produces 90% of the world's socks. I was lucky enough to have worked in one of the top3 sock factories in the world and the largest sock trading company in the world.
I used to work with big, world-class retailers like Uniqlo, Puma, and Skechers. I joined Jinsgourcing aiming to help small and medium-sized businesses to produce socks with the first-class quality.
So you submit an inquiry for socks, and I can definitely provide you with the most popular designs, competitive price, and the lowest MOQ! You can also expect the best quality service from product procurement to shipping arrangement.
In recent years, young people are fond of this kind of ankle-length socks with colorful patterns that they can expose outside the shoe, some also like to customize the pic of the face on the sock.
The design of children's socks is quite rich. Usually the patterns are full of children's fun, also a variety of animal elements can be added to the shape. Lovely socks style is widely loved by customers.
Nowadays young people pay more and more attention to doing exercises and fitness, the demand for sports socks is higher and higher,  the sports socks with high intensity can protect the ankle better.
Silk stockings are no longer old fashion. Now they can be designed into patchwork styles and added with various bright colors. Consumers are expanding from older ones to more young girls.
Business socks are characterized by understated colors, generally regular patterns and patterns. Target consumer groups can be those office workers and businessmen.
No show socks are made short to hide them inside the shoes when wearing, so the socks are commonly designed with pure colors.  Also, there are some youths that prefer invisible socks with pattern designs.
The Process to Work with Us

You can click the button saying "Submit" on any page of jingsourcing, and submit the inquiry.
Get Manufacturers' Quotation
We will  find the factories  and bargain as cheap as possible  to provide you the most competitive price.
Customize Samples as You Designed
To check the crafts level of the factory, we will arrange the factory to send the sample of your design.
Confirm MOQ&Price. Place Order
If you are satisfied with the quality and price, your agent will  place the order and follow up the production.
Quality Inspection, Arrange Shipping
We will check your goods , and arrange the shipment to your country after ensuring no errors on the quality.