If you want to start a clothing business or you are in business, clothing labels are a key part to be considered. A clear and correct clothing label lets your customers have no worries about purchasing. And a creative tag can enhance product features.
Besides, if you import clothes from China and sell them, you must indicate the necessary information on labels according to the regulations. Otherwise, the customs clearance process can't go smoothly. So, I wrote this article in detail for you to have a clear understanding of clothing labels.
What are clothing labels?
Clothing labels mainly mean tags attached to clothing. There could be many labels on one piece of clothing for different usages. Some of them illustrate product information, such as brand, product name, material, size, etc., just like the ID numbers of clothing.
Some of the labels are used for decoration, which makes clothing look more elegant and stylish. And there are many materials for clothing labels, like metal, plastic, satin, etc. Moreover, these labels can be made through various processing, like printing, embroidery, weaving, etc.
Three necessary labels for clothing
Main label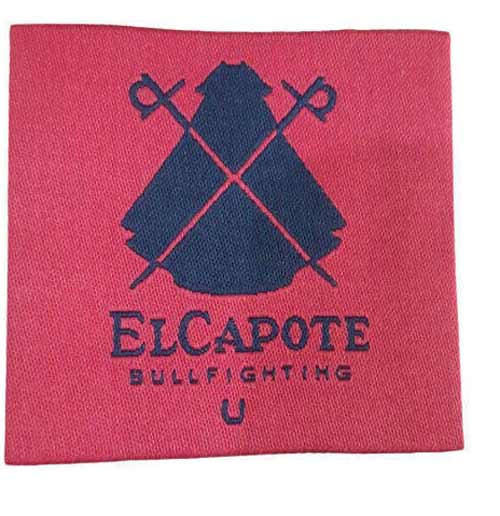 The main label is also called a brand label. It indicates the brand logo or brand name that sells the clothes. It's used to show a clear vision of a brand's appearance, and convey the brand's concept. Main labels are generally put in the middle of the back collar of the top, or on the waist of the bottom. And they require excellent resistance to water ensuring colors keep bright and do not fade.
Care label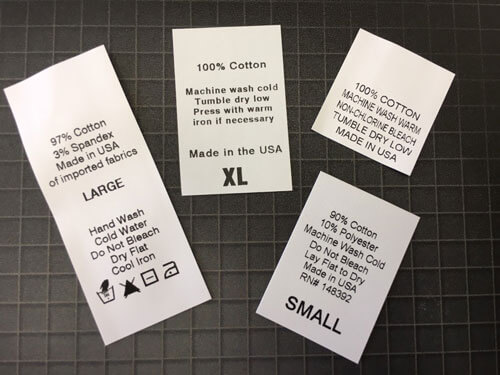 Care labels or wash labels are mandatory labels for any garment. It includes care information and washing methods of the clothes, such as washing light and dark clothes separately, low heat iron, etc. Some of the care labels directly tell you how to do it in words, and some tell you through wash care symbols.
People also can find fiber composition in some care labels, like 100% cotton. Moreover, some care labels indicate the country of origin that manufactured the product, like Made in China.
And this label is usually attached to the inner side seam of clothing. Similar to main labels, it also requires not to fade after washing many times. The information there should always be recognized clearly. In addition, many countries have strict regulations about care labels. You need to check them in detail before manufacturing and importing.
Size label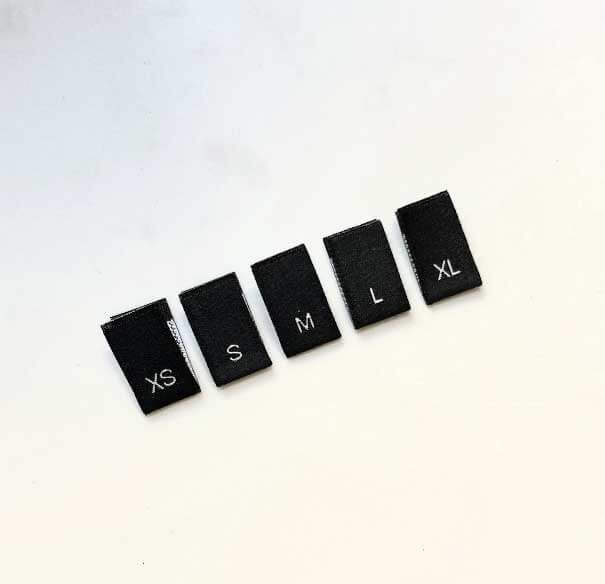 Size label is also a must for garments. As the name suggests, it indicates the specific sizes. Customers could choose the right size for themselves according to the size label. There are usually two methods to express sizes:
Use letters S (small), M (medium), L (large), and XL (extra large), etc. to express.
Height + bust measurement, such as 160/80A, and 165/88A.
This type of label can be placed anywhere in a garment and is usually found next to the care label or attached to the brand label.
The three labels above are a must for all garments. And they are classified by functions. Besides that, there are some other clothing label types according to making methods, materials, and position. Let's have a look.
Other 6 common types of clothing labels
Woven label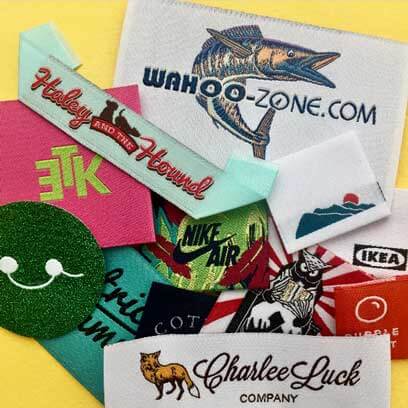 This type of label is mainly woven from yarns or polyester threads to form patterns. Manufacturers always choose automation or weaving machines operated by workers to finish. After completion, the whole label will be relatively firm and soft with clear and bright colors. But it requires MOQ, and the unit price is a little higher than other labels. Many of the main labels mentioned above appear in the style of woven labels on clothes.
Printed label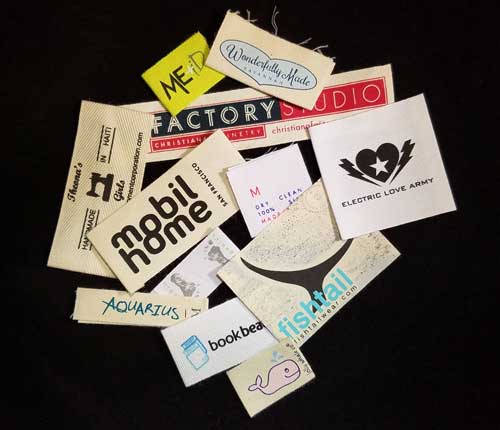 Printed labels use ink to print product information, company names, and logos on the clothing. Its surface feels very fine and smooth. Besides, it is applied to nearly all types of materials, such as satin, canvas, cotton, etc.
Compared to woven labels, printed labels are a better choice for your intricate patterns in rich colors. However, please note the printing technology and the ink used should make sure colors stay for long. And you'd better choose environmentally friendly ink. For one reason, it ensures customers' health and safety. For the other reason, modern customers also put an emphasis on whether the materials of products they purchase are environmentally friendly or not.
Tagless label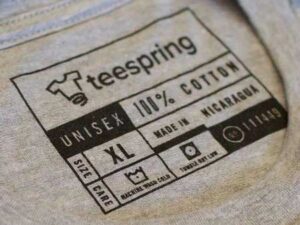 This label is a new technology by heat transfer applied on clothing. It is directly printed on clothes ensuring safety and comfort when in contact with the skin. Customers then get no pain from being pricked by the labels. Now a lot of baby and children's clothing, underwear, thermals, and housecoats on the market have size labels and care labels in the form of tagless labels.
This type of label also has good durability with water resistance, not easily being torn when washing.
Hang tag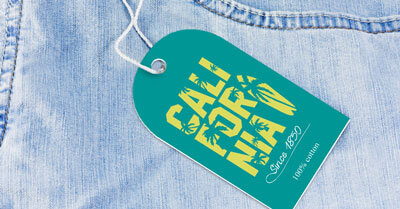 It is always made as cardboard or a plastic tag hung by a string, rope, or metal chains on clothes. And it's usually thicker and stronger than other clothing labels. Much information is listed on this label, such as price, size, material, etc. You can place it in a conspicuous place, which is easy for consumers to check.
You also can print the design concept or brand story on the hang tags. It is helpful to make customers better know your products. Some sellers even design unique hang tags with creative shapes to make their products stand out. Currently, hang tags are one of the important windows for entrepreneurs to show their images.
Flag label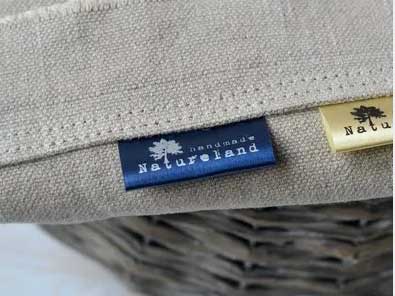 It is a small label attached to the external side seam, which always contains a brand logo. Thus, it acts as a support to let customers see the brand again. Flag labels don't cost much. And you can make some designs and add them as a kind of clothing feature to improve brand awareness and aesthetics.
Leather label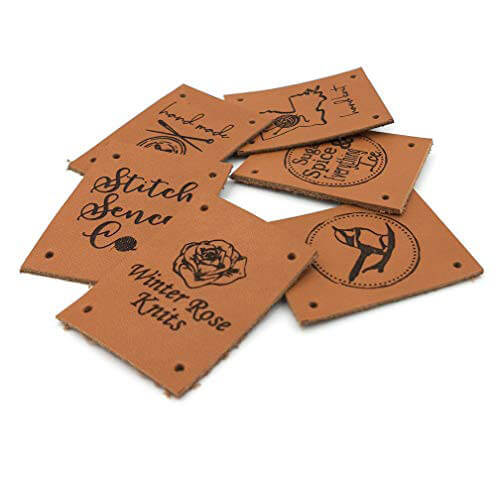 The leather label is a type of label classified by materials. It is made of leather, including real leather and non-real leather. Generally, sellers use it as a decoration for personalized logos and tags. It is especially ideal for denim jackets and trousers. If you want to add this label but with a tight budget, non-real leather is a good choice. That doesn't cost too much.
Besides the 9 common labels above, there are many other labels, such as embroidery labels, special labels (100% cotton/silk), etc. You can select the most suitable and matchable labels for your clothing according to the real situation.
How to make your customized clothing labels
A Lot of people choose custom clothing labels to impress customers and distinguish theirs from others.
If you have your own idea and know what it should be like, you can provide a sketch to your supplier, and let them contact the factory to produce it.
If you are not sure what it should look like, you can just provide an idea or even a picture, and let your supplier design it. During the design process, you can give advice to make what you want. When you are satisfied, let your supplier contact the factory to produce it.
When it comes to custom price, it relates to the number of labels, material, size, manufacturing process, and factory you choose.
Besides contacting factories or suppliers by yourselves, many people find sourcing agents to deal with everything. On the one hand, factories always have a MOQ. If your order is too small, they may refuse to accept it. But sourcing companies have rich and long-term cooperative suppliers. They can find some small factories to finish your orders at a competitive price.
On the other hand, sourcing companies not only help custom clothing labels but deal with everything related to importing clothing. It includes purchasing and customizing garments, product inspection, transportation, etc. Thus, it is worth finding a sourcing company for expanding your business.
Let JingSourcing help you customize clothing & labels to save you time and money.
The end
I hope you understand more about clothing labels and know how to make your own unique labels. If you have any questions, please comment below.
We are Jingsourcing, a leading sourcing company in China. We have helped lots of clients source or customize products at competitive prices. Our professional agents help you communicate and solve all problems regarding importing from China. If you want to source products from China, don't hesitate to contact us.