We have already talked about how to build your Amazon business but many new sellers will still be troubled by finding a good product supplier which is as important as searching for a good product to sell.
A good supply chain can save you a lot of trouble and make your business develop faster. However, it requires you to maintain good relations with suppliers in the long term, so as to seek more cooperation opportunities and lower prices. So it's important to find a reliable supplier right from the start for its long-term impact.
While, where to buy products to sell on Amazon? Today's post will concentrate on how to find good suppliers for your amazon selling business through the following three points.
1. Five tips to help you find your niche products
I have to say that if you want to have a successful Business in Amazon, finding good suppliers is also closely related to your product selection because you have to know exactly what suppliers you need and what special requirements you need, in order not to look for needles in the sea.
By filtering by product category, you can better lock in some vendors' features. For example, what industry is the supplier you are looking for? Is it possible to label private brands? Domestic suppliers or foreign suppliers? I've summarized 5 tips that will help you better target suppliers.
Tip 1 Above four stars' customer review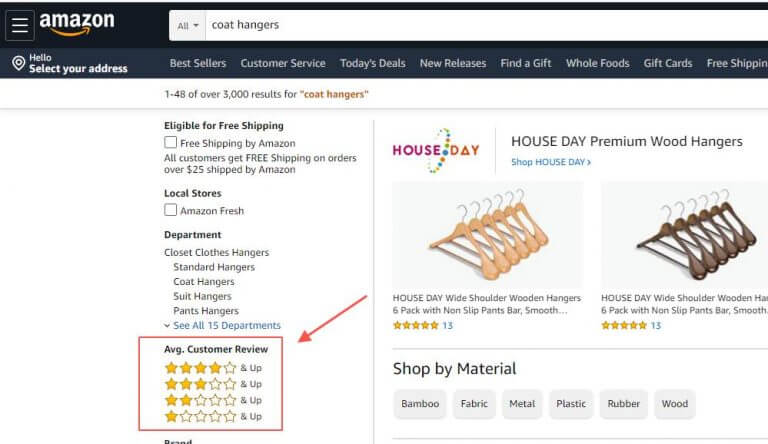 Before you start to find a supplier, I believe you have some ideas about what kind of product to sell through product research. So when you search the product on Amazon, choose one subcategory product that you are interested in.
Then select and filter the products reviewed by customers with more than four stars. The reason is that products with lower stars are more likely to have problems. With them, you will encounter customers' complain more and you will receive returns more.
Tip 2 The selling price is above $15
Filter the previous results to show items priced higher than $15, you can set higher depending on your product category.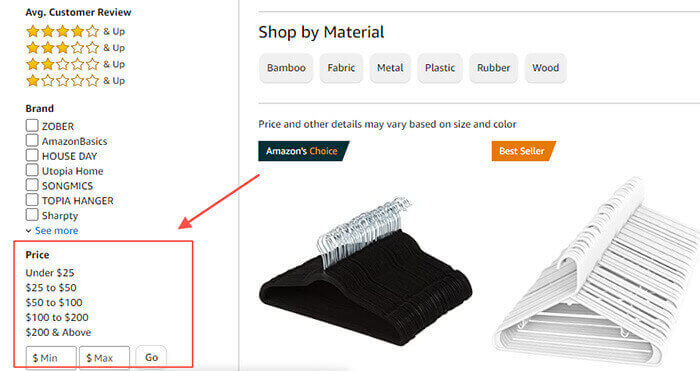 The reason is that it is difficult to make money with a low price product as you paid the Amazon FBA fees and other costs. $15 is a minimum price to promise you got profits from your selling. And there are many special categories, the average price may be much higher than $15 so it depends, you should adjust your price based on your situation.
Tip 3 Amazon is not on the supplier listing
The third point is that we have to find products without a strong competitor – Amazon. Not only does Amazon provide a platform for sellers to sell, but Amazon itself has a lot of products for sale. You should check is Amazon on the Amazon FBA supplier listing because compared with Amazon you can hardly get superiority.
So if you're new to the game, you should be more careful about avoiding products that Amazon sells. You need to check if Amazon selling it now and history, to avoid meeting the Amazon selling out time.


(The data from Keepa)
Tip 4 More than 3 sellers
You can open every single one page and manually check for how many sellers on this product as well as use DS Amazon quick view to get the data. It also tells you whether Amazon is selling this product.
Because when there are only one or two Amazon FBA sellers, they are always big brands or private label products. It's hard to compete with big brand company and it's hard to get the selling right of private label products.
Tip 5 Make sure your cake isn't too small
In order to estimate that you can occupy a certain market share, you need to look at the total sales volume per month and the number of sellers of this product at the same price. When you join this sale and can sell not too less on average, this product will be profitable.
Take an example- if I sell a set of hangers for $20, Amazon FBA sells this product 1200 copies per month, and there are 5 sellers with similar prices. If you enter this market, now there are 6 people, and each person can sell 200 copies on average, then you can make money on this product. But if each person can only sell 20 copies, then the cake is already too small to share.
Free jungle scout estimator can be used to get the sell number. Add the rank number, marketplaces, and product category, you will see the sales of the product.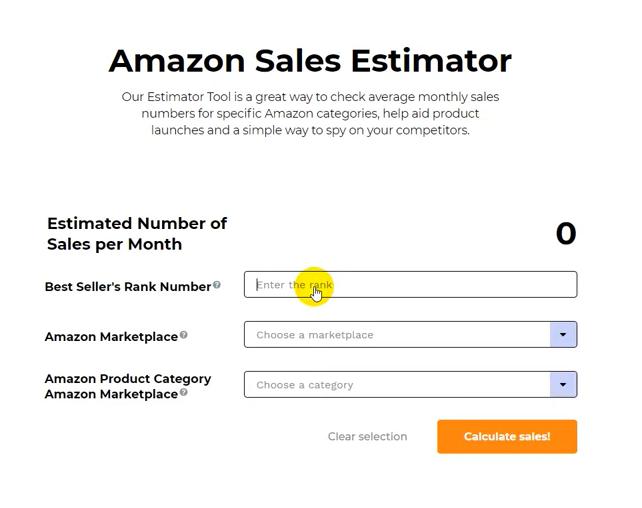 Through the above points, you have a general idea of what product to sell and what supplier you are looking for. For example, if you are sure that the product you want to sell is Christmas decorations, and you know that the most competitive suppliers are from China, you don't need to design your own brand on the product. Then you can take the next step and find a supplier with a purpose.
2. Four ways to find Amazon suppliers. (14 B2B & dropshipping sites included)
Once you have ensured what to sell and what are the characteristics of your suppliers, you need to find them next. There are many ways nowadays to find a supplier, both online and offline. Today I will introduce how to use the following four ways to wholesale products to sell on Amazon.
Online websites
The Internet is the most convenient way to find a supplier without go out of the door. Reading those websites, searching your product, and communicate about your requirements is the only step you can find an appropriate supplier.
I have summarized the top 5 useful wholesale websites to import from China and 4 websites to source Amazon products from the US and 5 websites to dropshipping.
Five Chinese wholesale websites
Aliexpress -Aliexpress offers quality products at factory prices in small quantities.
Made in China -the leading third-party B2B e-commerce platform in China.
Global Source -Expert particularly in the area of electronics and mobile electronics.
DHgate-The easiest to use with prompt delivery and good service
If you want to know a more specific introduction about the Chinese wholesale website click the post How to Find Chinese Suppliers Online? 
Four US wholesale websites
Five dropshipping websites
Google search directly
Don't ignore Google search! Many of the brand suppliers have corporate websites, which you can find information about distribution by searching on Google. In this way, you can contact the factory directly.
Open Google Browser and type product name + supplies + the brand name (if you have a brand preference) into the search bar. And if you have other special requests, you can add it after the product name such as private label manufacturers, made in XX (country name).
Show an example, if I want to sell a phone case mainly for Apple users, and I want to label my brand. I would type Apple phone case +supplies + private label manufacturers into the search bar.

Trade show
In addition to the online approach, sometimes the traditional offline approach is still a very effective way to find suppliers. Trade shows are a good way for sellers to contact suppliers directly.
You can talk to suppliers face to face, which will give you a better understanding of their company values, products and the quality control measures they take. You can choose from a wide range of manufacturers and suppliers at trade shows. And you can really see the quality of the product, which will reduce a lot of sample mailing trouble.
Of course, do your research before you go to trade fairs because when you go to these events, you need to know exactly what you want. An international exhibition usually has many kinds of products. You need to choose the exhibition area with a purpose, otherwise, you will waste your time.
Sourcing agencies
If you can't find the right supplier or don't have the time to spend to screen a lot of information, consider seeking a reliable sourcing agency. A Sourcing agency can not only help to find suppliers and import the products at a low cost but also ensure your products' quality control.
It is the easiest way to find foreign suppliers and sometimes they can get a better price for you as they have tight connections with manufacturers. Their expertise in import and export trade and e-commerce will make your stocking process very smooth.
As China's best sourcing agency, Jingsourcing can provide you with the following services, if you need to import products from China, they will be a good partner for you.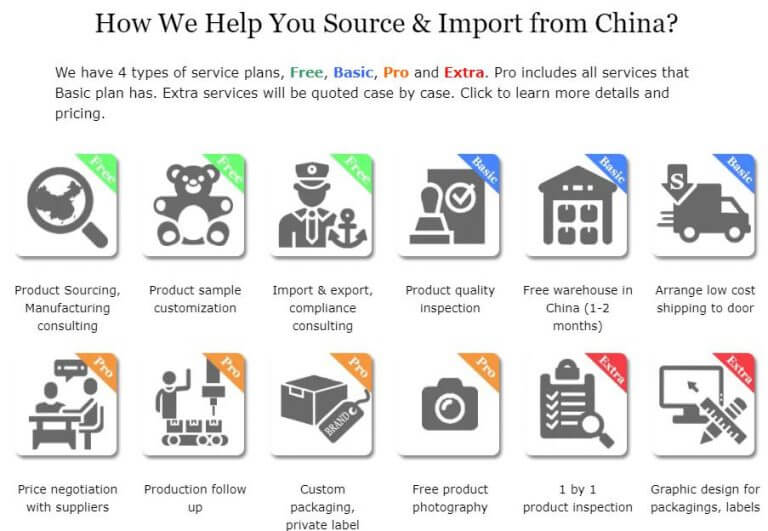 3. Identify a good Amazon supplier by four characters
By choosing the right supplier, you can reduce shipping delays, poor quality, and product returns, resulting in high-quality products and satisfied customers. But how to judge the quality of suppliers? Well, it's not absolute. I have provided you with the following four aspects of the reference, if a supplier meets these requirements, it will not be too bad.
Take responsibility for the quality problem
The most important point of a good supplier is to have a sense of responsibility for their own products. To assume the responsibility for the products, only such a supplier will not perfunctory in the product quality.
If the supplier can promise to undertake the product quality problem, and can actively solve the problem and provide solutions after finding problems, then this supplier is worthy of your trust and long-term cooperation.
Unaccountable suppliers are more likely to transfer responsibility. They may find various excuses to avoid their responsibilities and even accuse the inspector of incompetence or unprofessionalism. They may also hinder you to meet deadlines and product requirements.
Production capabilities
Having consistent and continuous production capacity means that if you need their product, you can get it as you want. Continuous product supply is the key to your store's profitability and a prerequisite for a quality supplier.
Of course, production capacity also includes product quality and innovation. A good supplier should not only have high-quality production equipment and skills but also have the ability of continuous innovation and a positive attitude towards continuous improvement.
Easy communication and good cooperation
Good suppliers communicate well and always keep their customers informed. They are willing to cooperate with importers as a team and do as flexible as possible to meet all kinds of requirements their customers need.
When communicating with them, they will think from your perspective and try their best to reach a win-win cooperation. They can stay in close touch with you and keep good communication to know the changing needs of both parties.
Fits your development vision
Once you have identified a supplier, you usually want to establish a long-term relationship with each other. To build such a long-term relationship, it is important that you meet each other's expectations for the future.
For example, do you want your supplier to keep taking out new products? Do you want your suppliers to keep innovating producing skills? Do you have greater needs in the future? Whether the supplier you are looking for can meet your vision of development?
In combination with the above four points, in the process of contact with suppliers, explore whether they meet your requirements for a good supplier.
In conclusion
Thank you for reading and you can share it with your friends who need it. Remember to stay tuned on our website, I will bring you more knowledge about Amazon business.
We are the best sourcing agent in China to help importers to source the products with the most competitive price, 20% of our clients are Amazon sellers. So if you want to source products from China or import from China to sell on Amazon, please do not hesitate to contact us.