When you import from China, you need to audit your supplier to determine if he is reliable and capable. However, this procedure is not simple.
Today's post helps you learn the following information about supplier audits. You will know how to do it after reading.
Why supplier audits are important?
Supplier audit is to check the actual situation of the supplier, evaluate whether he is able to make your product, and minimize your supply chain risk. You can hire a 3rd party inspection company or sourcing company to do this.
Auditing supplier is very necessary. When you source overseas, you can use Alibaba and other online platforms to source suppliers in most cases, instead of visiting them on-site, especially when you just want to buy hundreds or thousands of products.
However, you can't be sure that these suppliers are as professional as they claim to be, and you can't be sure that their size, qualifications, capacity, etc. are consistent with what they state. At this point, you need to check their actual situation, examine their production capacity, and judge whether they can make your product.
In addition, conducting vendor audits helps verify compliance and minimize the risk of penalties, fines, or reputational damage. For example, a company importing toys from China performs an audit to ensure that the toys manufactured by suppliers use non-toxic materials and comply with all safety regulations, minimizing the risk of product recalls or legal issues.
Supplier audit checklist and 3 aspects of auditing
A supplier audit report contains all requirements for suppliers. Below is the first part of a supplier audit template. You can click here to get a complete one.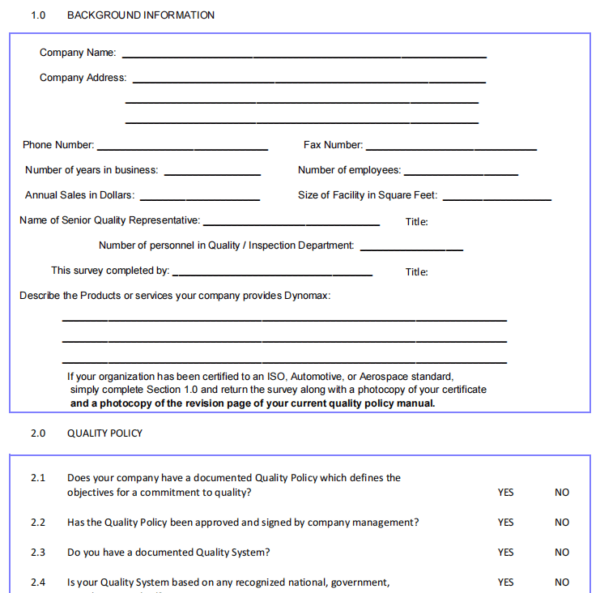 The above vendor quality audit checklist is a very comprehensive and professional report. In practice, however, it is not that multifaceted. Depending on the product, the audit criteria are also different. So I have summarized the three main areas that need to be audited for your reference. 
Supplier compliance audit
Some qualifications include but are not limited to:
BSCI certification. This is another common certification that shows how a factory fulfills social responsibilities, including fair labor compensation and safe working conditions.
For most small and medium-sized companies, it is not necessary to select suppliers based on these two certifications. However, some larger companies may require social responsibility audits to avoid the risk of working with factories that produce their products illegally (e.g. employing child labor).
Export licenses. In China, large and medium-sized companies need to apply for these licenses. However, there are many small manufacturers and trading companies that do not have these licenses. Usually, they will pay a fee to use a 3rd party company's export license. So it's unnecessary to only buy from suppliers who have export licenses.
Export License of Jingsourcing Co., Ltd
Some goods require related certificates and documents for customs clearance or to sell in the target market. Therefore, you'd better work with suppliers who can provide you with the test reports you need. Otherwise, you will need to entrust a customs broker and freight forwarder to handle it, which will increase your cost.
Different countries have different compliance requirements for selling. For example, if you want to import nail polish and perfume to the United States, you need to have FDA approval. If your target market is in the EU, then you need to have REACH compliance, CE marking, etc.
What's more, those products belonging to DG cargo need additional documents such as MSDS for customs clearance.
Production chain and quality audit
This includes inspecting incoming raw materials, the production process, the final product, and equipment management, and other resources.
During on-site inspections, it is necessary to focus on the supplier's control of raw materials, such as whether the factory has established procurement and evaluation standards for raw materials. If necessary, you can ask your suppliers to provide relevant 3rd party test reports.
Another key point is the quality control of suppliers for both the production process and the final products. Note that some small factories may only have a few people, who will buy components from other factories and assemble these components themselves. This situation is very common. The most important thing is to focus on how they control the quality of those outsourced components.
Suppliers need dedicated personnel to control product quality, which can be inspection personnel or other personnel in the production line (such as packaging team members). However, there must be records of product inspections, especially for large suppliers. Think of toilets and sinks inside McDonald's and KFC, there must be records next to these places.
Jingsourcing can audit suppliers for you
Jingsourcing can help you vet suppliers when you wholesale or customize products from China.
We are located in Yiwu, the largest wholesale market in China. We are surrounded by many factories and have also integrated supplier resources from all over China. With years of experience dealing with suppliers, we can check their real situation and accurately determine whether they have the ability to produce for you.
We have our own professional audit team, who can visit on-site and chat with suppliers face-to-face, helping you check their background, including their company profile, product catalog, business license, factory auditing reports, production certification, etc.
During this process, you can directly video with our auditors and see the factory environment. Based on good factory standards, we will comprehensively evaluate the basic situation, services, production capacity, product quality, and other aspects of the factory to determine its ability and reliability. In addition, if you need to create a new mold, our auditors can also check the factory's mold manufacturing and new product development capabilities.
If there are any problems with this supplier, we will find another one near the industrial cluster. We will try our best to find the one that satisfies you.
Now all suppliers in our database have passed our strict audit and have worked with us many times with good performance. This means that when we understand your needs, we can quickly help you match the right supplier with the most competitive price.
In addition, we can help you follow up on the entire production process, supervise the factory to deliver goods at the agreed time, control product quality, and arrange transportation.
Ask Jingsourcing to Audit Your Suppliers