Glasses are also called eyeglasses or spectacles. Particularly, this is a highly profitable business field. Many international buyers want to source glasses from China at good prices. Today's blog will take you to explore:
China 5 major eyewear manufacturing bases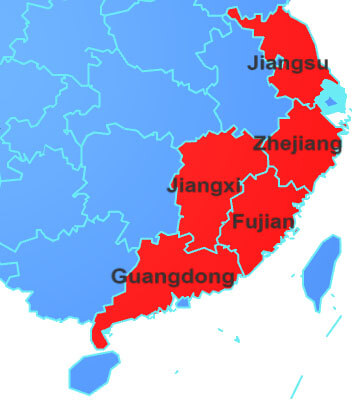 Danyang City in Jiangsu Province -- China's and global "capital of glasses".
Danyang, although with a population of less than a million, is the largest eyeglass lens production base in both China and the world. It annually manufactures 75% of China's eyeglass lenses and 50% of the global total. A popular saying is, "One in every two people worldwide wears glasses with lenses made in Danyang."
The eyewear supply chains in Danyang are complete and well-developed, ranging from manufacturing frames, and lenses, to assembly, eyeglass cases, packaging, and more. The factory cost of a pair of glasses can be as low as $4.
In China, many people from other cities are willing to travel 3-4 hours to get their glasses directly from Danyang. As soon as you exit Danyang's train station, you'll see the prominent "Danyang International Optical Center", the largest eyewear trading market in China. Chinese eyewear brands like Wanxin and Hongchen originate from Danyang.
Henggang in Shenzhen -- mid-to-high-end eyewear production hub.
Since the 1990s, an industry chain gradually formed when Hong Kong eyeglass entrepreneurs came to Shenzhen to set up factories, primarily in the Henggang district. "Henggang Eyewear" has become Shenzhen's business card, alongside the renowned Huaqiangbei Electronics.
Henggan eyewear manufacturing industry is highly developed, encompassing everything from automated equipment production, smart eyewear development, design, raw material supply, mold casting, metal welding and plating, and even tiny accessories like nose pad screws.
Shenzhen produces approximately 50% of the global mid-to-high-end eyewear. International luxury eyewear brands like Armani have OEM factories here. These big brands have stringent quality requirements, which have contributed to the reputation of high-quality eyewear production in Shenzhen. In neighboring Dongguan, eyewear quality is also good, like Italy's Luxottica setting factories there.
Connect direct eyewear factory
Xiamen in Fujian Province -- China's sunglasses production hub.
Compared to Shenzhen, Xiamen's eyewear manufacturing industry is smaller in scale. Some eyeglass products can match the high-end quality of Shenzhen. Because Xiamen eyewear has been inherited from Taiwan since the late 1980s.
Xiamen primarily produces sunglasses and hosts a gathering of mid-range brands, such as Bolon and Helen Keller.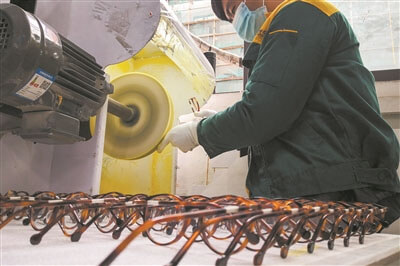 Connect direct eyewear factory
Ouhai, Wenzhou -- eyeglass town of China.
Wenzhou eyeglasses production makes up 30% of the Chinese market, most of which are exported internationally. Eyewear manufacturing is primarily in the Ouhai district, from small family workshops to large factories. Here you can see eyeglass shops on both sides of its streets, catering to both retail and wholesale needs.
Like Shenzhen, Wenzhou is also a major global hub for mid-to-high-end eyewear production. It manufactures eyeglasses for well-known brands such as Ray-Ban, Hugo Boss, FILA, etc. The OEM eyeglass production cost can be as low as $4 per pair, while higher-end glasses typically range from $4.5 to $6 per pair. On the whole, production costs here are lower than in Shenzhen.
Connect direct eyewear factory
Yingtan in Jiangxi Province -- hometown of eyeglasses in China.
Jiangxi Province contributes around 20% of the national eyeglass production, with its primary base situated in Zhongtong Town, Yujiang District, Yingtan City. Most of the eyeglass manufacturers are small to medium scale, mainly dealing with EU and US orders.
Currently, in Yingtan (Yujiang) Glasses Industrial Park, it takes just 15 minutes to manufacture a high-quality pair of glasses, as virtually all the materials are sourced internally. China's well-known eyewear companies like Bolon and Helen Keller have established a presence in the industrial park.
To supplement Yingtan Glasses Industrial Park, "Yingtan Eyewear Street" for wholesale business and "Yingtan International Glasses City" for both wholesale and retail come into being. One more thing, the sales network of Yingtan eyewear professionals extends across China, especially major eyeglass wholesale markets in cities such as Guangzhou, Beijing, Shanghai, Danyang, and Chengdu.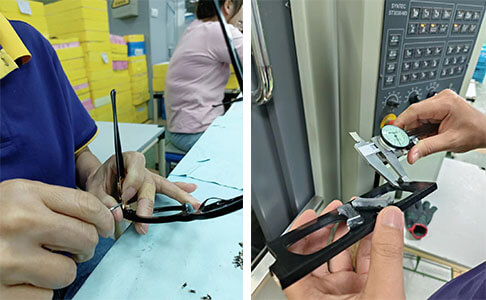 Connect direct eyewear factory
Jingsourcing makes it easy to private label eyewear in China.
As a Chinese leading sourcing company based in Zhejiang, JingSourcing has helped many buyers import eyewear from China over the years. These buyers' businesses range from startups to large e-commerce sellers. They chose us because:
Eyewear quotes are 10% lower than Alibaba's, with varied eyewear types available.
No matter what type of eyewear or accessories you want to purchase, we can help you obtain direct factory prices from our eyewear factory database. In comparison, 80% of Alibaba suppliers are actually trading companies, not real factories.
If you are interested in procuring eyewear like anti-blue light glasses, lazy glasses, cycling glasses, swimming goggles, VR glasses, safety glasses, etc., we will select suitable factories from eyewear industrial clusters to provide you with quotes. We can also collect samples and send them to you for visual inspection and review.
In case you want to source eyewear purely as a toy or fashion accessory, we'll directly go to Yiwu International Trade City. As the below image shows, it's just opposite our office. In this area, you'll find a wide variety of eyewear wholesalers offering various styles, such as pet glasses, LED lighted glasses, party costume glasses, and more, all of which we've already helped clients buy.
We have rich experience in eyewear private label projects.
Typically, businessmen choose eyeglass lenses and frames from existing styles and sizes available in the market or factory. Customizing for special shapes or sizes involves mold development, which can be costly.
In my experience, eyeglass customization primarily focuses on 3 aspects: frame color, logo, and packaging. Custom logos can be directly printed on lenses, frames, temples, boxes, pouches, cleaning cloths, etc. Common logo printing methods include laser engraving, silk screening, and hot stamping. Note that laser engraving works well on metal frames. It can also apply to plastic frames but laser-printed logos on plastic frames may not appear as clear.
Another common method for custom logos is to apply 3D metal labels to the frames, as shown in the image below. Click to enlarge.
Ask JingSourcing for your custom eyewear.
We inspect eyewear in accordance with your checking focus and efficiently.
Product quality is our priority. We have our own warehouse and QC team to provide flexible quality control services.
Most of our clients choose AQL sampling inspection for finished eyewear. Inspection primarily focuses on eyewear components such as hinges, screws on glasses nose pads, the paint finish on glasses temples, etc. The surface treatment of these components is crucial as it directly affects the appearance and quality of the eyeglasses.
For some clients with complex and high-value custom eyewear, quality checks occur during the manufacturing process. This ensures the use of correct materials, component types, and colors. After mass production, if clients want to reduce the defect rate to 0, we conduct a thorough, one-by-one inspection.
In the entire QC process, we send videos of inspected eyewear and confirm with you whether the defect we discover is acceptable.
Source premium eyewear smoothly & safely.