China has become the most significant wax and candle manufacturer and supplier in the world. It produces about half of the world's candles. And because of the rich labor resources in China, the cost of candles is not high. So it is quite a profitable business to buy candles in China. In this post, I'll introduce you to China's main candle industrial clusters to help you decide where the most suitable candle suppliers are.
4 China's main candle production bases
The main areas where candles are made in China are mostly located in the eastern coastal provinces. They are concentrated around the places where the raw materials are sourced and near the export ports. These places are known as the main candle production bases in China.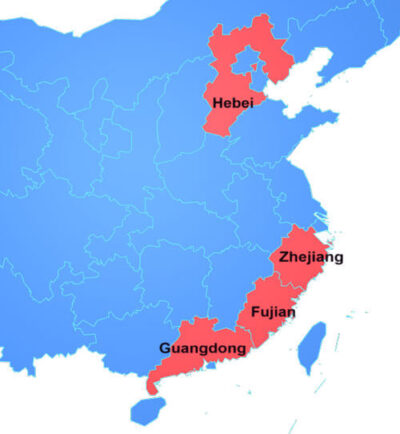 Ninjin in Hebei
Ningjin County has developed the candle industry for almost 70 years, and it is the largest candle production center in China. Here mainly makes various types of candles like creative number candles, birthday curve candles, and colorful gold-plated candles, with over 400 different styles. This place has a complete candle production supply chain, where you can find factories for candle processing and packaging.
    Connect direct candle factories
Zhejiang
Zhejiang is another large-scale base for making candles and scented products. It gathers many big and powerful companies and covers a total of 2000 companies related to this industry. They mainly produce seasonal scented candles, jelly candles, mosquito-repellent candles, massage candles, etc. You can find most of them at Yiwu International Trade City.
     Connect direct candle factories
Fujian
Fujian is the third largest candle production center in China. There are more than 1000 candle companies, mostly located in Quanzhou. Previously, they mainly made candles for lighting purposes, but now they are shifting towards making decorative and functional candles. Their products include various shaped scented candles, bar candles, jelly candles, and a variety of crystal glass candle collections.
     Connect direct candle factories
Guangdong
Candle manufacturers in Guangdong Province are mainly located in Shenzhen and Guangzhou. You can find various types of candles there. If you're looking for crafted candles, you can go to Maogang District in Maoming City, where there are more than 120 different kinds, like Christmas candles and zodiac art candles.
Most of them are made from natural wax materials, some might have a mix of paraffin wax. These crafted candles are made using advanced production techniques, so they won't drip much when lit. In addition, Guangdong also has the biggest wholesale market for taper candles.
JingSourcing helps customize your ideal candles
As a leading sourcing company in China, JingSourcing has helped dozens of clients source and customize candles with different materials and functions. We have many long-term cooperating candle manufacturers all over China. So we can help you with:
We support customizing candles in various styles, especially scented candles.
Whether for lighting candles, church candles, or scented candles, we can find the most suitable one to meet your standards. The most commonly customized candles are scented candles and LED candles, which don't produce real fire. Taking scented candles as an example, common customization options include:
Wax material. Wax can be natural, like soy wax or beeswax, or artificial, like paraffin wax. Natural waxes are safe and do not produce soot, but they can be more expensive. Nowadays, many manufacturers blend natural and synthetic waxes when making candles to lower costs while maintaining good product quality.
Scents: There are various scents to choose from, such as rose, citrus, etc. Different scents have different functions. For example, mint scent can repel mosquitoes, while lavender or rosemary scent can help with relaxation and sleep. Scents are primarily added through natural essential oils or artificial fragrances. Generally, natural essential oils tend to be more expensive.
Shapes: You can customize candles into any shape and size you desire, like geometric shapes, animals, or special shapes such as cakes and butterflies. To enhance the candle's appearance, you can also have intricate designs carved on the surface. This carving can be done by hand or by machines. Nowadays, some businesses also add dried flowers to scented candles to make them more attractive.
In addition, another common option is scented wax. These are decorative aromatherapy pieces often made with dried flowers or preserved flowers. You can choose the wax material and essential oil scent freely while making. And they are suitable for placing in places like cars, bedrooms, and closets.
Holders. Holders are mainly used to keep candles steady, preventing them from tilting or falling over and reducing the risk of fires. They can be made of different materials, such as wood, metal, ceramic, and glass. Each material has its own characteristics. For example, glass holders can create softer lighting. You can also customize the shape of the holders and design them with interesting colors and patterns.
Candle packaging solutions are varied.
Packaging is also a common aspect of customization. It not only attracts consumers' attention but also conveys product information by featuring creative patterns and logos. Commonly used packaging materials include kraft paper, plastic, and metal, with kraft paper being the most popular due to its sturdy yet lightweight nature.
For instance, we once customized packaging for a lilac-scented candle for a client. Since the client wanted the outer packaging to complement the product's characteristics, our design team used a simple style with a combination of white, purple, and green colors, creating a soft yet vibrant overall appearance. To enhance the product's quality, we used resin for the candle jar making. Because the client had requested a complex pattern, we opened a mold to meet his requirements. And it cost nearly $200.
Light your business in candles with JingSourcing