Wholesale Paper Straws from China
One of our cooperated factories, the top 5 paper straw factory in China, is equipped with advanced paper straw machine. If you want wholesale or customize paper straws, we can offer you,
Very competitive factory price

Abundant paper straws types

Package and paper straws customization

High daily production capacity

Good quality & nice after-sales support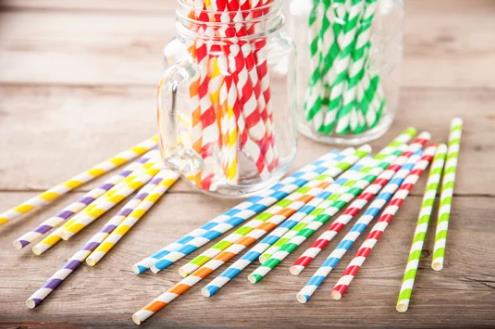 Wholesale Paper Straws from China. Find Your Best Manufacturer
In my last post about paper straws, I introduced how are paper straws made in the industrial process. When you plan to import paper straws from China, you will encounter many questions: where and how to find a good paper straw supplier? How many types of paper straws?
That's why I write the post, you will find answers.
1. 6 common types of paper straws you need to know before you import.
There are many kinds of paper straws in the market. Here are some popular styles for your reference.
Straight paper straw
This is the most common type, but it can't be applied to drinks with plastic seals. You can design the outer layer of the paper straw according to your preference.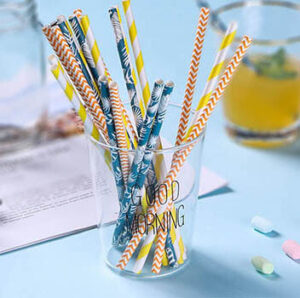 Beveled paper straw
This kind of straw is suitable for drinks with plastic seals. And for those drinks containing fruit grain, the customer experience for bevel cut paper straw is much better than straight ones.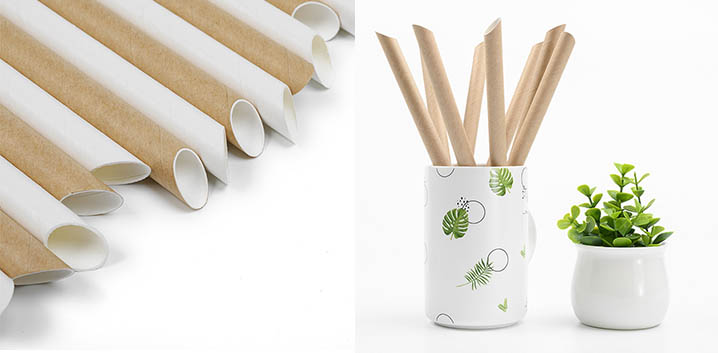 Flexible paper straw
Customers can adapt the paper straw according to their own needs. So it can also bring a better customer experience.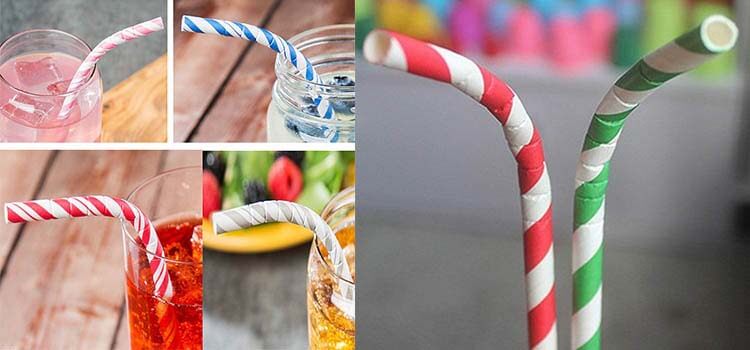 U bend paper straws
It is a kind of common paper straw, which is mainly used in carton-pack beverages.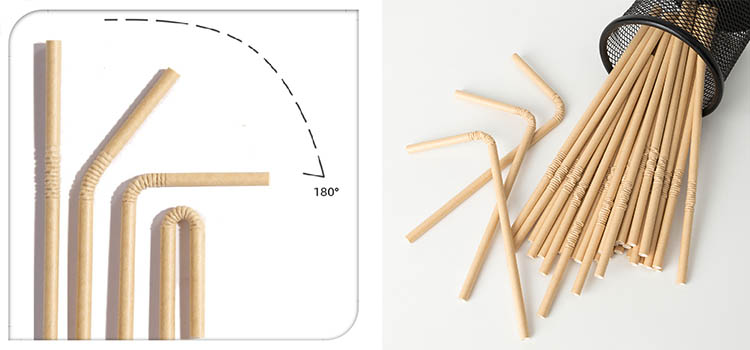 Spoon paper straw
Compared with other kinds of paper straw, it is designed for picking food material like tea more easily. For such kind of paper straw, usually, it will consist of 4 layers to obtain a better performance in straw hardness.

Decorative paper straw
This is a kind of popular paper straw, and you can customize the appearance as you like. You can add any element you like to the paper straw like some cute animal patterns. It is often seen in some parties, festivals, etc.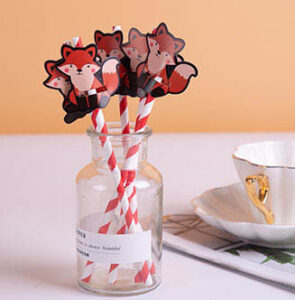 2. Three main packaging ways for paper straws.
There are 3 commonly used types of packaging ways:
OPP Packaging Bag
OPP bag is a kind of packaging material easy to use. You just need to remove the protective layer on the seal and then stick firmly. It can provide a good tightness.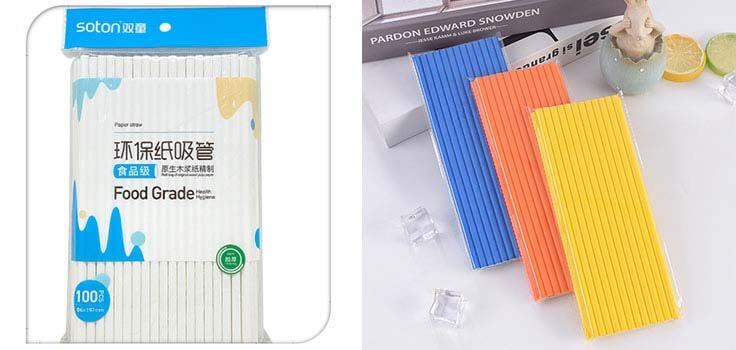 Paper bag
Paper bag is a commonly used packaging material. Besides the eco-friendly material, the biggest advantage of using paper bags is that the way can support printing better. If you want the products inside visually, you can choose carton boxes with a showing window.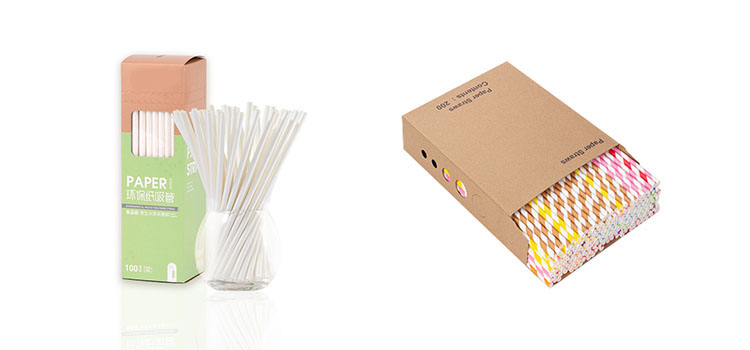 Individual wrapping
Individual wrapping is a more handy way, as it is easy to carry. Besides, it is cleaner to use. The material for wrapping is usually paper, so it is also convenient to print logos.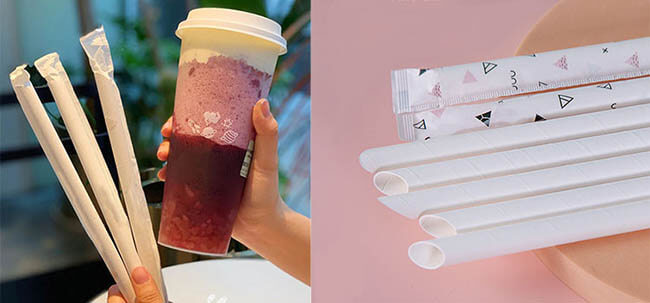 No matter which kind of packaging way you want, if you want to let your package appear unique, you can negotiate with your supplier about the package appearance. For example, you can choose to print your brand logo or some interesting patterns on the package. By doing so, it is beneficial to your marketing to a large extent.
In addition, about quantity for each pack, it all depends on the seller, maybe 50pieces/bag, or 25pieces/bag. You can negotiate with the supplier about it in advance.
3. Where to find a paper straw supplier from China?
90% of products are imported from China around the globe. Of course, paper straw from China accounts for a large proportion of the global market. But which channels can you use to find Chinese paper straw suppliers? The same as other kinds of products, we can find suppliers via online or offline ways.
Online ways:
Alibaba
Many importers order from Alibaba, with many large and medium suppliers including manufacturers and trading companies selling wholesale on legit and largest B2B online platform in China. You can find a good paper straw supplier on Alibaba.
For products with a low price such as paper straw, the MOQ on Alibaba is relatively high. Moreover, the platform is mainly for the B2B business model, so suppliers usually will set a high MOQ to ensure a good profit margin. The average MOQ for paper straws on Alibaba is 5,000 pieces.
But you can negotiate with suppliers about MOQ. Especially for stocked products, most suppliers will decrease MOQ to a certain extent. But for customized paper straws, it may be a little difficult to let suppliers give you a low MOQ.
The most direct and convenient way is to find a China sourcing agent to help you purchase paper straws in China. They can help you choose high-quality paper straw factories directly, and follow up the production and delivery, which will allow you to spend more time in marketing. Because of the location advantage, they have more local resources of quality factories, which you may not find on Alibaba.
AliExpress
AliExpress is a B2C platform. MOQ on the platform is lower than Alibaba, but the price will be higher. If you buy paper straws for your own use or you just place a sample order, AliExpress is more suitable for you than Alibaba. Moreover, many suppliers will run an e-commerce store not only on Alibaba but also on AliExpress. So you can place a trial order first on AliExpress then place a bulk order on Alibaba.
DHgate
MOQ on the platform is relatively lower. Dozens of paper straws are also allowed. Accordingly, the unit price will be higher than other platforms. But at the beginning of your business or you just import for your own use, this is also a recommended platform to place orders.
Global sources&Made in China
Most of the suppliers on Global Source are factories. On these two platforms, MOQ is relatively high, usually up to 10,000+ pieces for paper straws.
Offline ways:
If you have enough time and budget, you had better come to China to evaluate the factory in person. As paper straw is a kind of product closely related to health, the production environment appears especially important. Usually, it will adopt a dust-free or semi-dust-free food-grade production workshop. Hence, it is advisable for you to have a field visit to the factory.
Exhibition
The exhibition is the most common offline sourcing channel, but not like electronic products, there are not specific exhibitions for paper straws currently.
I will recommend you two fairs where you can find paper straw suppliers: Canton fair, HOTELEX Shanghai.
Canton Fair is a comprehensive exhibition, twice every year. And for each fair, it will hold three phases according to different product categories.
Because of the strict application for attending the Canton fair, most exhibitors are usually medium and large scale. Besides, you can have a face-to-face talk with suppliers, which is beneficial to further cooperation.
HOTELEX Shanghai sets 8 featured exhibition areas. You can find paper straw in the food and beverage packaging exhibition area.
Wholesale market
There are a lot of wholesale markets in China, so you must find suitable paper straw suppliers. Yiwu International Trade City is my recommendation to you. In the market, you can negotiate with the seller about the price and compare the price at the same time.
We, Jingsourcing, are opposite Yiwu International Trade City, if you need to wholesale paper straws, we can help you.
4. How to select a paper straw manufacturer?
No matter what channel you use to find Chinese suppliers, the following points are always what you should pay attention to.
Choose those suppliers who have relatively longer operation time(3years). They are more likely to have more mature technology and more stable production capacity.
Check if they can provide certificates. Different countries have their own regulations for importing or selling, so you should ask suppliers if they can provide the certificates. Many sellers will state if they can provide relevant certificates in the product listing
Avoid focusing on price too much
When you search products on the same platform, you may find suppliers quote a different price for the same product sometimes. You may regard the one with a lower price as your first choice, but in fact, it is an unwise choice to a large extent.
For paper straws with different prices, although they look alike in appearance, the actual quality may vary greatly. Perhaps one consists of three layers, the other is four layers. For paper straws with different quantities of layers, the performance will vary greatly. The paper straw with three layers is more likely to be soft when you use it.

Therefore, you shouldn't regard the price as the only standard. You can place a sample order to compare the product performance before you decide to place the bulk order.
To the end
In recent years, as many countries advocate low-carbon and eco-friendly life, paper straws are becoming more and more popular. We have helped many of our clients source and customize all kinds of paper straws. The factory we cooperate with is the one with a complete production line, 6,000+ staffs. And it is equipped with the advanced cutting machine. They can provide certificates for paper straws you need like FDA, EU, etc.

If you want to wholesale paper straws from China. Let me know by leaving a comment or email us. Our sourcing specialists are always here to support you.