Fashion jewelry is composed of various materials, which have different characteristics and effects like hardness, cost, oxidation resistance, brightness, and so on. If you want to customize fashion jewelry, you have to know jewelry materials and then decide what materials to use based on their characteristics and cost.
For more knowledge about customizing and private labeling jewelry, check my another informative article: Customize and Private Label Jewelry from China manufacturers.
In today's post, I will introduce 21 main materials and components for fashion jewelry. Click the below items you are interested in to navigate you.
1. Thirteen Common Types of Jewelry Findings
Jewelry Findings mean all the parts of jewelry you need to finish jewelry design or piece the jewelry together to give it a complete shape. There are a number of findings available in the market and each works differently. They include headpins, clasp, bails, ear wired, eye pins, crimps, connectors, and jump rings, etc.
Jewelry components are available in different metals like in gold, silver, copper, platinum, and even in antique brass and in different hues. And obviously, they increase the beautification of the jewelry. Let's explore some common jewelry findings.
Bead Caps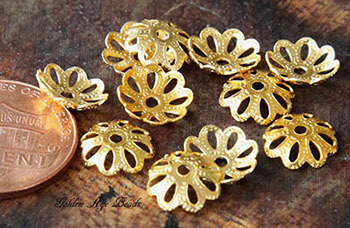 Bead caps work fantastically. You can adjust the bead cap on either side to piece it together. Give a stunning look to your simple pendant by adding a bead cap to it.
Ear wires

Ear Wires are used in earrings. You can create the unique and latest design of earrings by attaching metal components, beadworks, and beads.
Head and Eye Pins

They are used in earrings, bracelets, and beads. Headpins have round or flat ends and provide a 
barrier to beads from fall. On the other hand-eye pins are connectors and used in longer pieces of jewelry.
Links and Connectors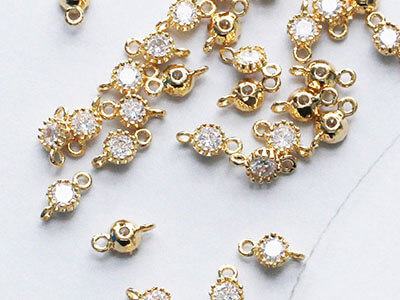 Links and connectors are present in different shapes and styles. Links and connectors are used to combine or connect jewelry pieces in united form. They are used in earrings, bracelets, necklaces, etc.
Cord and Ribbon Ends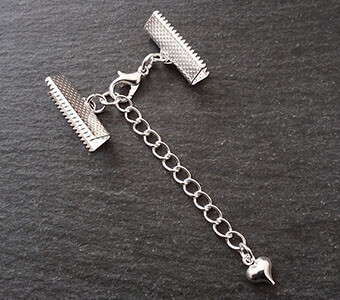 Cord and ribbon ends are used to fix a metal. Cord ends are available in round and barrel shape, and ribbon ends in flat shape with teeth.
Clasps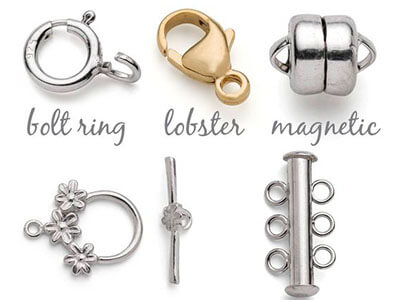 Jewellery clasps come in all shapes and sizes. They also differ greatly in uses of different types of jewelry. The traditional and popular styles of clasps used in jewelry are lobster clasp, spring ring clasp, magnetic clasps, etc. If you want to know more specific classifications, you can check my previous blog about jewelry clasps.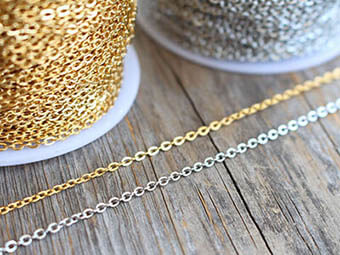 Jewelry chains feature different lengths and thicknesses. In general, their materials include different types of metals like stainless steel, iron, brass, etc. 
Sometimes people use a strand of the chain as a necklace or bracelet directly. And they also decorate chains with some other decorations like beads, pearls, gemstones, etc.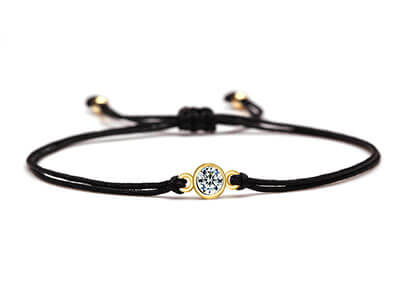 Jewelry cords are made of fabrics like cotton, silk, nylon, etc. Cords with beads, gemstones, or metals are popular and charming. They are handmade and often used as bracelets. Moreover, they are adjustable.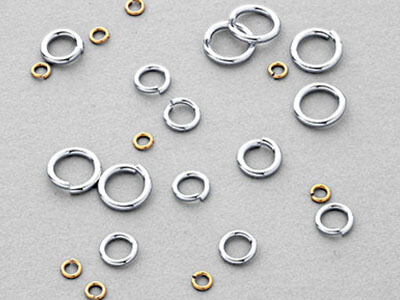 Jump rings in jewelry-making link the bracelet or necklace chains to other charms. Their main materials are metals and they feature circles with a split to open and close.
You can use beads as a separator of a chain or bracelet, or you can string them together. They have different dimensions and you can also select the hole sizes. The materials of beads can be types of metals, glass, or plastics.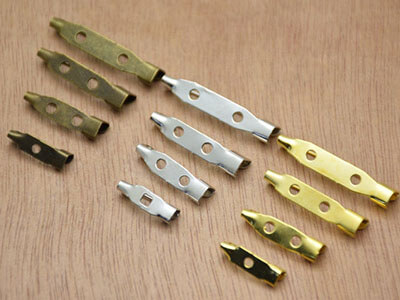 Brooch Backs are available in different sizes and colors. What you need to do is pin it on your clothes. They provide a base material along with a rotating clasp and long pin.
Pendants are small items often used with slight metal chains. They make the bald bracelet and necklace chains look more attractive and unique.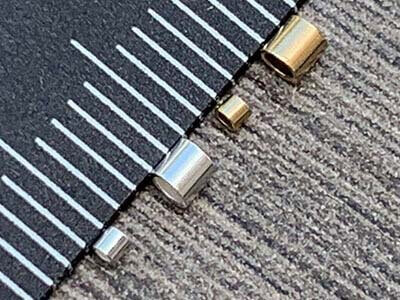 A crimp is a small tool to knot the stringings or threads tightly. They can also make the clasps and beads fix on the jewelry stringings.
Moreover, there are mainly 2 types of crimps including crimp beads and crimp tubes. You should choose the crimp size according to the beading wire size.
2. Two Common Types of Pearls
Before the popularity of Pearls diamonds were considered the most precious metal. But now, the use of Pearls in jewelry has approached us.
Although in history the use of pearls was restricted to the elite class, today it is in the range of jewelry lovers.
99% of pearls which are used in jewelry are cultured pearls. Most pearls by birth have the same white or creamy colors, and some also have different colors like black, grey, purple, etc.
The value of a pearl depends on different factors. If you want to identify the value of a pearl, you can check the pearl grades to help you.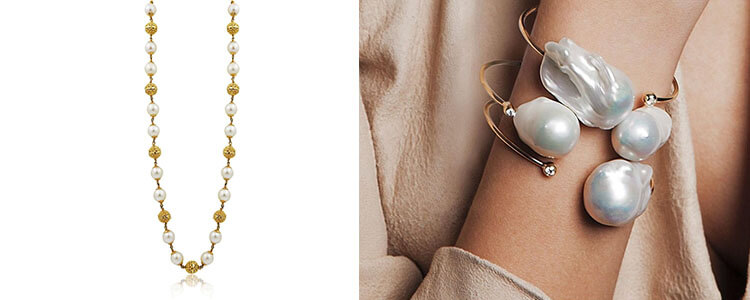 Freshwater Pearls are very common among all the other types of pearls. They have changed the trade in the past decade. Freshwater Pearls have a variety of colors and sizes.
The colors range from  pink, creamy, lavender, rosy white, and white. Freshwater Pearls require no nucleus for formation. Chinese Freshwater Pearls have changed the trade scenario because of their affordability.
Baroque Pearls are usually worn by bold women to tell the world how special they are. There are subtypes of Baroque pearls like coin pearls, Baroque Pearls, twin pearls, potato pearls, Cross pearls, stick pearls, rice pearls, egg pearls, egg pearls, leaf pearls, and heat pearls, etc.
Uses Of Pearls In Jewelry
Pearls are used in jewelry in various ways. They entice the attention of jewelry lovers when they are fitted perfectly in necklaces, pendants, bracelets, earrings, rings, etc. 
When they bond with different types of jewelry metals like k gold or silver, pearls give a stunning look to the jewelry.
3. Four Different Types of Gemstone

Rhinestone
In fact, rhinestones are neither crystals, nor diamonds, but diamond-like materials. The common materials of rhinestones include glass, synthetic quartz, cubic zirconia, and so on. We call it rhinestone because the main man-made crystal is manufactured in the north and south of the Rhine river. 
The rhinestones produced in the north are named Austrian crystal, which absorbed sufficient sunlight and has a shiny gloss. You guys must have heard about Swarovski crystal. It is the most famous Austrian crystal, which can be found on many of the world's top clothing brands.
In contrast, the Czech crystal is produced in the South and it is less shiny than the Austrian crystal.
Melee Diamond
Melee diamonds are not rhinestones, but real diamonds. Generally speaking, the Melee diamond refers to the diamond below 10 cents (0.1 carats), which is usually used as the decoration of high-grade jewelry.
Most importantly, though a single melee diamond won't cost high, the melee diamonds are commonly set close together around the gem. This craft needs a high multiple microscope manual inlays, so the cost of craft and material can be very high.
Zircon
Zircon is probably the world's most wronged gem. Why? Zircon is a natural gem but since a time people have tended to call all imitation diamonds zircons, thinking that zircons are cheap imitation diamonds. More and more fashion jewelry is embellished with
Cubic Zirconia
It is a man-made compound, whose property is very close to the true diamond. It can be encashed on jewelry for long-term wear and it won't be scratched and lose its luster. It is generally used in low-grade or medium-grade jewelry as a diamond substitute. 
All in all, Rhinestones are used in large area decoration for some fashion jewelry or costume jewelry, melee Diamonds are usually used for fine jewelry and zircons are suitable for some cost-effective fashion jewelry.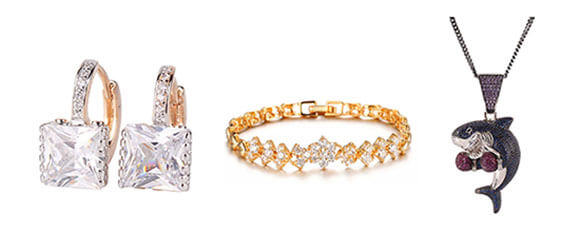 All in all, Rhinestones are used in large area decoration for some fashion jewelry or costume jewelry, melee Diamonds are usually used for fine jewelry and zircons are suitable for some cost-effective fashion jewelry.
Futhermore, it is difficult to distinguish these jewelry materials by appearance without optical instruments. So I have organized the physical parameters of these jewelry materials in the following table for your reference.
Rhinestone

Zircon

Hardness

06/07/16

7.5

Crystal Structure

*

Tetragonal

Refractive Index

1.5-1.7

1.92-2.01

Melting Point

130–140 °C

(266-284°F)

1855°C

(3371°F)

Cost

Middle

Middle-High
Cubic zirconia

Diamond

Hardness

8.5

10

Crystal Structure

Cube

Lattice

Refractive Index

2.088-2.176

2.417

Melting Point

2750°C

(4976 °F)

3550°C

(6422 °F)

Cost

Low

High
Difference between crafts of rhinestones and zircons
Rhinestones inlay don't need the copper base and the general alloy can satisfy its needs. The craft of alloy is simple and easy to copy, while Zircon must be inlaid with copper, which makes it delicate. Besides, the copper mold price is higher.
In recent years, micro paving is the most technique for inlaying zircons. Micro paving requires fewer claws to hold the zircon and allows more light to come in from all directions thus making the zircon look brighter and more delicate.
4. Two Cheap Synthetic Materials for Jewelry
With the increasing demand and the personal pursuit for fashion jewelry, many modern synthetic jewelry materials are widely applied in jewelry. Such as ceramics, acrylic, resin, leather, fiber, and so on.
Among them, acrylic and resin are the most used. The most important characteristics of these materials are light and cheap, and that's why they can become so popular as fashion jewelry.
Acrylic

As the "crystal" in plastic, acrylic has up to 92%transmittance. Acrylic is cheap, and it has good hardness, luster, and processing plasticity. So it can be shaped into all kinds of required shapes and forms.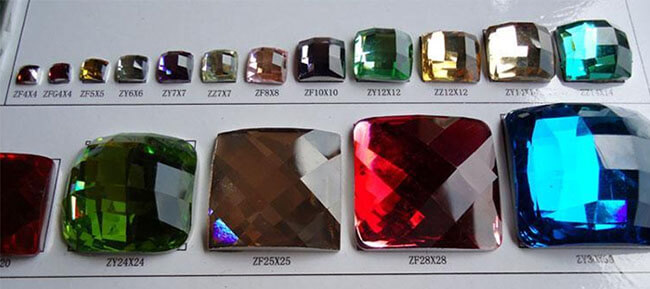 Here are 2 features of resin materials for jewelry:
Malleable: The plasticity of resin is extremely strong and it can be made into various shapes.
Decorative: A high finish of the surface and fine surface. Its style, color, or size can be designed as required.
In Conclusion
You can find many other materials for fashion jewelry, but these 21 types of materials and supplies are the most common in the jewelry market.
Please leave a message below to let me know your questions about this blog. I'll be glad to help you. If you think it is beneficial for you to read this article, you can share with your friends or on the web.
If you have any questions about fashion jewelry material or you want to wholesale jewelry making materials in bulk, welcome to CONTACT US, we are ready to help you!