The fashion Jewelry business is quite a competitive industry. In this way, private-label jewelry matters. I have already emphasized the importance of customizing and establishing your own jewelry brand before in the article: Buy Wholesale Jewelry for resale. And you should know, customizing jewelry from China is never that difficult as those articles on google claimed.
In this post, I will teach you how to customize and private label fashion jewelry from China. Click the heading below and it will navigate you to the according section.
1. Why you need to private label jewelry
I won't talk too much about big jewelry brands like Cartier, for them, not only the good design and craft, but also the nearly 200 years' brand sedimentary deposits make what they are now. While for us small business, it is excellent enough to catch the fashion trend and develop our own design.
In an industry that sells beauty, selling the same products as others is an unworthy and exhausting affair. Because you have to compete with others on price in this way and it is often the price which squeezes your profit margin.
So it's really important to get a head start by customizing new styles, which allows you to avoid a price war and earn profit quickly to invest in the next development. Once a virtuous circle is established, your users will know that your jewelry are fashionable and you will have a high rate of return visits
2. Ready-made jewelry design manuscript or ideas only?
Customizing fashion products like lingerie or jewelry needs good designs. Some of my clients come to us with their ready-made jewelry design manuscripts. 
A standard manuscript usually includes information like the material and specific parameters. Such as, the size of the necklace, ring dimensions and so on. In this way, the factory can directly arrange the purchase of materials and start production after getting the manuscripts.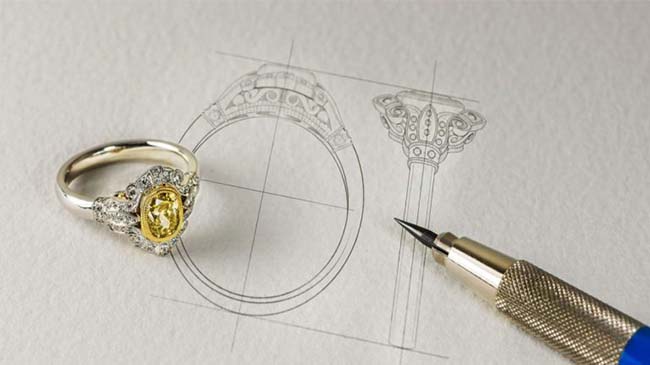 And some clients have no experience in customization. They may just get impressed and inspired by some jewelry styles in a market. They will make a slight change in style or upgrade the material to make them look more exquisite. 
After we receive our client's pictures of existing jewelry, our factory will start manuscript drawing and confirm with the customer the materials to be used and the specific parameters of the jewelry.
3. Choose materials for your fashion jewelry
Different materials for jewelry present different texture, brightness, hue and hardness. The selection of material depends on your product positioning. Do you prefer the expensive gold, platinum, diamond for fine jewelry or the cheapest material like acrylic and resin? Or the most cost-effective ones, K gold, 925 silver, and zircon?
In the article Top 7 Jewelry Materials Used in Jewelry I have introduced Top 7 most common materials for jewelry. Click it to get more information.
Gold/Platinum/Diamond for Fine Jewelry
Fine jewelry materials like these could be a big cost. In addition to a sufficient budget, you'd better have your own design team if you do business like this. 
Many of my clients have been engaged in other fashion jewelry business for more than 5 years and have enough experience in the jewelry industry before they turn to this fine jewelry model. Very few people choose this from the beginning, because the materials' and marketing costs are really high.
Common materials for fine jewelry are gold, platinum and diamond and so on.
K gold/925 Silver/ Zircon for Fashion Jewelry
Fashion jewelry is cheaper than fine jewelry. It is a very good choice for startup business. You won't spend too much on the materials and this kind of jewelry is really profitable.
I have revealed the secret of jewelry business and teach you how to start it in
Reveal Wholesale Jewelry Profitable Secrets. Learn How to Startup. See how a Pandora knockoff bracelet costs $17.5 but sells at a price of nearly $90.
For fashion jewelry, K gold, 925 silver and zircon are the most common materials. According to the content of pure gold, there are 10K gold, 14K gold, 18K gold and 24K gold.10K gold and 14K gold jewelry are the most popular among them. And zircons, can be rated five grades from A to AAAAA according to their brightness, cut and completeness.
Resin/Acrylic/Lucite for Costume Jewelry
Costume jewelry is jewelry manufactured as ornamentation to complement costumes or garment. It is the cheapest jewelry. It is mainly made up of cheap materials like resin, acrylic or lucite. These synthetic materials are very light and malleable and has become very popular in recent years.
If you don't have a large budget and want to manage your jewelry business on online platforms like eBay, you can choose costume jewelry.
4. 8 Steps of jewelry making process
1. Tell us your product requirements
Before making, the most crucial point is getting to know your customization requirements. If you have your own design manuscript, you can give it to the factory directly. 
If not, offer the information about jewelry design, material, and the LOGO carving. Then the factory will make a hand-drawn drawing and confirm with you the specific parameters of the product. 
2. Mold & Casting
The liquid metal will be poured into the molds to create castings. And once the castings are cooled, they will be inspected for quality and then moved on to welding/polishing. If you want to inlay zircons, it will be inlaid before polishing.
3. Micro paving
Micro paving is the most common inlay technique, which can set the zircons firmly on the castings. Moreover, it requires less claws to hold the zircon and allows more light to come in from all directions and thus makes the zircon look brighter and more delicate. 
4. Polishing
To burnish the surface and maximize luster and shine, the factory will usually apply two ways to polish the jewelry–mechanically polishing and hand polishing.
5. Plating
Plating refers to plating a layer of metal on top of the base material (copper/alloy etc.). The surface metal can be either real gold or imitation gold. And the coating thickness is determined by you.  
6. Inline Inspection
Different from other products, we have to carry out the first mid-term inspection before the assembly of jewelry, mainly to check whether there are any defects in accessories. Only after confirming that there is no problem, can we assemble them.
7. Assembly
Assemble semi-finished products (such as single loop, lobster clasp) into finished products and hang logo tags.
8. Final Inspection
This is the second inspection to check finished products, including the appearance, structure, surface, and functionality.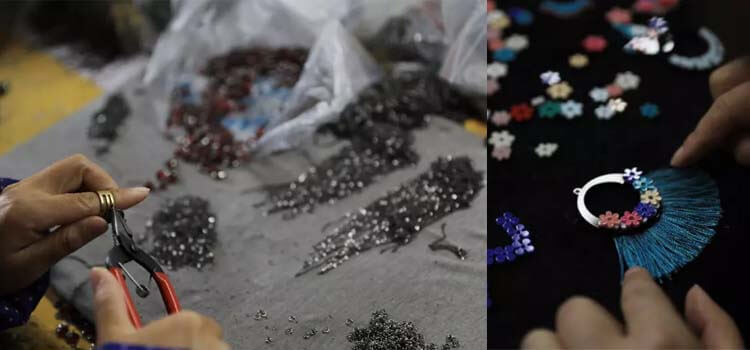 5. Logo and Tag for jewelry
You need to print your brand logo if you want to private label your jewelry products. The brand name we see on jewelry body is usually by laser printing. This craft is not difficult and very durable. 
Besides the brand logo, other information is also needed to be marked for metal jewelry. Such as,"925", "Au750" to demonstrate product information.
Before releasing to the market, the metal jewelry must be printed and labelled to state specific information like material, content, grade and other specifications. You can also add some brand information and the barcode and price on the label.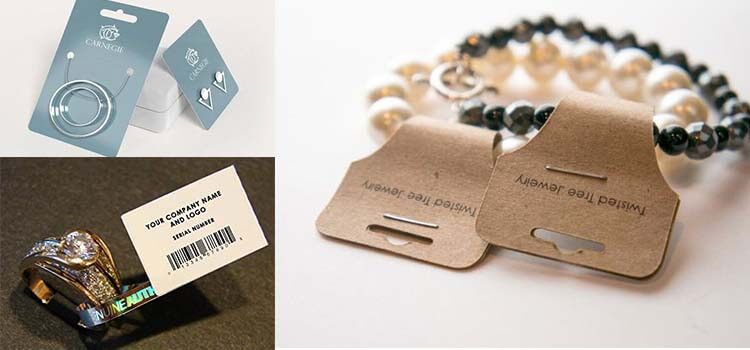 6. private label jewelry packaging
For fashion items like jewelry, the importance of private label packaging can't be emphasized more. An exquisite packaging can increase the value of jewelry to a large extent. There are many kinds of packagings for jewelry. Packaging bag and packaging box are the two main types. 
A packaging bag could be very cheap like 1 cent a piece and the simplest way is to use a small plastic bag or a yarn bag, usually sold by pack or weight. A flannelette or brown paper bag is also common and cheap, costing around $0.1.
Packaging boxes could be diversified in material. Cheap ones like kraft box, villi box and middle & high-end boxes like wooden box, leather box.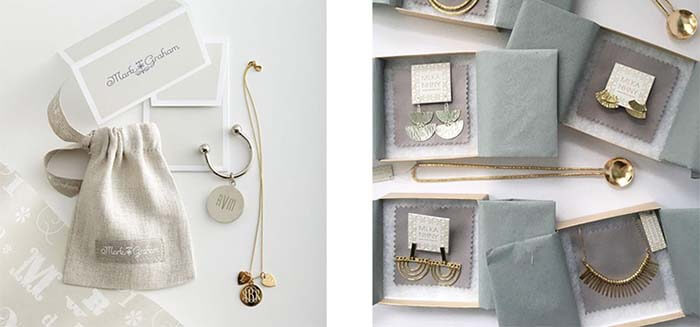 It's yout turn now!
Are you interested in jewelry business? 
Do you have any ideas to customize and private label them?
Feel free to contact us.