Want to Customize or Import LED Lights from China at a Good Price?
We have successfully helped more than 50 clients from Europe, America, and the Middle East wholesale or import LED lights, in particular, LED strip lights from China, and grow their businesses.
We offer you a competitive price and quality service, whether you are experienced or beginner sourcing or customizing LED lights from China.
Get Your FREE Quotation by Filling Out This Form.
Featured LED Light Products We Help You Import from China
It's used for the decoration of living places, creating a warming space. It mainly covers Pendant Light (Chandelier), Ceiling Lamps, Desk Lamps, Wall Lamps, etc.
LED is the most popular light source in the current market. Selecting materials impacts the service life of lights. Metal, plastic, glass, ceramics, and crystal are common. In keeping with Nature-Oriented Design, today's lampshade is widely made of natural materials such as paper, yarn, and wood (e.g. precious mahogany). Acrylic cover is the best but pricer. As a kind of plastic, acrylic outshines the competition for its softness, lightness, good light transmittance (90%), and hardness to turn yellow.
Crystal lights are pricer and more used in high-end places like hotels and villas. Metal features itself as corrosion resistance and long service life. Plastic is lightweight and simple in processing. But it ages faster, easy to deform when heated. Glass and ceramics are fashionable, with long service life. Glass processing technologies vary from frosting to stretch bending. Many European candle lights are made from stretch bending glass. Besides, you need to know today's markets often use glass to pretend to be crystals.
All end customers are residents. This is the biggest customer base with the fiercest market competition.
It's applied in outdoor areas without roofs. The following are covered:
Wall Wash Lights
Lawn Lights
Garden Lights
Floodlights
Underwater Lights
Street Lights
Etc.
The materials of outdoor fixtures should be waterproof (IP65), UV resistant, and corrosion.
Aluminum and stainless steel would be better choices than iron. Taking lawn lights, for example, commonly used stainless steel are 201 and 304. Generally, aluminum is easy to be processed and cheaper than stainless steel.
It's also key to consider the upper limit of material's temperature tolerance and affordability of thermal expansion and contraction. As outdoor environments are complex and volatile, so there're high requirements on production processes and technology of outdoor lights.
Applied in commercial places (e.g. hotels and shopping malls), it's used to highlight products to attract guests' attention and promote consumption. Common types are:
LED Strip
Downlight
Spotlight
Etc.
The LED chip size determines the LED quality and brightness. A larger chip is recommended, but the price is higher. American chip is the most expensive, followed by Japanese chip and German chip. The price of Taiwan chips is moderate.
LED packaging materials include epoxy resin and silicone. The epoxy resin material is lower in price as its heat dissipation performance is not so good as that of silicone.
As for LED Strip, the brightness and color impact the price. Please note that the LED Strip market is complex, so you should pay attention. For example, formal manufactures attach operating instructions and the specification to the package.
It's featured by intelligent, wireless remote control, scene control, intelligent sensing, etc. With the fast development of technologies, smart lighting is more and more welcomed by modern people, in pursuit of great convenience and achievements of personalized scenes and mood-setting with color changing. The smart lighting market is emerging and promising. Smart bulbs cost more than traditional bulbs.
Why expensive? 
Besides high requirements of such materials as lamp beads, Zigbee chips or Bluetooth chips are made part of smart bulbs (e.g. Philips Hue bulbs). All these make smart bulbs costly.
R&D investment is required for smart bulbs, such as the microcontroller, wireless antenna, licensing fees for protocols like Z-Wave.
Most smart bulbs demand a hub to operate. Remember to ensure the compatibility between chosen smart bulbs and hubs.
In sum, technical input cost, material, and workmanship cost make smart lighting expensive.
We've helped many clients with their business in the LED lighting market. We're experienced in the customization and production of LED lighting. So read my guide carefully, whether you ask us to wholesale Led lights for you or other suppliers. 
Here's a Quick Summary of My Guide
1. LED lighting clusters in China. You'll have a rough idea of where Chinese Led suppliers are.
2. Where to find Chinese LED light manufacturers? Alibaba, Made in China, or Jingsourcing?
3. Learn types of LED suppliers and how to judge the right one? If You plan to be a distributor/agency of a Chinese brand or If you are a retailer or wholesaler, which type of supplier is suitable for you?  Large factories, brand distributors, or sourcing agents? Five important factors help you to make the right choice: certificates, ODM & OEM, manufacturing scale, professional salesman, & added services.
4. Required certifications when import LED lights from China (USA, North America, UK, Australia, Japan). The Customs, your local market, eCommerce platform all require certificates or tests, so it is important to you.
5. Shipping methods and incoterms comparison for importing from China.
6. FAQs List. Additional supplementary information about importing LED lights from China.
Led Lighting Clusters in China
China's lighting industry is highly concentrated in three areas, whose output value accounts for 90%+ of the entire industry.
Guangdong Province is home to most lighting factories in China.
Zhongshan City is well known as the "Chinese Lighting Capital", as more than 50% of decorative lighting across China is manufactured there. 
Foshan and Huizhou are two LED light manufacturing bases, specializing in the production of commercial LED lights.
Shenzhen has many high-tech LED suppliers so that you can find digital lighting suppliers.
Fujian Province has attracted lots of competitive lighting companies to locate there. Xiamen is famous for LED chip packaging and high-end LED bulbs.
Zhejiang Province, Jiangsu Province, and Shanghai collect many famous international brands with OEM suppliers there. And these international brands supply most high-end outdoor LED lights and special industrial LED lights.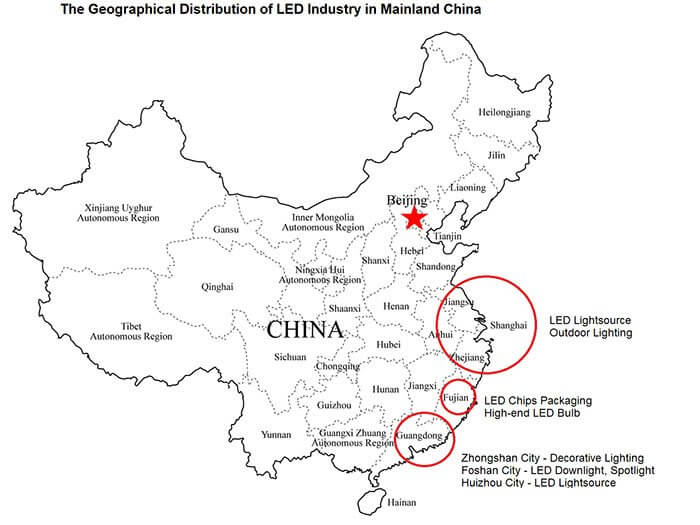 Where to Find Chinese LED Light Manufacturers
Alibaba & Global Sources & Made in China all have rich LED light suppliers, including different trading companies, wholesalers, and direct factories. Here I would like to give you a tip. Generally, a supplier with multi-category operations is usually a trading company. Meanwhile, multi-category operations mean a lot of production lines covering indoor and outdoor LED lights.
Jingsourcing integrates rich factory sources and has its supply chain database. It will track your budget and help you match the best suppliers whether you need OEM or ODM services. Here customization services and private label solutions are available. If you want to have your brands, you can get guidance in packaging making here at a competitive price, even purchasing quantity is small. Quality inspection service can help you ensure all the products are in good condition before the shipment.
DHgate is good for beginners who want to start a small business or for personal use. Many small LED light MOQs are lower than Alibaba. However, search results on DHgate are products. You need to click and then learn more about the supplier. For example, you'll find 5,579 results for household lighting wholesale, but not all products are exactly what you want. However, you'll get 3,852 results of household lighting suppliers in Alibaba, and see the basic information of suppliers at a glance.
You can enter keywords in Google to browse the top-ranked suppliers' official websites to get their product information and current international market. But this way will cost you much time to dig deeper into information. Hence, Google search is preferred as an auxiliary tool to help you collect suppliers' official information like the company scale. Recommend you to obtain an in-depth understanding of suppliers through other channels.
Five Important Considerations about Choosing the Right Led Suppliers
Certificates
Ensure that suppliers possess the qualifications required by your target market. For example, if you're from the US or European countries, suppliers with UL/ETL or CE certifications are right.
ODM & OEM
If you want to develop new products, professional led suppliers who have R&D team are the right choices for you, they have mature ODM/OEM team, and know well about your target market, so they can develop products quickly.
Manufacturing Scale
Judge whether the suppliers' manufacturing scale matches your need. You should look for large manufactures when having high order quantities. However, it's not suitable for you to find the large ones for your small order quantity. In this case, your order may even be delayed several times when production resources are in shortage. Especially when the products are highly seasonal, such as Christmas lights.
Professional Salesman
Observe the professional ability and experience of the salesperson when contacting suppliers. Salesmen with more than 2 years of experience in the industry are good. You can have reliable feedback about your orders and they can help you avoid some risks.
Added Services
Judge whether suppliers can offer added services you want, such as the support of rush orders, sample approval before bulk production, detailed inspection report, and so on. Those can also reflect the manufacturer's cooperative willingness to a certain extent.
Certifications for LED Lights
As the lighting industry develops, more certifications are being published to ensure the quality and safety of LED lights. So far there have been a lot of certifications for LED lighting products. For anyone who wants to import LED lights from China, it's a must to know the certifications in advance, as the market requirements differ in Europe, North America, and other regions.
Certification Agencies in Europe


CE Marking is necessary for any lighting products sold in Europe. With CE certification, products can freely move in the European market. It means manufactured products meet the standards of safety, health, and environmental protection stipulated by the EU.
RoHS certification sets standards for LED lighting products. All LED lights sold in the EU market must be RoHS compliant. It restricts the use of the specific hazardous materials which exist in the traditional bulbs and is harmful to health.
ENEC is a European Mark for electrical products that demonstrates compliance with European safety standards. Any lighting products with ENEC Marking means they have been certified by one of the national institutions in Europe.
With S Marking, your product may be sold throughout the EU without further safety testing or certification. S Mark is only found on products that have been independently tested and certified to applicable safety standards. S Mark is assurance that your brand reputation will not be put at risk by a product safety failure.
Certification Agencies in North America

UL Certification is still the most widely accepted one by the US market where exist plenty of certifications for LED lights (e.g. UL, ETL, CSA, and MET). For any LED lights accredited by UL Certification, they must pass UL8750 which is designed to test if products meet the requirements based on its published standards of safety. It includes electrical shock, heat hazard, energy hazard, fireproof materials tests.
ETL Mark is proof of product compliance to North American safety standards. It is issued by Intertek. And Intertek ETL tests products to previously published UL Standards for Safety, products marked as ETL Listed meet the same criteria as those marked UL Listed or UL Recognized.
CSA (Compliance, Standards, and Accountability) Group is a Canadian standards development organization that accredits products to a wide range of standards certification from many different organizations. CSA Group is accredited by the American National Standards Institute (ANSI) in the US. "CSA marks in lighting can provide product evaluation, energy efficiency verification, test and certification, and quality standards certification for the lighting industry."
MET Mark indicates that the LED lights have met the minimum requirements of the applicable safety standards. Products with MET mark is accepted throughout the US and Canada. It validates the product's continued compliance to these standards as evidenced by periodic factory follow-up inspections.