When you are making lights, materials for lampshades are also an important factor. Here I list 11 common types of lighting materials. You may discover the pros and cons of each one. And finally, you can decide which ones are worth investing in.
What should you consider when choosing lighting materials?
Material selection affects the lights' life span. Here are some of the factors you should know when selecting materials for customizing lights.
Durability
Durability is an essential element to evaluate whether your lighting products are of good quality. You need to make sure the materials you use will not deform easily, become crispy or crack at a long-time high temperature. When they are exposed to the air, lighting products will not easily fade and lose shine.
Safety
Safety is also a vital factor. It requires the material you use to have good heat resistance. Otherwise, after a long time of use, it may ignite on its own. Some materials like PE may even produce toxic gases after combustion.
And materials should also have excellent insulation properties to prevent electric shock. If you use conductive materials like metals, you need to hide electrical parts inside when making lights. Meanwhile, take waterproofing into consideration to prevent short circuits when you make outdoor lights.
Transmittance
Transmittance depends on your specific requirements. For example, if it is used for shopping malls, then transmittance should be 90-95%. If it is only used for decoration, the transmittance can be lower.
Easy to be processed
When materials are easy to be processed, you can use them to make many creative shapes to improve product competitiveness and adopt some techniques like printing, and carving to increase product aesthetics.
Eleven types of materials for making lights
Different materials have different functions, and every material is suitable for making lights in different styles.
Acrylic plastic material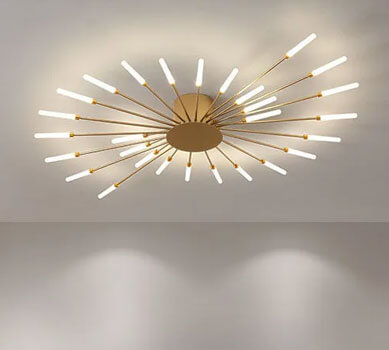 Plastic is lightweight and simple in processing, usually used for indoor lights. The disadvantage is that it ages faster, easy to deform when heated.
The best plastic is acrylic. Even if acrylic is exposed to the natural environment for a long time, its performance is still stable, and not easy to age, deform or break. Its transmittance can reach more than 92%, and it is easy to be processed. The surface can be treated with spray painting, silk screen printing, coating, and other techniques. So it suits a wide range of products, such as household lighting, commercial lighting, creative lights, smart lighting, etc.
Metal material
Metals are widely used in manufacturing lights, especially for LED lights. Materials with good corrosion resistance, such as copper, and stainless steel, can be used as outdoor lamps. Here I list 4 common types of metals for you to choose from.
Copper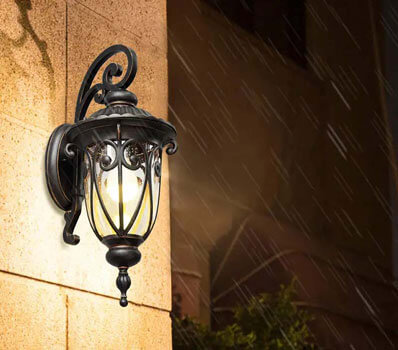 Copper is highly malleable, and can be made into many different shapes, such as petals, geometry, and lines. And its durability is also high. Many buyers use it to make garden light fixtures for decoration. In this way, even if there is rust, many people think that it can mix with the surrounding environment without compromising the aesthetics.
Brass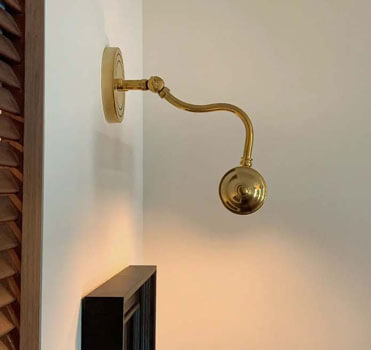 Since brass is a copper alloy, it also has the advantages of copper, such as good durability. Brass does not attract dust easily, so it doesn't need frequent cleaning or maintenance. It can fit almost any home style, such as retro style, Nordic style, etc. Brass lamps are a very popular trend now.
Because the price of brass is relatively high, some manufacturers use iron or aluminum plating to make fake brass. You should pay attention to distinguishing when purchasing it.
Stainless steel
Stainless steel covers a diverse range of steel alloys. Although the properties of different stainless steel alloys vary widely, they all have fairly high strength and high-temperature resistance. Since it is also not prone to rust, many buyers use it for bathroom lighting. 201 and 304 stainless steel are the most common types.
At the same time, stainless steel tubes can be made into different colors after electroplating, and can be processed to give off a high-end sense of the material itself, which is suitable for making high-end lamps and also conforms to the aesthetics of modern people.
Aluminum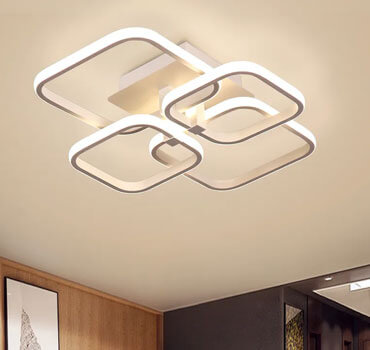 Aluminum is easily processed into various shapes, and it is lightweight. Because pure aluminum is too soft, most buyers will choose to use aluminum alloy to make the lamp shell, which then has a higher hardness. Aluminum also has good heat dissipation, suitable for making LED lamp shells to prolong their service span. Furthermore, the price of aluminum is lower than that of many other metals, such as copper, and stainless steel.
Glass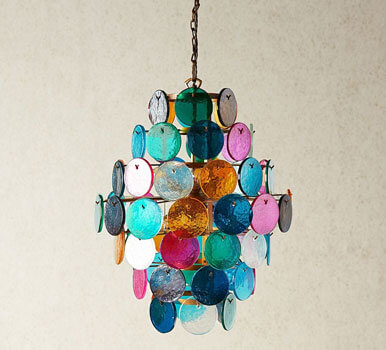 The transmittance of glass is good, which can maximize the lighting effect. It is also highly malleable, and can be made into different textures and colors. This kind of material will not appear yellowing and fading after a long time. And it is easy to clean and maintain, suitable for homes and entertainment places.
Crystal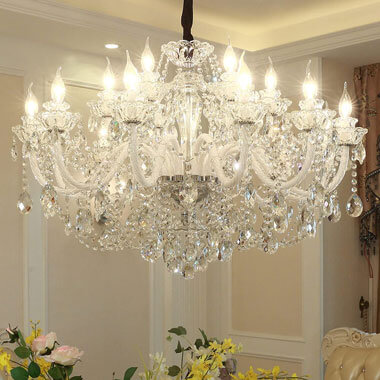 Crystal is clear and transparent, with excellent light transmission and oxidation resistance. It is also highly resistant to high temperatures and wear. Lighting fixtures made of crystal have exquisite and fashionable designs, and they are often used in high-end places such as villas.
Crystal is quite expensive. Nowadays, most of the crystals used on the market are artificially made, and if you use natural crystals, the cost will be even higher. Please note that in today's market, glass is often used to imitate crystals.
Ceramic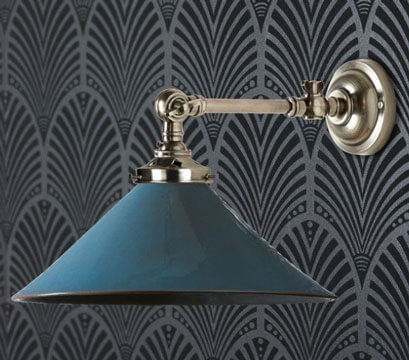 Ceramics are very suitable for making decorative lampshades for floor lamps and pendant lights. It feels smooth and can be processed into various colors and glazes. You can also paint various patterns on the surface to create exquisite styles. If with higher requirements, you can use porcelain produced in Jingdezhen, which is highly delicate in workmanship and style. Of course, the price will be higher.
Fabric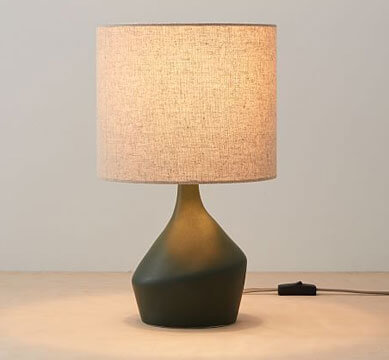 Fabric comes in a wealth of different materials, such as cotton, silk, parchment, marbled paper, linen, etc., and each has its own special qualities. The texture of the fabric is soft and easy to shape, making it a great decorative element that is well-suited in bedrooms or dining rooms.
You can also adjust the light transmission and color of the fabric based on its thickness, color, and even coating, so that the lighting is softer and less harsh on the eyes. Another advantage of fabric is that it is durable and easy to clean, and most can be washed directly in a washing machine. However, its disadvantage is that it is relatively flammable.
Plaster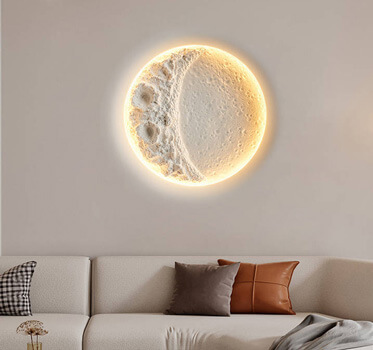 The plaster feels fine and smooth. It can be used to create various complex and delicate shapes. It also has stable performance that is not easily affected by thermal expansion. Currently, plaster lights are popular, which can be directly embedded into the wall, allowing the lamp and the wall or ceiling to blend perfectly, enriching the aesthetic of the space.
Cement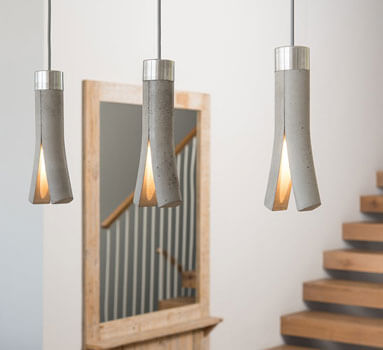 Cement is highly plastic and decorative. Lampshades made of cement have various shapes and unique styles, which are suitable for industrial-style decoration.
Nowadays, plain concrete and microcement are mainstream materials. Plain concrete is relatively environmentally friendly, and lampshades made from this material can be shaped in a mold for one time, but the process involved is quite complex. Microcement, on the other hand, has strong wear resistance and waterproofing properties, making it suitable for various environments, and ideal for outdoor decorative lights.
As a leading sourcing company, we have helped 4000+ clients source products from China. And lights cover a large part. No matter what kind of lights you want, we can help you source or customize them. We also have long-term cooperative suppliers who are experienced in making lights. You just need to tell us your requirements. We will assist you in dealing with all things related to the products and ship them to your doors as required.
Source good materials for your premium lights