The NDA or confidentiality agreement is widely used. Here we focus on the application of confidential agreements in global trading. When manufacturing a new product or customization in China, more buyers request NNN agreements rather than NDA. Why?
Today's post reveals the difference between NDA and NNN agreements and covers the following significant aspects.
What is an NNN agreement?
The NNN agreement stands for Non-Use (Compete), Non-Disclosure, and Non-Circumvention agreement. Essentially, it is a confidential agreement.
Many buyers prefer to request such an agreement when importing from China. A typical example is that: an Amazon FBA seller is considering a cooperative relationship with a Chinese OEM factory; the factory would be asked to sign NNN agreements before the Amazon seller sends drawings to confirm the manufacturing technical capacity. As such, the seller may rest assured that the Chinese manufacturer would not disclose drawings or relevant info without authorization.
Let's look at "3Ns" in more detail. Here still use the above example for your reference.
Non-Use or Non-Compete
As the name implies, it restricts the use of the purchaser's idea or concept, or product by suppliers for commercial intentions beyond the contract.
That is, without the Amazon seller's permission, the Chinese supplier shall not use design drawings. Even if no order was placed in the end, the Chinese factory can't use drawings for production. Because the Amazon seller possesses intellectual property (IP) rights.
Non-Disclosure
Non-Disclosure is easy to understand. It binds suppliers to keep product or order details secret.
Although the Amazon seller has restricted the use of design drawing, he might worry that the Chinese supplier will reveal it to affiliated companies for manufacturing. This is not a breach of Non-Use/Compete provisions. So, the Amazon seller will use this agreement to make it the supplier's duty to not leak out any info about the drawing.
Another chance might be that the Amazon seller placed an order but felt anxious that the factory's staff might take the drawing to other companies for production. Once the Non-Disclosure agreement is signed, it means that the factory takes full responsibility if staff discloses the drawing to others outside the factory.
Non-Circumvention
The Non-Circumvention agreement is used to prevent suppliers from bypassing clients and their sales channels.
Although there is no use or disclosure of the drawing, the Amazon seller is still anxious about such a situation: the order quantity is 100 pieces but the factory actually produced 200 pieces, with the extra 100 pieces entering other regional markets and sold cheaper, resulting in business conflicts.
If that happens, there will be a big loss to the Amazon seller. This is why the Non-Circumvention clause comes in.
What is NDA?
NDA, or Non-disclosure Agreement is a legally enforceable contract regulating what information must be secret between parties. If suppliers tell others, they violate the agreement and should take legal responsibilities.
NDA is very familiar to European and American businessmen who attach importance to the protection of IP rights. It is common to sign NDA at the initial stage of a project, especially regarding new item development and manufacturing.
A good NDA will state clearly what should be confidential, which often includes below points:
Your company info (Contact / Phone / Email, etc.)
Your product info (cost, outlook, design, function, etc.)
Your packing info (logo, design, etc.)
Your order info (order Qty, order plan, shipment plan, etc.)
NDA vs NNN agreements
Either NDA or NNN agreements, the essence is to make certain information a secret between the importer and exporter, just like a "safety lock".
However, the NNN agreement provides more protection and is stricter than NDA. You can understand NDA as one of the "3Ns" involved in NNN agreements.
Why do so many importers request NNN agreements?
1. keep special techniques, designs, colors, packaging, etc., as secrets.
No one is willing to let the supplier share core product techniques, unique product appearance design, materials, packaging, etc. All buyers hate such an action bitterly. This is one major reason for requesting the NNN agreement.
Especially when your product involves complicated techniques and your patent application is still under review, the NNN agreement can help restrict the supplier from exposing you to any others before the patent approval.
2. Do not expect to disclose the business.
Some buyers, in particular big buyers, worry that cooperative partners or suppliers in China would disclose anything related to their business, such as the selling price and sales channels of products. This is another reason why an NNN agreement is requested. It binds suppliers not to disclose any shared business information.
3. Protect patented items to be copied with.
As for utility patent or patent for invention, it usually involves complex techniques and demands a considerable investment of money, time, and effort. Such patented items are hard to imitate.
Actually, here we say is the Design Patent of product shape, pattern, and color. This is easy to copy. For example, you design a cool color for your product — foldable, silicone-made coffee cups. Once your products enter the market, there are a lot of ways to bypass your patent coverage and develop a similar product, then use it to compete against you.
In this case, you can use the NNN agreement to ask your supplier not to tell others. It decides how long you can be more advanced than your competitors copying your idea.
Jingsourcing's NNN agreement template
Actually, there is no strict format for NNN agreement content at the international level. This is an agreement between buyers and sellers. There are some NNN agreement templates on Google, so you can search and make changes according to your own needs.
Or you can contact us to get the editable, ready-format NNN agreement. Here is the NNN agreement template we sign with clients for your reference. And I'll use it to explain the 5 key points that any NNN agreement has in common.
5 key elements you should be aware of when signing NNN
1. Specific confidential contents and information.
It is a must to define what you want the Chinese supplier to keep secret. The confidential contents can be business cooperation, colors, packaging, etc. Especially when your product involves key technologies, unique designs, trademarks, or patents, you need to write it down clearly. Once signed, it means suppliers agree to not reveal it to outsiders.
2. Obligations of the receiving party (your supplier or factory).
It is very important to specify what responsibilities the supplier has to fulfill. For example, you can stipulate that suppliers,
can't use your ideas or products for their own benefit.
can't tell your product info to others.
can't use your information to directly contact your clients in competition with you.
In short, the obligations focus on Non-Use/Compete, Non-Disclosure, and Non-Circumvention.
One more thing about the receiving party is to provide,
the full name of the company, stamped with the company seal.
the name and title of the staff who sign it.
If there is an add., it should be the registered add. of the supplier's business license.
the staff signature on the edges of all sheets of the document with part of the impression on each of the sheets, as shown in the picture below.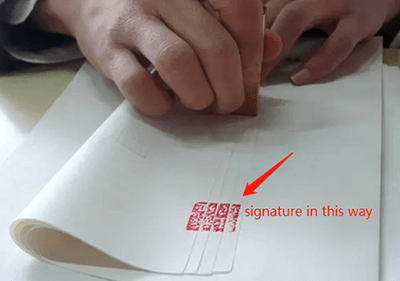 3. Define the time period.
Make the agreement's validity period clear. Generally, the time period is within 1 year, which might be 3 months, 6 months, or 12 months. Another way is to set the validity period within 1-2 orders or projects.
Suppose a buyer requests to keep the product appearance confidential, the validity period may be within the first order. Because once this batch of items goes on sale, the product appearance is no longer a secret. In this situation, if you want to protect the appearance from being copied, you should apply for a design patent, rather than just rely on a confidential agreement.
4. Define punishments.
Buyers and suppliers will negotiate default clauses or punishments. In real business, there often exist 2 misunderstandings.
Supplier should pay for the damage as much as you sign.
Suppose your order value is less than $100,000 and the amount of compensation is $ 1 million. Maybe the supplier agreed and signed it. In case of damage, generally, suppliers will not pay $ 1 million for you. Even if you file a lawsuit against the supplier, the compensation awarded by the court is based on the proven loss.
In practice, the clause about compensation is usually written as: calculate the amount of compensation according to actual damages.
Supplier is liable for all losses as long as product info is leaked.
If the loss is caused by suppliers' disclosure of your product info, they will generally take responsibility and compensate you for the damages caused. For example, you develop and manufacture a new electronic item with complex technical parameters, which is hard to copy. If you find the same item sold on the market soon after your sale or similar ones with your technical solutions, it is basically the supplier who shares your product info with others.
If you just make appearance adjustments or change the color of simple, small products already on the market. This is very easy to copy. It's not necessarily the supplier's liability for the disclosure. Others, like your competitors, can buy your product and copy it directly. So, it is hard to prove that the supplier tells others about your product.
5. Additional terms.
As buyers, you can add some other clauses not included in the above-mentioned. Generally, suppliers will check to see whether added terms are unreasonable or not.
The general process of signing an NNN agreement in China
Here I use an example to show you how to sign an NNN agreement in China and matters needing attention.
Amy is a medium-scale businesswoman from the USA and customizes Fashion Jewelry from China. Amy has her unique jewelry design. It involves the customization of a mold to make embossed delicate patterns through the stamping process. And gold plating is required, with a good coating thickness of 25 microns.
Amy placed this order with Chinese Supplier B after background checking. The supplier told Amy that he would find a molding factory for customized molds and an electroplating factory for gold plating, so as to meet the high demand for jewelry processing techniques. Amy agreed.
Before sending the design manuscript to get the precise quote, Amy requested the signing of the NNN agreement to keep shared info secret.
Step 1: Prepare the NNN agreement
If Amy has an NNN agreement template, she can directly modify it. If not, Amy can request an NNN agreement from the supplier, then make modifications according to her business needs.
For small and medium-sized buyers, it is common to sign English-version NNN agreements.
Step 2: Sign NNN agreements with the supplier and cooperative factories.
Amy sends the prepared NNN agreement to Supplier B, as well as the supplier's cooperative molding factory, and electroplating factory.
Supplier B and the 2 factories check the NNN agreement. Generally, they focus on the key elements we mentioned above: obligations, what info is non-disclosed or non-used, the validity period, and punishments.
Checking all terms are reasonable, they sign and stamp the NNN agreement and send it back to Amy. If there is something unreasonable, they would negotiate with Amy until an agreement is reached, then, sign the NNN.
Matters needing attention
The NNN agreement must be signed with the end manufacturer. If your supplier has cooperative or upstream factories, you need both the supplier and the upstream manufacturer to sign it to secure yourself. This is more common in products with complex manufacturing processes or techniques. Take jewelry and watches for example, few suppliers are able to complete the whole production.
If you buy simple items like small plush toys, you can sign the NNN agreement with the selected supplier. However, you may worry about the supplier's upstream factory leaking your item info.
That does happen in reality. But in most situations, after signing the NNN agreement, there won't be the disclosure or use of your product. For upstream factories, there is basically no need to leak information about such simple products. As an example, the packaging factory has seen your product, but won't want to produce the same or similar product for selling, or sell your info to others, either of which is not profitable. So, don't worry too much.
What I suggest here is to evaluate and find a reliable Chinese supplier. Because responsible suppliers won't share your product info with others or use it for reselling. They will take the NNN agreement seriously. At the same time, they'll select trustworthy upstream suppliers, and sign Chinese-version confidentiality agreements (CA), just in case of any disclosure or commercial use of your product.
JingSourcing, your trustworthy partner, keeps your info secret as required by NNN.
Never use pictures of your samples or products on our websites for marketing.

Find 5-10 factories, choose the reliable one to sign CA, then send design drafts.
FAQs
1. Will the Chinese factory copy your products?
The key is whether your product is selling hot on the market or not. If it's just an item with a good idea, the factory won't directly copy it for production and selling. Because the factory doesn't know if this product will sell well on the market. For the factory, a direct copy is at a high cost and risk.
The daily work of factories is to manufacture products and sell them in bulk to customers like you. What factories are good at is product manufacturing, not product sales. Even if a factory copies your new product, it is difficult to work out a good marketing strategy or build excellent marketing channels to sell it well.
Once your new product becomes popular, like dancing & talking cactus toys as shown in the right image, the factory is likely to copy it. Because there will be a lot of retailers coming to him for wholesale. But in this situation, your product has already sold well. So many others, like your competitors, have also noticed and copied it. At this point, it is no longer a secret on the market, even if the factory does not disclose it.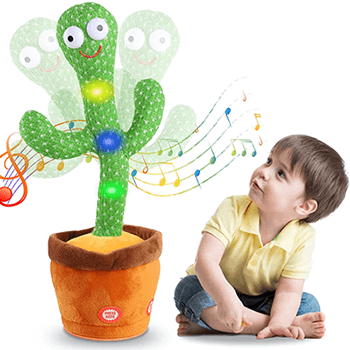 Another concern is that factories don't copy but tell your design idea to their other customers. About this, don't worry. As for customization, people have different ideas, differing from one to the other. Generally, it doesn't make any sense for factories to share such custom info.
2. Can NNN agreements 100% protect your product from being copied?
Before your application for registration of IP rights is approved, the NNN agreement can help prevent your supplier from disclosing or using your info. During the period, the NNN agreement acts as a supplement to info protection.
In the long run, the most effective approach to protecting your product is to apply for a patent, copyright, or register a trademark. Suppose you invest a lot in an electronic item, such as core technical solutions or the making of a new mold. You'd better apply for a patent in both China and your country. In case of any infringement, you can file a lawsuit and ask for compensation. One more thing, these 3 methods can be used together for maximum protection, as long as your product meets the application criteria.
All in all, the NNN agreement can't 100% guarantee the secrecy of your product info.
3. Can you get compensation as expected if suppliers leak your info?
As the sourcing agent, one kind of Chinese supplier, we'll honestly tell you it is not easy to get compensation.
First, cross-border lawsuits usually involve a long time period and higher legal fees. Generally, big purchasers might invest money and time to file such a lawsuit. While small businesses don't have the energy and money to do this. This is one reason why most cases are hard to go on.
Besides, the full compensation requires you to submit strong evidence to prove that it's the supplier's fault. However, it is not easy to develop sufficient evidence.
For instance, you differentiate T-shirts by the custom patterns, which are easy to imitate. It is hard for you to prove that the supplier tells it to others, as many others can copy your pattern ideas and create similar T-shirts. Without powerful evidence, the court can't judge that the supplier breaches the NNN agreement and compensate you.
In a nutshell, for buyers, the NNN agreement just provides an additional layer of protection. The most important thing is to select a reliable Chinese supplier.
The End
NDA or NNN agreement is a constraint on suppliers. For buyers, if the supplier signs it without hesitation, you basically know the supplier is responsible and won't take the initiative to release your info. If this article helps you better understand and use NNN agreements, you can share it with your friends. Or if you have further questions, comment below.
As a leading sourcing agent in China, Jingsourcing has helped clients source a wide range of products and keep custom items secret as required in NNN agreements. Should you need any support for your customization or wholesale business from China, feel free to contact us.