Due to the spread of the Coronavirus, masks become the world's largest demand product currently. Even though people from western countries don't like wearing masks, but according to the data of Alibaba, masks are still the most demand products in western countries.
This month, it seems that people all over China are selling masks. Sounds crazy? I believe many people want to make some quick money by selling masks in your country, also including many of my clients who ask me to help them source masks. They meet some problems, such as surgical masks are hard to buy, and due to lack of certification or qualification, their masks will be likely to be checked and blocked by the customs.
So, I summarize these 7 questions that you must make clear before you import masks from China:
Come along with me and get these questions straight before you import masks from China.
Question 1. What kind of masks can you import from China currently?
In China, masks can be classified into 2 types according to the usage.
Mask (Surgical or general disposable facial mask)
Respirator mask (With or without a valve)
The biggest difference between general masks and respirators masks is that general masks don't have a seal at the side, which means the air can be sucked in from both sides, but the respirators' seal is good and can cover the whole face perfectly.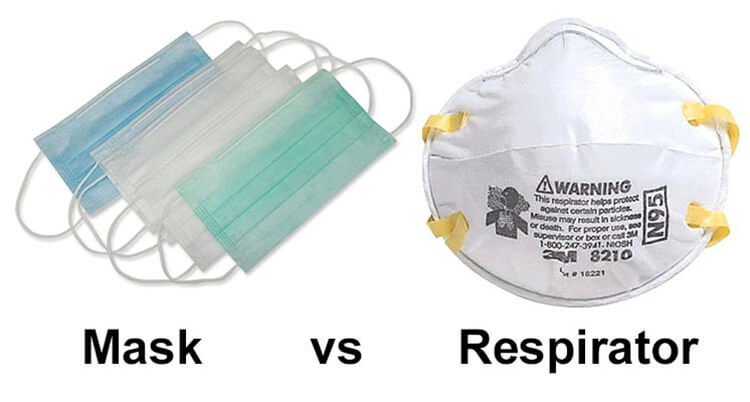 Some of respirators have a valve but some don't. Remember, respirator masks with a valve doesn't mean the quality is much better, because this valve just helps you breathe more easily.
In the United States and Europe, the respirator is considered as personal protective equipment. They have their own standard and rating system.
In the U.S., the standard for respirators is NIOSH

,

which has three ratings: N95, N99, and N100, Which means how much percentage of airborne particles can be filtered out, 95%, 99%, or 100%.
In the European Union, they have another equivalent rating system, whose ratings are FFP1, FFP2, FFP3.
In China, the equivalent ratings are KN90, KN95, and KN100.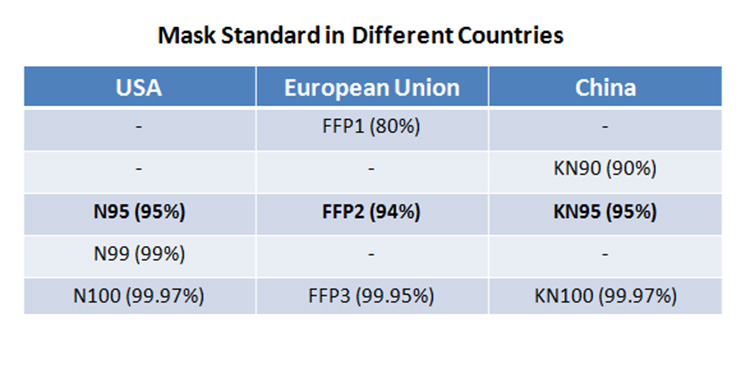 I can reliably inform you that you can ignore the N99, N100 or FFP3 rating, because in China, very few manufacturers can produce these kinds of masks, and they usually work with the government or some big companies.
If you insist on buying them, you will be much possible scammed, or you need to pay a very high price. The most possible respirators you can get from China are China standard KN95, which is equivalent to FFP2 and N95.
The biggest problem with buying respirator masks from China is that most respirator suppliers don't have the compliance certification for N95 or FFP2, which means it will be extremely hard to do the customs clearance if you want to import to your country in large quantities.
A disposable facial mask is the easiest mask that you can import from China. This kind of mask consists of 2-3 layers of non-woven fabric outside, one layer of melt-blown fabric in the middle.
Even though they cannot stop the virus as well as N95, it's better than wearing nothing. When the epidemic broke out in China, and there were not enough masks in stock, all the N95 respirators were given to medical workers and people who worked in the airport and train station. Ordinary Chinese people just wore regular disposable facial masks.
Recently we have got a lot of inquiries about this kind of cotton mask, which is washable, can be used many times. You can also insert filtering patches into the mask, to make it work as well as respirators. This kind of mask almost doesn't need any certifications for importing to the US or EU, because they can be declared as outdoor sports mask instead of Personal Protective Equipment(PPE).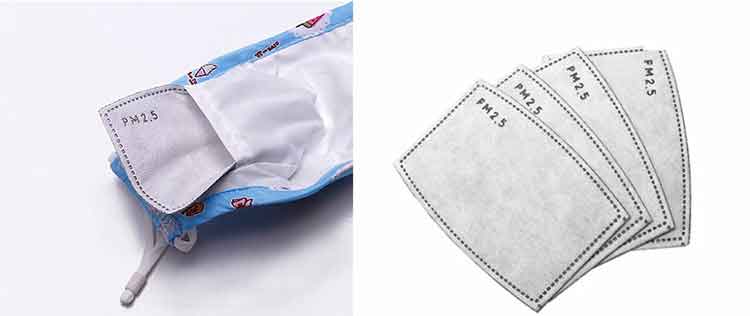 Question 2. What compliance certificates should your suppliers have?
In China, we have a standard that disposable facial mask is not for medical use. But in European countries and the United States, they don't have this standard.
So, in some countries, the customs sometimes consider this kind of mask as surgical masks, which means they will require you to provide certifications the same as medical masks. Well, it doesn't mean that customs will act like the same in every city or country.
If it's your first time to import and you don't have any experience in dealing with the customs clearance, and you really want to import masks in large quantities, you'd better find a manufacturer who has certifications for surgical masks.
If the manufacturers want to export surgical masks to the U. S., they should have the certification of ASTM F2100. And to the European Union, the manufacturers should have the CE certification which has the EN 14683 directive.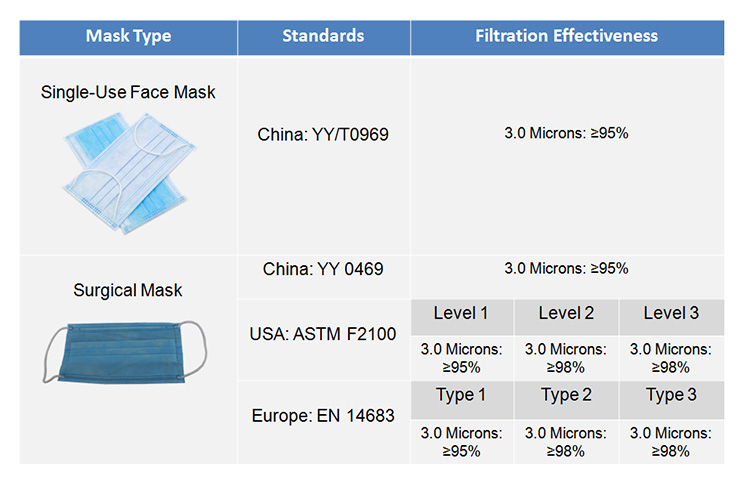 In most countries, customs will treat respirators more strictly than disposable facial masks. For importing to the European Union, your supplier must provide you with the CE certifications that include the EN149 directive.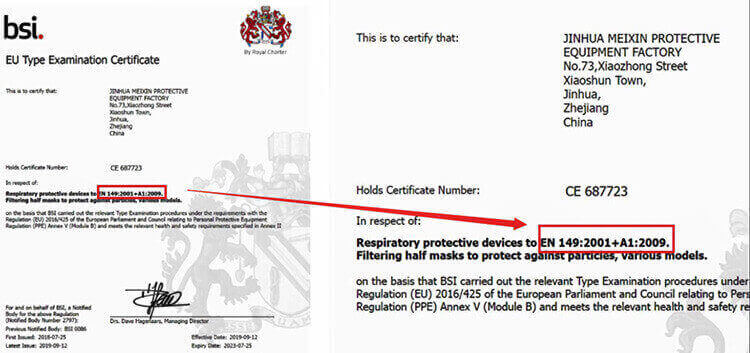 If your supplier exports respirator masks to the United States, they must have the NIOSH certification, it can prove the respirators comply with the N95 standard. But if the supplier exports respirator masks to the United States, they also need to register as a manufacturer in FDA.
In addition, you also need to register as an importer in FDA. This is a compulsory registration for all importers who want to import any products that are regulated by FDA. This registration costs about 4,000 USD one year. This is the most legal way to import respirators to the United States in large quantities.
In March, there is a shortage of respirators in America. So as long as the manufacturer gets the FDA registration, Americans temporarily allowed the Chinese standard KN95 respirators imported to the United States. However, they canceled the temporary policy at the end of March.
In April, Chinese KN95 masks can be imported to America as long as these KN95 masks are made by the factories included in the list of Chinese factories they provide, which is allowed by the FDA. Here is the list for your reference.
So you'd better never take a risk of a temporary policy, you always need to follow the import regulation of your country.
Question 3. What's a good printing on mask surface?
Except for compliance certifications, the product information printed on respirators is also very important. Information like,
Compliance standard
Product brands
Product models
All this information should be the same as what is written on the certification. Only in this way, can it prove that the certification is made for the product.
Let me show you the most correct way to print information on respirators. This is an FFP2 respirator, which is made by a very famous respirator manufacturer, and they are 20 kilometers away from us. They have all the detailed information printed on the products.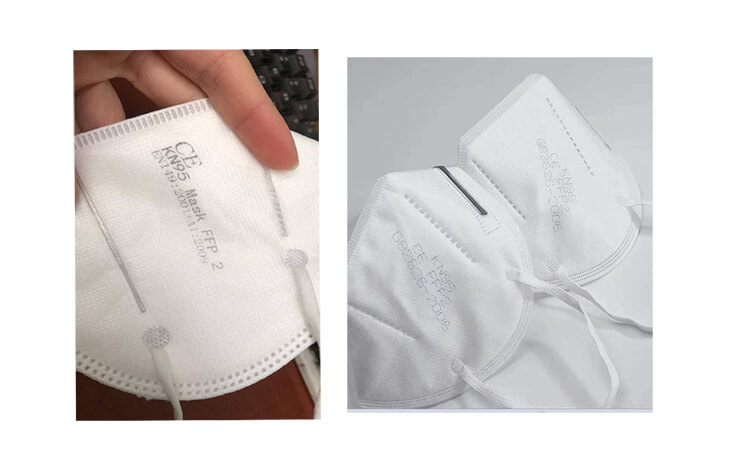 However, recently, many respirators you can get from China are made by small manufacturers which new set up this year. They can't reach all requirements that I have mentioned above. Most of these respirators you can get from China easily, but don't have brands or product models printed on the product.
Even more ludicrously, some typography is very irregular or even mixed with some Chinese characters, the customs can easily tell there is something wrong with the respirator masks.
Obviously, customs clearance for this kind of respirator is not easy, unless you or your customs broker has a good relationship with the customs.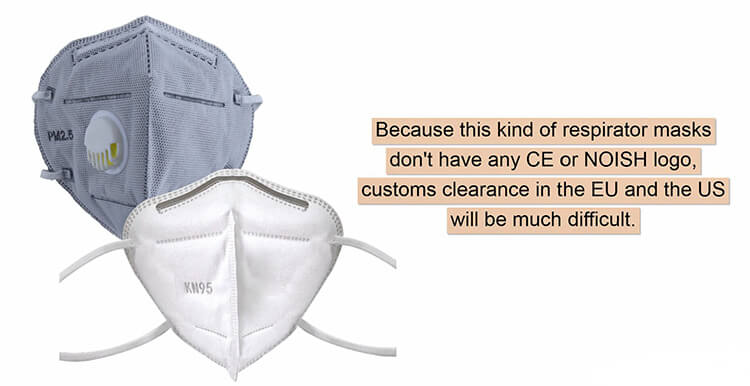 Question 4. What's the mask manufacturing situation in China now?
The number of new mask manufacturers has boomed since February of this year. The mass production capacity increased to about 100 million a day, which is about 5 to 10 times larger than before.
The mask manufacturers can be classified into three types,
Professional mask manufacturers or medicine manufacturers
Professional manufacturers that haven't made any medical products before
New setup small manufacturers
Professional mask manufacturers or medicine manufacturers
They were producing masks all the time and all their products comply with the standard in China, European countries, and the United States. They have all the certifications that you need for customs clearance, and there is no problem in importing their products to European countries or the United States.
There are some famous local companies like Dasheng and Meixin. However, it's not easy for ordinary people to get their masks. Because the mask production lines of this kind of manufacturers are fully booked by the government, the aim is to give the highest priority to supply hospitals.
Other countries' governments will also ask the Chinese government for help, they want to get connected with this kind of manufacturers for purchasing. In China, there are some people who can get masks from this kind of manufacturers through some special ways, and they will resell the masks to other middlemen. Then those middlemen will resell to you at a high price.
For example, N95 standard respirators can be sold for about $3 to $4, which is a wholesale price from some middlemen. This price is about 3 times more expensive than the original price which is the price of masks that you buy directly from the manufacturer.
Professional manufacturers that haven't made any medical products before
For example, the best air conditioner manufacturer in China built a new mask production line, so did an automobile company. And the best sock manufacturers in China who are about 8 kilometers away from our company, also have started to make masks since February.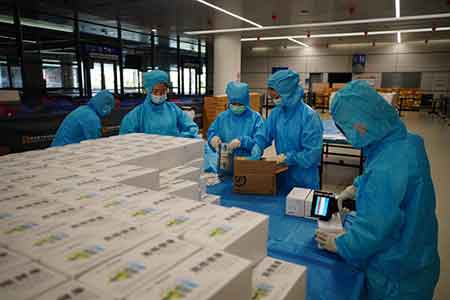 The quality of those masks produced from this kind of manufacturers is very stable, but most of them only produce disposable facial masks, and their production lines are almost fully booked.
New setup small manufacturers
They discovered this business opportunity at the end of January, and they purchased machines and raw materials to start production. Currently, most disposable masks or KN95 standard respirators that you can wholesale from China are produced from this kind of small manufacturers.
Of course, the price and the quality will have very big differences among all these small manufacturers.
From the analysis above, if you are just an ordinary importer and only want to buy some masks for resale, you need to give up the idea about finding the best mask manufacturers in China, who can provide the masks complying with all regulations in your country. Because those well-qualified mask manufacturers' production lines are not available for small orders. This kind of situation will last for at least two months.
Question 5. How to find a face mask supplier in China?
Since February of this year, tons of people have involved in the mask selling business. Everyone said that they got the direct manufacturer resources. In truth, over 99.9% of people acted like a middleman, the 2nd middleman, the 3rd middleman, or even the 4th middleman.
Look, these are the contacts on my Wechat, and they're posting masks selling information every day. And all of them are doing quite different jobs, even some people are manufacturing furniture.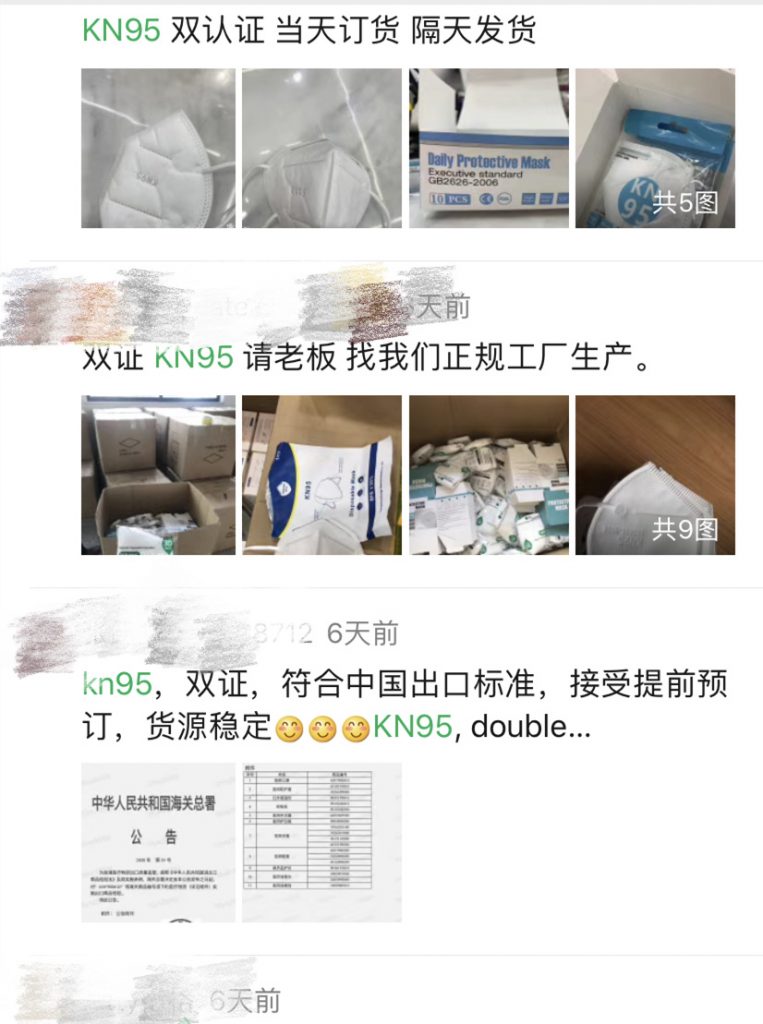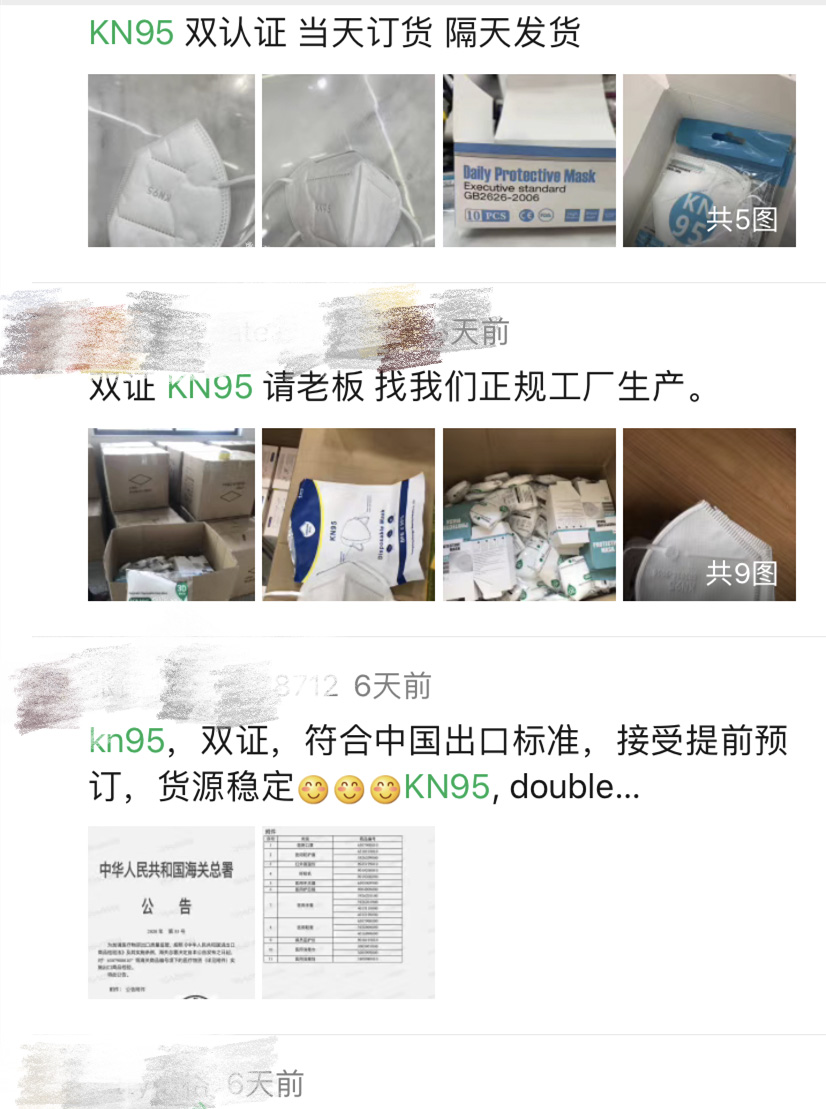 Even though they are posting masks selling information every day, most of them don't know where the source manufacturer is. They share this mask selling information to earn some commissions by chance.
But if you only need thousands of or ten thousands of masks, you can only buy from the middlemen. Not only for foreign buyers, even for Chinese buyers, it's very hard to identify if they are getting the masks from the real factories directly unless you can visit the manufacturer.
So, you need to identify who is the reliable middlemen. My suggestion is that you need to buy masks from someone you can trust in China. Even though you know he is a middleman, at least you won't be scammed and you can ensure the products you get are of good quality.
Question 6. How to ship masks from China to your country?
If you have a reliable supplier, and then he is about to ship the masks to you. Now you are facing the biggest problem: how to ship the masks from China to your country?
In February, March and even April, the air shipping situations from China to other countries were very serious. Air shipping price was several times more expensive than before. And a lot of countries started to lockdown, which meant that courier service companies were not able to deliver your products to your country.
I have mentioned in my last post: Will Coronavirus Impact Importing Business or Bring New Opportunity?
When you use express companies like FedEx, DHL or UPS, the limited weight for products is just about 100KG every day for every Chinese factory or trading company.
It's better for you to find a freight forwarder in your country if you really want to ship masks by air. The chance will be much bigger than asking your Chinese suppliers to find an air-shipping solution in China.
Except for shipping by air, there are two other shipping methods, shipping by sea and by railway. there is almost no influence on the price and the shipping time of these two shipping methods. If you want to import masks in a very large quantity, these two shipping methods will be much more reliable.
The cost of sea shipping is so cheap, which is less than 10% of shipping by air. Except for the shipping problem, another thing you need to pay attention to is that if your supplier can provide you with valid certifications.
Before you wholesale masks from China, you need to confirm with the customs, or ask your freight forwarders, customs brokers to help you handle the customs clearance. You must be sure about what kind of certification or qualification you need to prepare. Otherwise, your products will be likely to be blocked by the customs.
Question 7. Is it a good business to import masks from China to sell them in your country?
The most suitable people for the mask selling business are those who already have a very strong distribution network, and a good resource for the customs clearance, or having operating medical trading business before this endemic. Then they can sell masks out very quickly and can let masks pass the customs smoothly.
Or if you want to buy some masks for your friends, family, community or neighborhood, or donate to some local schools or hospitals. That's also great.
But most people don't have related resources or experiences, and just think it's a good opportunity to earn some quick money. I strongly recommend you to focus on your original work, business or industry.
Some might say, I'll sell mask online. But the reality is that most e-commerce platforms don't allow new sellers to sell masks, even though you have your own e-commerce website. Facebook ads and Google ads also have very strict regulations on running mask campaigns. Because these big companies don't want so many people to flood into their platforms to sell masks, which makes their platforms in a mess.
Finally
Thank you for reading and you can share it with your friends who need it.
I guess you probably have your own answer about if you are able to catch this opportunity.
If you have any other problems or experiences to share with us, let me know by leaving a comment below or contact us directly.
Hope you and your country will get back to normal life as soon as possible!