It is well known that dropshipping is a popular business model to step into e-commerce business, as you needn't prepare a huge inventory. Besides, AliExpress is a famous Chinese website for e-commerce, of course, it also supports dropshipping. And many dropshippers will choose AliExpress for dropshipping.
But from the Google, I notice that some businessmen still have many questions about AliExpress dropshipping, for example, they are confused about why choose AliExpress dropshipping? How to dropship with AliExpress? Is AliExpress the best option for starting my dropshipping business?
So I write the post to help you solve the above questions. And I will summarize some tips to help you run AliExpress dropshipping business better.
1. What is AliExpress dropshipping?
When speaking of AliExpress dropshipping, we need to know what is dropshipping at first. Dropshipping is an online retail order fulfillment model in which you needn't stock any inventory, what you need to do is just to receive the order from your e-commerce store. Then you purchase the same order on your supplier's website, the supplier will complete the following steps, including packaging, shipment, etc.
Through dropshipping, you can spend more time in marketing your e-commerce store. Moreover, you can conduct dropshipping business at any time, anywhere only you can access to the Internet.
AliExpress is a website where you can find suppliers and products. AliExpress dropshipping means that you place an order on AliExpress after you receive an order from your                  e-commerce store. The suppliers on AliExpress will ship the item to your end customer without any information about them.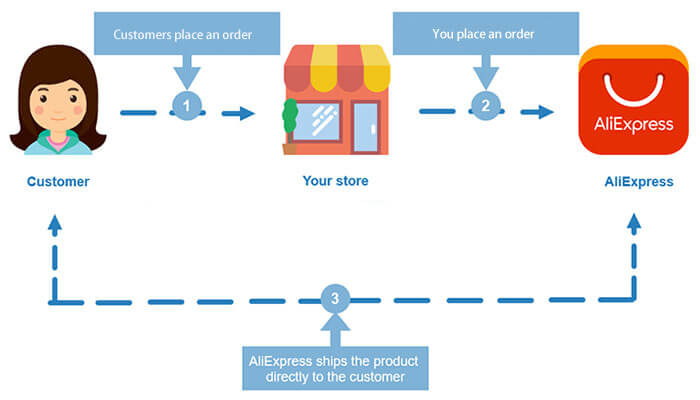 2. Why choose AliExpress for dropshipping?
AliExpress is a subsidiary of the Alibaba Group. It provides you with a wide range of products. Many dropshipping businessmen will choose AliExpress to dropship products. So do you know why they choose the platform, there are mainly 3 reasons as below.
Wide range of products
AliExpress is a huge global retail marketplace full of Chinese suppliers. You can find various products on the platform including clothes, automobiles, home decorations, etc.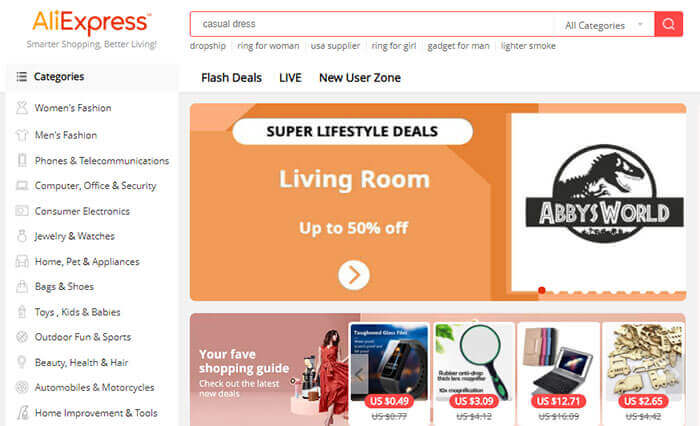 No language barrier
Language always is a big factor influencing cross-border sourcing. But as it supports multiple languages including Russian, Portuguese, Spanish, French, German, Italian, etc on AliExpress, you won't have such a worry. You can select the suitable language when you browse the website. 

Besides, most suppliers on AliExpress can speak English. Although they may not speak native English, it can support the communication about products with you.
Free dropshipping membership
On AliExpress, there's no upfront cost or monthly fee for you to use it. So you can purchase products without any extra expenditure, which will help you save a lot of costs especially when you have very limited start-up capital.
Although there are so many advantages about AliExpress dropshipping, there are still some disadvantages in the meantime.
Longer shipping time
Many sellers on AliExpress will provide free shipping service, but for such service, sellers usually just provide economical delivery way like China Post Air Mail to ensure their profit margin. It usually will take 30 days from China to US by such a  shipping way. For some remote regions, it may take even 60 days.
Besides, there may be many other inevitable factors causing the longer shipping time during the transportation such as the delay of transfer flights. In my another post, you can learn more about the shipping time on AliExpress.
Low profit margin
When speaking of the disadvantages of dropshipping, the limited profit margin is a common point. As the startup cost is very low, there will be many competitors selling the same product as you. Although your products may have better quality, buyers usually will compare price and choose the cheaper one directly not concentrating on the quality very much.
Lack of control
With AliExpress dropshipping, the whole delivery process is under your supplier's control including choosing products, packing, shipment, etc.
Besides, it won't support bundle items on AliExpress. That means, if your customer buys a few items from your e-commerce store, but you need to dropship the products from different suppliers, and then your customers can't receive the parcel at the same time. Therefore, you can't control the delivery time well.
In a word, you couldn't control the product quality, shipping time, or other dropshipping processes well, which may bring your customer's bad reviews.
Highly competitive
In fact, dropshipping is not a brand new business model and the start-up cost is very low on AliExpress dropshipping. So no matter what kind of product you sell, there must be many dropshippers selling the same product as you. That means, you will have many competitors.
3. How to dropship with AliExpress?
After learning the advantages and disadvantages of AliExpress, I will tell you how to start your dropshipping business with AliExpress in the section step by step.
Select the products you dropship
Before you begin your dropshipping business, you should know what kind of product you will dropship. Niche products with small demand are my recommendation to you, as for such products, there will be fewer competitors selling the exact same products as you, and accordingly, buyers usually are willing to spend more money buying it. Hence, it is more possible for you to make more money by selling them.
Find reliable suppliers
Choosing suitable suppliers can be a tough but important task, as the supplier quality directly determines your safety on AliExpress. When you search suppliers on the site, you can evaluate the store by the following elements:
Good product reviews and store feedback
Detailed product pages
Note: you can browse more pages to find a suitable supplier for your business instead of just focusing on the first 3 pages. The reason is that many suppliers may not concentrate on marketing their product, but the product may have good quality.
Build your online store
After choosing products you will sell and selecting good suppliers, you need to set up an e-commerce store on some platforms like Shopify, which is very suitable for new dropshippers. You can find many beautiful templates on the platform to help you set up an e-commerce store.
It provides 3 types of monthly plans for you to choose and you can get a free 14-day trial on the platform.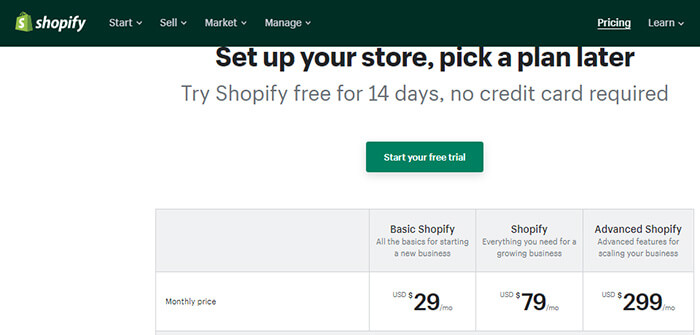 Install an app like Oberlo
After you build an e-commerce store, you can install an app like Oberlo on your store. It will help you import products from AliExpress to your store automatically and inform you of any inventory or price changes from your supplier synchronously.
It has three price plans for you to choose, and different plans provide you different service. You can choose the most suitable one according to your own actual needs.

Place the same order on your supplier's e-commerce store
when a customer places an order on your store, what you need to do is to place the same order on your supplier's store. And the parcel will be shipped directly from your supplier. 
4. Six tips about AliExpress dropshipping
In the section, to help you use AliExpress dropshipping better, I will summarize 6 tips for you to deal with some common problems.
Choose suppliers that have overseas warehouse
Those suppliers with overseas warehouse usually are more powerful in supplying ability, quality control, etc. Moreover, if suppliers have a local warehouse in your customer's country, there are two evident advantages:
Shorter shipping time
The product will be shipped from the local warehouse to your customer directly, which will shorten delivery time greatly.
Beneficial to return or refund
Supposing that your customers are unsatisfied with the products and want to return it or get a refund, it will be more convenient to tackle the problem. Only if they return the package to the local designated place, your supplier will refund to them or send a new one, which is very convenient.
But for those suppliers without overseas warehouse, some suppliers may request your customers to send the products back to China, which will take a lot of time and extra money. Most importantly, such a solution may cause customer's bad reviews, which is not beneficial to your long-term business.
Choose standard shipping
As we all know, shipping time always is a vital factor influencing buyer's reviews about a store. Most suppliers with free shipping on AliExpress just provide economical shipping ways like China Post Air Mail, which will take around 30 days even 60 days in some remote regions. In fact, many customers are not so patient to wait for such a long time.
Hence, you can negotiate with suppliers about whether they can provide standard shipping way like epacket, which may just take 15-20 days. Although suppliers will charge you an extra fee if you want to upgrade the shipping way, it is still worthwhile to adopt. Moreover, for standard shipping way, you can track the whole delivery process. By doing so, it is beneficial to your long-term business development.
Use coupons on AliExpress
If you are a new buyer on AliExpress, you may ignore the potential coupons on AliExpress and place the order directly. But I want to tell you one tip, as the following picture shows, before you click"buy now", you can click"get coupons" to check if there are some coupons. By doing so, you can save money to a certain extent.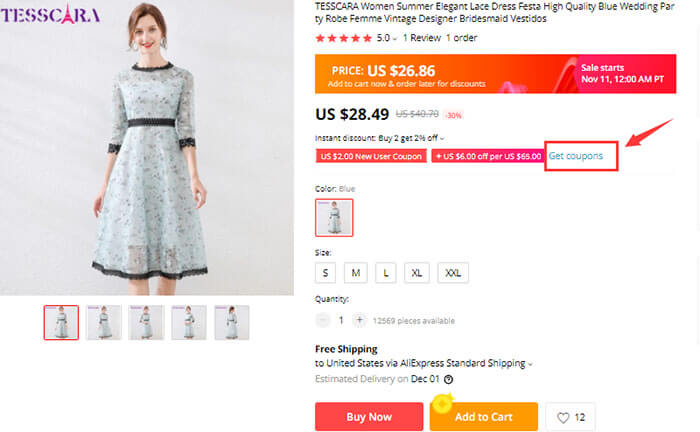 Avoid just pursuing for low price
No matter for new importers or veteran, many of you sometimes will make a mistake that you just pursue the lowest price instead of judging a supplier in all aspects.
Actually, it is unwise for you to adopt such behavior. Usually, if the price is especially low, you may think you can make a higher profit. In fact, you may receive your customers' bad reviews in the end. The reason is that lower price usually means worse quality to a certain extent.
Therefore, it is advisable for you to select a reliable supplier at first and then negotiate with them about the price instead of filtering suppliers just according to the price.
Add a note showing customers may undertake import duty in your store
Usually, most parcels will be marked as a gift so that customers needn't pay for the import duty. But such a way is not suitable for all orders. So you had better add a note showing that your customers may need to pay for the import duty in the shopping policy of your store. By doing so, it can help you avoid some bad customer reviews caused by the import duty.
Branding your dropshipping store
As I have mentioned in the above section, it is very competitive for AliExpress dropshipping.
Hence, to let your store stand out, you should think of some ways to gain your customer resources. Branding your dropshipping store is a good solution.
Firstly, you should choose a particular product category. Secondly, you can get a memorable name and design a logo. Thirdly, you should use some social media to promote your store such as Facebook, Instagram.
But one thing is the most important, you should focus on the customer service and their feedback and make some improvement accordingly.
Conclusion
I hope you can benefit a lot from my post. If you think it is helpful, welcome to share it with others. Besides, if you have any questions about dropshipping with AliExpress, welcome to share with us by leaving a comment.
As the leading sourcing company in China, we can not only help you wholesale products from China, but also provide dropshipping service. That means, we can help you dropship products to your end customer, which can help you save a lot of time and money. If you want to learn more, feel free to contact us.