AliExpress is a famous cross-border shopping platform from which customers like to buy the cheap Chinese daily necessities. Meanwhile, AliExpress is often used by e-commerce stores for dropshipping.
There is an incredibly wide range of products on AliExpress with relatively lower prices. Still, there are people who think the shipping time for products bought on AliExpress is too long and people who want single-niche products only, so in this article I'll introduce 23 AliExpress Alternatives for those who want to know more sites like AliExpress.
I believe we all know that AliExpress in not just a C2C or B2C platform, there are many suppliers on AliExpress also offer dropshipping services. So, among the sites mentioned in this article, I'll sort out the ones that are better for shopping, and the ones that are better for dropshipping.
Notice: The websites listed in this article are all legit, but it doesn't mean all the sellers on them are reliable. Please excise caution when buying on these platforms.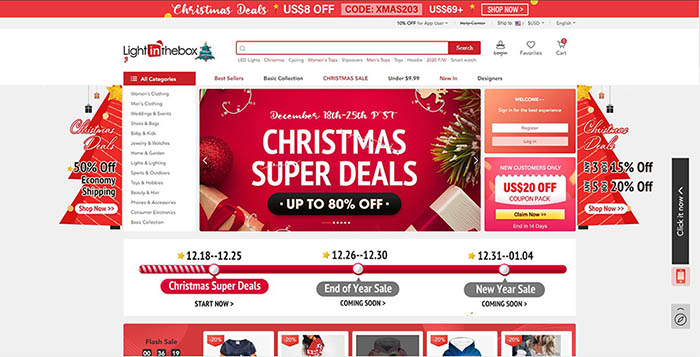 LightInTheBox is a Chinese online retail sites, it doesn't have a product range as wide as AliExpress'. Instead, it features in three core categories: apparel, small accessories & gadgets, and home & garden. One thing of LightInTheBox in common with AliExpress is that you can also find dropshipping suppliers there.
The highlight of LightInTheBox would be its innovative data-driven business model which allows itself to offer customized products such as wedding dress or evening dress. You may consider trying this site if you are running a business of these product categories.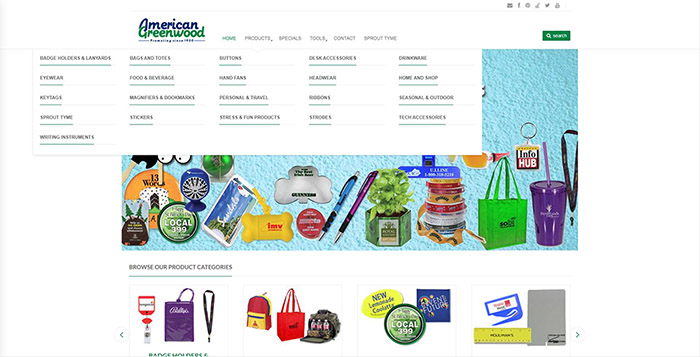 American Greenwood is a niche wholesale website in the United States selling mostly small items, and there are not many product categories. Their paper products come from sustainably grown forests and are chlorine free. Any plastic materials used are made from either compostable material, recycled material or can be recycled. Almost all of their products are compostable and will leave no waste behind.
Same as DHgate, the wholesale price on this website is related to your purchase volume, the more you buy, the lower the price will be. So, this website would be more suitable for small wholesale instead of shopping or dropshipping.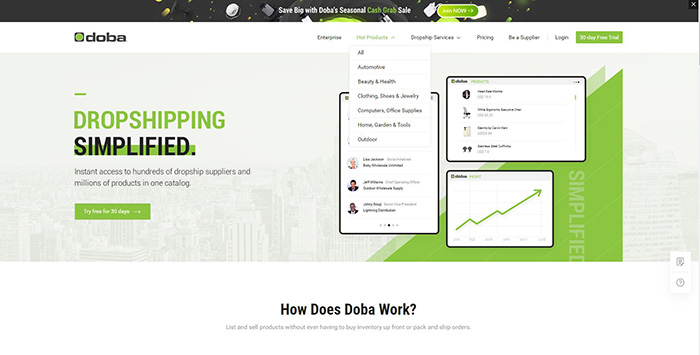 Just as some Doba user says, "Doba is a Dropship Aggregator which essentially is a consolidation of many different wholesalers in one convenient place." That is to say, Doba acts as a middleman connecting dropshipping supplier with retailers.
What's more, Doba also offers some technologies include finding & filtering products, inventory management, curated product lists, and proactive inventory & price change alerts.
Because Doba is a middle man, the wholesale price of 90% of the products on Doba would be exactly the same or even higher than the retailing prices on Amazon. And the price of the remaining 10% of the products is just slightly lower than the going prices on Amazon.
DX is one of the Chinese B2C e-commerce websites like AliExpress, established in 2005. The shipping time on DX can also be long if you chose economic shipping methods such as postal.
DX doesn't have any special dropshipping program. If you want to do dropshipping through DX, you just have to register a regular account, and make sure to fill out your customers' shipping address right, then your supplier will ship out the item to your customers on your behalf. All packages from DX are sent without DX logo or any information indicating DX.com
Before you start dropshipping from DX, I'd like to suggest you to read their Returns & Warranty terms carefully to make your business smoother.
In addition, DX also offer wholesale option. You just need to submit the form below and bargain with the seller to get a lower wholesale price.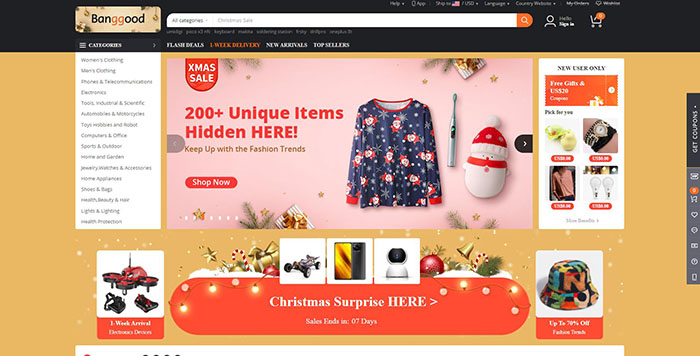 Banggood focuses on B2C cross-border export e-commerce, founded in 2006 and headquartered in Guangzhou, China, it is the largest online cluster for clothing, bags & luggage, and accessories. So, if you are looking for products in those niches, you can try to find a direct manufacturer on Banggood.
Banggood does have independent dropshipping program, you need to apply for a dropshipping customer account and choose the products you want to sell. Banggood has 37 overseas warehouses covering all regions of the world. If you want to shorten the deliver time of your goods, you'd better check if there is any warehouse of Banggood located in your country. Learn more about Banggood guarantees & Return policy.
Same as DealXtreme, you can submit a wholesale inquiry if you need to buy products in bulk.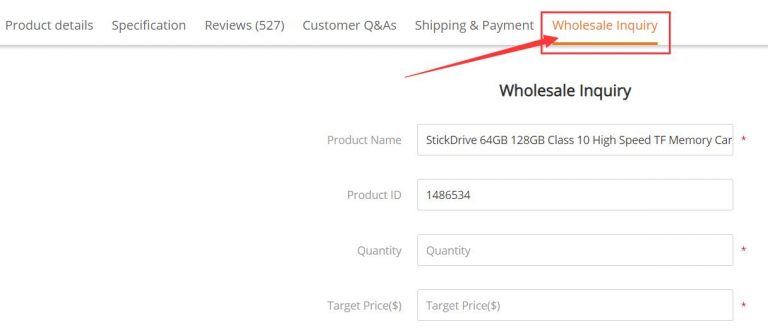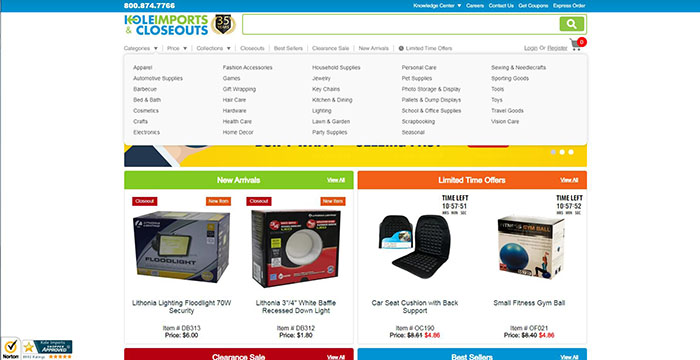 Kole Imports is one of the long last wholesale websites in the USA, based in Carson, CA. For the past 30 years, it has been one of largest direct importers of general merchandise in U.S. It offers a broad range of products such as apparel, fashion accessories, automotive supplies, toys, and pet supplies.
This website also provides dropshipping service. Their dropshipping program will be available to you when you've registered for a free account on this page.
There is one thing special about this website – besides being a wholesale and dropshipping site, Kole Imports also sells closeouts. They resell the overstock products, excess inventories and closeout products from third-party individuals and companies to customers. So, you may check their dynamic product offerings of closeouts once in a while to see if there is anything you want.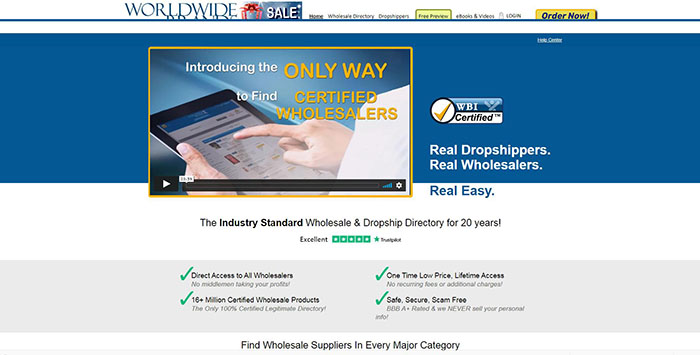 Worldwide Brands is a wholesale and dropship websites targeted to home business and Internet retailers, featured in giving customers direct access to 100% certified manufacturers.
On this website you can search for a product name by product type, by brand name, by category, or even by state or city. If you can't find a product that you want to sell, simply submit a product request and the platform will work on tracking down the wholesaler for that product.
And this website provides both iPhone and Android App, so, it should be rather convenient when using this website to manage your business. 
But before you can enjoy the services of Worldwide Brands, you have to become their member by paying a subscription fee of about $274 for life time access.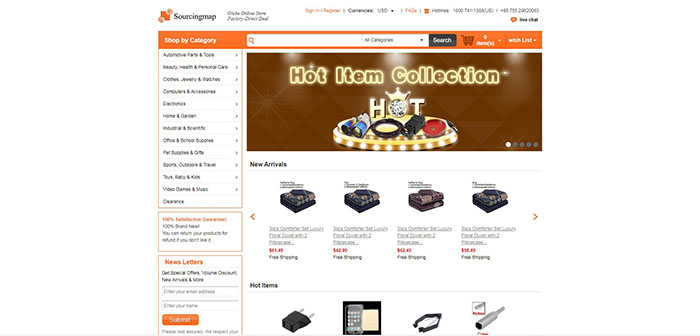 SourcingMap is a Hong Kong – based wholesale platform, started in 2004. Its featured product categories include car equipment & accessories, home & kitchen tools, hardware, and stationeries. SourcingMap also runs a special dropshipping program for small businesses
Though SourcingMap claims to have a business history over 10 years, but their website seems to be poorly maintained. And I found more than a few product links on their website led me to an item that is out of stock which they may not update the information on the website too often.


The orders places on the website are under a 14-day buyer protection program, you can check their Return & Warranty Policy for more details.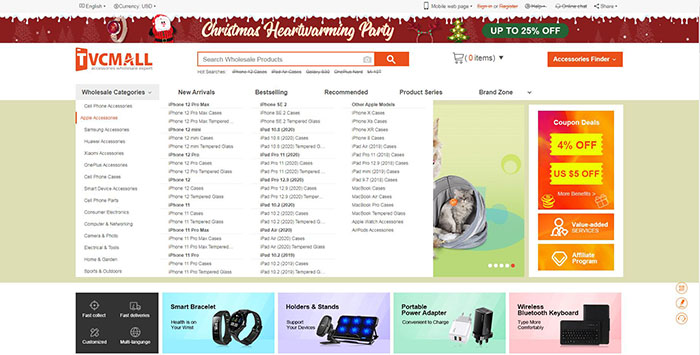 TVCMall is a cross-border online wholesale platform specialized in cell phone accessories. This website was released in 2008, and later in 2016, their automatic warehouse management system was introduced. Now it has over 1.5 million registered users.
It is based on Shenzhen, China, where the most efficient and complete electronics supply chain of China is located. So the electronics products on this site could possibly be cheaper than AliExpress.
In the product page, you can see a price match table which you can utilize to crosscheck the product price listed on this website within certain purchasing volume frame with the product prices listed on other wholesale websites, by doing so you can figure out the more cost-effective wholesale channel.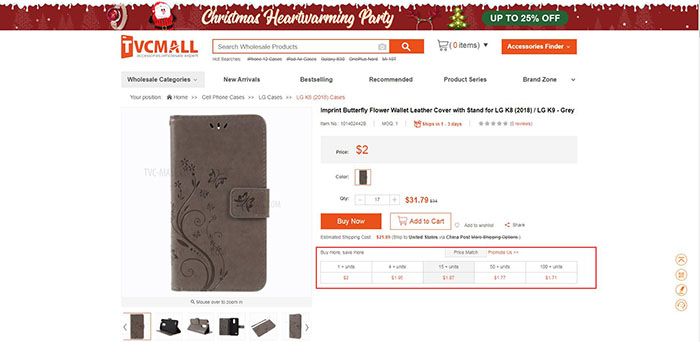 TVAMall also provides dropshipping services, if you intend to do dropshipping or shopping on this website, I suggest you to read their user guide page and dropshipping page first.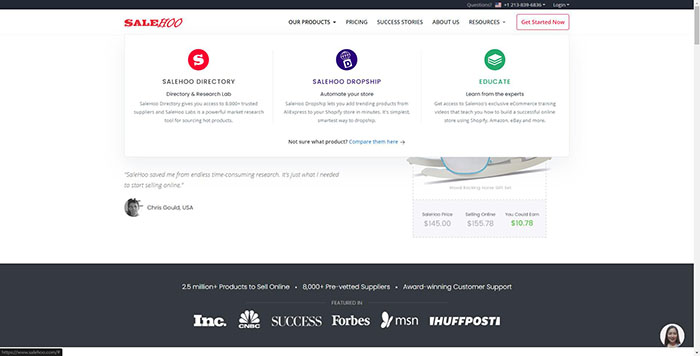 SaleHoo is a New Zealand based online wholesale market, started in 2005. But the biggest difference between SaleHoo and other wholesale websites is that it only offers a wholesale directory subject to a yearly subscription fee of $67 ($127 for lifetime) instead of offering listed products directly. Once you subscribed this SaleHoo Directory, they'll give you access to their supplier database and plus some market research tools.
Besides the wholesaler directory, SaleHoo also provides dropshipping and e-commerce training courses as their two other core services. For dropshipping, you have to pay for a subscription fee which is charged on a monthly basis or annually basis.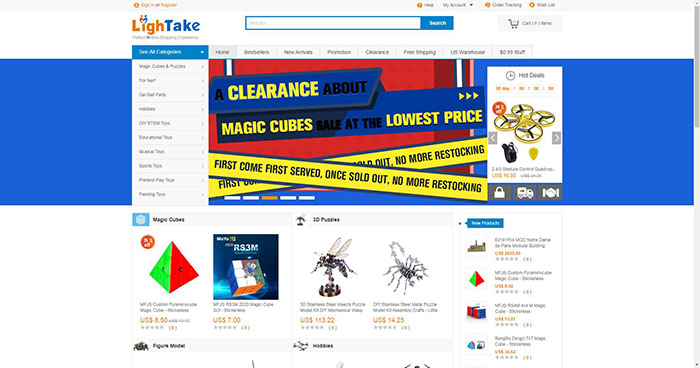 Lightake is a China based B2C online store featured with toys such as magic cubes, tactical apparel, educational toys, jigsaw, and building blocks. If you run a business in these product categories, you may expect to find the newest models here with a relatively lower price.
Dropshipping is also available on this Lightake. According to their dropshipping policy, for orders of which the value below $50, they can provide dropshipping service without limitations, while for orders whose value above $50, you are suggested to contact them for the availability of your qualification.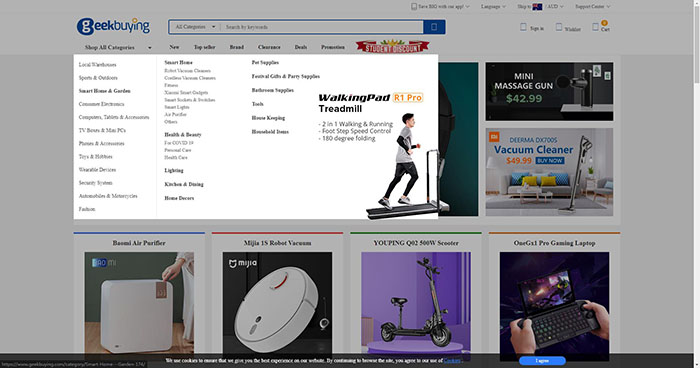 The name of this website indicates its featuring product categories to some extent: sports & outdoors, consumer electronics, computer & phones, wearable devices, and automobile acce