Swimwear has become an essential item in everyone's wardrobe, suitable for beaches and pools. A staggering 70% of the world's swimwear is produced in China. In today's blog, we will take you on a journey to explore the labor-intensive swimwear industry in China.
Where are most swimwear manufacturers located in China?
The majority of Chinese swimwear factories are based in the following 3 major places.
Xingcheng in Liaoning: China's largest swimwear hub & global swimwear capital.
Xingcheng, in Liaoning province, is a small northeastern city with around 500,000 residents. Surprisingly, a third of them work in swimwear production. It accounts for a substantial 40% of China's swimwear market. Notably, over 90% of Xingcheng's swimwear is exported, contributing to more than 25% of global supply. Given the prevalent popularity of bikinis as the predominant swimwear style abroad, Xingcheng has earned the alluring moniker of the "Bikini Capital."
Over the past 40 years, Xingcheng has evolved from family workshops to today's industrial parks. Based on its distribution advantages and efficient operations, Xingcheng has emerged as the leader of China's swimwear industry. There are over 4,000 registered swimwear enterprises. Complementing these are accessory businesses, creating a self-sufficient swimwear supply chain encompassing design, production, storage, sales, and talent development.
Xingcheng is a hub where many top European and American brands design and manufacture. You'll find the latest swimwear fabrics and styles here. Notably, it's home to renowned Chinese swimwear brands like BALNEAIRE and Cupshe, making waves globally.
Since 2011, Xingcheng has been hosting an annual International Swimwear Festival every August. Following the footsteps of the renowned swimwear exhibitions in Miami, USA, and beachwear shows in Paris, France, this is the third international swimwear gathering event located in China. The exhibition brings forth fresh patterns and styles, serving as a platform for manufacturers and businesses to showcase their innovations.
Yiwu and Jinjiang both possess unique advantages in resources: from agriculture to the production of swimwear fabrics, and all the way to supporting industries like printing and manufacturing. The entire supply chain is concentrated in these areas.
Yiwu in Zhejiang: hometown of swimwear.
 Yiwu is a city in Zhejiang province and possesses a longstanding commercial tradition. Its clustered foundation of wholesale and retail industries, along with its advantageous inland port location, underpins Yiwu's swimwear industry's supply chain and logistics network. Yiwu also holds the title of China's lar
Swimwear businesses are widespread in Yiwu, but most have their booths in Yiwu International Trade City District 4. The swimwear industry here primarily focuses on low-cost wholesale. In recent years, Yiwu has seen an uptick in swimwear export orders, particularly driven by buyers from Japan and South Korea, contributing to the growth of mid to high-end product exports.
Jinjiang in Fujian: Chinese Swimwear Town.
As a port city, Jinjiang had an early start in the swimwear industry. Today, it has established robust and comprehensive industrial supply chains, from fibers, weaving, printing, materials, and accessories, to design and manufacturing. The swimwear industry has been a pillar of Jinjiang's economy, contributing to a significant one-third of the total industry value in China.
Jinjiang's swimwear mainly targets the mid to high-end market, with an even split between domestic and international sales. Notably, Yinglin Town under Jinjiang is known as "Swimwear Town," hosting 200+ swimwear businesses in an area of less than 30 square kilometers.
Why partner with JingSourcing to private label your swimwear in China?
JingSourcing is a leading sourcing company in China. We are based in Yiwu, with our office right in front of the Yiwu Market. So far, we've integrated quality swimwear suppliers, including Yiwu and 2 other swimwear industrial clusters. We help you get precise, competitive quotes from our supplier database.
We're experienced in producing and designing types of swimwear in diverse fabrics.
Tell us your custom swimwear ideas. The rest is handled by our design team and professional agents. In my experience, overseas orders often lean towards separates in bikini styles. The more unique and innovative the color and design, the better they sell. In 2023, trending bikini styles include Neon-color, One-Shoulder, Double Layer Top (mimicking swimsuit layering), Cut-out swimsuit, Seamless Bikini, Minimal Coverage, Nnitted designs, and more.
Compared to one-piece swimsuits that generally involve four to five steps, the manufacturing process of separates in bikinis is more intricate. It includes processes like underwiring, boning, and, in some cases, purchasing padding for the top.
Currently, the most commonly used fabrics for swimwear are these three types, known for their excellent waterproof and stretch properties.
DuPont Lycra is a type of synthetic elastic fiber, offering the finest stretch capabilities. It can be elongated by up to 4 to 7 times its original length and quickly returns to its original dimensions after stretching. This exceptional elasticity is suitable for blending with various other fibers, enhancing texture, draping, and wrinkle resistance.
While not as dense in texture as Lycra fabric, Nylon offers similar softness and elasticity. Moreover, it comes at a relatively affordable price, making it suitable for mid-range products. It's currently one of the most commonly used fabrics for swimwear.
It offers limited elasticity and is mostly used in separate bikinis and swim trunks, not well-suited for one-piece swimsuits. Blending with 15%+ spandex allows for comfortable stretching and movement with the body.
Many new swimwear items are with special treatments like UV protection, chlorine resistance, or water-repellent finishes. For instance, swimwear featuring chlorine-resistant DuPont Lycra offers a longer lifespan compared to regular materials. UPF50+ sun protection swimwear addresses concerns about tanning at outdoor beach.
Ask JingSourcing for stylish swimwear
We support swimwear customization at all levels.
We assist you in wholesale or customizing swimsuits in all sizes (including plus size) and various styles, whether it's prints, cutouts, straps, stripes, bohemian vibes, or sexy ones.
In my experience, these four methods are common for custom colors and patterns:
Complex patterns and vibrant colors are directly printed onto the swimwear fabric using DTG inks, which seamlessly blend with the fibers. This technique creates a high level of detail, making the pattern appear as if it's woven into the swimwear. It's particularly suitable for intricate designs with rich colors. DTG printing enables full-color and gradient effects and can be applied to a variety of fabrics.
DTG printing charges are based on the printed area (square meters). The number of colors in the graphic does not affect the final price. DTG printing allows for very small MOQs, even for one or two pieces.
Heat transfer enables the crafting of intricate designs and multi-color effects on swimwear. Printed patterns are affixed to the swimwear fabrics, providing a tactile sensation akin to a layer of leather. However, it's important to note that these patterns may eventually develop cracks and fade over time.
The expense for heat transfer printing is determined based on the pattern's dimensions and the volume of swimwear orders. As an illustration, we assisted a client in imprinting a 5×5cm² design on their 200 pieces of swimwear, resulting in approximately $0.6 per piece.
Embroidery on swimwear can craft exquisite patterns, designs, and lettering, lending an elevated and sophisticated appearance.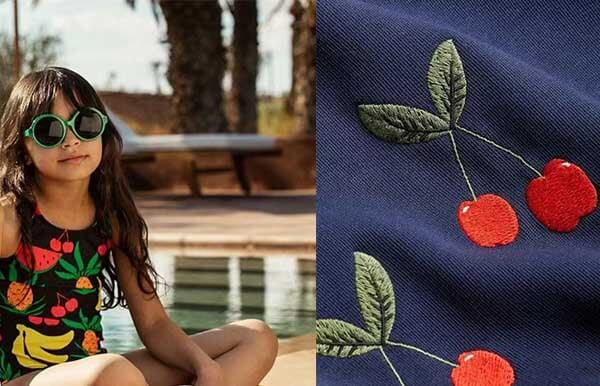 The expense of embroidery can be influenced by factors such as the intricacy and dimensions of the pattern, the thread count, the order quantity, and other variables.
For instance, we previously assisted a client in embroidering a logo on swimwear. The embroidery factory levied a set fee of approximately $30-40 to handle 100 pieces, and $150-160 for 1000 pieces. You can utilize this instance as a reference and observe that it's better suited for smaller designs.
Tie-dyeing involves folding and tying the fabric, then dyeing it to create patterns. After dyeing, the tied sections are opened to reveal pattern designs. It adds a layered, gradient effect due to fabric permeability. It's called "stitchless embroidery" and comes in machine-assisted or manual methods. Manual tie-dyeing is prominent in Yunnan, especially for swimwear with high material value and elevated craftsmanship requirements.
Earlier in 2019, tie-dyeing surged in popularity among top fashion brands like Dior and Prada, adorning spring and summer collections. Tie-dye-style swimwear offers artistic and unique patterns, which appear spontaneous and free-spirited, effectively breaking the monotony and showcasing a modern individual unique personality.
Adorned with sequins, crystals, and dazzling elements, these decorations elevate swimwear, making it more glamorous and eye-catching. Ideal for special occasions & fashionable events.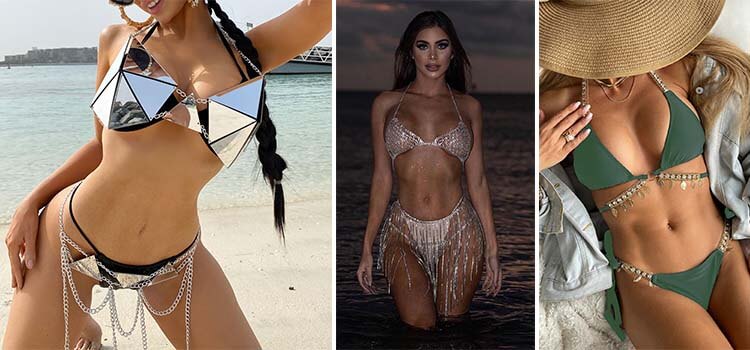 Get your custom swimwear best presented
Furthermore, we carry out an AQL sampling inspection or one-by-one inspection based on your checking focus, such as swimwear fabrics, elastic stitching, elastic fasteners, stitching precision, evenness, and seam density, all of which impact the swimwear's comfort, aesthetics, and durability. Once you confirm finished swimwear is OK, we will arrange your shipment to the port or your door as negotiated at the best shipping rate.
Ask JingSourcing to inspect and ship your swimwear shipments