Hong Kong is a large importer and exporter of completed watches and clocks. You can purchase a wide range of watches, from classic to fashion, from analogue to digital, from metal to plastic, from common to jewelry, etc. Where & how to find reliable manufacturers in Hong Kong? What should be the most concerned? Here are the answers.
Where to Find Watch Manufacturers in Hong Kong?
Generally, you can find Hong Kong watch manufacturers online and offline. In this part, I'll share some of the most common ways with you.
Online Channels (Wholesale Website & Google)
Wholesale Websites (Alibaba, Aliexpress)
Usually, there are 5 commonly used wholesale websites, Alibaba, Made-in-China, Global Sources, DHgate, and Aliexpress. After my practice, I find that there are more Hong Kong watch manufacturers on Alibaba and Aliexpress than the other three. Meanwhile, I feel Alibaba is the most user-friendly among the five.
Thus, taking Alibaba.com as an example, I'll show you how to find watch manufacturers.
Step 1: Enter the Alibaba website, switch the search type to Suppliers, and type in the keyword watch.

Step 2: On the search result page, you should tick verified and trade assurance suppliers. It will help you reduce the risk of being deceived. Add a location filter and screen out the watch manufacturers in Hong Kong. Now you can click the names to check the detailed company overview.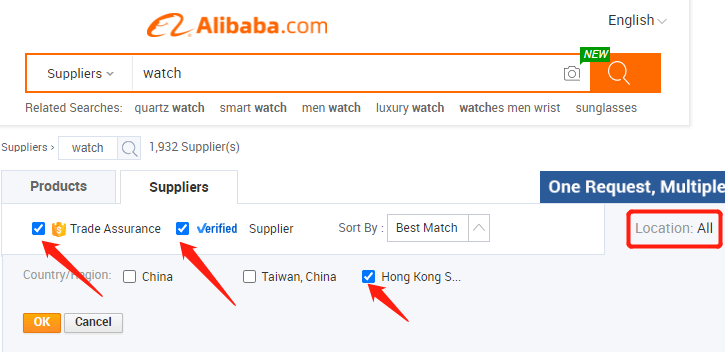 Google
Apart from wholesale websites, Google is another common way to find manufacturers. More and more watch manufacturers set up their own websites.
I compared Google with wholesale websites and find that the resources of watch manufacturers on Google are more abundant.
Offline Channel (Hong Kong Watch & Clock Fair)
Hong Kong Watch & Clock Fair is a good channel to find watch manufacturers offline. Many suppliers want to participate in the watch show. And if they have attended the fair, they must mention it, which can be their advantage.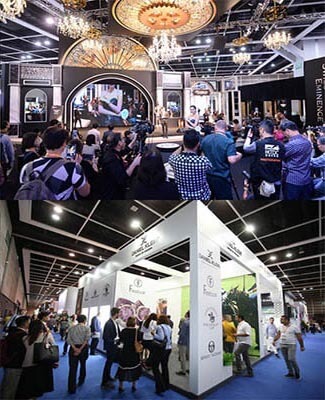 At Hong Kong Watch Fair, you can:
Have Face-to-face communication with watch suppliers and get first-hand information.`
Directly contact the sample and ask for details to collect more information.
Communicate with more suppliers across a range of watch types and brands in a short time.
Obtain a better understanding of the latest watch market.
But the cost to attend a fair is relatively high. You need to pay extra money and time. Thus, it's friendlier to big businesses than small businesses. The 41st Hong Kong watch & Clock Fair just ended in September this year. If you are interested, you can pay attention to the next Hong Kong Watch Show from 6th to 10th, September 2022.
The aforementioned requires much time and energy to figure out suitable manufacturers. If you want a more convenient way, finding sourcing agencies is recommended. They can help you with the whole importing process from selecting watch manufacturers, following the watch production to shipping. They also provide many other significant services like product quality inspection, customs duties dealing, etc.
Practical Tips for You to Select Reliable Watch Manufacturers
1. Determine which kind of watch manufacturers you need (

OEM or ODM

)
If you just want to wholesale watches, OEM watch manufacturers should be your choice. If you are searching for watch design or private label services, you'd better focus on custom watch manufacturers and the design services they offer. 2D design or 3D design, which one is available? Whether you can get the prototype? Whether they provide extra significant services such as corresponding marketing analysis.
2. Check the certification and product compliance
Among Chinese watch manufacturers, the most common quality certification you can see is IQS 9000. Pay attention that whether the certification is mentioned or not mentioned.
If you want to sell watches to the USA and European countries, you'd better choose watches in compliance with REACH and RoHS certification. To have better sales and less trouble, you need to find watch manufacturers familiar with your target market.
3. Ask minimum order quantity (MOQ)
MOQ is decided by different watch components and design customization. For example, if you see "Watch Case MOQ: 600 pcs" on a website, it means you have to buy at least 600 pieces of this watch case. The specific MOQ needs further communication with the supplier to confirm. Especially when your order is quite small, it's advisable to check MOQ first. Maybe it can help you save some consultation time.
4. Negotiate Product Price
The quotation you see or consult are references that give you general ideas. This can help you judge whether they are the ideal partners. Then you can contact the salesman of watch suppliers to negotiate the price. But remember the right balance between quality and price.
5. Ask for watch samples or make a trial order
You can judge whether the product is what you want by receiving samples or making trial orders. Communicate promptly if there are adjustments before you place a formal order. This can help avoid the entire rework of mass production.
6. Pay attention to the expertise of the supplier's salesman and quality control services.
You can judge their professionalism from the communication process with the salesperson. Although the salesperson you communicate with is randomly assigned, it can reflect the professionalism of this manufacturer to a certain extent. And quality control can make you feel more at ease about watch production.
List of 6 Hong Kong Watch Manufacturers

With sales offices in Hong Kong, the USA, and Switzerland, Montrichard Group has produced watches for 20+ years. The business covers watch design, production, and shipping. Product categories include automatic, mechanical, sport, fashion, stainless steel, ceramic, jewelry, diamond watches, smartwatches. Besides, Montrichard applies FINS, the 1st Cloud ERP solution, to better ensure Just-In-Time watch production & delivery.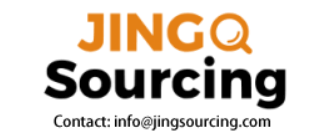 Jingsourcing is a leading sourcing company assisting you to import from China. Jingsourcing helps you find a reliable watch manufacturer of your demand, get competitive prices, follow up the production to ensure the quality, and ship to your door.
Compared with watch manufacturers that mainly serve large businesses, Jingsourcing can not only provide solutions for medium and large businesses,but also serves small businesses like e-Commerce from watch design, production, to shipping.

MPI exports its complete watches and services to USA,major European countries and Japan for over 40 years. It specializes in watch design from your initial idea or no idea and watches manufacturing. In addition, it can provide packaging design and watch operation manuals in English and minor languages like French, German, Italian, etc. All watches will be tested before being shipped to you.

With headquarter in Hong Kong and a factory in Dongguan (China mainland), Wincy specializes in manufacturing quartz analog and mechanical watches for international brands for almost 30 years. OEM service is available. If you have a good design product, Wincy can help you monitor and follow up the whole manufacturing process. In addition, customization services are also provided.

3 Wells offers OEM & ODM watch services, excelling in manufacturing high-end watches. Besides offices in Hong Kong, China Mainland, and Germany, 3 Wells locates its factory in the industrial cluster Shenzhen. Watch production meets ISO 9001, Q-Mark, and other international quality standards.
Best Power (HK) Enterprises LTD

With the factory located in Guangzhou, this HK watch supplier has a one-stop service from watch design, production to sales. The products include sports digital watches for men and women, fashion digital watches for men and women, casual watches, smartwatches for kids and adults, etc. Besides, customization services of the logo, graphics, and packaging are allowed. And it attended Hong Kong Watch Fair and Basel World Watch Fair.
Though Hong Kong was a large exporter of watches in the past few years, the total exports have declined since 2020 because of the epidemic, according to the watch market analysis from The Hong Kong Trade Development Council.
Mainland China and the US are the largest markets, together accounting for more than one-third of total exports. Meanwhile, many watch factories have moved to the mainland. Thus, you can also find some potential manufacturers in China Mainland. For example, many eCommerce businesses purchase watches from Guangzhou Watch Wholesale Market.
As a sourcing company, we can help you a lot if you want to find a watch manufacturer. We have rich watch supplier resources to meet your needs and help you with the whole importing process. We have assisted with many buyers' watch businesses. So feel free to CONTACT US by sending emails or leaving comments below, if you have any questions.