Choosing a single or multiple sourcing strategy is a headache for many importers. Although both options have their advantages and disadvantages, you must be carefully weighed to determine which method is most suitable for your business.
Today's post takes you through these two sourcing strategies and you will know how to choose.
Single sourcing strategy refers to buying one or more products from one supplier.
For example, if you want to import fishing tools from China, when you search for the keyword "fishing tools" on Alibaba, you will find a supplier with product categories shown below. This is a typical trading company that offers many related products. You can purchase one or more products from it. The entire process you are engaged in is single sourcing.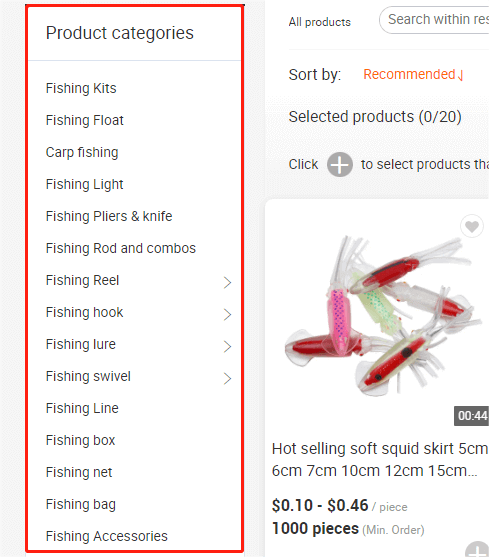 Pros and cons of single sourcing
Single sourcing has many advantages.
Firstly, it can simplify your supplier management because you only need to communicate with one supplier, which saves time and effort. Secondly, if you need to wholesale a large number of products, you can negotiate with the supplier for more competitive prices and more favorable terms to reduce production costs. In addition, the various products you need to buy can be delivered to you at the same time, thereby shorting delivery time.
Of course, there are also some disadvantages to relying entirely on one supplier. For example, you have a high dependence on this supplier. If there are problems with the product, once the supplier can not deliver the goods in a timely manner, this can cause great losses. Moreover, if you buy multiple types of products from one supplier, some products may have higher prices than those from other suppliers.
By the way, if you purchase branded products or your desired product is monopolized, you can only source solely from the brand or authorized supplier.
What is multiple sourcing?
Multiple sourcing in procurement refers to buying the same or different types of products from several suppliers.
A typical example is when you need to buy a product from supplier A, you also need to customize the packaging from supplier B. In addition, if there are many parts of your product that need to be purchased from different suppliers, this is also called multiple sourcing.
Pros and cons of multiple sourcing
Multiple sourcing can reduce supply chain risks. Once a supplier has problems (such as quality issues or supply delays), you can find other suppliers who can provide the same product to ensure smooth production and delivery. In addition, you can also compare multiple suppliers and choose the most suitable one for each product to reduce costs.
However, this sourcing strategy also has its drawbacks. You need to communicate with multiple suppliers at the same time and manage multiple supply chains. Undoubtedly, this will cost you a lot of time and energy.
Single vs multiple sourcing: when to choose?
Choosing between single sourcing and multiple sourcing should depend on your specific situation and the products you are purchasing.
When you only need to wholesale or customize one product, or if you want to wholesale multiple types of products with small MOQ and can find them all from one supplier, the single sourcing strategy is more applicable.
However, when you need to customize a complex product and can not get all the components from the same supplier, or if you want to directly find factories to produce multiple products with large MOQ to reduce costs, the multiple sourcing strategy is better for your business.
Jingsourcing can make your single & multi-sourcing successful.
As a leading sourcing company in China, Jingsourcing has helped 4000+ importers source and ship products from China. Whether you want to buy from a single supplier or multiple suppliers, Jingsourcing can help you. We have the following advantages:
We have many rich and professional suppliers.
If you find suppliers yourself, first, you cannot be 100% sure if they are reliable, and there may be a risk of being cheated. Secondly, the suppliers you find may not have the ability to help you produce. In addition, communicating with multiple suppliers is very troublesome.
Because at least 5 suppliers need to be compared for each of your products. If you buy a large number of products, for example, 20 types, then you need to find at least 100 suppliers and verify them. This will cost you lots of time and effort, and this is only the first step in your procurement process.
But Jingsourcing can help you improve sourcing efficiency. We are located in Yiwu, the largest wholesale market in China. There are many factories around us, and we have also integrated supplier resources from all over China, many of which you can not find on wholesale websites.
We can quickly select suitable suppliers for you in our supplier database based on your needs. They are usually located in industrial clusters with very competitive prices. They are also very professional and reliable, having passed our strict factory audit.
In addition, we can collect all of their samples and send them to you together. You can then choose the ones you are most satisfied with based on quality and price, which can help simplify the difficulty of supplier selection.
Get Reliable Suppliers by Jingsourcing
We work well for your custom projects in small quantities and a wide variety.
When you want to customize a complex product and need to source many components from different suppliers, you will find that communicating with multiple suppliers at the same time is a very challenging task. However, we can help you with that. Our professional agents will contact suppliers and monitor the entire production process so that you do not have to worry about any issues arising at every stage.
Additionally, if your MOQ does not meet the supplier's requirements, for example, they require 800 pieces while you only want 500 pieces for market testing, you may be rejected. Because your product is complex to customize and the quantity is not large enough for them to earn a lot of profit. However, we have worked with them many times and have a good relationship with them, so even if the quantity is small, they will still produce it for us.
Realize Your Custom Projects by Jingsourcing 
We can help you integrate goods and arrange shipments.
For the various goods you buy from suppliers located in different cities in China, we can gather and consolidate them into one container to help you save shipping costs.
If you subscribe to our Basic or Pro plan, you can receive 1-2 months of free warehousing and cargo consolidation services.
Get Your Cargo Consolidated by Jingsourcing