An online business sounds fun, but it needs blood and sweat to create a successful business empire that lasts forever. Many startups fail to understand that offering everything to everyone is not the way to generate sales.
Contrarily, serving in a single industry and offering related products to potential customers can enhance your business. And that's what niche eCommerce is all about.
So here's a comprehensive guide to answer all your questions about the eCommerce niche, along with a list of 10 profitable eCommerce niches.
Niche eCommerce refers to a segment in any industry that sells a specific product using a unique differentiator. Niche eCommerce includes anything from sportswear items to eco-friendly goods.
For example, if Sarah is selling homemade facial masks, her eCommerce niche is "skincare."
Why Are People Doing Niche Ecommerce?
Niching your eCommerce business comes with several benefits. So here are some of the best reasons why choosing a niche eCommerce is an excellent way to gain more profits.
1. Lower Advertising Cost
Since you will opt for a particular eCommerce niche, you won't have to sell your products to the mass market.
As a result, you will have to pay fewer advertising costs. So whether you're using Google Adwords, Pinterest, Facebook, or any other platform, you will target a limited audience, allowing you to spend less money to attain good ROI.
There are loyal customers for everything in this world, but they can be hard to find if you're running a standard eCommerce store. However, serving a niche will attract those customers to your platform, as they'll get what they're looking for without wasting time.
Also, from a marketing point of view, you can easily hire influencers serving the same eCommerce niche you are already targeting. Doing so will help you get more potential customers to your online eCommerce store, as these influencers will add credibility and authenticity to your niche eCommerce brand.
3. Your Brand Becomes an Ideal Spot
Having an eCommerce niche can help you acquire a great market positioning.
For example, BestBuy in the USA serves only the consumer electronics niche. The business is quite popular among the customers as people know that this store is the right place to get all kinds of consumer electronic goods.
In a niche-less eCommerce business, you have to pay severe attention to the prices and keep them low, as other people may have offered similar standard products by keeping a little profit margin.
However, since niche eCommerce doesn't usually entertain mass audiences, it can benefit you from keeping high prices of your products. You can easily find customers who are willing to pay a bit more for the products you're offering on your niche eCommerce platform.
In that way, you can make much more profit from a limited market and traffic than a niche-less mark
Here are the five ways to find the most profitable eCommerce niches.
1. Analyze Current Trends
The success rate of your niche eCommerce business depends on the current trends. Noticing trends is not a difficult job anymore. Thanks to platforms like Google Trends, where you can see what most people are searching for? And for how long that niche market has been trending?
For example, if you're planning to have a niche eCommerce platform that will offer electronic goods. You can see how this niche is trending over time in the United States using Google Trends.
Step 1: Go to the website.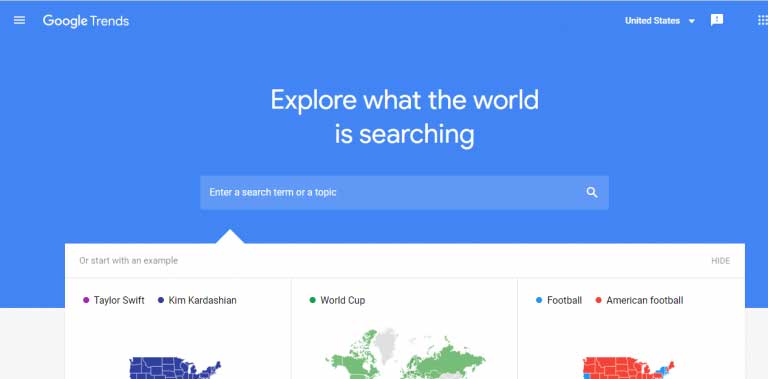 Step 2: Set your country to "The United States" or any other country of your preference. In this example, United States is selected already.

Step 3: Enter a keyword or phrase according to your niche. For this example, you can see that the keyword is "electronic goods."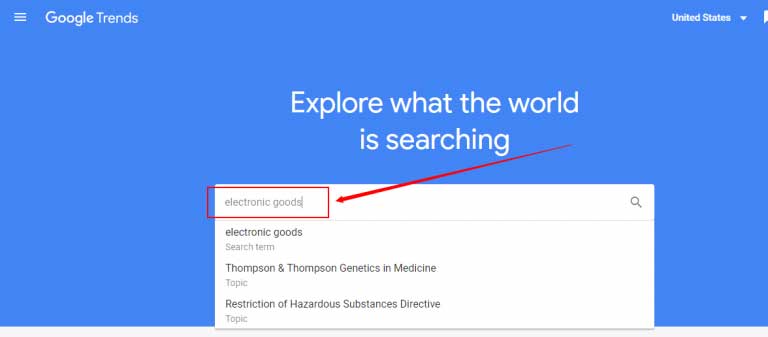 Step 4: Hit the "Enter" button to see the results.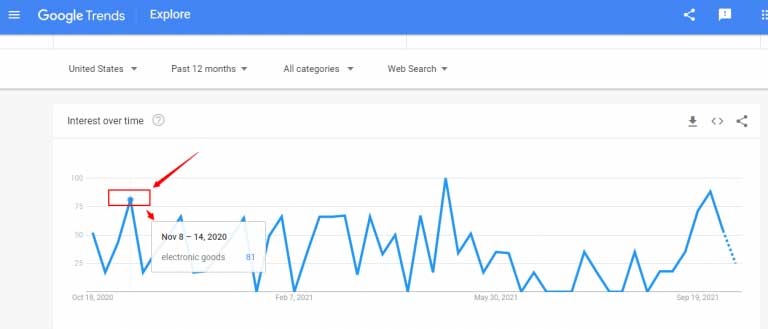 As you can see, that from October 18, 2020, to October 18, 2021, searches for electronic goods in the United States were high between November 8 – 14, 2020 (81% search interest) and September 26 to October 4, 2021 (88% search interest).
However, the trends show that people were crazy about electronic goods between May 2 and May 8, 2021, as the search interest was 100%.
And if you scroll down, you can see from what subregions the word "electronic goods" has been searched the most.

In this scenario, you can see that Michigan tops all other 12 subregions.
That means making electronic consumer goods your eCommerce niche and targeting potential customers in the top 5 subregions can help you achieve your goals.
There are also other sources to find the latest trends, including Quora, Reddit, Statista, and YouTube. All you need to do is to research thoroughly to find the answers.
The more you know your audience, the better you can choose the exact niche. Jumping into an eCommerce niche related to homemade pet food and targeting Hungary can be a flop idea. But remaining in the same niche and targeting the US customers can give you more fruitful results. Why? It is because this country ranks at the top when it comes to pet ownership.
That simply means that pet owners in the US will surely look forward to giving natural, hygienic, and homemade pet food to their beloved dogs and cats rather than feeding them food with toxic ingredients and preservatives.
Similarly, there could be thousands of problems, which you can solve through your niche eCommerce business. So, find those pain points and let your business become their painkiller.
3. Go for Passion but Know Your Market
It's pretty tough to run a business in which you have zero interest. So, if any segment fascinates you but is missing from the market, go for it.
Being passionate about your niche will help you to stay ahead of the competition, as you would be willing to learn more about the industry, allowing you to serve customers better than the rest.
Nevertheless, make sure that the industry must have a market demand. Otherwise, there are 99.99% chances of failure. But don't lose hope if you can't find a niche according to your passion. You can also look for alternatives.
Remember! A hot corn soup will be in huge demand in Antarctica than a popsicle.
4. Do Your Keyword Research
Keyword research will help you know what others are searching for. You can use that information to choose your eCommerce niche. You can tap such niches and run a successful eCommerce business.
While doing so, you may encounter keywords with very low competition, meaning the supply is insufficient to fulfill the demand.
Like Google Trends help you know what's trending in the past and present to analyze the future demand, several tools help you search keywords. Some of the best keyword-finding tools include Ahrefs and Google Keyword Planner. Although they are paid tools, they are still worth buying.
5. Don't Ignore the Competition
If you've found your eCommerce niche and planning to work on it, make sure you identify your competition. It will assist you in setting prices, doing branding activities, and, most importantly, learn about the audience and plan your steps accordingly.
Strategies to Run a Niche eCommerce Business
The next step after finding an eCommerce niche is to make strategies to increase the chances of success. Here's what you need to do:
Your business name should be concise and easy to remember. A name that clicks the brain and gets on the tongue even by hearing it once. Moreover, customers should be able to look for your niche business on the search engines without putting pressure on their brains.
Adding a keyword to your eCommerce niche business is also a great way to stay in the minds of your customers. For example, "Jingsourcing" is a goods sourcing company that helps import and export products from China worldwide. The word "sourcing" defines the nature of business, as well as its SEO-friendly.
Contrarily, if you're planning to keep a name that isn't SEO-friendly, then make sure you have a meaningful tagline with a well-researched keyword. For example, "John's Printing & Clothing – Simplifying Customization."
The tagline defines that this business serves the printing niche, and it also offers customization of services.
2. Clear Message to the Audience
Your eCommerce niche business should have an understandable vision, which is easy to communicate to the target audience.
The main idea is to help customers get a clear message about what niche you're into and what type of products you're offering in that specific niche. And the best way to deliver the message is through emails and using social media.
3. Go for Passion but Know Your Market
Optimize your niche eCommerce business on different social media sites. The goal is to gain more followers to your eCommerce online store to promote different campaigns to get traffic to your platform.
Facebook, Instagram, and YouTube are great examples of social media marketing websites with successful results.
4. Create an Attractive and Easy Website
easy options. In other words, complex and confusing categories, slow website speed, insecure payment methods, and lack of SSL certifications are just a few out of many examples that force potential customers to leave and look for more manageable options.
As a result, they land on competitors' platforms, as they find them simple to use and secure. Therefore, try to build a straightforward, easy website and offers products according to your niche eCommerce business only.
5. Excellent Customer Service
Your business should offer remarkable customer service to all your existing and potential customers if you wish to grow in the niche. The more your business satisfies the audience by providing them with the required information; your brand will become more trustworthy.
Niche eCommerce Case Study
Goldspot Pens is one of the best examples of niche eCommerce businesses. The company sells all kinds of pens and targets the US market.
Due to minimum sales and profit, the company decided to create an eCommerce store on Shopify to maximize sales to generate a 7-figure income.
To do so, Goldspot Pens decided to work on the SEO of their website. The company focused on building the site structure to organize URLs, navigation, and categories. Through SEO, they made a silo, going from the general pen categories to the more particular product categories, and finally, products themselves.
The company categorized each product under its specific category, which helped them gain thousands of organic traffic each month.
Another significant change in their eCommerce store was the recreation of the site. Previously, the platform was scattered and focused on non-niche items, such as journals and books.
However, the firm changed its strategy and focused on fountain pens only. They hired a team of expert designers and developers to proceed with the amendments. The team worked on the user experience and made sure that the buying and checkout process was simple and non-technical.
Goldspot Pens used YouTube as their primary marketing channel. They created the official YouTube channel and received 2,700,000 views with around 19,000 subscribers. However, it was not an easy task.
The company was very consistent about publishing their content, and they made sure that they posted new content at least once per week to make sure the YouTube algorithm favors the channel.
The company increased its inventory and organic reach by using marketing and conversion optimization methods. They used keyword tools, including Ahrefs and SEMRush, to find the right keywords to create SEO-optimized content to make sure it ranks on the top of Google rankings, and it was a successful strategy.
Lastly, Goldspot Pens used its database to email every customer to join their newsletter. Then, the company consistently emailed those customers with new information about their niche eCommerce business and products.
Finally, Goldspot Pens achieved the goal of creating a 7-figure Shopify niche eCommerce store. And all of that happened when this company started focusing on the niche and worked on the strategies.
Profitable Niche eCommerce Ideas
Here are some most profitable eCommerce niches for you to start your own business.
There are many ways to do affiliate marketing, but one of the most popular is creating an affiliate website. Companies like Amazon are willing to pay up to 10% commission to you when a product is sold through your platform.
However, to succeed, you should choose a specific eCommerce niche and have a good amount of information to attract customers to your website. Also, you should include SEO-optimized content to rank first on Google.
Technology is another ideal niche for your eCommerce business. You can offer a variety of products by remaining in this same industry. The niche is surely profitable in all over the world, especially in the USA.
According to a report, the consumer technology sales in 2021 has grown to $487 billion. And it is likely to increase by 15% each year in the USA.
Online fitness is a growing niche. It is profitable and stable for many entrepreneurs. And since COVID-19, this eCommerce niche idea has been trending. You can create a website to sell online fitness products.
Skincare is another trending eCommerce niche. The margins are high, and the statistics are excellent.
However, people are now more fascinated by organic skincare products. And it is expected that it will become a $135 billion industry globally by 2024, as there's a 10% growth each year.
5. Handmade Food for Pets
Pet ownership is increasing day-by-day, and so is the demand for pet food. The market growth appears to be stable, and now many businesses are working in the same niche.
However, owners prefer feeding their pets with nice and homemade stuff. So, if you know how to make handmade and homemade food for pets, like treats for cats, you can sell them online and make some good profit.
6. Eco-Friendly Baby Toiletries
Did you know that 20% of baby items are sold online? But products like disposable diapers emit methane for up to 500 years, which is surely not environmental-friendly.
That is why parents are switching to more eco-friendly toiletries, like biodegradable diapers and wipes. You can also work in this niche and make an excellent profit out of it.
7. Earth-Friendly Products
Since people understand the consequences of using chemically produced products on our beautiful Earth, they prefer earth-friendly goods to save this planet.
It's a vast niche to enter, many sellers choose this niche for dropshipping. And you can offer various products to potential customers, such as tote bags, reusable straws, and many more.
Printed clothing is a part of lifestyle products, and it is one of the best eCommerce niches to go forward with. You can offer "print-on-demand" services to the target market.
And fortunately, there's a lot to print, as the target audience is extensive, including corporate people, music fans, artists, and many more.
Supplying natural groceries is a perfect niche with a profit potential of up to 40%. All you need to do is to find a vendor that provides organic food, buy from it, and sell it online on your eCommerce website.
If you're an expert in a specific technical niche, it can help you make a lot of money. You can design a course and offer it online to the target audience to get high monetary returns.
Different websites, like Udemy and Coursera, permit instructors to use their platform to sell courses and make money. On the other hand, you can create your own eCommerce store, market it using different social media platforms, and sell courses privately without dividing the profit.
Final Thoughts
Niche eCommerce is the way to make a high profit by targeting a limited audience. You can offer a specific product or service to all potential customers and create a win-win situation for both.
A niche-based eCommerce business has proven its mettle by helping companies earn profit of their choice. You can also work on similar strategies to attain more customers and increase your online sales.
We are Jingsourcing, a leading sourcing company based in China. We've helped thousands of online business owners source products in all eCommerce niches at competitive prices. If you need help in importing products from China, please don't hesitate to CONTACT US.