Before wholesaling from Alibaba suppliers, it's necessary to ask them for samples, especially when you need to make adjustments to their ready-made products. Getting and seeing the samples can ensure that the product meets your expectations, thus reducing the risk of products of poor quality or doesn't match your needs.
But many customers placing a sample order on Alibaba will have such questions:
In the post, I will objectively analyze these most concerned questions.
Why are Alibaba samples so expensive?
There are two kinds of samples: ready-made product samples and customized samples.
Ready-made product sample
Ready-made product means that you buy products from the supplier without making any changes to the product. The supplier only needs to send the products in stock to your country.
At this time, the sample fee is the product cost+shipping cost. It is definitely not just the product unit price you see, as shown in the picture below. According to whether you are likely to place an order, the supplier can give you the wholesale price or the retail price of the product. So you can try to bargain the sample fee.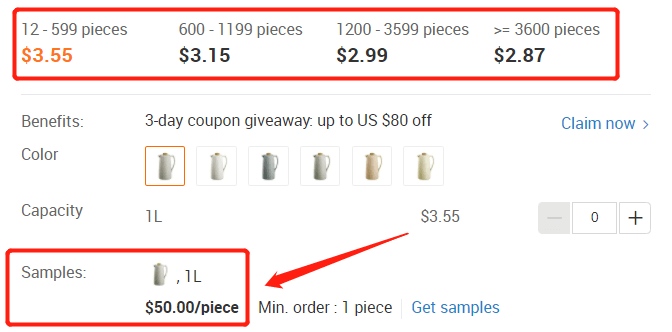 In addition, some suppliers will include the sample shipping cost in the sample fee. When you see the shipping cost, you will wonder why Alibaba charges so much for shipping samples.
Samples are usually small parcels and shipped by FedEx, DHL, or others. How much is it for international express shipping? Take express delivery from China to the USA for example, the delivery fee normally ranges between $30 to $50.
Please note that some sample fees do not cover shipping costs. Therefore, before placing the sample order, you must ask the seller what is included in the sample fee.
Samples customization means that you want to develop a brand-new product or make adjustments to ready-made products. The supplier needs time and money to make samples for you. In this case, the sample fee can be higher than buying a sample in stock, ranging from tens of dollars to tens of thousands of dollars.
For example, if you use screen printing to print a simple pattern on a blank hoodie, the cost of making a sample is about $50. If you want to make a stuffed animal sample, first make the shape out of fabric, then fill it, it will cost you around $100. These samples are easy to make.
Then when will it cost you tens of thousands of dollars? Let me give you an example. One of my clients once designed a bathtub table tray similar to the one below, but with different materials and designs. It looks like a very simple item. It just sells for $3, but you will be surprised he needs to spend almost $40,000 to develop a new one. why?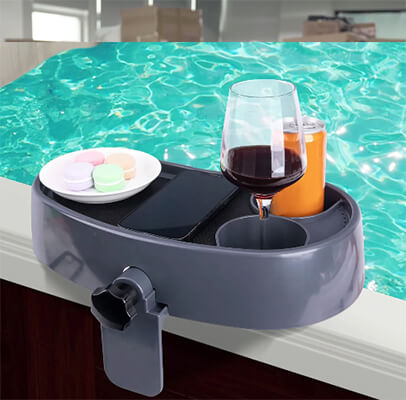 Well, it has many accessories made of plastic, rubber, stainless steel, and copper. All these parts need open molding, and at least 4 types of factories to make these samples, which cost $40,000. Therefore, when your product needs to open molding, the fee will be high.
Can you get free samples from Alibaba?
Generally, for the first cooperation, the supplier will not give you free samples, unless you are a big company like Walmart, your order volume is large and your reputation is high. The supplier will be willing to send you product samples without any fee charges. And he may also send more samples than you order if you agree. Because they want to do business with you.
Or your supplier will refund you the sample fee when you place an order, as a preferential strategy. They don't want to earn money from sample orders. They will be willing to waive some small fees for you, for mutual benefit and happy cooperation.
Besides, if you want to buy a very cheap product sample in stock, just a few dollars, the supplier is very likely to agree with your request for a free sample. You just pay the shipping cost.
How to request product samples from suppliers?
When you request a sample, detail the product sample as clearly as possible, such as specifications, features, function, materials, color, sizing, etc. The more information the better, so the factory can better know your needs.
Alibaba sample request template
Subject: Request for Product Sample Hoodie
Hi, Jingsourcing
I run an online store on Amazon(Here you can attach the link to your store). My main products are… Currently, I have a new product plan and look to develop our own high-quality hoodies. The hoodie specifications are listed below:
Style: Hoodie with a pocket on the front, like the picture below.
Design: Print patterns on the top and back of the hoodie, like the picture below. All digital printing.
Material: 80%cotton, 20%polyester, 300gsm
Size: based on the size chart
Quantity: 4 samples (2 men different sizes/2 women different sizes)
However, in real business, many people don't know the specific parameters of the product. They just see a product they are interested in, and then want to start selling it. In this case, you'd better provide accurate product reference pictures, and product links, such as Amazon links, so suppliers can better understand the demand for products.
Please remember, the more detailed you describe your product, the more accurate quote you can get. Whether you are buying on Alibaba or looking for a sourcing company like JingSourcing, before communicating with you many times to confirm the product details, you will not get an accurate quotation. Because many factors such as material, production technics, size, and so on will all affect the price.
Another very effective way is to send the products you are interested in directly. For example, if you like a plush toy and want to wholesale it from China, you can send the toy to us. In this way, even if you don't know anything about the product, our experienced agent can clearly know its specification by analyzing the toy, giving you an accurate quotation, and finally, making a product that meets the requirements.
Whether you know the details or not,
JingSourcing can realize your product ideas.
How to pay for samples on Alibaba?
Why choose Jingsourcing to realize your product ideas?
If your order is small and can not meet the MOQ of the factory, many factories will refuse you. And some products are complex to make. The factories may need to buy different accessories from different places. They will think it troublesome and time-consuming. So they are not willing to make it for you.
But we can help you do it. Because we cooperate with our suppliers for a long time and have good relationships with them. Even if the MOQ is small or it is troublesome to make, they are willing to produce for us.
Just like one of our clients, he wanted to do a party toy project and found many factories. But they refused him. Because built-in sounders are too complicated to produce and need too much time. Though he wanted to make 300 pieces and reached the MOQ, the factories were not willing to spend so much time making this toy for him.
Then he came to us and we worked out a solution: find a plush toy factory to make the outer skin part and another sound device factory to make the inside audio. Finally, the client was very satisfied with the toy.
Moreover, from making samples, following up the production process, inspecting product quality, to arranging shipment, we can help you with all these important sourcing processes. Our one-stop service can save you a lot of time and effort, especially when you have no experience in importing products from China.
We filter samples from tens of suppliers for one product.
We will first search for samples matching your requirements from dozens or even hundreds of suppliers. Then we will pack the selected samples together and send them to you. This can save you much time and express shipping costs. You can also compare multiple samples at the same time and choose the one that best meets your requirements.
For example, one of our clients needed to customize children's forks and spoons. The handle should be made into a cartoon shape, but he was not sure what material to use.
We contacted many factories and got forks with handles made of different materials such as ceramics, plastics, wood, rubber, stainless steel, etc. We sent them to the customer and provide quotations for different plans for his reference. The customer chooses a moderate price plan according to his budget and desired effect.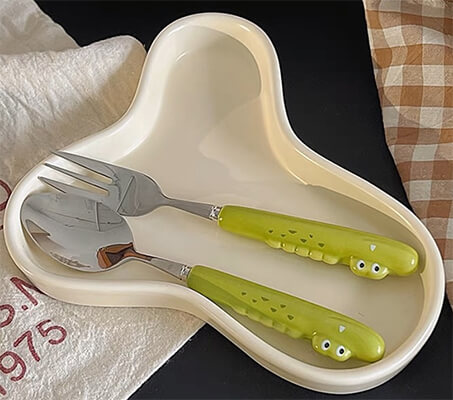 We can modify existing products or develop new products.
We have helped 4000+ clients to customize their products. All kinds of products are available, such as clothing, bags, toys, digital products, accessories, cosmetics, and household items.
We can do simple improvements to existing products in the market, such as printing logos and patterns, changing materials, fine-tuning the appearance, etc. Also, we can make a brand new product from zero, even if you just have a product idea and don't know anything else.
When our clients come to us, some with experience give us detailed product design drawings and specifications. While inexperienced ones may just send us a picture of a similar product or a simple pencil draft. Even so, we can help him complete the customization.
Do you have any product ideas?