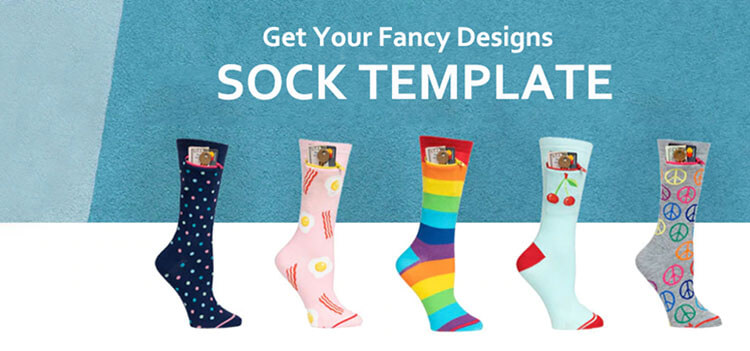 Custom your Sock Design Template, Free Sock Templates
An important thing for the success of the socks business is the design. According to the current popular trend, colorful socks are more popular than the socks of solid color. So many of my clients come to find us for customizing socks.
Some of my clients want to adopt their own sock design and brought the design manuscript. While these manuscripts are not very standard and lack a lot of necessary information, which has brought some inconvenience to the factory. Others asked if we had any socks mockup to use as a reference or inspiration.
That's why this article here. In this article, I will give you some socks templates and tell you what should be included in an exact sock template. Besides, if you want to customize socks, packaging paper cards are also worthwhile for designing. This can better enhance the value of your products and be helpful to start your sock business.
If you have any sock designs want to customize, welcome to contact us or see Top 20 Sock & Stocking Manufacturers in the World  to find a right sock factory to customize your own socks!
1. Details a sock template should include
Usually, my clients will only give us a pattern cut out from a picture and the types they want like no show, crew, knee-high socks. However, these are far from enough.
For the convenience and also a faster-producing process, these details should be included in your socks template.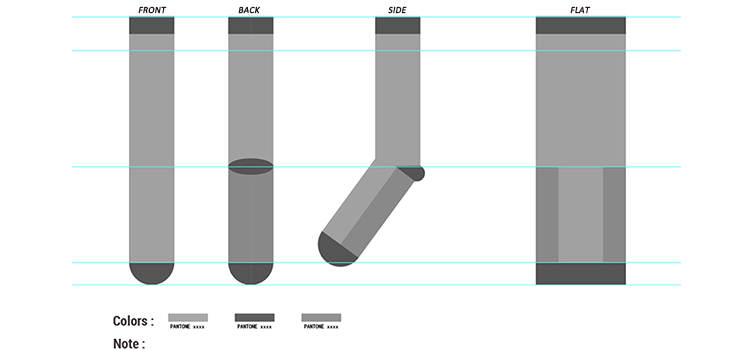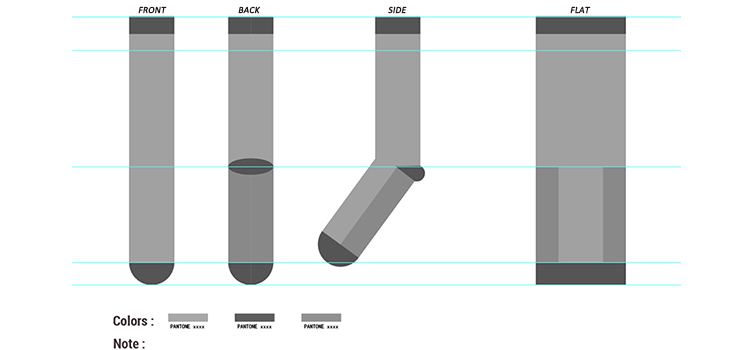 The front, side, back & flat view of socks
The above picture is a typical simple sock template. It illustrates the front, side, the back side and also the flat view of this sock. You can just provide a pattern only when you have no requirements for the exact position of certain designs. By the way, if you want to make a logo on the socks, do not forget to mark its position.
Color cards & Colors
A picture can't express the specific colors you want. You can use a common color card to illustrate these colors in their color numbers. The common color cards used for socks are Pantone, Peaks (Color Sample 365) and AVLAS (for nylon only).
Others can be remarked in "Note"
Size: We offer standard sizes from infant to extra large adult, and we can also customize the size for you.
Materials: Cotton, yarn and silk are the most used for socks. You can mention how much cotton content do you want and or you want different material for different parts in "Note".
Needle number: Socks are usually made in 21S (a unit describes gram weight and length) and 32S, which means needle numbers.
2. Types and templates of socks
There are generally 5 types of socks: no show, ankle, crew, knee-high, pantyhose. Next, I will show some different templates of each type as a reference.
3. The process of customizing socks template
If you have already finished your design manuscript, you can make a comparison between your manuscript and the template showed above to check if any parameters are left out. After confirming all the details with the factory, then you can ask them to start producing.
Here is a spec sheet of a sock provided by our factory.