Early in April this year, my European client Jakub told me about this interesting Lamzac Hangout and want to find its suppliers. In fact, Jakub really had an insight in choosing products, as people's attention for air lounge skyrocketed in just two months. It becomes one of the top-selling products that China exported during 2016.
In this article, I'll show you how to import the inflatable air lounge from China, and how to find suppliers of this product in China from different aspects. You might not be going to import this item, but you will definitely be able to learn something about how to buy hot selling products from China.
What's Lamzac Hangout? Why does it sell so hot?
Lamzac Hangout is created and designed by a Dutch company called Lamzac. It actually is an inflatable sofa with a unique design and great materials. You're capable to inflate it or pack it within a simple 10 secs, then it'll just be comfortable enough to lay on.
Except putting it on the ground, you can also place it in a pool, or even float it in a lake (just like a small boat). I have to say it is the best gift for outdoor recreation fans.
A video "Great of Chilling in The Park" was uploaded on Facebook last September by LamZac Company and won a 12.7 million pave view in an extremely short time. It wasn't available on the market until this April when LamZac just delivered the first batch of goods to their preorder customers.
Compare Lamzac Hangout with Other Hot Selling Items
Almost every year there're several hot selling items exported to America and other countries from China. If you're concerned about popular products these years, you must be pretty familiar with such items as loom bands in 2014, selfie stick in early 2015, and of course, the LamZac Air Lounge this summer.

Google Trends has well explained their tendency from 2014 to 2016. The top search interest of LamZac Hangout is nearly 3 times of balancing scooters'. As we all know how crazy the world was for hoverboards and how selfie sticks became an international sensation, it's not difficult to imagine what would happen to this inflatable sofa.
Although there're fewer people searching LamZac Hangout on google now, all suppliers I know got more orders in these few months. As this product is more preferably used in the hot season, I guess it'd have a super-hot sale next summer.
Where is LamZac Hangout Air Lounge produced in China?
Although Lamzac Hangout was designed by Marijn Oomen in Netherland and its patent belongs to an American company Fatboy who's also in charge of the market, it's actually made by a Dongguan (a city in Guangdong province) factory. That salesman from the factory told me they completed their first order of 300,000 air lounges in April.
Numbers small factories in China saw this opportunity and got their models to copy when Lamzac first delivered the preorder items in April. Then we got hundreds of manufacturers making air lounges by the next month.
How to source the inflatable air lounge suppliers in China?
My team was looking for lower pricing suppliers and found most factories are in the cities gathered lots of garment & outdoor goods makers. For example, Shenzhen, Dongguan, Yiwu, Guangzhou, Ningbo, etc. Obviously, it's a piece of cake for them to copy the air lounge as they've enough experience in producing sleeping bags or tents.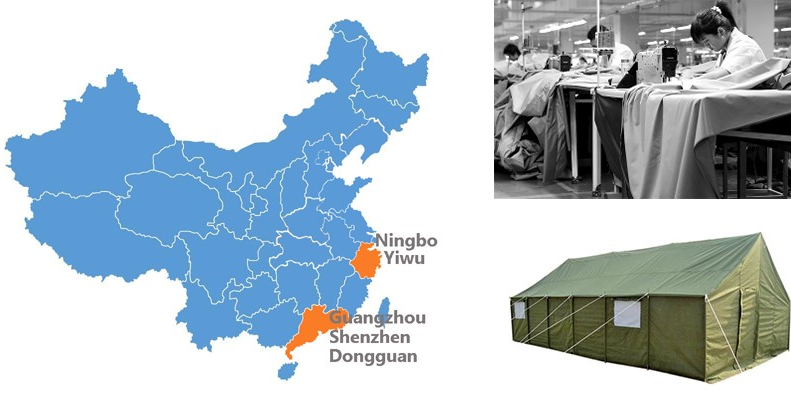 In case you need to figure out whether your supplier is the manufacturer or not when sourcing on Alibaba, you might as well see if it's located in the cities mentioned above and check whether it has items like sleeping bags or tents.
If there's nothing related to these products, even no polyester or nylon items, probably it's only a middle man. Even if they do manufacture by themselves, I would be worried about their quality.
How to Choose Good Quality Air Lounge?
Beyond question, the air lounge purchased by Lamzac is of great quality. So you can take it as an example and find a vendor with similar quality as well as lower price.
1. Know about the size
With a simple structure, it mainly consists of a nylon or polyester outer bag, a PE inner bag, a buckle, and several PE tapes for sealing. The original Lamzac hangout is 245 x 70cm (12.5"x6"). Suppliers might offer a really low price with a smaller size for attraction. Better check with yours whether his price is based on this size or not.
2. Understand these two types: Single bag & Double bags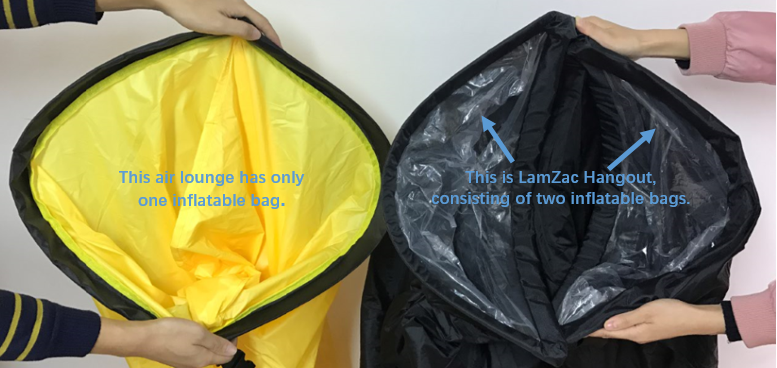 Almost every supplier has these two types of air lounge: single bags and double bags. The single bag only weighs 1.1kg so it's much easier to be inflated or packed. But the double bags can bear 150kg-200kg (330-440lb) while the other one could only take 100-150kg (220-330lb).
Although an air lounge with one bag is lighter and consumes less material than double bags, it's more expensive. Because it's harder to produce and requires more labor.
3. Learn about the material
In spite of size and types, the third important thing is the material. Most manufacturers would use polyester 201T instead of nylon 201T. To be honest, nylon possesses higher quality and softer touch than polyester, but it's much more expensive. Lamzac finally selected polyester for cost-saving. However, if you're really into the supreme quality, nylon would be your right choice.

4. Check the Tape quality of the opening
We've compared many samples from different vendors, what separates their qualities is the opening part of the bag, the key to durability.
The opening part is made up of PE tapes and nylon or polyester tape wrap.
Lamzac's OEM factory used four 3.72mm PE tapes and 420D nylon wrap with 0.29mm thickness.
The low-pricing producer adopts 0.14mm thick polyester wrap and 2.2mm PE tape.
It won't add too much cost if you choose 420D nylon for the opening yet your air lounger will be much more durable. You can require this point to your supplier and avoid their tricks.

What's the price to buy from Factories in China?
It's easy to see the price of the Original Lamzac hangout is $59 on Amazon, and that's for polyester material. Their OEM factory also produces for other clients, and the price is roughly $12 for polyester made, $15.3 for nylon made, based on small orders like several hundred units. However, lots of small factories offer $7 for polyester made.
As I mentioned above, it has a single bag version which is more convenient to use and carry. For polyester single bag air lounge, most small factories would give you an offer of about $9.3.
All these prices were learned in 2016 August and all based on the quantity of 500 pcs. Plus the price might fluctuate as time goes by. They could only be taken as a reference for you. I hope it would help.
 

LamZac on Amazon
LamZac's OEM Factory  

Small Factories 

Double Bags
polyester
US$59
US$12
US$7
nylon

–

US$15.3

–

Single Bag
polyester

–

–

US$9.3
The shipping cost for sending the air lounge from China
Let's take an example of shipping 500 pcs Original Lamzac hangout double bags air lounge to Amazon's fulfillment warehouse in California.
500 air lounges are about 681kg (1,501lb) and 3 CBM (cubic meter).
By Sea: According to our experience, roughly $900 ($1.8 for each) and 25 days would ship 3 CBM goods from China to California Amazon warehouse, import tax excluded.
By Air: No matter you use FedEx, UPS, or DHL, you'll get different freight rates every week. Let's assume we are sending 500 air lounges by FedEx today. With the unit price of $4 /KG ($1.8/lb), it'll cost $2,724 in total, which is $5.45 for each.
Shipping Cost
 
500 pcs
1 pc
By Sea
US$900
US$1.8
By Air
US$2724
US$5.45
The patent issue you should know
Almost every hot selling item would face infringement or patent issues these years. For example, the creator of Rainbow Loom has filed a lawsuit against the makers of FunLoom and Cra-Z-Loom, accusing the companies of patent infringement.
Related: Rainbow Loom Maker Sues Rival Toymaker Over Patents
The world's favorite hoverboard in 2015 also caused a patent war between Razor USA LLC, Segway, Chinese Company Hangzhou Chic, and some other manufacturers in China. It led to huge losses of businessmen who imported balancing scooters. Their goods were all seized by the custom because of patent infringement.
Related: Chinese Companies Are Starting To Sue For Patent Infringement Too

Similarly, this inflatable sofa couldn't avoid the same problem.
It was designed by a Dutch company Lamzac and sold by an American lifestyle firm Fatboy, who also holds the patent. These two companies filed a patent infringement lawsuit against another Netherland company Kaisr, who copied this idea from the very beginning. As a result, Kaisr is prohibited to sell or deliver this inflatable sofa unless it changed into a completely different appearance from Lamzac design.
Can suppliers help print the Logo or customize the design?

Considering the infringement issue, we suggest not printing your logo on the product. Otherwise, you might get prosecuted when your business becomes really large.
When it gets more and more popular among consumers, you'll find a great increase in competitors at the same time. A price war seems unstoppable. At that moment, you might try to do some small changes in order to make your product unique, such as use different colors or patterns on the surface or add some pockets for keeping stuff.
These changes might cost you $1 but they'll keep you out from those competitors and make you more easily found by end-users. They'll prefer your item with tiny changes even you're $5 more expensive than others.