With rich designs, high-quality materials, and competitive prices, China has become the biggest country for wallpaper production. Importing wallpaper from China is a lucrative business.
Before considering getting into this business, it is necessary to know the following information.
Wallpaper manufacturing industry cluster in China
Zhangjiagang in Jiangsu Province: China's Largest Wallpaper Production Hub
The wallpaper industry in Zhangjiagang is the largest in China, accounting for over 80% of the domestic production capacity. Wallpaper enterprises in this region possess specialized expertise such as printing, lacquering, film pressing, and quality inspection.
Furthermore, they provide customers with comprehensive wallpaper solutions through large exhibition venues and online sales platforms.
Henan Province: Formerly a Major Wallpaper Production Center
Henan was one of the earliest wallpaper production centers in China. In 2005, Henan accounted for nearly 70% of the national wallpaper market, making it a significant hub for wallpaper production and supplier cities in the country.
Although competition from other regions has intensified in recent years, the wallpaper industry in Henan has slowed down somewhat but still retains some influential wallpaper factories.
Tongxiang in Zhejiang Province: Capital of Chinese Wallpaper
The wallpaper manufacturers in Tongxiang have closely integrated with the local economic development, creating a hub for the wallpaper industry that encompasses branding, research and development, production, experiences, and sales.
Additionally, the wallpaper industry places emphasis on merging with the tourism sector and developing a wallpaper culture town.
Foshan in Guangdong: Hub of Wallpaper Manufacturers
Foshan is not only a major hub for the home decor industry in China but also a center for wallpaper production in the country. The wallpaper industry here has been established with both brand recognition and competitive advantages, enjoying a strong reputation in the market. Well-known brands include YULAN.
JingSourcing: your best partner for wallpaper importing
As a leading sourcing company in China, JingSourcing has successfully assisted numerous clients in procuring and customizing a wide variety of wallpapers. Our clientele spans from startups to large e-commerce companies.
Partnering with JingSourcing not only allows you to obtain high-quality wallpaper products at factory prices but also helps you save time and resources.
We have expertise in your wallpaper custom projects.
Diverse pattern designs & printing techniques
There is a wide range of pattern designs, including solid colors, prints, 3D textures, and various other styles, each with unique textures and characteristics.
If you already have your own design, we will select the most suitable printing technique to ensure that your design is perfectly realized. If you don't have a specific design concept yet, our professional design team will create unique patterns based on your style and budget. Whether you're looking for classic, modern, vintage, or artistic decor, we provide creativity and inspiration to ensure your satisfaction.
Here are some common wallpaper printing techniques: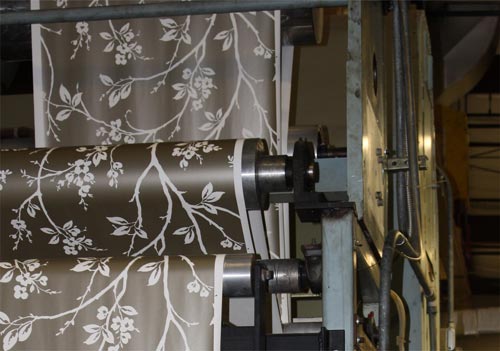 Pic Source: schoonerprints.com
Gravure printing, also known as rotogravure printing, is a high-quality and highly efficient printing method for large-scale production of various printed materials, including wallpaper.
Most of the wallpapers currently on the market are gravure printed. This type of wallpaper has uniform color and clear layers.
Embossing printing is the usual method for achieving raised patterns on wallpaper. This technique can create a variety of 3D textural effects, from simple lines and patterns to imitation wood and stone textures.
Screen printing involves using a fine mesh screen to transfer ink or paint onto wallpaper material. It provides a cost-effective and durable printing solution, perfect for situations where you need to print some relatively simple designs.
DTG printing technique usually has very high resolution and can present very fine images and details. Additionally, this printing method allows for short runs and personalized printing.
In addition, there are many other printing techniques including block printing, flexographic printing, etc.
Choose Best Design & Printing Techniques
Various wallpaper material choices
Common wallpaper materials include paper, vinyl (PVC), fabric, fiber, and non-woven fabric, each having distinct characteristics and suitability for various applications.
PVC is the most common wallpaper material. It typically consists of two layers, with a paper base layer and a PVC surface layer. This type of wallpaper offers several advantages, including durability as well as resistance to water and stains. 
Non-woven wallpaper is known for its good breathability and lightweight nature, but this material is not waterproof.
Pure paper wallpaper is characterized by its relatively high craftsmanship. In the case of lower-quality options, it may yellow over time.
Fabric wallpaper is made from materials such as silk, cotton, or linen. It has a soft texture and a certain level of elasticity, making it suitable for areas like the living room and bedroom.
Fiber wallpaper is an environmentally friendly choice, made from renewable plant fibers, and it is suitable for decor that emphasizes sustainability.
Get Your Best Wallpaper Material
We support sourcing different kinds of functional wallpapers.
Functional wallpapers are a promising market as people become increasingly interested in improving indoor air quality and enhancing their quality of life. This includes formaldehyde-removing wallpaper, negative ion wallpaper, diatom mud wallpaper, luminescent wallpaper, etc.
For example, formaldehyde-removing wallpaper can absorb and decompose harmful formaldehyde gas and improve indoor air quality. Negative ion wallpaper can purify the air. Diatom mud wallpaper helps maintain indoor humidity balance. Luminescent wallpaper absorbs light during the day and then glows at night, and is widely used in children's rooms.
Source Functional Wallpaper by JingSourcing