Custom 3D Digital Printed Socks from China?
Nowadays, personalized printing socks are very popular with many young men because of its abundant patterns. Moreover, the profit margin for 3D printed socks will be about 20% higher than traditional socks.
One of our cooperated factories, the top 5 sock factory in China, is equipped with 3D printing machine at the end of 2017. If you want to customize 3D printed socks, we, Jingsourcing, can help you. And we can offer you,
How to Print on Demand Socks-Custom 360 Digital Printed Socks from China
No matter you want to print stars' photos, sci-fi characters, landscape painting with complex color, portrait or your pet's photo on the socks, 3D digital printing technology can make them all into reality. Moreover, with 3D digital printing, the pattern appears vivid just like the real. If you want to present a whole pattern through a pair of socks naturally, 3D digital printing technology can also make it come true easily.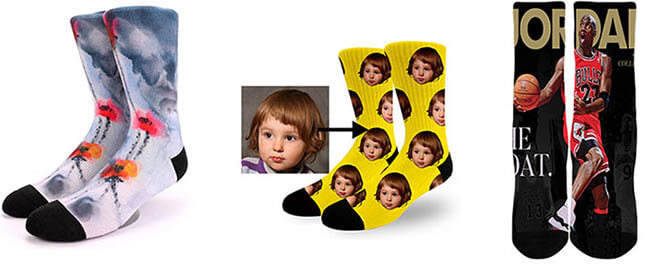 In recent years, personalized socks are becoming more and more popular with young people with big annual sales of about ten billion pairs. So you may earn your first port of gold by selling 360 digital printing socks.
I will tell you practical knowledge about 3D digital printing socks in my today's post.
1. Three main sock decoration ways
To help you have a clear understanding of the differences between 3D printing and the other two decoration ways, I will introduce 3 main sock decoration ways first before analyzing 3D digital printing technology.
Jacquard fabrication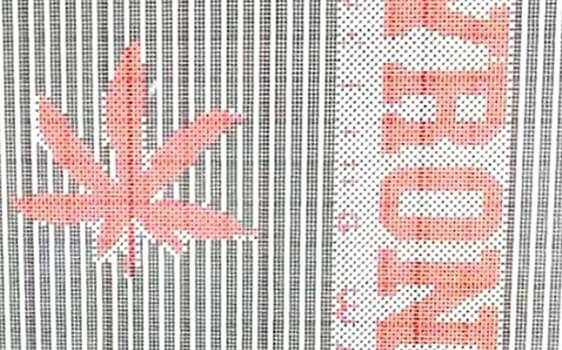 In fact, Jacquard fabrication doesn't belong to the printing technology range. It is concave and convex pattern made of woven fabric interlaced with longitude and latitude, which is woven during the weaving procedure. In fact, it is the most traditional sock decoration way.
Dye sublimation
Dye sublimation can be mainly divided into 3 steps.
First, you need to print the sublimation pigment inks with the adjusted color on the heat transfer sublimation paper through some printing machine like etching press or offset press.
Then turn the printed sublimation paper upside down on the socks and put them on the heat-transfer machine.
In the end, through overheat and compress, the pigment inks on the sublimation paper will be through gasification and fumigation process. Then the pattern will be printed on the sock successfully.
360-Degree Printing/3D Printing
In my today's post, I will introduce 360-Degree printing method, which is the most advanced printing method nowadays. Digital heat transfer is a digital printing technology based on the traditional sublimation thermal transfer. And it completes patterns printing in the form of non-plate printing.
The following picture is the 3D seamless digital printing machine. And the patterns can be printed on socks seamlessly with the 360-degree rotation of the machine's sleeve.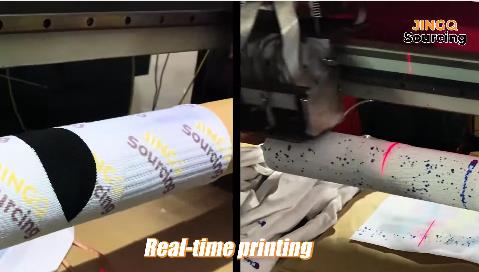 Digital printing technology supports digital design, and color measurement, color matching, printing are all completed through computers. So the color types can reach 16.7 million kinds theoretically.
And digital printing won't have the chromatography restriction which is the typical characteristic of traditional textile printing and dyeing. Besides, digital printing technology is advantageous incomparably in printing some patterns needing high precision such as color gradient, moire, etc.
Noteworthy: 
Dye sublimation's requirements for sock materials:the material must be with high temperature resistance, 100% polyester, or with high polyester content(65% polyester /35% cotton,80% polyester/20% cotton,95% polyester/5% polyurethane).
3D digital printing's requirements for sock materials: 100% cotton, ramie, cotton-polyester and cotton-ammonia with high cotton content.
2. Seven steps to customize 360 digital printed socks
Step 1: prepare blank socks
Generally, a factory can't support blank socks and printing patterns at the same time. So you should let a hosiery factory produce blank socks first.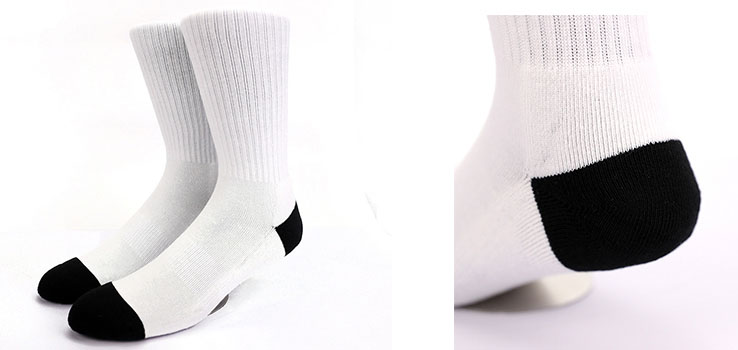 Step 2: prepare and design the printing pattern of the socks
3D printing technology can support many complex patterns' printing and print on demand socks. You can print any life element. For example, I want to customize a pair of socks with a Jingsourcing logo. It's very easy, and I just need to design a pattern picture according to the factory's requirement for the format and size.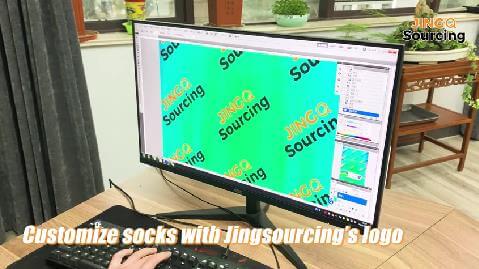 Step 3: import the print pattern picture into the computer, and print it on the socks
When you walk into the digital printing workshop, you can notice that the operators skillfully import the printing design into the computer, put pure white socks over the 3D sleeve. Then any complex pattern can be presented on the socks within a few minutes just through one-click printing.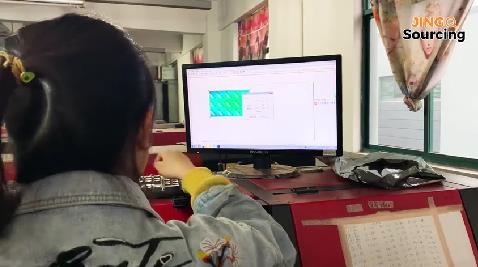 Step 4: after completing printing, the socks need the solid-color process in the drying oven at high temperature.
You may notice that the pattern's color on the socks appear very light after printing, which is different from the original printing design manuscript. Actually, it is a common phenomenon. The color will be dark after the solid-color process.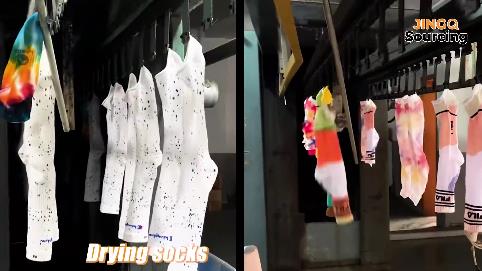 The pattern will appear real just like the printing design manuscript after dry and bake at a high temperature.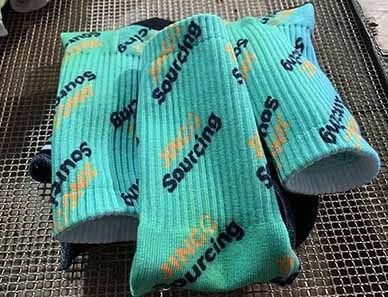 Step 5: fix color through fixing agent
Soak the sock in the water with dye-fixing agent to fix color further. But the step is just applied to cotton socks, Polyester socks can skip the step.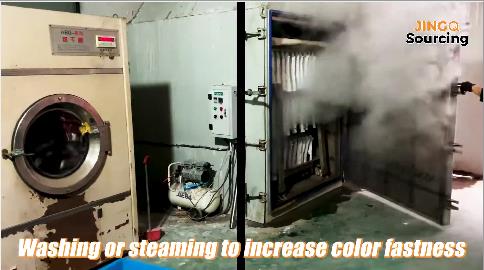 Step 6: put the sock into the drying oven again to strengthen color fastness 
After completing the process of soaking in fixing agent, put the socks into the drying oven to dry and fix the color again.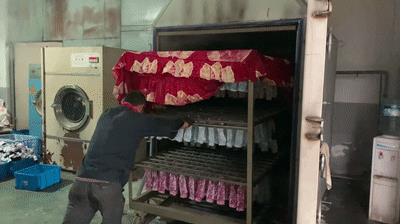 Step 7: sew the socks in the toe opening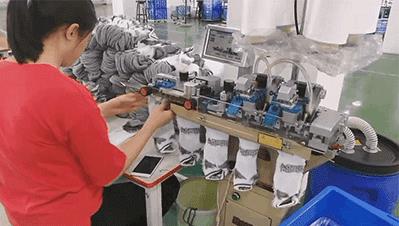 It is easy to produce a pair of 3D printing socks. What you need to do is just to prepare a picture and a pair of blank socks. You can design the pattern according to your preference.

Compared with the traditional knitting socks, 3D printing sock is more colorful, personalized, and comfortable. And it is seamless without any redundant threads.
After learning how to print the pattern on the socks by means of 3D printing technology, let's come to learn the advantages of customizing 3D printed socks.
3. Four advantages you should know for customizing 360 digital printed socks
3D printing socks have stronger color stability
In fact, many people have such a question: if the complex and colorful pattern is completed through digital printing, is it easy to fade? Actually, you needn't worry about the problem. After finishing digital printing, the socks are very stable in chemical properties through fixation for three times (Step 4-6), so there is no fading problem at all.
Shorten the production time for making a sample greatly
Compared with Jacquard fabrication, 3D printing technology gets rid of many complex procedures such as selecting yarns and sub yarns, dyeing, making patterns, etc. So 3D printing technology can finish sample making just within one day. But jacquard fabrication needs 3 days.
When compared with Dye sublimation, 3D printing technology needn't conduct many time-consuming processing steps such as plate-making, printed films, etc.
Low MOQ for customizing
It usually has lower MOQ for customizing 3D printing socks, an order of 200-300 pairs per design/size/color can be accepted, which is very different from the MOQ for traditional customization socks.
So 3D printing technology can meet small businessmen' high requirements for customizing socks in small quantities well.
Higher profit margin
As a kind of labor-intensive product, the biggest advantage of traditional socks is the cheap price. However, 3D printing takes personalized customization as its market breakthrough point, and its profit can reach over 20% higher than ordinary socks. So 3D printed socks are a product worth trying.
Finally
The factory I visited is a professional sock manufacturer established in 2001, which is one of the factories we have long-term partnerships with. It is equipped with advanced socks knitting and printing machines. Many famous brands like Unique, Champion, SKECHERS, FILA, Hush Puppies have a long-term business relationship with them.
If you want to custom 3D printed socks from China, feel free to contact us.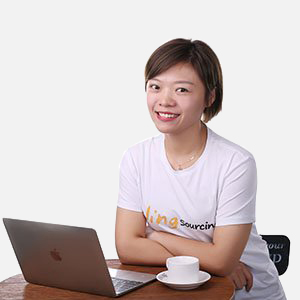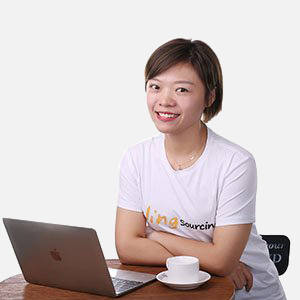 Hi, I'm Annie Ma, I have been in the field of socks since graduated from college. China produces 90% of the world's socks. I was lucky enough to have worked in one of the top3 sock factories in the world and the largest sock trading company in the world.
I used to work with big, world-class retailers like Uniqlo, Puma, and Skechers. I joined Jinsgourcing aiming to help small and medium-sized businesses to produce socks with the first-class quality.