Working in a niche market has been victorious for several businesses over the past decades. However, people are still confused about it. This article will explain all the common puzzles about niche markets, followed by examples and case studies. So, let's go through each section to build your concepts to enjoy great benefits through your business.
A niche market is a small, individual segment of the bigger market. It helps businesses to focus on offering a specific product to their customers. That product includes characteristics to satisfy certain market needs, quality, and price range as per the demographic requirements.
One of the best examples to understand what is a niche market? Imagine yourself exploring the women's clothing market to purchase plus-sized dresses. There are two sellers in a row. Seller 'A' includes a mixed inventory of women's clothing with a limited quantity of plus-size clothes. Whereas seller 'B' only sells plus-sized women's dresses and has a large variety to show.
There are maximum chances that you will get clothes of your choice from seller 'B'. Why? Because that business satisfies your needs. You can find a broad range of plus-sized women's apparel from this seller. Likewise, any other customer with a similar demand would not hesitate to pay a visit to this seller.
Thus, in this case, the main market is "women's clothing," and seller 'B' is serving a niche market (or a specific segment of women's clothing market) by keeping clothes for plus-size women.
List of Profitable Niche Market
You may be confused about what niche market to enter. Here is our list of profitable niches for your reference:
Fitness and weight loss products
Health and beauty products
Indoor sports supplies
Solar energy products
Eco-friendly products
Home-office equipment
Kitchen accessories
Pet products
Kids and baby products
JingSourcing can help you buy and support your niche business.
What are Advantages and Disadvantages of Niche Market
The niche market is usually small and single. So it is easier for enterprises to do market research, understand and grasp the needs of customer groups, and improve customer services.
And when you serve limited or specific customers, competitors offering the same products will reduce, so your competition will be less. Your customers may not be able to obtain similar products or services from others, so they are more loyal and have a higher repurchase rate.
Niche Market Disadvantages
A niche market focuses on a certain group of people. So there will be fewer consumers of your product. Besides, in the niche market, you have to sell products inconsistent with your niche direction. This will give you more constraints when choosing product categories. You will take more risks relying on a single product or market, like putting all eggs in one basket.
In addition, most niche businesses have their own brands. For niche startups, you need enough time and patience to build your brand. Before that, it is difficult to gain the trust of customers.
How to Identify a Niche Market?
There are a few critical consumer traits that entrepreneurs and businesses should consider before identifying a niche market, such as:
1. Easily Recognizable Customers
Potential customers, which are easily visible, are evidence of an ideal market niche.
For instance, if you're trying to enter the plus-size women's clothing niche market, make sure the niche is already in high demand with identifiable customers. These customers will be the potential target audience after you enter a specific niche.
If you cannot classify ideal potential customers into a recognizable market segment, your business plan will be nothing but a failure.
2. Accessibility to Customers
For a market niche to be beneficial, your potential customers must be approachable. Access to them must be economical, or else your million-dollar idea will be a dead-end job.
For example, if your niche market is about providing solutions to Outer Mongolian goat herders, but there's no way you can reach them, then what profit could that niche bring?
So if you can't reach your customers efficiently, there's no point opting for such a niche market.
3. Tap Underserved Markets with High Demand
A niche market with high demands but poor customer service can be considered an underserved market. Customers aren't treated the way they should be. If you find such a market, it will be your chance to enter neglected markets and stand out. You can come up with some solid customer-serving strategies to divert potential customers to your platform.
Suppose businesses in the underserved niche market are not providing high-quality products to satisfy customers. In that case, you can serve in that niche by offering top-notch quality products to the same audience. And with consistent behavior, soon you will see your market share growing in that niche.
Please keep in mind that only high-demand underserved niche markets can be profitable. If there's no demand, there's no business.
How to Enter a Niche Market?
To find and penetrate a niche market, here are the six steps you need to take.
1. Identify Your Interest and Passion
You might have already figured out this step, but if you haven't, start by making a list of areas relevant to your interest, passion, and even skills.
Entering a niche market takes time and dedication, so if you're serving a niche that fascinates you, the odds of quitting will decrease, as you will find your work enjoyable rather than a burden.
However, you don't need to look for a perfect fit. Even if you're passionate about only a few aspects of the business, you can get the motivation to continue further.
Once you have an idea about your niche, survey it to discover the pain points. You can begin by looking at social media platforms like Twitter, Redditt, Quora, and Facebook to learn peoples' views about the niche market and what queries and problems they have. 
Facebook is more useful when it comes to gathering and surveying the niche market. You can join groups related to see conversations and comments of potential customers.
On the other hand, you can use online survey tools like SurveyMonkey or Google Forms to create a survey and share it with the target audience of that specific niche to get a response.
3. Pinpoint Problems to Solve
After getting the responses, you will understand whether or not the niche market you're trying to enter is beneficial. Moreover, you can sort out the common problems customers face and try to solve those issues.
One of the best ways to solve the problems is through one-on-one conversations with your niche market audience. Remember! The more problem-solving your business would be, the more durable it will become in the niche market.
For instance, if you're trying to cover the sportswear niche, there might be a possibility that the mass market isn't offering sportswear items for plus-size men and women. So, serving in this niche market will attract plus-size customers to your business, as you will be one of the few platforms to solve their problems.
4. Research Your Competition
You can't avoid investigating your existing or potential competitors. Try to find what they are offering in the niche market, the price range of their products, and the variety of inventory they have. And everything else that matters to the potential customers.
You can do this by visiting your competitors' physical stores or simply analyzing their online platforms. For example, if you want to enter the bathroom rug's niche market, just Google the keyword to see the list of stores offering products in the same niche.
Start collecting the information, such as price, designs, colors, etc., and start thinking about how can you top those competitors. This research will surely help you get on the right track, and your business will grow and survive in the niche market.
5. Estimate Potential Profitability
After researching the competition, the next step is to determine whether or not you can make a good profit from your chosen niche market. If your niche market has more than 10,000 searches per month, it means the niche has the potential to give you sweet fruits.
One of the best ways to find out the search volume of your niche market is by using an authentic keyword finder, such as Ahrefs. Another platform is Google Trends to know how your niche has been trending over days, months, or years. You can also explore websites like Amazon and AliExpress to see their popularity.  
Finally, this research will indicate if the niche market is profitable because the main reason for entering a niche is to ensure it has both – need and demand.
Finally, when you have decided on your niche, start using social media websites to test products by targeting the niche audience. For instance, you can create a Facebook page and run paid ads by targeting interested traffic.
In the same way, you can develop your eCommerce niche website and run paid Google ads. You can choose several other platforms to show your products and target the right audience.
If the results are less than your expectations, you can always experiment with different strategies to test your ideas.
Now that you've understood what niche market is let's focus on niche marketing and understand what it is and how to do it.
Niche marketing is also known as micro-marketing or specialty marketing, refers to using strategies to promote your product or service in a specific niche market. For example, an acne face wash seller uses paid advertisements to capture potential customers in the niche market. That means "paid advertisements" is one of the niche marketing strategies to promote its niche product in the niche market (acne face wash).
How to Do Niche Marketing?
Here are the 5 most tried and tested ways to do niche marketing:
You are not the only one selling in the niche market. There would be your existing competitors and newcomers, offering similar items to the potential audience. So branding is one way to overcome this obstacle.
Branding makes you unique in the niche market. It creates a separate identity in customers' minds, which helps them differentiate your offerings from the rest. By developing a brand personality with different colors, packaging, fonts, slogan, logo, and many more, your business can look distinctive and desirable.
Once you have them all, use your marketing channels to ensure you can reach your potential customers. Another key to successful branding is consistency. The more consistent you are with marketing your brand, the more chances of capturing market share in the niche market.
Private label or OEM?
Let JingSourcing make your product ideas come true.
2. Focus on Gathering Good Reviews
Now, the practice can be seen everywhere with the help of customers' comments, reviews, and ratings on a variety of platforms, such as Facebook, Google Reviews, TrustPilot.
Whether introducing your business in the niche market through Facebook or an eCommerce niche website, your customers will give you reviews after consuming your products.
Your goal is to collect good reviews about your niche business using organic methods from existing customers to attract potential customers. But you can only achieve this by offering the best from the rest. If you're serving excellently in the niche market, you won't find it hard to receive positive reviews.
3. Choose Advertising Mediums Carefully
You can advertise on all social media platforms, but choosing mediums according to your niche market and potential customers is always wise. It is because most of them are already overloaded with your competitors. Therefore, limiting your brand's visibility only to highly relevant social platforms can grab more attention.
For example, if you're niche market is "eye mascara," the most suitable platform to advertise would be Instagram, as 51.4% of the total global audience on this platform are females.  So make sure you think twice before losing your money on advertising. Otherwise, you can lose a lot of budget for nothing.
4. Partner with Influencers
Apart from offering a great product in your niche market, what helps gain the trust of potential customers is the user experience.
It is impractical to offer free things to every potential buyer. But you can hire a team of experts and famous internet personalities to spread awareness and the unique benefits of your business in the niche market.
A true example is a ride-sharing application called "Sidecar." The company joined hands with famous bloggers to create awareness of its service by creating a fun and relaxing environment within the cars for its potential customers. It was a successful campaign that made "Sidecar" a leader in providing a unique experience in the ride-sharing niche.
5. Use Traditional Marketing Ideas
Regardless of your niche market and how well you've established digital strategies for niche marketing, never forget to include traditional marketing ways, as they are still vital and will be.
So print business cards, make flyers, go door-to-door if you have to because you never know there might be potential customers living off the internet world.
Real Examples for Business in Niche Markets
Elenacaire is an online store focused on women's shoes – not all general women's shoes, but only the cozy and warm ones. Its targeted customers are mostly 40 to 60-year-old females.  Since its establishment, this store has generated revenue of more than 200,000 dollars from the niche market.


Pressabottle is a  perfect example of a niche market. This online store provides infusing water bottles with a juice press in them. You can add fresh fruit to this bottle and turn regular water into juice at any time and anywhere.  All you need to seek success in a niche market is a problem-solving product.

SparkleFarts is a very good example of niche marketing. Sparkle Farts is mainly focused on selling toys and other children's products. All its products are designed based on its original cartoon figure – a farting unicorn.
This unicorn is a very smart strategy for niche branding, they even launched a video game for it, which will ultimately add additional value to their products and differentiate them from the competitors in the market.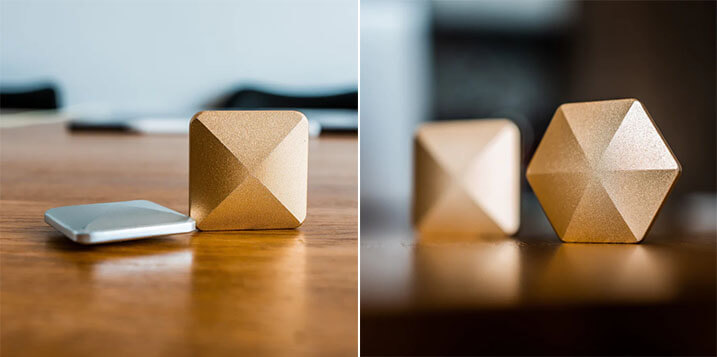 Itflips' website displays only one product – a multi-functional fidget spinner. As said in their product description, they have precisely targeted their customers in the niche market – students, TV watchers, and anyone else who may need a satisfying desk toy to help kill time.
So, you don't really need a wide coverage of products to run a business successfully in a niche market, but you must have a clear understanding of the needs of your target customers.

Mankave is a rather intriguing example of a niche market. Their website is full of commodities that may seem cool and interesting to most boys while weird and dorky to girls. This is also a good demonstration of a niche market, while you attract some customers, you may dispel the others.
The End
A niche market is all about serving a small segment of the mass market by fulfilling the demand. However, to survive and enhance in the niche market, you need to act upon niche marketing strategy to ensure your business always stays in the minds of potential customers.
We are JingSourcing, a leading sourcing company in China committed to helping importers customize and wholesale products from China at competitive prices. If you are interested in starting your own niche e-commerce by importing from China, please don't hesitate to CONTACT US for full-scale support.