Whether it is sending personal goods or importing products from China to the UK, it can be shipped by express, air, sea, railway, etc. You can choose any shipping solution based on your real situation. Whatever your shipping method is, you will care a lot about the shipping cost and time. Therefore, this article will detail the issues you are most concerned about.
Sea freight from China to the UK
If you send large items to the UK, and you are not urgent to get your goods, sea freight is very cost-effective. Compared with other shipping methods, sea freight is the cheapest shipping from China to the UK.
And it has fewer restrictions on the type, volume, and weight of the cargo than air freight and Express shipping. In practice, things can be shipped by sea, as long as:
the weight of a single piece of goods is no more than 5 tons
the length of the longest side does not exceed 3 meters
the goods can be put into containers after packaging
Sea freight shipping time
It is usually about 24 days from the second day of sailing to a UK port. It is just an approximate reference time. From different China ports to different ports in the UK, this time will fluctuate for some days. If there is a force majeure like a typhoon, it is normal to be delayed for a few days.
After the ship arrives at the port in the UK, the container needs to be unloaded from the ship and go through customs clearance. If there is no problem, your cargo can be released and delivered to your place. These normally take about a week.
Thus, for example, if you send from a port in Pearl River Delta to Port of Felixstowe, and need to be delivered to the door, it normally takes about 5 weeks to receive the goods.
Calculate sea freight cost
Sea freight costs depend on the details of the cargo and the specific addresses. Different freight forwarders also give different freight quotations. In addition, due to the impact of the epidemic, shipping costs are always changing. Therefore, here is only a rough reference based on our experience.
FCL and LCL sea freight cost
You can ship your goods by FCL or LCL. LCL (Less than Container Loads) means that your cargo volume is relatively small and only needs some spaces in a container shared with others. So the shipping cost is calculated according to volume, i.e. CBM. The FCL sea freight from Chinese ports to UK ports is about £138/CBM. If you have goods of 10CBM, the sea freight is £1380 (£138/CBM*10CBM).
FCL (Full container load) means that the entire container is only filled with your cargo and sent directly to the UK. It is suitable for large shipments. In practice, if you have 20CBM cargo, you can directly order a 20GP container. It charges freight by container types and numbers. For example, a 20GP normal container is about £3800. If you have 2 containers of cargo, the freight is £7600 (£3800*2).
From the above example, a 20GP container can hold goods of 28 CBM. So the average FCL price per CBM is £135, which is similar to LCL freight per CBM (£138). But this is just for your reference. In fact, the total cost of LCL is much higher than that of FCL, because the freight forwarder has to help you consolidate, unpack, and sort the goods. These involve additional labor and services, and the costs are not cheap.
Thus, in real business, cargo between 1-13 CBM is usually shipped by LCL, and cargo over 17CBM is shipped by FCL. If your cargo is between 13-17 CBM, you need to compare the two prices to choose a cheaper one.
When your goods arrive at the UK port and you go to collect them, you need to pay the local charge to the forwarder. It covers port maintenance fees, cargo handling fees, storage fees, operation fees, etc. Different forwarders calculate sea freight prices in different ways, so the local charges are also different. Some freight forwarders collect less on sea freight costs but more on local charges.
If you also want your goods to be delivered to your door, then in addition to paying the above fees, you need to pay the customs clearance fee and local delivery fee.
The customs clearance fee is fixed, around £95, excluding duties and VAT. Your goods can be delivered by truck or express. The price varies from the specific cargo properties and address. If you use a truck, usually for 10CBM goods, the truck delivery fee is several hundred pounds, depending on how far the delivery address is from the dock.
Here I have to stress again that due to the epidemic, sea freight rates are often changing. Therefore, when you estimate the shipping cost, you'd better ask your freight forwarder or agent for the latest price.
Want to get the latest sea freight rate and ship your cargo by sea?
Shipping time & cost of air freight
Compared with sea freight, air freight is more expensive, but it is faster. If your cargo is not large, usually less than 500kg, and you want to receive the goods quickly, air freight is suitable.
It usually takes 4 to 7 days to ship cargo from China to the UK by air, which includes 1-2 days for arranging shipment before dispatch from China, and 3-5 days for customs clearance in the UK.
Air freight charges by the weight of the goods. Here you need to distinguish two kinds of weight: actual weight and Volumetric weight. The actual weight refers to the weight of the goods on the scale, which includes the weight of the product itself and the weight of all packaging. We also usually call it gross weight.
The Volumetric weight is calculated according to the volume of the goods. It is not the actual weight of the goods. For air freight, the calculation formula is:
Volumetric Weight = Total Shipment Volume (cm³) / 6000 = Total Shipment Volume (CBM) * 167
The freight forwarder chooses the larger one of the actual weight and the Volumetric weight to charge the air freight. I will show you how to calculate the cost below with a real example.
Calculation example of air freight cost
You have a batch of goods, the actual weight is 90KG, the Volume is 1.5CBM, you want to ship from an airport in Shanghai to an airport in the UK, and the air freight price given to you by your forwarder is £7 /kg. In this case:
Pay attention, this is only the price of shipping from a China airport to a UK airport. If you want to deliver to your location, you also need to pay import customs clearance fees and local delivery costs. They sometimes account for a large proportion of the total shipping cost from China to your final destination in the UK.
The above is just a demonstration of calculating air shipping costs. Different places of origin and destination, types of goods, etc., will all affect the cost. In addition, air freight rates also change in real-time.
Therefore, if you have goods to be shipped from China to the UK by air, you can tell the freight forwarder or your agent the weight, volume, number of pieces, size, specific delivery location, and other information about the goods, and they can help you calculate the exact cost.
JingSourcing can provide real-time air freight rates and the best shipping solution.
Shipping time and cost of railway freight
Although the UK has left the EU, your cargo can still be shipped to the UK by railway freight. It is a popular shipping way from China to the UK. But it needs to be transited from other countries.
Starting from China, it has to pass through Kazakhstan, Russia, Belarus, Poland, Germany, Belgium, and France, across the English Channel, then reaches the UK. The route is very long, and the shipping time is about 1 month. The shipping cost is between sea freight and air freight.
Express shipping time and cost estimation
International Express shipping refers to sending goods through Express companies such as DHL, UPS, EMS, FedEx, etc. It's hard to say which Express company is better because they have their own advantages. For example, DHL has lower prices for small parcels of less than 21kg, while UPS is more cost-effective to send large parcels of more than 21kg. Which suits you best depends on your goods and the timeliness you require.
Usually, small batches of less than 45 kg are sent by Express. For example, suppliers use express couriers to send samples to the buyer. Because the package is too small.
It is very fast. Under normal circumstances, delivery from China to the UK only needs 3-7 days, but the cost is expensive.
Calculate express shipping cost
International Express is also charged according to the weight of the goods. Like air freight, it also compares the actual weight of the goods with the Volumetric Weight and chooses the larger one to charge the fee. But the calculation formula is slightly different from that of air freight. In international express shipping,
Volumetric Weight =Total Shipment Volume (cm³) / 5000 = Total Shipment Volume (CBM) * 200
In addition, it has the minimum charging unit, which is 0.5kg. That is to say, if your cargo is 0.1kg, it should be charged by 0.5kg. If you have 1.3kg of goods, it should be charged by 1.5kg.
What's more, the express company also divides weight into First Weight and Additional Weight. The First Weight is 0.5kg and the excess part is the Additional Weight. Their prices are different. Let's see an example.
Now suppose you have a batch of goods. The actual weight of the goods is 10kg, and the volume weight is 12.4kg. The price of the first weight is £20/0.5kg and the additional weight is £4/0.5kg. In this case,
This fee covers all the shipping costs from China to your hands. Please note that the price of international express shipping fluctuates greatly, and the actual price shall be subject to the latest price given by your freight forwarder.
If you directly contact the major international express companies like DHL, FedEx, and UPS to send things to the UK, the price is very high. The freight can be several times the value of your goods. Therefore, it is recommended to choose reliable international express shopping agents.
These agents ship lots of goods through express companies. They can get a cheaper price from these companies. So they can offer you 20%-50% off the official price. But the shipping time is the same. And some agents can also provide value-added services such as free packaging, warehousing, product inspection, etc. These will save you a lot on shipping costs.
Get real-time and competitive express shipping rates from JingSourcing.
Combined door-to-door shipping solution
There is another effective shipping method. I call it sea/air/railway freight plus express/truck, as there is no exact English name for it. By this way, your freight forwarder will help you first ship your cargo from China to the UK by sea, air, or railway. Then, he helps you go through customs clearance. After that, he entrusts a trick company or an express company like Royal Mail, DPD, or UPS to deliver your cargo to your door.
That is to say, your freight forwarder will complete all import and export processes for you. You can enjoy door-to-door logistics service, which can save you a lot of trouble.
Compared with traditional air, sea, and railway freight, this door-to-door shipping method can shorten the total shipping time. Because your freight forwarder can help you complete customs clearance more professionally and efficiently, and the goods can be delivered immediately after customs clearance. Compared with the international express, which is also delivered to the door, it costs less.
Therefore, it is one of the main methods used by e-commerce to directly ship their goods to overseas warehouses. These e-commerce sellers want to receive the goods quickly, but also feel that express shipping is too expensive.
JingSourcing can help you ship from door to door.
Cheap shipping methods for small parcel
ePacket is an economical international postal service for small parcels. It is mainly suitable for cross-border e-commerce sellers on eBay, AliExpress, Wish, etc. From China to most other countries, e-Packets have a weight limit of less than 2kg. But to the UK, you can send parcels of no more than 5kg.
Usually, it takes 7-15 days from China to the UK by e-Packet. It is a little slower than DHL, UPS, and FedEx. But the price is much cheaper. And you can also track logistics information. Therefore, many Chinese cross-border dropshipping sellers choose to use ePacket.
But the e-Packet has limitations on the size of the package:
Maximum size: Length + Width +Height <90cm, the longest side ≤ 60cm. If it's a round roll shape, its diameter x 2 + Length ≤ 104cm, and its length ≤ 90cm.
Minimum size: The length ≥14cm, the width ≥11cm. If it's a cylinder shape, its diameter x 2 + Length ≥17cm, and its length ≥ 11cm.
In addition, please pay attention that e-Packet does not provide compensation for items lost, delayed, or damaged.
This is another cheap shipping method from China to the UK. For example, if your parcel is 5kg, the shipping fee is about £32. And it is always charged by weight. But the weight limit of each package is 30kg.
As for the delivery time, it will take about 1-2 months by sea, and 10-15 days by air. And China Post would not guarantee delivery time. So it is suitable for those who are not in a hurry to receive the goods.
You can get the price of a Postal parcel from the calculator on the official website. But it is in Chinese and you need to use Google translate. You just need to enter specific information as shown below and you can get the results of the price.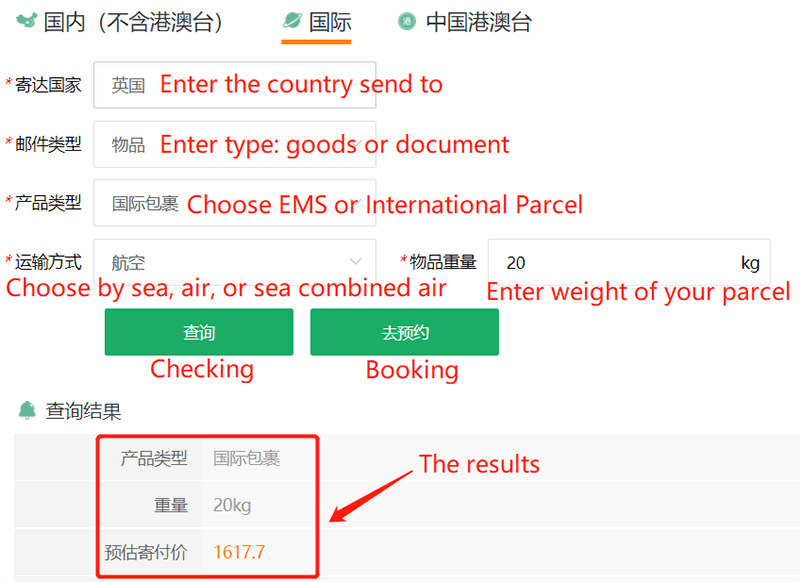 Hope this article can give you a better understanding of the costs and time of main shipping solutions from China to the UK. If you have any questions, just leave a quick comment below.
We are JingSourcing, a leading sourcing company in China. We can not only help you buy or customize products at competitive prices, but also arrange the best shipping solution to your destination. We can help you deal with any problems when importing from China to your country. If you need any help, feel free to CONTACT US.