In international logistics, freight consolidation is a common shipping solution. Today's post shows detailed information on freight consolidation. Let's take a look.
What is consolidation in shipping? (live example)
Consolidated shipping is also known as freight consolidation, assembly service, cargo consolidation, consolidation services, and buyer's consolidation. It is the process of combining goods from different importers into one full container or truck shipment.
Specifically, freight forwarders collect goods from multiple suppliers and ship them to the warehouse. They arrange goods in the same container or truck according to destination, size, weight, etc., and start shipping. Once these goods are delivered together to the destination, the forwarders break them down into original individual cargo and then deliver them to the different final destinations. As the following picture shows: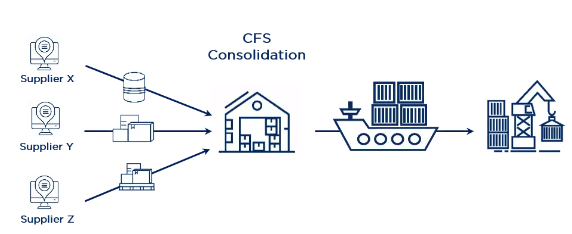 For example, we have 5 New York customers with a small volume of cargo to be sent at the same time. We can collect their cargo in our warehouse, contact our forwarder to combine all the cargo into one container, and ship them together to New York port. After arriving, each customer's cargo is sorted out and sent to their place.
How can you consolidate cargo with others? (2 common types)
Consolidated shipping can be applied to air, ocean, and land freight. There are two main types of freight consolidation: LCL and LTL.
LCL consolidation (air/ocean freight)
Less than Container Load (LCL) is the main method for ocean or air consolidation. If you choose sea freight, LCL refers to you sharing one container with other people to ship cargo by sea. If you choose air freight, your goods share a pallet with other people's goods, secured by a net or stretch film.
LTL consolidation (land freight)
Less than truckload (LTL) means several small shipments are combined into a whole truckload of goods and shipped together. It is the main method of ground consolidation.
For example, if you have a small amount of cargo and want to ship it by truck from China to Europe, you can choose this way. Another situation is that when your cargo arrives at the destination port, if it can not fill the whole truck, you can also combine it with other people's cargo and send them together.
Why do you need freight consolidation? (cost-saving)
You can share the freight cost with others by LCL or LTL. In this way, you just pay for your occupied space, so freight consolidation can save costs. Suppose you have goods of 10CBM needed to ship from China ports to UK ports:
The cost of LCL is about £138/CBM. Total sea freight is £1380 (£138/CBM*10CBM).
If you choose to rent an entire 20GP (28CBM) container, the cost is about £3800.
As you can see, freight consolidation can save a lot of freight costs and make full use of container space.
However, this does not mean that when you have less than one container or truckload, it is always cheaper to choose freight consolidation. According to our experience, the ocean cargo volume ranging from 1-13 CBM is suitable for LCL, and cargoes of more than 17 CBM with FCL are cheaper than LCL.
If your cargo volume ranges from 13-17 CBM, you need to compare the price to choose the cheaper way. Because the freight forwarder has to help you consolidate, unpack, and sort the goods, and it is not cheap.
---
In international shipping practice, consolidation is one of the transportation methods to be used. Because the volume of goods brought by many importers from China is usually small, which is always less than a container of goods.
If you want to receive the goods quickly, you can choose air consolidation. If you do not have high requirements for the time, you can choose sea consolidation. The cost will be cheaper than the former.
Are there any challenges to freight consolidation?
Although you can save costs by freight consolidation, it also has several disadvantages.
Longer time for arranging shipment
If you choose freight consolidation, you need to wait for other shipments to the same destination port. This waiting time is uncertain and it's easy to delay.
Lower efficiency for customs clearance
Higher risks of product damage and loss
Freight consolidation is also more troublesome when unloading. Because a container has different importer's goods, all the goods need to be separated and sorted after being shipped to the destination. In this process, it is easy to lose cargo by mistake.
---
In practice, many importers prefer cargo consolidation when their cargo is not large and they do not want to pay expensive express charges. The most important thing is to choose a reliable and competent freight forwarder to do it for you, so that your cargo can be shipped more safely.
JingSourcing can optimize your freight consolidation.
Whether you buy from us or not, you can let us arrange to ship for you. If your shipment is made by several factories located in different places, we can gather your goods at our warehouse and arrange to ship them together.
We have many long-term forwarders from whom we can get very competitive prices, and we can also provide the best shipping solutions for you. If you choose consolidated shipping, we can contact several forwarders to help you complete the consolidation and ship your goods on time to reduce delays. We can deliver to your door, from collection, shipping, and customs clearance to delivery, so you don't have to track and solve the logistics problems.
In addition, we can help you with one-by-one quality control to ensure the product quality before shipping out of China if you need.
Get Your Cargo Consolidated by JingSourcing