In international trade, the fumigation certificate is an important document in customs clearance when your cargo or packaging needs disinsectization treatment.
Today's post shows the related information of this certificate in detail. Let's take a look.
What is a fumigation certificate?
The fumigation certificate, also known as the pest control certificate, is a document for confirming that goods and wooden packaging that are easy to spread insects have been fumigated and disinfected. In international trade, many countries will ask for this certificate to prevent insects from harming the local forest resources.
What countries require it?
The fumigation certificate is mandatory in the EU, the UK, Canada, the United States, Australia, and other countries. The United States, the UK, and Canada require an official fumigation cert issued by the Customs and Commodity Inspection Bureau. Southeast Asian countries, the Middle East India-Pakistan Line, Africa, and other regions do not require wood fumigation, but imported wood products can't have barks.
What products need a fumigation cert?
Whether by air, sea, or other means of transportation, all goods that are easy to spread insects (e.g. rice, peanuts, wood, etc.), log packaging, and wood materials for reinforcing need fumigation. The purpose is to ensure that there are no insects or insects eggs in the wood through disinfection.
For example, log wooden boxes, wooden frames for fixing, and log wooden pallets are common items. In addition, your log packaging should be marked with the IPPC logo in a prominent position, avoiding red or orange color.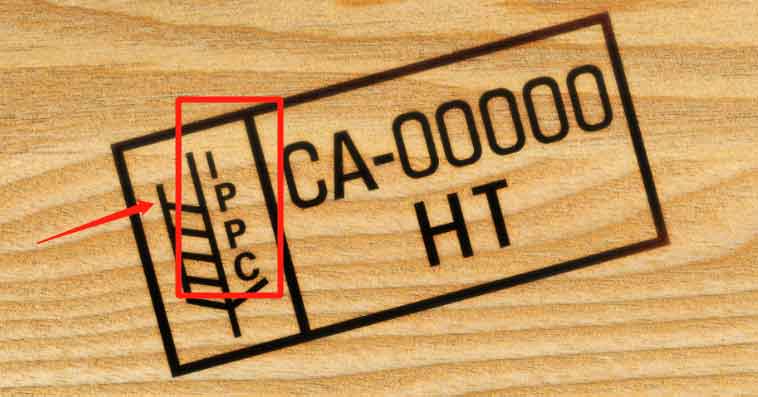 Note that wooden boxes and pallets made of processed wood-based panels (e.g. plywood, particleboard, and fiberboard) do not need fumigation. In addition, painted furniture, heat-treated wooden trays and tools with solid wood handles don't need fumigation either.
Two ways of fumigation: drug treatment and heat treatment
The drug treatment is to evenly spray the chemical agent (mainly Methyl Bromide) in the container or other confined spaces and then fumigate for 24 hours to kill the insects. Drug fumigation requires the outdoor temperature to be above 10 ℃.
The heat treatment is to kill the virus, bacteria, and insects under high temperature and pressure for more than ten minutes.
Fumigation certificate sample and requirements
Suppose your log cargo needs to ship from Shenzhen, China to the USA. There are three types of fumigation certificates.
The first is issued by national customs. Operators will send your cargo to a unified fumigation yard. And then the Customs will recheck and issue the certificate after confirming that there is no error.
The second is issued by Shenzhen Commodity Inspection Bureau. Your cargo needs disinfection in a unified fumigation yard. 
The third is issued by agents with fumigation qualifications. This way allows agents to fumigate cargo at home, which is very convenient.
Note that international customs usually recognize the first and second types of certificates for the export of LCL or FCL log products, as shown in the figure below. You can use the third one when importing to some countries (e.g. Singapore) that do not have strict requirements.
If you import wooden cargo to some countries with strict requirements, for example, the United States, I suggest you choose the first and second types. Because your cargo may be detained during customs inspection.
The following three requirements must be met when your cargo needs fumigation.
Your wooden packaging must comply with IPPC requirements without any barks and wormholes. Your agent will help to remove the barks if any. If there are any wormholes, you need to replace the packaging.
Fumigation time must reach 24 hours and 4 hours for detoxification, and then your cargo can be sent to the port.
The validity period of the fumigation certificate is 21 days. That is, your goods must be loaded on board within 21 days after fumigation. Otherwise, it needs fumigating again.
How to get a fumigation certificate?
A reliable and experienced freight forwarder will work out the most suitable fumigation program according to your cargo type and destination.
He will collect documents including the packing list, the commercial invoice, the contract, the power of attorney, etc., and apply to the local Commodity Inspection Bureau 7-8 days in advance. After disinfection, the Commodity Inspection Bureau will provide a fumigation cert for your agent, and you just need to pay for it.
Cost of getting a fumigation certificate
The cost of a fumigation certificate consists of an operation fee and a certification fee. The latter price varies from company to company. It is relatively fixed ranging from $30 to $50.
The operation fee is charged by container type or cargo volume. The type of fumigation and the disinfected surface area are both factors that affect the final price. Different agents charge at different standards and rates.
For example, some agents charge $85 for a 20ft container and $170 for a 40ft container. Some agents charge $100 per shipment. If you want to know the exact fumigation price, you can ask your forwarder who will give you an accurate quotation.
As a leading sourcing company in China, JingSourcing has helped 4000+ importers to source products from China. We have long-term cooperative freight forwarders who can arrange shipments and different documents such as fumigation certificates for you.
Contact JingSourcing to Support Your Product Sourcing