About 80% of wigs in the world are made in China. And Chinese hair factories are well–known for hair availability and low prices. In this article, I will give you the most helpful information about hair manufacturers to boost your hair business.
Where are the wig suppliers in China?
China's wig industry is mainly concentrated in the following four regions:
Xuchang, Henan province
Xuchang is the world's largest wig production and sales place, known as the world's wig capital. There are over 5000 hair factories, mainly producing hair weft, traditional hair extensions for thin hair, etc. They provide real hair products and synthetic hair, most of which are fashionable European and American styles.
Ligezhuang town in Qingdao, Shandong province
There are more than 300 hair factories in Ligezhuang town, focusing on high-end wigs such as hair sets, hair wefts, hair extensions, etc. Most products are hand crocheted, and mainly sold in Europe and America.
Taihe county, Anhui province
There are more than 400 hair manufacturers here, and their products are sold all over the world. The products mainly include curly hair pieces and straight hair wefts.
Guangzhou, Guangdong province
There is a wide variety of wig products in Guangzhou, and most of the suppliers are gathered in one place, so you can quickly find all the hair products you want, such as straight wigs, curly wigs, wig accessories, etc.
How to find reliable hair suppliers in China?
Figure out your demand
There are many methods to find a hair supplier online, such as Google search, Alibaba, etc. Don't spend too much time finding hair factories. If you purchase 3-5 types of wigs and wig accessories, 150 pieces per style, you just need to find a supplier that can take your order. At this time, the supplier is basically a trading company, because the factory requires a large order quantity.
Judge if suppliers take you seriously and professionally
After listing suppliers looking good, you can evaluate if they take you seriously through communication, such as whether they reply to you on time, and whether they can answer clearly when you ask some professional questions related to wigs. Meanwhile, you should know a reasonable price scope by comparing their quotations, and then narrow down your supplier list.
Ask for the hair sample and test the quality
Before you place the order, you should ask suppliers to send samples. Then you can check the quality through the following aspects:
Touch the hair. Wigs of good quality feel smooth and silky with natural brightness. When you comb them, hair loss won't occur. And wigs of poor quality have unnatural brightness and feel rough.
See the crochet precision of the simulation scalp in wigs. A good crochet will hook hair in each eyelet, which looks more natural. And it will look sparse if hooking a few hairs with four or five eyelets. You can check the following picture to find the difference.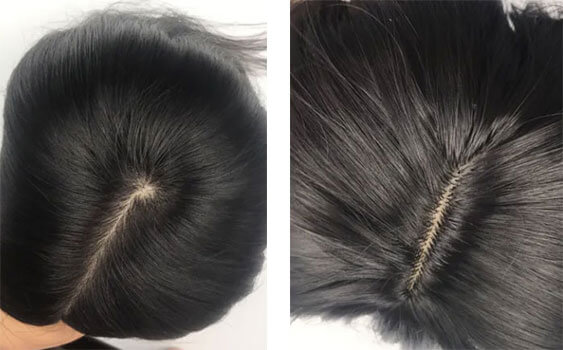 Conduct the burning test if you request real human hair. Real human hair smells like burnt feathers when burned. Chemical hair produces a plastic smell when burned. You can also check by washing wigs. Synthetic hair tends to retain the smell after washing, while natural hair is mostly odorless after a few washes.
Measure the length of hair. You can grab a strand of hair from the top of the wig, and measure its overall length to see if it matches the supplier's description, or if it is within the reasonable error range.
After checking the quality, you can choose the samples you are satisfied with, and then place an order with the corresponding supplier. Please note that leave 1-2 suppliers for backup.
Jingsourcing can help you wholesale hair from China
Jingsourcing has lots of long-term cooperative suppliers who are from the above industrial cluster. You just need to tell us what hair product you want. Whether real human hair, synthetic hair, curly hair, or straight hair, we can help you source all of them. We will first select suppliers meeting your requirements, negotiate on your behalf, pack their samples, and send them to you. In this way, you can compare the samples at the same time, saving lots of time and energy.
If you want to customize wigs and have a small MOQ, factories may not take your order seriously or directly refuse your order. We can help you find a suitable factory in our database. We maintain a good relationship with our suppliers, and they are willing to produce for us.
In addition, we can also help you arrange factory audits, quality control, and customized packaging if you need.
Want to import hair from China?