Nowadays, wigs have become a daily necessary fashion product in some countries, such as Europe, America, Africa. Through years of improvement and development, the wig material is also more and more natural. The material also has a good performance in appearance and comfort. There are 3 main wig materials on the market as follows, each one has its shortcomings, I'll give you a detailed comparison.
Synthetic hair is the most common type of wigs on the market. They have gone through various improvements over the years. Now, it can be hard to even differentiate between good quality synthetic and natural hair.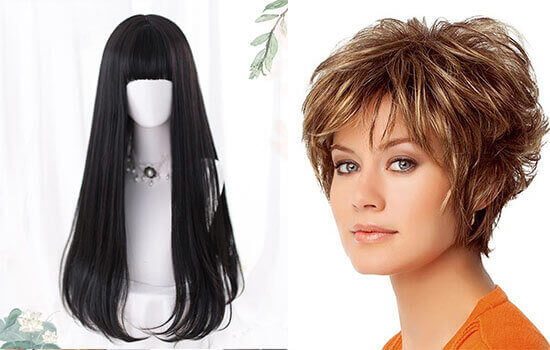 Pros of synthetic wig making materials
Less styling needed
Synthetic wigs usually come pre-styled. Even after you wash, it bounces back to the original shape, meaning less maintenance work for you. You can wear it directly with no need to spend a lot of time in dealing with wigs every time , which is convenient. 
Weather-resistant
Since synthetic wigs are made of "artificial" materials and chemicals, they are more weather resistant. Whether it is humid or cold, a synthetic wig will often retain its texture and style.
Affordable
Synthetic wigs are the lowest-priced options available. So, you can save a lot of money. It thus enables you to gather a variety of wigs that you can use to switch up your style constantly.
Variety
Synthetic wigs provide more variety because they come in numerous colours and styles. Unlike natural hair, you can get synthetic options in almost any color you can think of.
Cons of synthetic wig making materials
Short life span
Synthetic wigs are infamous for their short lifespan. Unlike other options, synthetic wigs only last about 4-6 months if well taken care of. Having to replace them every few months makes it more expensive in the long run.
Not versatile
You cannot easily restyle or even recolor synthetic wigs. The fibers used easily disintegrate, especially when you apply extra heat, and cause the wig to "melt."
Unnatual appearance
Synthetic wigs tend to come with an unnatural shine, especially the very cheap ones. This excess shine makes it look very artificial, which you probably do not want.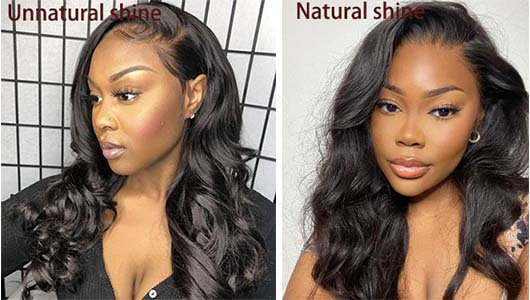 Types of synthetic wig material
Synthetic hair comes in different types, depending on the fibers used. These, therefore, vary in appearance, price, etc.
Low-temperature fiber
Low-temperature wigs can be heated at 80 degrees without deformation. The biggest advantage of low-temperature silk is that you can make some exaggerated styles and the cost for low-temperature wigs is very low.
High-temperature fiber
High-temperature fiber is a recent industry trend that has become a popular option. It can withstand high temperatures. So, you can style it with hair irons and ceramic straighteners.
Common types include Toyokalon and Konekalon, which are of much higher quality.  
The hair reacts very much like human hair, and it can be tough for people to differentiate.
Protein fiber
Protein fiber wigs are the closest alternative to human hair. These wig fibers contain keratin, which is the protein found in your hair. Therefore, it acts like your natural hair, having the same thickness, silkiness, tangle-free, and even lasts longer.
Since they are more natural, protein fiber wigs can also stand higher temperatures. This makes it easy to style and maintain.
As the name suggests, human hair gives a more natural look and feel. They come from 100% natural hair, and you need to treat it and style it just like you would with your natural hair.
Pros of natural hair
Comfort
Besides good appearance, the comfort for this type of wig is the best among different types of wigs, which is an important aspect end customers will focus on.
Versatility
Human hair wigs can take on different styles. Just the way you would your hair, you can iron, curl and straighten the wigs. In addition, you can also dye it.
Durable
Natural hair wigs last longer than synthetic options. When handled and kept correctly, an authentic natural hair wig can last up to 2 years. This is more cost-effective for you in the long run.
Good texture
Human wigs come from real hair, which means they can be in textures like straight, wavy, curly, etc. The body also looks and feels very real. It thus helps you to attain an incredibly natural look.
Cons of natural hair
Expensive
Natural hair wigs are more expensive than synthetic ones because they are made from real hair. This makes them inaccessible to many people.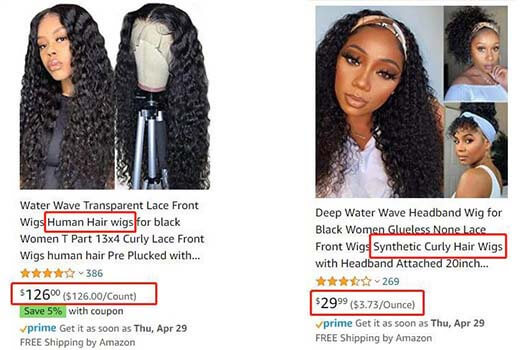 High maintenance
Since natural hair wigs need regular treatment, they can be quite hard to maintain. You must regularly wash it, blow-dry, condition, etc. Also, it does not retain shape. So, you must restyle after every use.
Types of human hair
There are several types of human hair you can opt for. The most common ones include: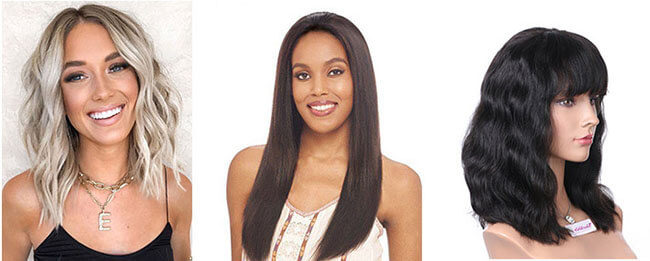 Chinese hair
At present, Chinese hair is the most commonly used raw material for making wigs. The hair is relatively hard. It can be bleached and dyed after over-acid treatment. It is more popular in the United States and Europe.
Brazilian hair
This hair is one of the most popular globally. It has a beautiful bouncy, thick, yet soft texture. Brazilian hair also makes excellent curls, especially when wet. Since it is pretty thick, you need fewer bundles to create a good look.
Indian hair
This is the thickest human hair option you might find. Because of its texture and color, it suits most natural hair types like African American kinky textures.
But it is easy to fracture after chemical treatment. So it doesn't have a good performance in plasticity.
European hair
The price for European hair is relatively high. But it is soft, so it is not the ideal material for bleaching, usually, it is used for hair extensions.
Peruvian hair
Peruvian hair comes with a good blend of thickness and silkiness, which gives it a smooth, bouncy texture. It is also popular because it blends well with various hair textures and looks quite luxurious. Like Brazilian hair, few bundles would still give you a great look.
3. Blended human hair and fibers
This type of wig making material has real human hair mixed with synthetic fiber hair. They are becoming increasingly common among users.
Blended wigs are relatively cheaper than human hair, making them a great alternative. The blends also have a longer lifespan than regular synthetic hair.
However, it can be easy to mistake such wigs for human hair and thus get cheated.  So when you buy such kind wigs, you should pay attention to selecting a reliable suppliers.
4. Which is the best wig material?
Finding the best wig material depends on each one's individual needs. Below is a comparison of these three hair types to help you decide which one works for you.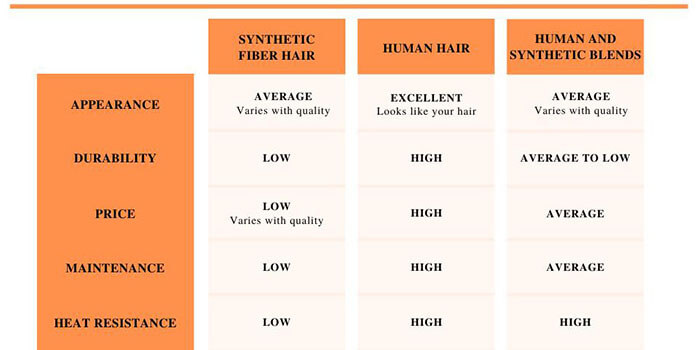 Based on the numerous pros and cons, human hair seems to take the crown for the best wig making material. It has all the elements you would need in a wig. However, it is more expensive than the others. Not everyone accepts it.
Factors to consider when choosing a wig material
There are two common ways to buy wigs, online websites or offline channels. No matter which way you use, you need to consider the following factors. 
Budget
The different wig materials vary in price. You can get a good synthetic wig cheaply, but a human hair wig would cost you dearly. Yet, it becomes cheaper to buy a long-lasting human hair wig than keep buying cheap synthetic ones in the long run.
No matter for human or synthetic hair, the better the quality of your wig, the more expensive it will be.
Usage needs
Human hair: This is the best wig material for working people, public figures, and the like. Because of their beauty, durability, and versatility, many people buy them as an investment to maintain a certain appeal.
Synthetic hair: Consider buying synthetic wigs if you need them for short-term purposes and are tight on budget. They are not easy to style and often look unnatural. So, they work best for more casual use.
Hair blends: Hair blends is an ideal alternative for human hair wig because of their price advantage. If you have a limited budget, you can try it.
Nowadays, there are still many problems with wig making material. Although human hair looks "perfect", the price is expensive, which is a typical problem.
Synthetic wigs are also still popular among some countries that have a rigid demand for wigs such as Africa.
According to official data, China is still the largest exporter of wigs in the world. In recent years, we have helped many foreign friends purchase and customize wigs from China. Some of my clients in America and Africa run a good wig business.
If you want to buy or customize wigs from China, feel free to contact us. Or share your stories with us.