If you're an e-commerce seller, you'd better know these different logistics modes, like 3PL, 4PL logistics, 5PL, and freight forwarders. Their various solutions of logistics will have different influences on your business.
We'd explained earlier what 3PL is, but you may be confused about the difference when it comes to 3PL and 4PL. So this post will focus on the difference between 3PL and 4PL, and you can consider which is better for your business.
What does 3PL mean in the supply chain?
Third-party logistics (3PL) provides a variety of logistics services to support the movement of goods from origin to destination.
Unlike freight forwarders who only provide transportation services, 3PL service providers also have warehouses and distribution networks. They can receive, store, and manage products for customers, as well as handle packaging, sorting, and distribution to end consumers.
Amazon FBA is a typical 3PL model. It allows sellers to store their products in Amazon's warehouses. When customers place orders, Amazon takes care of selecting the products, packaging them, and delivering them directly to the customers. This means sellers don't have to handle the fulfillment process, such as packaging and logistics.
Additionally, Amazon provides a range of other services, including customer support, returns processing, and logistics tracking.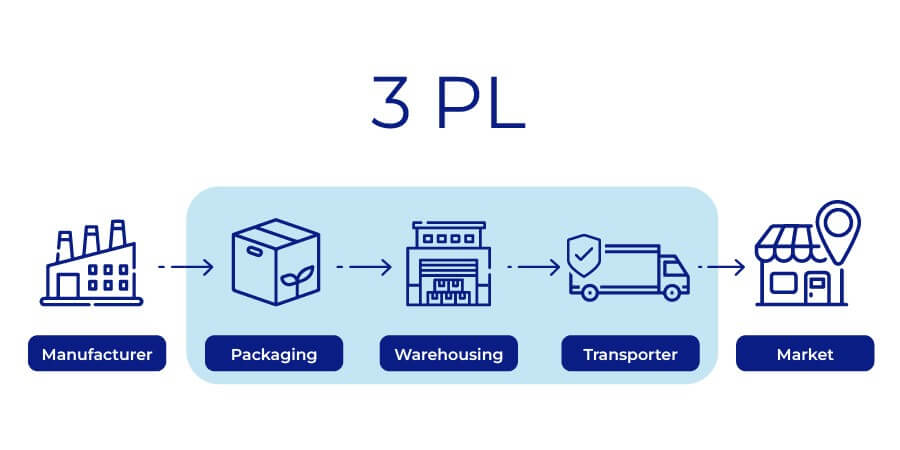 Pic Source: Conde Fernandez
What is 4PL in the supply chain?
Fourth-party logistics (4PL) further enhances the role of 3PL by taking on comprehensive supply chain management and coordination.
4PL providers work closely with clients, understand their business needs, and coordinate the management of various 3PL providers to ensure smooth operations and collaboration at every step. 4PL providers also provide real-time data analysis through the use of advanced technology and information systems, helping clients make more accurate decisions.
Some well-known 4PL logistics companies include DHL Supply Chain, Kuehne + Nagel, DB Schenker, and UPS.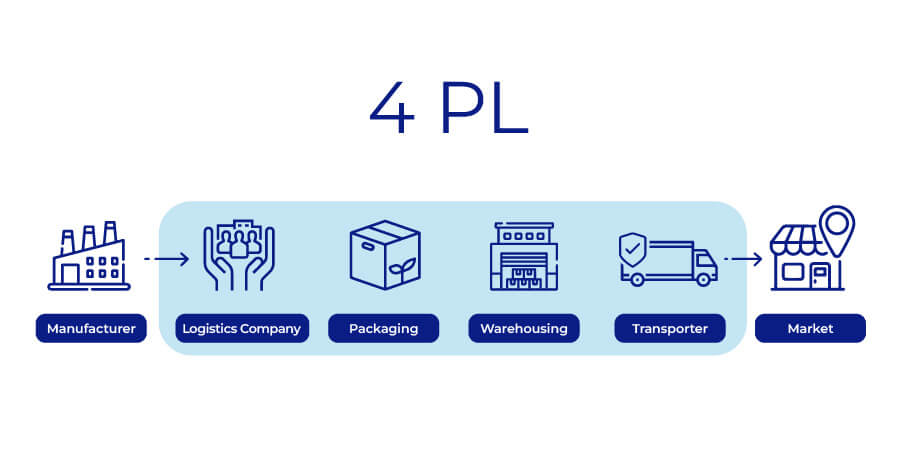 Pic Source: Conde Fernandez
3PL vs 4PL: key differences
3PL providers focus on just the logistics, such as transportation, warehousing, and packaging. They typically serve as operational service providers, responsible for handling day-to-day logistics tasks to meet customer requirements. On Google, there are many 3PL service providers available like eFulfillment Service. 
4PL providers, on the other hand, have a more strategic and comprehensive approach. They are dedicated to managing supply chain partners, including 3PL providers, optimizing supply chain processes, and integrating information and technology systems.
Should you work with a 3PL or 4PL?
Many importers may think that 4PL is always better than 3PL. However, that is usually not the case. Choosing 3PL or 4PL is based on your situation.
3PL is typically suitable for startups and small businesses. For example, many small Amazon sellers who want to import products from China choose 3PL companies to handle their logistics, so they can focus on their core business without having to worry too much about logistics details.
On the other hand, 4PL is more suitable for enterprises with complex supply chain needs and larger scales. 4PL providers can assist these companies in optimizing logistics processes, reducing costs, and improving efficiency through strategic planning and comprehensive supply chain management.
After reading today's post, I believe you now clearly understand 3PL and 4PL. As long as you import from China, you can rely on Jingsourcing to handle your logistics matters.
We are a sourcing company based in China and have established good partnerships with many logistics providers. We can also take care of tasks such as labeling and packaging for our clients like Amazon sellers. With our services, you can achieve cost savings in logistics, enhance transportation efficiency, and guarantee the timely and secure delivery of your goods to their destination.
Get Flexible Logistics Solutions