There are a great number of materials for hoodies. Here I list 10 common types of hoodie fabrics. You may discover the pros and cons of each one. And finally, you can decide which ones are worth investing in.
What to consider before customizing your hoodies?
When you purchase or customize hoodies, you'd better consider the following factors.
Durability
The top to be considered when you make hoodies is durability. You need to make sure the fabric is durable enough to survive being worn and withstand numerous washes in washing machines.
Breathability
Another important factor is breathability. If you want to make hoodies for strenuous exercise, they should have a good ability to absorb perspiration. And the material must handle sweat well. Similarly, hoodies designed to keep warm in winter also need breathability.
Comfort
Comfort is a must for all types of clothes. It requires you to choose comfortable and non-irritating materials for keeping cozy. Meanwhile, it should also provide unrestricted movement, striking a balance between warmth and flexibility. If not, it will not be comfortable to wear.
Warmth
Warmth is a must for winter hoodies. The larger the GSM, the thicker the fabric and the better warmth is kept. Winter hoodies always need 350-400gsm, while spring and autumn hoodies require 250-300gsm.
10 Types of hoodie materials
Different materials have various features, so types and functions of hoodies made are different.
Cotton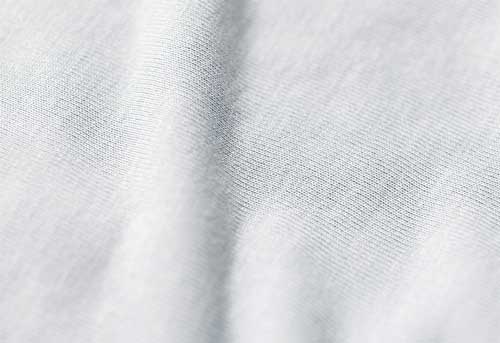 Cotton is a natural fiber that is kind to the skin and has incredible sweat-absorbing abilities. The material helps in keeping the body dry, even during intense activities. It is soft, comfortable, and safe to wear. This is why cotton is the first choice for children's hoodies.
Moreover, cotton is lightweight and drapes well, so it would make a perfect light summer hoodie and casual wear. As it can also keep warm well, it is suitable for making winter hoodies.
However, cotton hoodies easily shrink and deform after washing. Thus, most manufacturers choose to blend it with various other fibers like polyester to improve hoodies' durability.
Polyester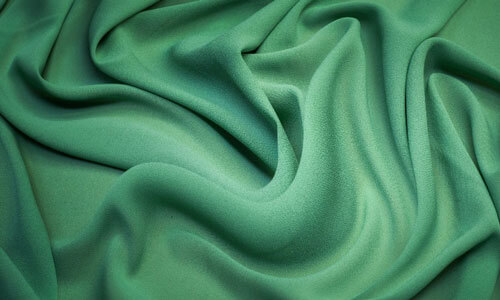 Polyester is a synthetic material that is so popular for all types of garments. Hoodies made of this fabric are not easy to fade and have high strength and resilience. So they are highly durable and wrinkle-resistant. Meanwhile, polyester is not easy to mildew. But it doesn't have a good ability for water absorption and easily produces static electricity and absorbs dust. Besides, its breathability and dyeability are also not good.
Typically, garment factories won't use 100% polyester to make hoodies, because the higher the content of polyester, the easier the hoodies are to pill. Manufacturers usually blend it with other synthetic fabrics and natural materials, such as cotton, silk and wool. For example, you can add spandex or lycra to the mix and then get a super stretchy fabric suitable for athletic hoodies.
The usual ration with cotton is 50%-60%. It not only keeps the softness and breathability of cotton, but involves the durability of polyester. These hoodies are not easy to shrink and have a lower cost.
Nylon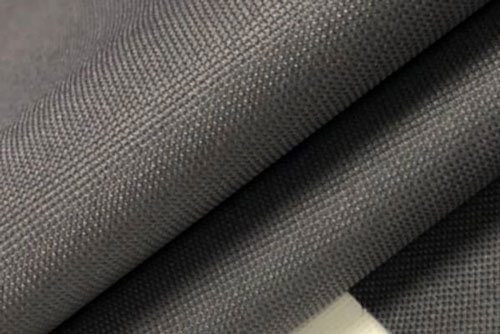 Like polyester, nylon is also a synthetic fabric with good strength, resistance, and resilience. It also has strong wind resistance, which makes it very suitable for a winter hoodie. Nylon looks glossy and gives a good drape to the garment. You can use it to make party-wear hoodies. Moreover, because of its good water resistance, hoodies made of nylon are very waterproof.
Please note that this fabric has low breathability and easily produces static electricity.
Spandex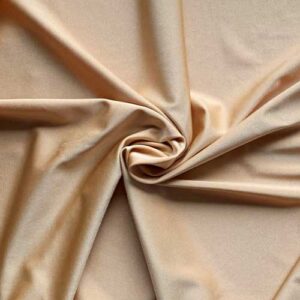 Spandex is a greatly flexible synthetic fabric with stretch. It is not usually used alone, but blended with other synthetic or natural fibers. While mixing, it doesn't change the appearance of materials, but improves their stretch. Spandex is not easy to wrinkle or fade. It feels soft and smooth, making hoodies a great comfort to wear. Many manufacturers mix spandex with knit fabrics to make hoodies more resilient. The mixing ratio is usually 3%-5%.
Wool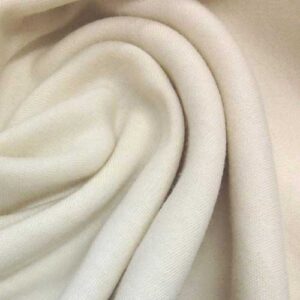 Wool has a strong ability to keep warm, a good choice for making hoodies in winter. As a natural material, it is perfect in durability, softness, and breathability. But some people are easily allergic to wool, so you can choose Alpaca wool which is hypoallergenic while manufacturing.
Wool costs a little more than cotton. A wool hoodie needs 22$ while a cotton hoodie just needs 9$-11$. One more thing, wool easily shrinks. To solve this issue, you can add polyester when making hoodies.
Rayon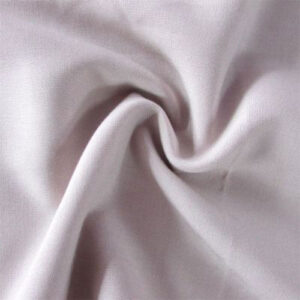 Rayon is a kind of artificial fabric made from natural plants. It is used to imitate the feel of other materials such as silk, wool, cotton, and linen. Rayon is easy to dye, and feels soft and smooth. Hoodies made from this fabric are not easy for pilling or producing static electricity. But rayon is not good in resilience, durability, and wrinkle resistance. This fabric is better for making inexpensive hoodies, and sports hoodies for the gym.
Most hoodies will use two or more fabrics to perfect their qualities. And it is also not eco-friendly if using 100% synthetic materials.
In addition, the above materials could form some new types of hoodie fabrics through different processing methods. Here I explain the 4 most common types.
Jersey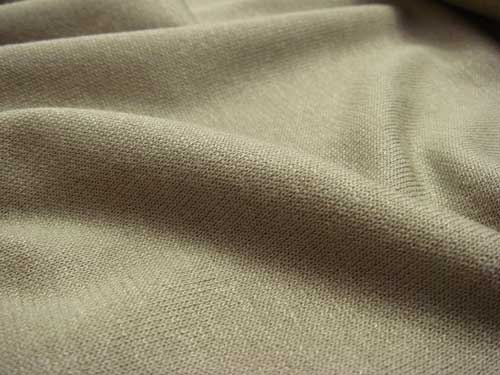 Jersey is a type of stretchy, knit fabric that is made from cotton, wool, or synthetic fibers like polyester. It includes a single jersey and a double jersey. Jersey is the most popular hoodie fabric with good softness, durability, and breathability. It also features smoothness and lightness. Its firmness is related to the knitting density. The higher the density is, the firmer it is. But it is not very glossy and is easy to pilling.
With its simple manufacturing technology, a jersey doesn't cost too much. It is often used in sportswear manufacturing because it's stretchy and breathable, making it ideal for active wear. And because of its good stretch, it is also better suited to a closer-fitting hoodie with a casual and relaxed style. Jersey fabric is good for summer and winter, depending on the yarn.
French terry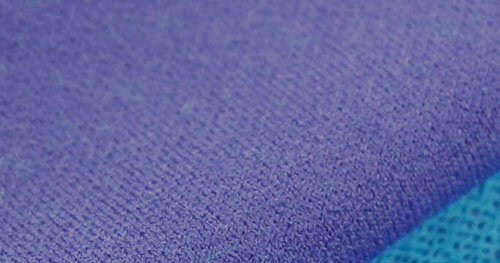 French terry, also known as terry cloth, or terry toweling, is a soft and comfortable fabric. It's normally made from cotton or other textiles.
It is also thick, warm, and breathable. French terry is commonly used for winter hoodies. Moreover, it has good resilience and water absorption. It is a good choice for making comfortable sports hoodies.
You can choose the raw materials for French terry according to your desired hoodie types. French terry made of polyester is less comfortable than that of cotton, but has better durability and stability. The production process of French terry is not very complicated, and its price depends largely on the kind of fabric chosen to make it.
Fleece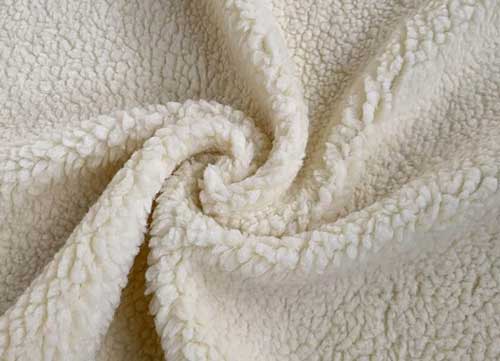 Fleece is one of the most popular fabrics for winter hoodies. It's a knitting fabric usually made from polyester, which makes it very durable and even relatively waterproof. In the making process, it has tiny air pockets that trap body heat to help keep people warm along with being soft and cozy. Fleece is not easy to shed or pill, and it also has good resilience.
Hoodies made from fleece hold good stability and are not easy to fade. When blending it with lycra, it is a good choice for making running or athletic wear.
Fleece costs a little higher because of its complex manufacturing process. Please note that some fleece may be made of poor-quality fabric. So when you use it to make hoodies, be careful to distinguish between them.
Corduroy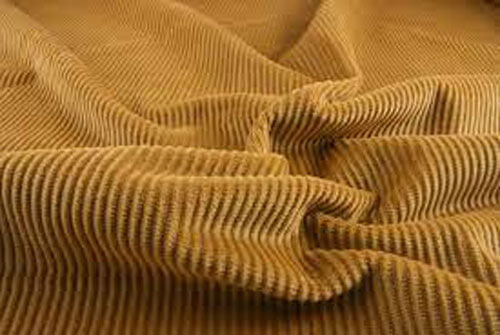 Corduroy is a durable fabric with a ridged pattern woven in a variety of widths. It could be made from any of the major textile fibers. For example, you can add spandex when making corduroy, then the material will be more comfortable. Corduroy is soft and thick with good warmth and breathability. It also features great water absorption, very suitable for making leisure hoodies and winter hoodies.
Compared with fleece, corduroy doesn't cost too much. And it is the current trend for corduroy hoodies. But this material is easy to tear.
Polyester hoodie vs cotton hoodie
Polyester and cotton are the most popular hoodie fabric. They both have pros and cons.
Compared with cotton hoodies, polyester hoodies are lighter and not easy to shrink or wrinkle. But because it is a synthetic material, polyester has poorer breathability and softness. If people with sensitive skin wear 100% polyester hoodies, it may cause irritation.
As for the price of raw materials, cotton is much more expensive than polyester. Thus, when you purchase or customize hoodies, you can choose the most suitable material according to your budget and target customers' favor.
When it comes to printing, polyester hoodies mainly use heat transfer, which is not very difficult. And polyester hoodies are more easily dyed than cotton hoodies. Cotton hoodies usually use DTG printing. It costs more than heat transfer.
Get Started with JingSourcing