When you want to buy or sell tents, a key part of this kind of product for you to learn is the making materials. There are various materials used for making tents, and each material has its features and applicability.
This article will list common materials and fabrics used for making tents. We hope you can have a better understanding of tent materials after reading.
What a Good Tent should be Like?
Before listing tent materials, you should have a basic understanding of what the features of a good tent are. According to the characteristics it has, you will know how to choose the tent materials better. This part will list some typical features of a good tent for your reference.
A good tent should be sturdy and durable. If the tent is not sturdy or durable, then it would be easily influenced by external factors, deform and collapse when used by outsiders or on some special occasions.
To be specific, this is the most basic feature of a tent. A tent won't deform or collapse easily when facing gale or influenced by human activities with the two basic factors.
Small Size, Light Weight, Portable
Use occasions of tents are basically in outside and users need carry it to outdoors. Generally, tents are regarded as simple houses for convenient and temporary use.
So in this case, the volume and mass should be in small size, improving practicality as well. If it is too heavy or too large to occupy more space, users would be more likely to refuse to carry the tent to go camping or other outdoor activities.
On the other hand, different features of materials decide the volume and mass of tents. So when you choose tents or tent materials, you should consider them as well.
This feature is also a key part of the tent. Tents are usually used outdoors; outdoor humidity is much higher than indoors, or in case it may rain. If the waterproof function is not good, the tent would be easy to dampen and mold. Things put inside the tent would be affected as well.
So this factor requires tents should have a fine waterproof function.
However, there is not completely waterproof. If the tent is not opened totally, there would be a pools zone on the tent. It would cause water seepage inside the tent cloth, even dropping in serious cases.
This requires the tent in good tension. A good tent should have good tension. Good tension means good support and stability. Without good tension, the tent would be quite hard to open and build.
Outdoors activities cannot avoid sunniness, so the UV-proof performance of a tent needs to be considered as well. This feature is relevant with tent materials and the colors of tent cloth. 
Flammability Certification of Tent Fabrics
Many tents are used for camping out in the wild, so the flammability of tent material is important as well. This part will tell you two flammability tests for your reference.
NFPA 701 Test
This test is used for fabrics used on public occasions according to the standards set by NFPA (USA). It requires these fabrics to be inflaming retarding. The process of this test is to measure and demonstrate how these fabrics react when exposed to the ignition source.
CPAI-84 Test
CPAI-84 is a professional testing method for the fire resistance of tent materials, especially the fabrics used for making camping tents. Manufacturers and suppliers of tent fabrics must send all materials used for making tents to a third-party organization to test flame retardants.
9 Types of Tent Cloth Materials
Usually, a tent is made up of different structures. Take the camping tent as an example, except for the structural support, it mainly includes the outside, inner and bottom parts of a tent. So each part has different materials to meet the needs.
According to the features mentioned above, this part will list common types of materials used in making tents and explain their pros and cons. We hope it will helpful for you to find and choose your ideal tent materials.

The cotton canvas is a traditional fabric used for making tents. Many large tents would use this material as the tent cloth.
Pros
Breathable, comfortable and airy, not being stuffy
A good insulator to keep warm during the night
Good abrasion resistance and durable
Various beautiful colors for choosing
Cons
Heavy, not light or portable enough
Easy to damp and mildew if no drying in the air after raining or leaking water
High cost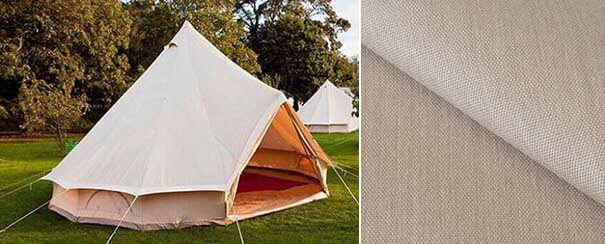 This tent fabric has been used for making tents for a long history. It was originated from British and is still popular in making different commodity products.
Pros
Waterproof
Thick and solid, durable and resistant
Made into composite fabrics with various materials according to demands
Cons
Heavy
Large in size and require more space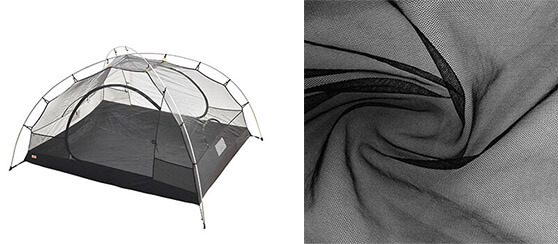 This tent fabric is mainly used for making inner tent cloth but is not suitable for the outside or bottom parts of a tent.
Pros
Light weight, small size and portable
Thin and breathable
Cons
Only used for inner cloth
Not watertight

Polyester is a kind of composite material used widely for producing many products in our daily life. It is a common and popular tent fabric in the market. Usually, the bottom and the outside cloth of tents are made of this material.
Pros
Good abrasion resistance and durable
Light and portable
Economical and cost-effective
Ultraviolet-proof protection well
Waterproof and moisture-proof, and quick-dry
Cons
As a composite chemical material, easy to be smelly
Poor breathability and usually made as the outer layer of double tents
Not a good insulator and not ideal for holding temperature
Not anti-static and poor elasticity
It may be too light so that being influenced by the weather, like a high wind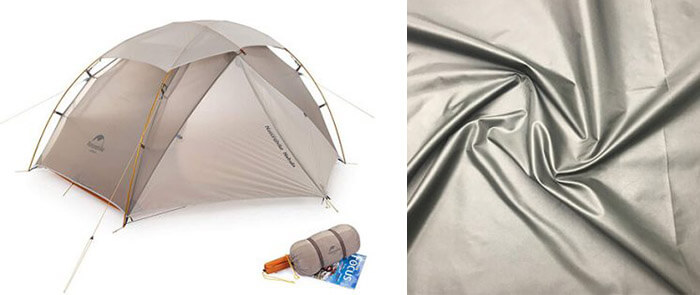 Like the polyester material, nylon is also a common and popular composite material used for making tents. It is softer and smoother with a brighter gloss.
Pros
Extremely light and easy to carry
Cheap and cost-effective
Not absorbing water
Not easy to deform or shrink
Cons
Need extra coating to make it more durable and waterproof but add costs
Not very breathable
Weak in ultraviolet protection
Cuben Fiber, also called Dyneema, is a kind of polyethylene material. It is a new fiber material with high strength. This material is usually used for making the outside layer of tents.
Pros
Good at ultraviolet protection
Waterproof and not absorb water
Light weight, small in size and portable
Ripstop, sturdy and Not easy to tear
Cons
Not a good insulator to resist heat
Expensive
Poor stretch
Only available for some premium brands

Polycotton is a kind of composite material, a blend of polyester and cotton. It combines with advantages of both materials to produce a better fabric for making tents.
Pros
Lighter than canvas and more sturdy
Waterproof and nice weather resistance
Better performance of mold and mildew resistance than cotton canvas
Durable and breathable
Cons
Higher costs
Heavy, not easy to carry
High demand on maintenance
Not usually used for general tents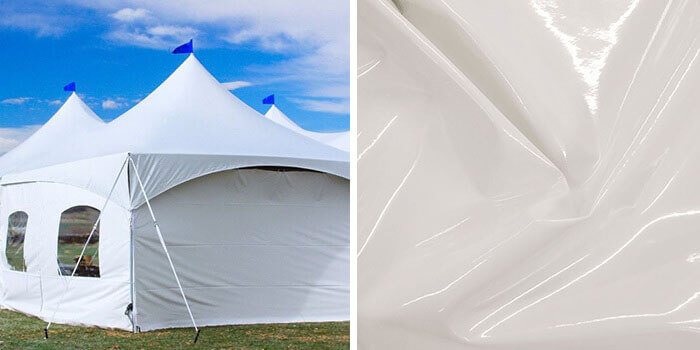 Polyvinyl chloride, short in PVC, is a composite material that has been processed. It may be the polyester or canvas fabric before and after treatment, it is called PVC.
Pros
Nice waterproof performance
Not easy to mildew
Improved performance on UV protection
Cons
Higher costs
Heavy and large
Being Stuffy
Rayon is a kind of artificial fiber. It is a popular material used for making tents, usually for inner tent cloth.
Pros
Affordable cost
Durable
Anti-static, soft and breathable without pilling
Cons
Poor elasticity and easy to shrink
Easy to mildew
Not water-tight
Another key constituent part of a tent is its poles. The quality of tent poles is very important for a tent. If a tent has good tent cloth but without good tent poles, it still means nothing.
Therefore, choosing tent pole materials is also necessary for you to consider when you choose tent materials. This part lists some common tent pole materials for your reference.
5 Types of Tent Poles Materials
To provide the most support for the whole tent, the hardness and tenacity of tent poles need to be considered at first. What's more, its weight and convenience are important as well. You should consider these factors when you choose tent poles materials.

Aluminum alloy is used widely as the tent pole material with a long history. It has better tension than many other materials, so it is one of the most common materials in the tent poles market.
Pros
Very light and portable
Strong and flexible
Good tension

Carbon fiber is a kind of new material used for producing hardware. Advanced technologies make this material applied to different fields. So many tent poles are made of this kind of material.
Pros
Quite strong and flexible
Nice durability
Very light and portable
Cons
Expensive
Need careful maintenance with high costs

Glass fiber, also fiberglass, is a common material for making tent poles. It is very cheap and flexible, so it is a hot choice for many tents.
Pros
Affordable price
Anti-corrosion
Easy to produce with high output
Cons
Not durable, easy to break
Requiring careful maintenance
Heavy and not easy to carry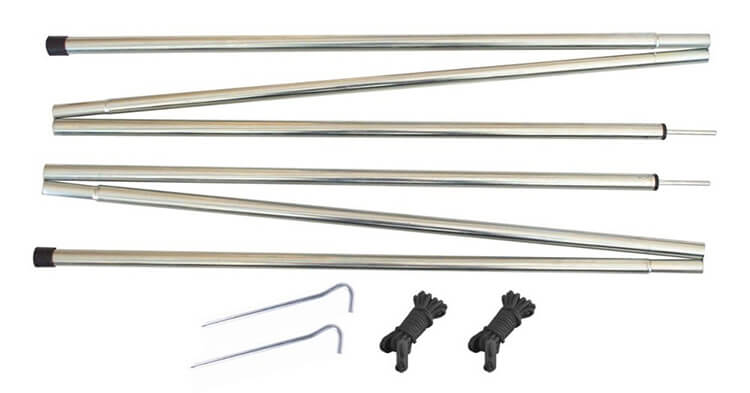 The steel material is used for making tent poles as well. For some special tents, like cabin house tents, it is the first choice.
Pros
Strong bearing force
Low cost
Good rigidity
Cons
Easy to corrode
Heavy, poor tension
Only available for some special tents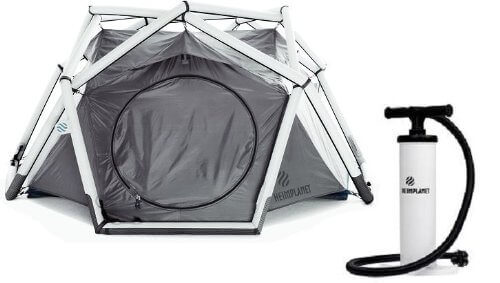 Air beams are a new form of tent structural support. It is mainly applied for inflatable tents or instant tents without any hardware support.
Pros
Easy to set and close, saving time and energy
Less space occupied, easy to carry
Various shapes to adapt to changeable weather, like high winds
Cons
Must be equipped with an inflator pump
Easy to leak air
Higher costs
FAQs about Tent Materials
What is a good tent material?
As we mentioned in the first part, a good tent should be waterproof, durable, sturdy and portable. To make a tent be like that, materials used for tents should have these comprehensive advantages as well.
What tent material is waterproof?
Among these materials, polyester and cuben fiber are better in waterproof performance. Although nylon has the feature of being watertight, it has to be coated with extra materials to add its functions. So it may be heavier and need higher costs.
What is the best material for a tent?
There is not absolutely the best material for tents. Tents used for different purposes demand different materials. When people choose the material, they have different standards and factors to consider. For most tents, polyester may be a better material; it can satisfy most requirements with a high-cost performance.
What is the strongest tent material?
Cuben fiber is the strongest one for tents among these materials. It is a rip stop material, very sturdy and not easy to tear. However, every coin has two sides. If you just consider factor of strength, you can choose it but also accept its disadvantages.
What is the best material for tent poles?
For most tent poles, carbon fiber is the best material. It is light and flexible but not friendly in its price. With its use in wider ranges of different fields, its price may be affordable for most users in the future.
The End
We hope this article helps you find and choose tent materials better when you have trouble knowing tent materials in a short time. If you want to know more about tents, you can visit our website to find more articles:
We're Jingsourcing, a leading sourcing agent in China. If you want to import tent materials or customize tent products from China, please CONTACT  US without hesitation!