With the vast selection of cake decorating tools in the market today, it can be easy to get lost. Allow us to walk you through a list of basic cake decorating tools and supplies in the simplest manner we can. These are the cake decorating tools and supplies you should first invest in.
To start, we will break the article down into two parts. Click any tool that you want to know more about it.
1. 18 Essential Cake Decorating Tools with Names & Pictures
2. 10 Fondant Cake Decorating Tools and Accessories
1. 15 Essential Cake Decorating Tools with Names & Pictures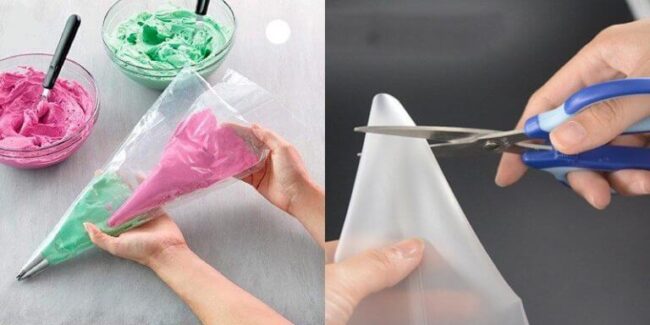 Sometimes referred to as pastry bags, the piping bags are the tapered bags where the piping tip fits at the end.  There are disposable piping bags available; and, there are also those that can be reused durably.
Additionally, they come in different sizes depending on how one decorates, either from enormous work to doing finely detailed work on cakes.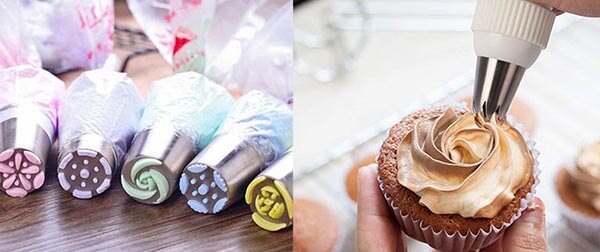 Piping tips are these small conical nozzles inserted into the piping bags. There are numerous tips available in the market made of different materials. Starting with the basic designs like the round, star, and petal form is always a good idea.
Most of these tips are commonly made of non-toxic metal. However, they are also available in plastic which is great for beginners.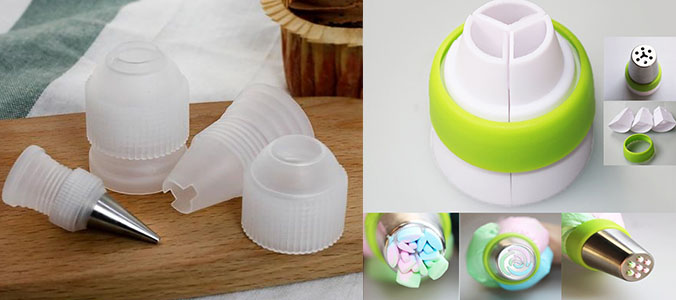 Sometimes referred to as an icing coupler, this tool is a two-part plastic device. One is long cylinder-shaped while the other is looking like a nut. The pair is usually made of plastic and varies in color and size.
This tool is not always necessary although it would be great for a beginner's cake decorating tool. It will allow you to swap out piping tips from one design to another without changing the piping bag. In this manner, the icing does not leak out when squeezed for piping.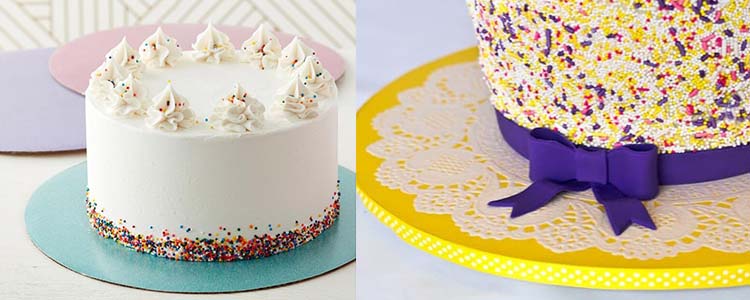 Cake boards are cut-out cardboards covered in foil with a thickness ranging from 3 to 4 mm. They are used as a portable cake foundation. This high-grade cardboard is designed to be fully recyclable and eco-friendly.
Similar to piping bags, cake boards are also available either as disposable or reusable material. Because they are the underlying support of your pastry, they are supposed to be dense and strong.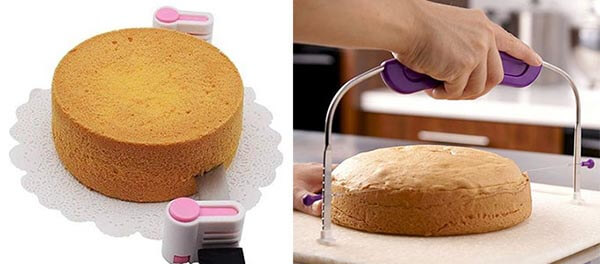 Cake levelers are one of the very basic yet salient cakes decorating tools. The knife is made of stainless steel for cutting lines and is usually matched with a non-slip, ergonomic base — ensuring your stand stays sturdy.
They can level your cake perfectly because of its precise scale. Using this tool is convenient because it can easily trim and cut the best part out of your cake.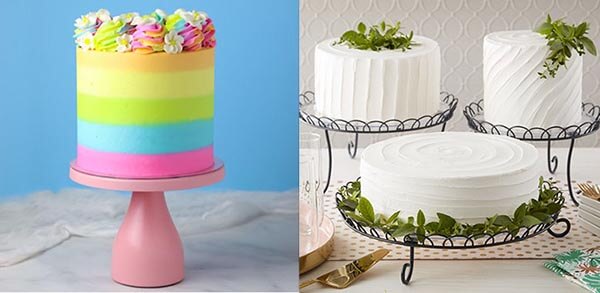 Cake decorative stands are supports used to elevate cakes for display. They are available in several materials like non-toxic metal, plastic, or sometimes ceramic.
They are usually in circular shapes with varying diameters. Seldom but there are also other shapes for this stand. Some elegant cake stands are available in 2 to 3 tiers which have to be assembled.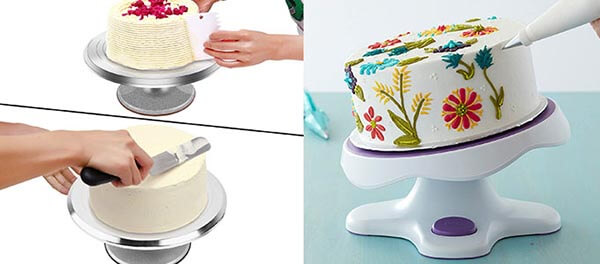 Cake turntables are made from heavy-duty aluminum that holds a cake for a longer period. Its surface is efficiently designed with an anti-slip rubber pad to carry the cake throughout the decorating, carrying, and cutting procedures. Moreover, it is made out of a smooth, durable revolving stand thanks to stainless steel bearings.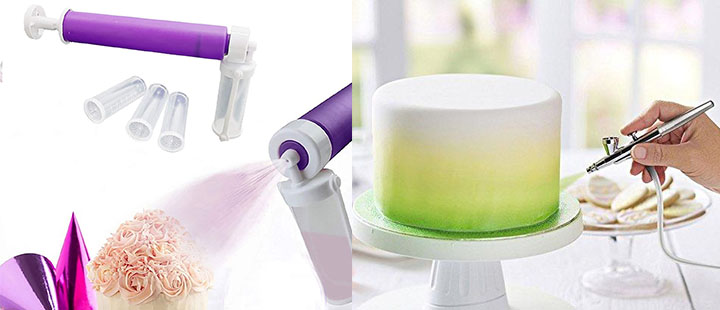 A cake airbrush is a very handy cake decorating equipment. The airbrushes made for cake decorating are usually single-action meaning you only need to depress the airbrush gun's trigger for the colors to be released.
Additionally, there are cake airbrushes available either in gravity-feed mechanisms or siphon-feed mechanisms. The former relies on gravity to feed color into the gun while the latter has a container on the gun's underside. Other components of a cake airbrush are compressor and air hose usually in ⅛" fittings.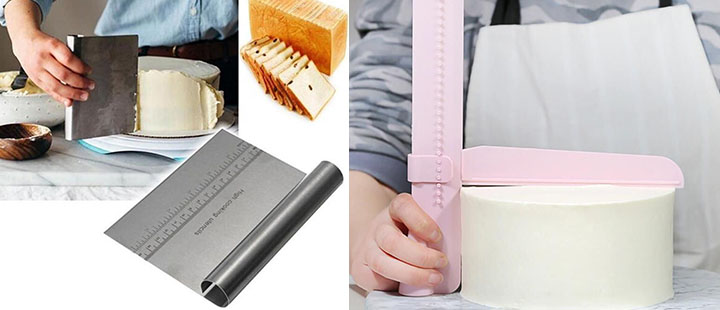 Also known as cake smoother tools, cake scrapers are multi-functional tools in cake decorating. Some of these tools are made out of aluminum, plastic, and stainless steel. The cake scrapers have a firm blade. Such will give your frosting a soft, seamless smooth edge. Its simple design is versatile as it can also be used for cutting dough and scraping surfaces, among others.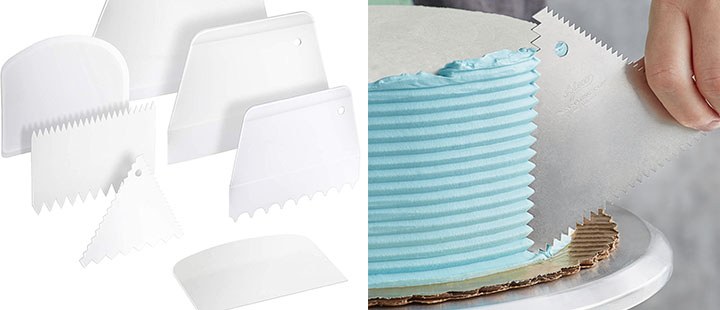 More specifically, an icing comb is a cake decorating tool that has teeth designs. The teeth are used to make designs in the frosting of a cake. These tools are typically made from aluminum, and only a few are made out of plastic. Take note that the aluminum icing combs typically have sharper edges and a cleaner finish.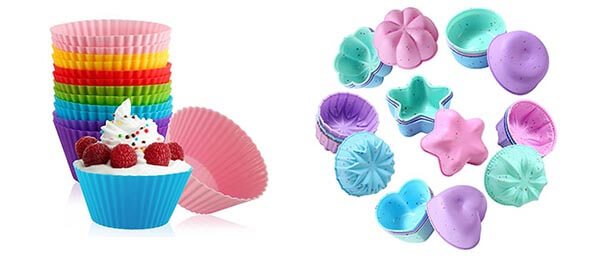 Baking cup molds are non-sticky, impermeable, and food-grade silicone molds. There are many slots available in the market with 4 x 3 slots as the common design. The soft texture of the mold will allow you to bake without breaking your pastry apart. Additionally, they are designed to be high temperature resistant as high as 240°C.
Mini Cake Decorative Paper Cup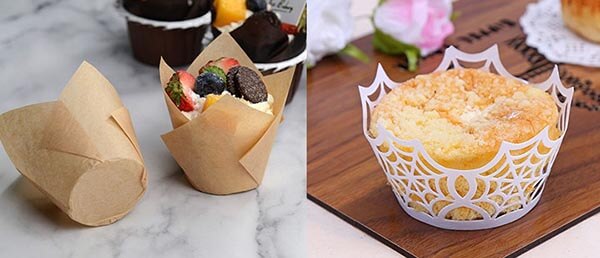 Also known as cupcake papers, these mini cake decorative paper cups are compact, durable papers folded to be a holder. They come in various designs, either in solid colors or printed patterns. They are designed to be non-sticky, greaseproof, water-resistant, anti-freeze, and non-fading. The paper material is also made flexible yet durable enough to not easily bend as it will function as a holder.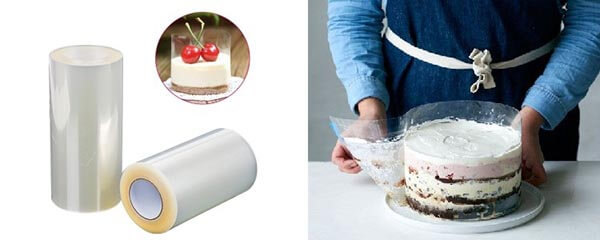 Acetate sheet or pad is a clear and multipurpose plastic used in baking. The material is acid-free, bendable, and reusable. It is convenient as an overlay tool that is why they are sometimes called overhead projector sheets. With a 4-7 mm thickness, the sheet gives improved clarity. They can be a good alternative for glass and ordinary plastic sheets.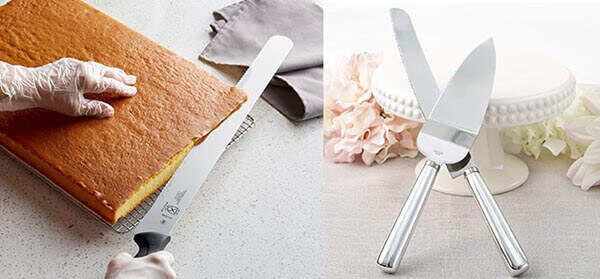 A steel cake knife is a type of knife intended primarily for cutting cakes. It is usually made of a long, fine polished stainless steel with multifunctional teeth. The handle is manufactured either as non-toxic silicone or wood that accords to the human body design therefore easy to use and grip comfortably.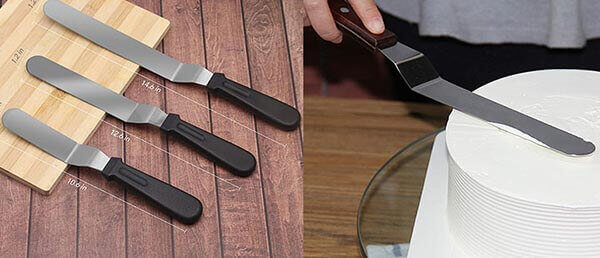 On the other hand, knife smoothers are stainless steel spatulas for polishing purposes. The frosting spreader gives you control when icing and allows you to reach areas while keeping your hands. These knives come with an ergonomic, non-slip handle designed for optimal comfort and control. Several lengths of the blade are available with the shortest 6 inches length.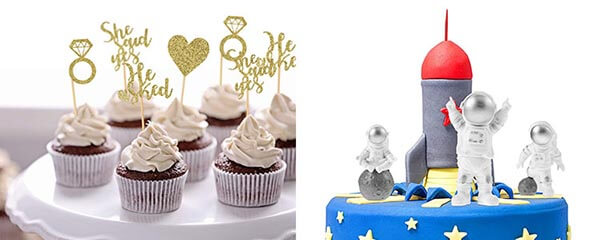 Except for decorating the pastries by using food or cream, putting cake toppers is also a great way to make your cakes attractive. They can help to create unique cakes for you.
There is no fixed styles of cake decor toppers. They can be designed to small toys or a paper decoration inserted with a toothpick.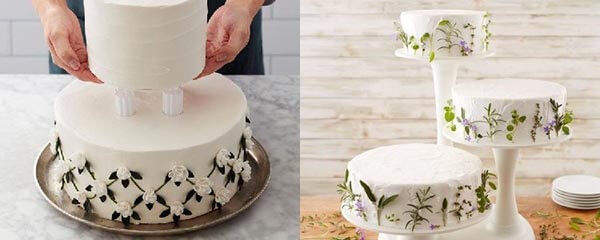 Basically, cake pillars are these stands or supports that slightly separate cake tiers to create a floating illusion. They are usually made of hollow, white plastic that is trim-able and stable. They are particularly designed to hold up your cake with ease. Cake pillars are also available in different designs. For instance, there are Roman pillars to add style to the pastry.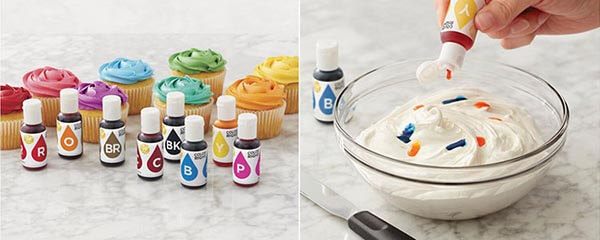 The food-grade water-based food coloring set is a tasteless and odorless ingredient. They are highly concentrated liquids that make every drop count. The ergonomic bottles hold the drops at maximum control, hence, more accurate measurements.
The vivid colors won't harden and fade easily. Each coloring can be mixed and dispersed instantly in a mixture to create vibrant icing colors.
2. 10 Fondant Cake Decorating Tools and Accessories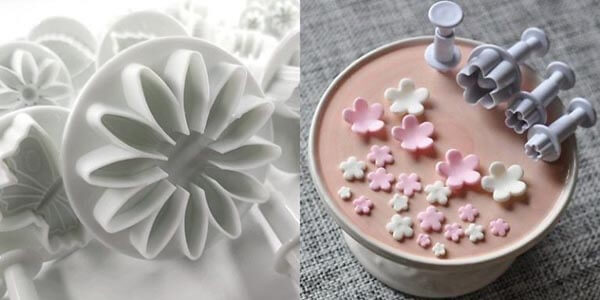 Fondant Cutters are decorating tools that come in different shapes for cutting. The material is made of food-grade plastic, convenient, and easy to wash. They are also available in stainless steel with rolled top edges to protect your fingers during the cutting process.
They are very similar to that of a cookie-cutter with only a few main differences. From flowers to frills to having letters and more, fondant cutters have every shape you can use.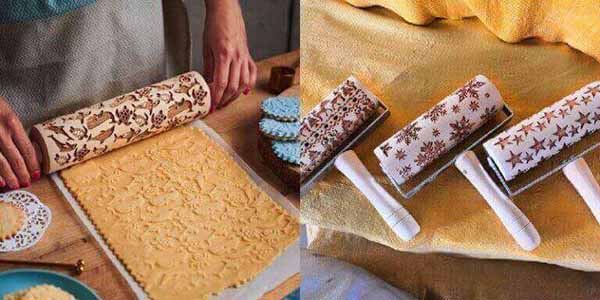 Rolling pins are one of the most commonly used baking tools and equipment, which are usually used for flattening the dough. But there are also some rolling pins designed for decoration. 
Fondant Rolling pins are rollers that are usually 20 inches long, but there are also other lengths available. Since stickiness is a factor when working with fondant, the best non-stick materials for rolling pins are made of silicone or stainless steel.
The main function of a fondant Rolling pin is to smoothen the surface of your fondant free from dents and seams. It is also a fun way to imprint images on the fondant while rolling.
Fondant imprint mats are these beautiful quilted and recessed patterns to cover your cake. They are made of food-grade transparent silicone which is safe and non-toxic. These materials are also made durable and flexible enough to conform to the shape of almost any surface.
These patterns can fairly add a beautiful definition, even for white cakes. They also work great for textured fondant ribbons and edging as the transparent plastic enables easy positioning and alignment.
Fondant Decorator Brush Sets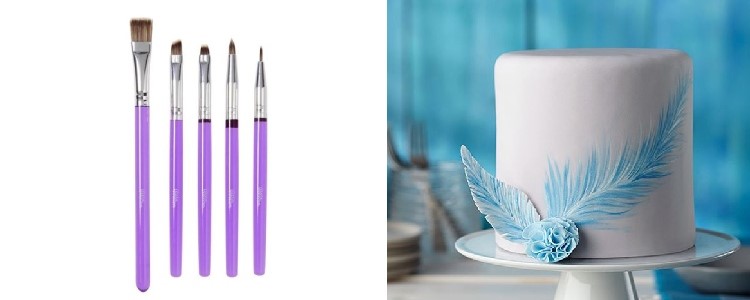 Fondant Decorator Brush sets are brushes that come in different sizes and shapes ﹘ each has its purpose. The reason why they are sold in packages. For instance, there are round bristles that are best for dusting colors.
Significantly, they let you create delicate effects compared to regular brushes. The best quality brushes are made of quality and non-toxic silicone or metal. They are practical for long use.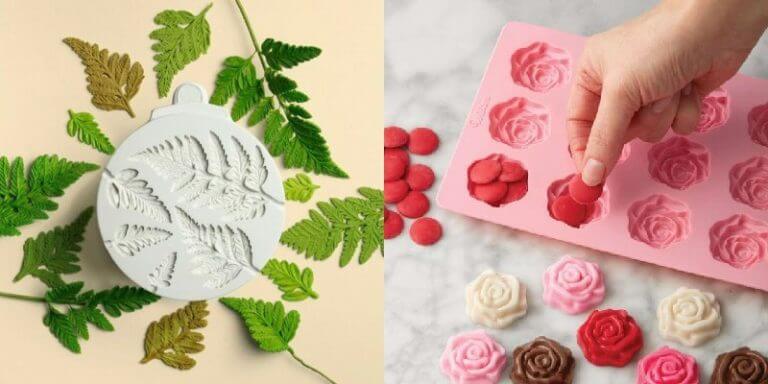 Cake decorating molds come in different patterns that are multi-purpose ﹘ as they can also be used for chocolates and candies, among others. The material is made of non-toxic silicone and food-grade use. These cake decorating accessories are handy for beginners. When used, it is non-stick and the paste is easy to remove from the mold.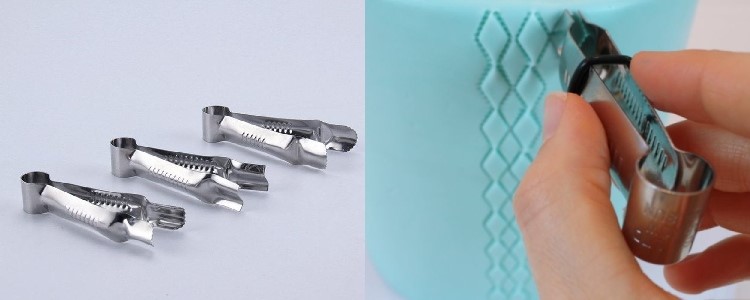 The cake crimpers also referred to as pastry clips, are cake decorating tools made of food-grade stainless steel. They look like a pair of tweezers and come in a variety of styles particularly intended for baking. They are a useful tool in decorating the top edge of the cake covered in sugar paste.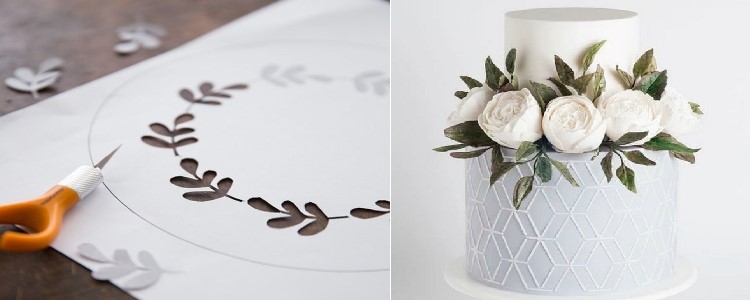 Cake stencils are cake decorating materials made in various patterns for plating design. There are also cake stencils available in characters, either in letters or numbers. The material is sturdy enough to hold its shape. At the same time, it's thin and flexible enough to bend when needed for decorating. This also makes the sheet easy to trim.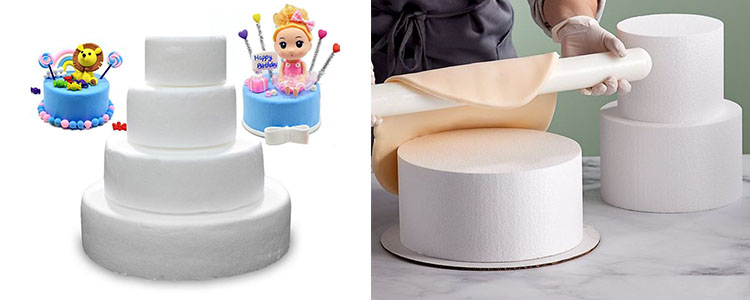 Cake dummies are these lightweight tools in white round foams. They can either be sold individually or in tiers. They are intended for cake displays or cake decorating practice. It is a reliable material that is customizable and easy to decorate. They can either be pinned, glued, sanded, or painted.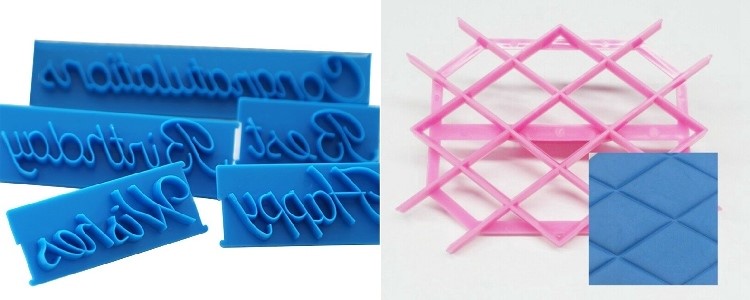 Cake embossers usually come in sets with different shapes and patterns. These non-stick materials are made of food-grade silicone which is odorless and durable to use. For usage, gently press the embosser mold into the sugar paste to create a quilted effect or gently attach it to the top of the cupcake. These accessories are very beginner-friendly.
Fondant and Gum Paste Carving Tools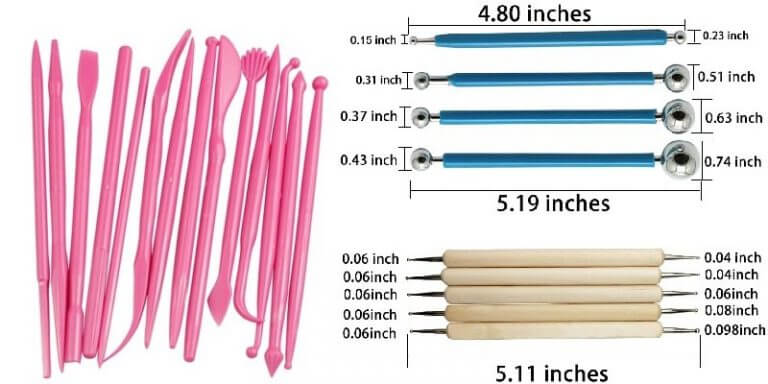 This set of tools are specifically meant for fondant and gum paste techniques. Some include a standard ball tool, stitching tool or a cutting blade tool. They can either be made of plastic, or metal with an ergonomic grip. In general, they help shape, model, and add detail to your sugar paste.
CONCLUSION
And there we have it, a quick round-up as we've discussed some of the cake decorating tools in brief with descriptive pictures. We have also included other equipment and supplies for all cake decorating needs.
If you want to purchase wholesale cake decorating tools from China, we can help you find very competitive prices. Feel free to REACH US.