When you decide to buy baking supplies and equipment either for your business or your personal use, you can check the complete baking supplies list first, or you may be confused with their names, functions, and uses. Thus, I list different types of baking tools and equipment with picture and definition to make you understand them better.
1. Preparatory Tools in Baking & Large Equipment With Names
| | | |
| --- | --- | --- |
| Flour sifter | Rolling pins | Pastry brush |
| Cooling rack | Egg separator | Pastry mat |
| Baking paper | Cake tester | Oven mitts |
| Oven | | |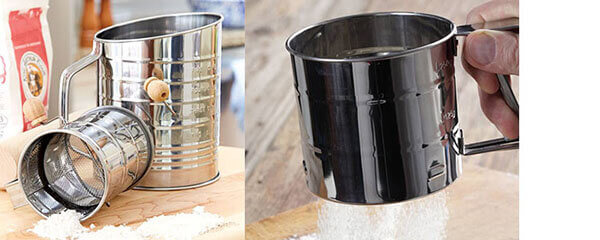 A flour sifter is used to sift or separate clumps from flour, cocoa powder, etc. The most commonly used sifter is a stainless steel canister type with mesh screens inside and a rotatory handle at the side.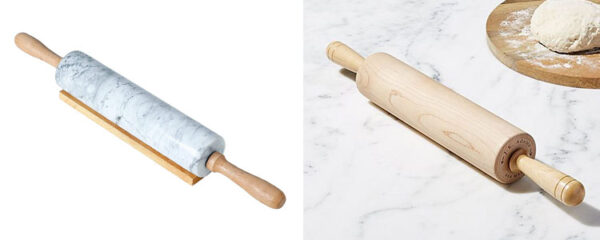 A rolling pin is a cylinder used for evenly flattening every kind of dough, which is an essential utensils in baking. Rolling pins are mainly made from wood or marble. Besides, you can find some rolling pins with various special designs, such as carving embossing on the surface.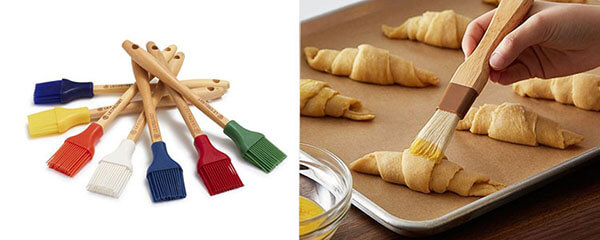 A pastry brush is used to spread butter, oil or egg wash on food. Pastry brushes are usually made in round or flat shape to suit different acticities. At current, most of pastry brushes are made with silicone bristles, while some are still made with natural bristles.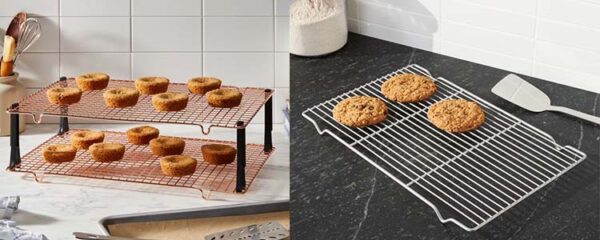 A cooling rack is made of metal wire that can make the food out of the oven cool. It allows air to circulate completely around the food in case that the bottom gets soggy because of not removing the moisture.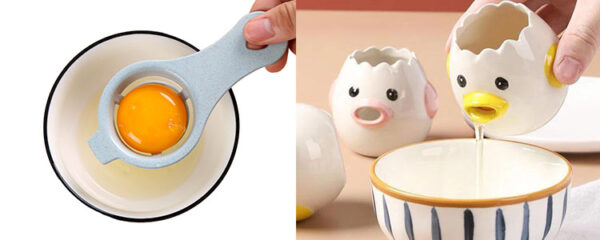 Most common egg separators are designed to remain the yolk in the device and let the egg whites run through. They usually come in different designs and materials. Moreover, another less common style of egg separator is easy-squeeze silicone items equipped with a mouth to suck the yolk out of the bowl.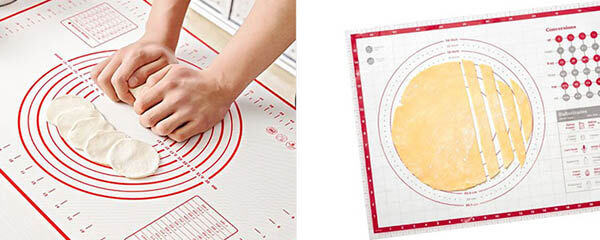 A pastry mat provides a non-stick surface to knead, form, and cut the dough. These mats are designed with measurements on the surface to guide people easier to bake. Besides, they are usually made of silicone, marble, or granite.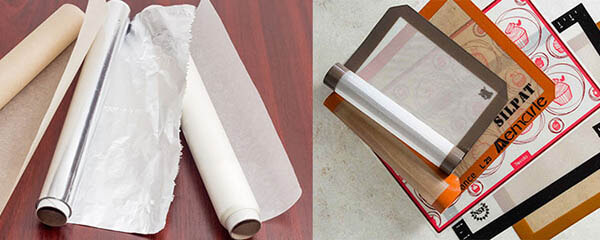 Baking paper is lined in the baking pans to prevent the food from touching the pan directly, which can bake the food better and also let you free from cleaning the dirty pans. The baking paper commonly used involves silicone mat, wax paper, parchment paper, plastic wrap, and aluminum foil.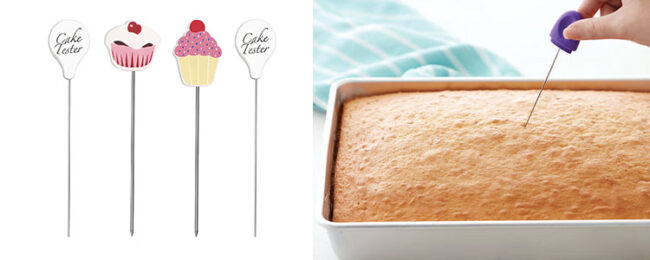 Using a cake tester needle is helpful to test if the cake is cooked without leaving an ugly hole. Besides, some cake testers can be also used as an exhaust needle and a decoration. Usually, the tester is made of stainless steel and wood. If you insert it into the center of the cake, it should come out clean, with no streaks of batter.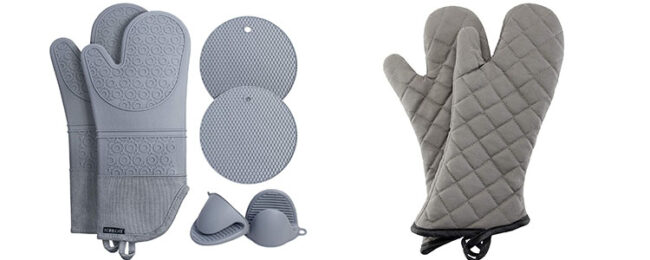 Oven mitts are used to protect the hands of people from hot objects like ovens, baking pans, etc. They can be made of leather, cloth, and silicone. Usually, oven mitts are sold singly rather than in pairs.
Ovens are indispensable equipment during baking. There are mainly two types of oven: gas oven and electric oven. Plus, there are different types and capacities of ovens to choose from according to your need.
2. Measuring Tools in Baking
| | | |
| --- | --- | --- |
| Dry measuring cup | Liquid measuring cup | Measuring spoon |
| Baking scale | Timer | Oven thermometer |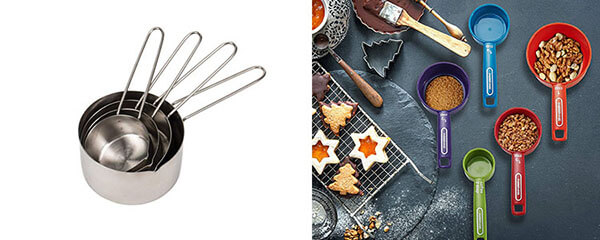 A dry measuring cup is used to weigh dry ingredients like flour, spices, salt, or sugar. Usually, these cups come in plastic, stainless steel, or porcelain. Plus, they also come in 4 standard sizes such as ¼ cups, 1/3 cups, ½ cups, or 1 cup, which allows you to control the volume of different ingredients.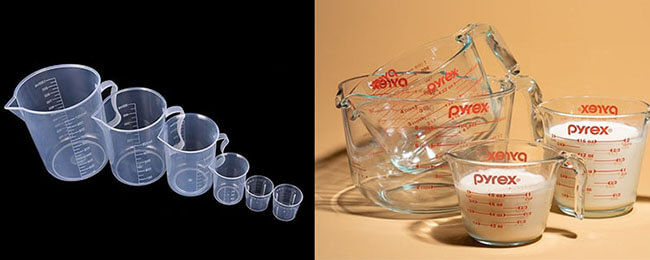 Liquid measuring cups come in clear glass or plastic. Due to its transparent outlook, it's easier to check the quantity of the liquid poured into the cup. Besides, there are always measurement lines on the cup wall to hold the exact amount.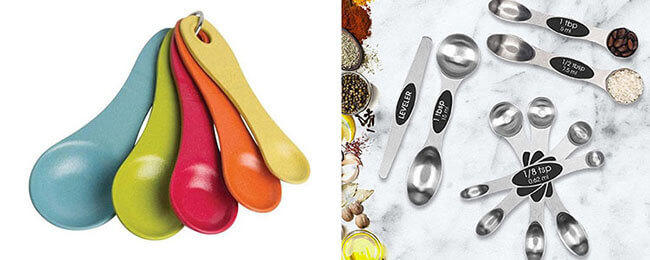 A measuring spoon is used to measure the number of small ingredients, either liquid or dry. They come in different materials, such as plastic, metal, and other materials. Also, they often come in sets, usually between 4 and 6 spoons with different sizes in a set.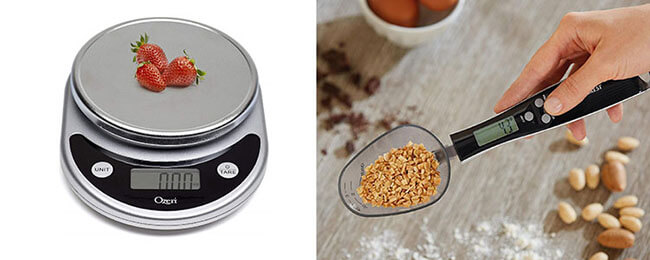 The amount of some ingredients like sugar, flour, and others need to be measured very accurately. Thus, using a baking scale helps you to ensure the results of the food. Now, there are also some spoon scales for measuring small ingredients more conveniently.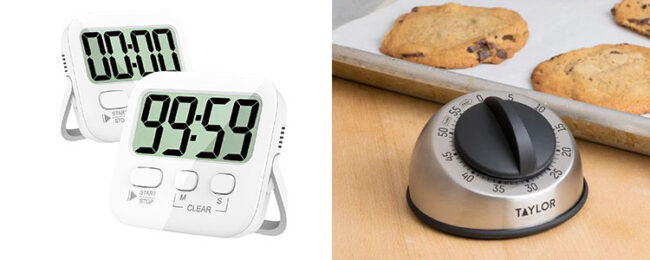 A timer is a device to assist in timing either during preparing the ingredients or cooking. The typical timers are countdown timers, which may have a countdown of up to 60 minutes. The traditional timers are egg timers, which are specifically used for the timing of cooking eggs.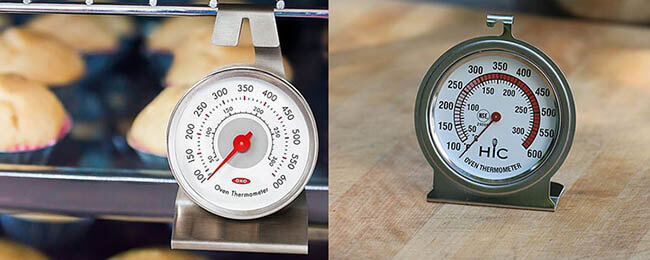 An oven thermometer is often used when measuring the oil temperature, water temperature, melting the chocolate, and baking the food in the oven. The temperature range should be between 60 and 580 degrees Fahrenheit (°F) so that it can be available to put in the oven.
3. Mixing Tools in Baking
| | | |
| --- | --- | --- |
| Mixing spoon | Mixing bowls | Whisks |
| Electric whisks | Spatula | |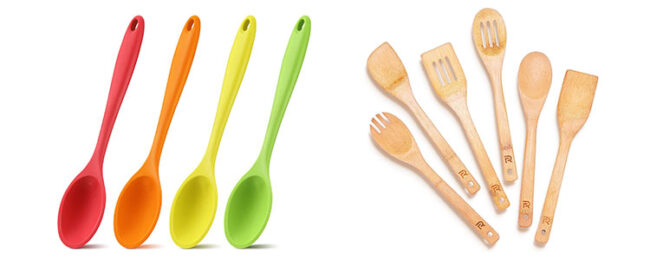 A mixing spoon can make it easier to combine the ingredients and scrape the bottom of the mixing containers. These spoons are usually made from metal, wood, porcelain, or plastic. And there are different handle lengths of various spoons to fit different containers.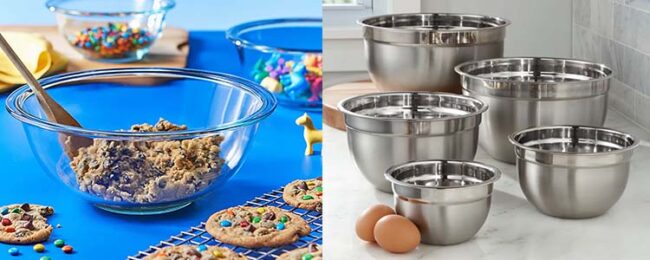 Mixing bowls are used for storage and kneading doughs, preparing and mixing ingredients, and more. They come in different materials like glass, stainless steel, plastic, and porcelain. Plus, preparing different sizes of bowls is important for different usages.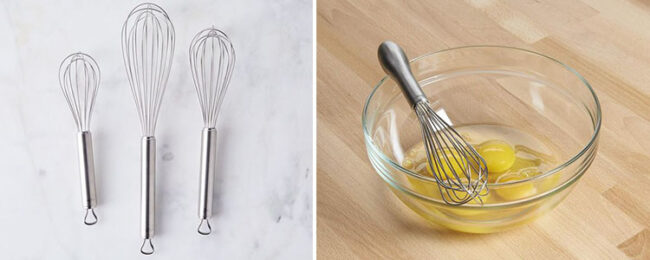 A whisk can be used to blend ingredients smoothly. Most whisks consist of a long, narrow handle with a series of wire loops joined at the end. They can be divided into different types, including balloon whisk, French whisk, flat whisk, spring whisk, and ball whisk. Besides, they're mainly made from metal, and some are made from wood, plastic, or silicone.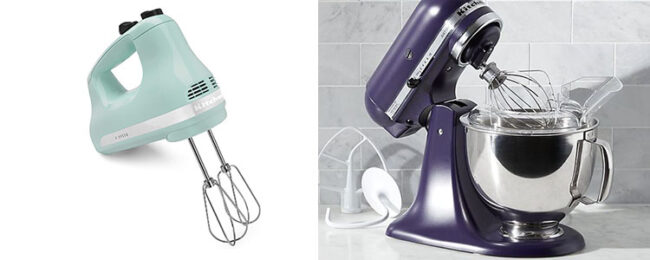 Electric whisks can help automate the repetitive tasks of stirring. They can not only be used to whip the eggs and liquid ingredients but also knead the dough by using a dough hook. The two types of electric mixers include handheld mixers and stand mixers. The latter usually have more speeds than the former.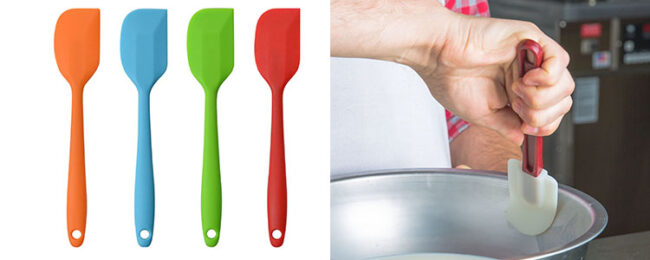 A spatula is a flat implement to scrape and stir the bowls and plates. It is extremely flexible so that it can be bent and torqued easily. There are several types of spatula materials, such as silicone, stainless steel, rubber, plastics, etc. In common, they're designed to withstand high temperatures in case of being melting.
4. Cutting Tools in Baking
| | | |
| --- | --- | --- |
| Grater | Cookie cutters | Dough cutter |
| Pastry cutting wheel | Pastry blender | Chef's Knives |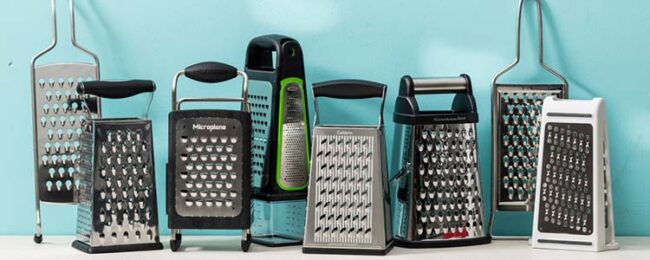 A grater is a kitchen utensils usually made from metal with sharp perforations on the surface. It is used for shredding cheese, lemon, or other food into very small pieces.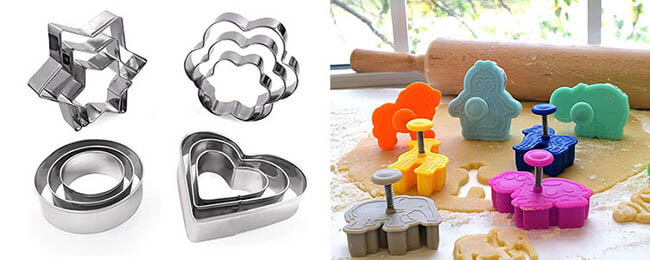 Cookie cutters are various molds with sharp edges for cutting the dough into a particular shape. They are most commonly produced in either metal or plastic with cutting edges on one side and a handle on the other side.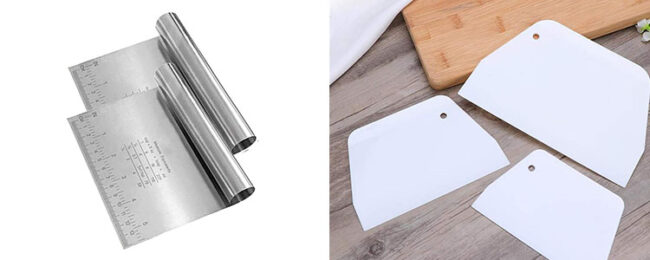 Most dough cutters feature a sharp and thin blade wrapped with a rubber or plastic handle at one side. Some are also made of thin plastic or rubber. They are used to slice and portion out the dough.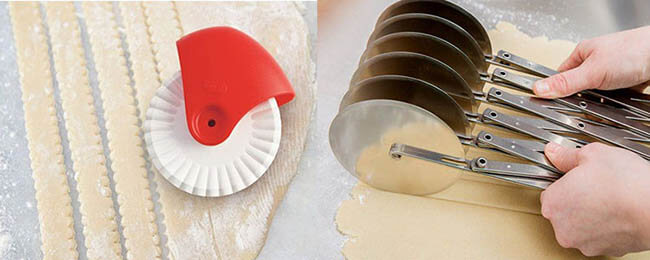 Pastry cutting wheels consist of a single sharp cutting wheel or two wheels attached to a wood or metal handle. They're used for cutting dough and creating patterned edges.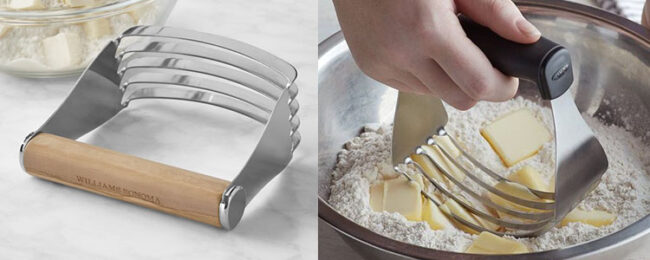 A pastry blender, also known as a dough blender, is used to work solid fats like butter, shortening, or lard into flour to create a dough. A basic blender consists of a handle and a blunt blade that extends from the handle. The blade is used to get under the dough and separate it more precisely.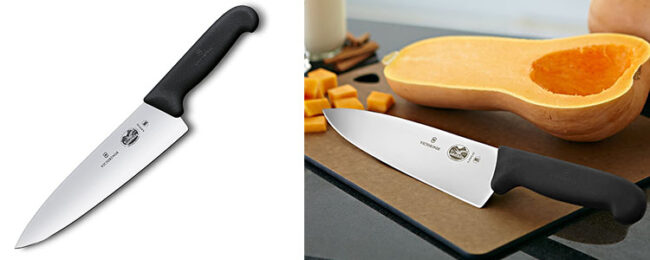 A knife can be used to cut and chop harder items such as fruits, nuts, etc. Also, it can be also used for peeling and coring fruits. Moreover, the most popular materials for knife blades are stainless steel. And they can also be made from plastic, ceramics, and more.
5. Types of Baking Pans With Different Functions
| | | |
| --- | --- | --- |
| Muffin pan | Loaf pan | Round pan |
| Sheet pan | Tube center pan | |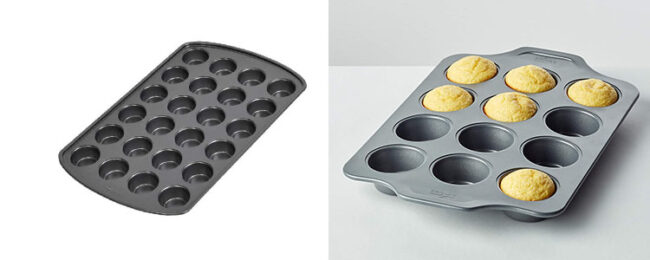 A muffin pan is formed of several identical cups usually used for baking muffins or cupcakes. They come in many different sizes. A standard muffin pan has 12 wells that are 2.5 inches wide at the top and 1.5 inches deep.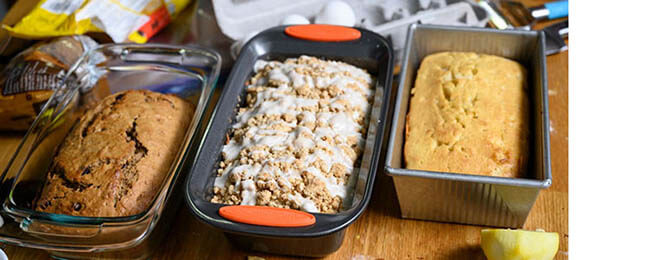 Loaf pans feature narrow rectangular shapes mainly used for baking bread. In common, a standard loaf pan is 8.5 x 4.5 x 2.5 inches. Some loaf pans are designed with a cover as well. Moreover, they're mainly made from stainless steel, aluminized steel, and glass.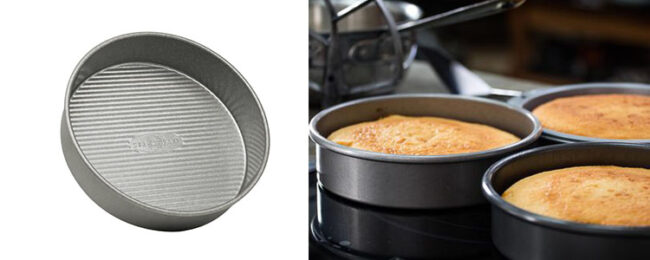 Round pans are the most commonly used cake baking tools, which come in different sizes and depths. Some round pans have a removable bottom, helping the food keep intact while removing from the pan.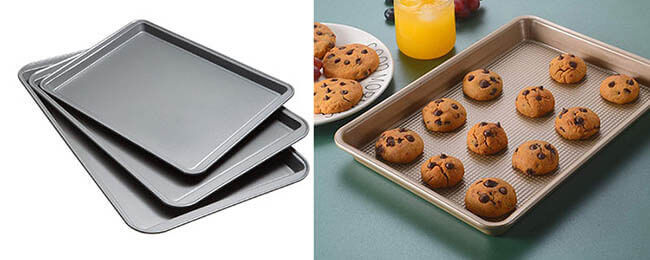 A sheet pan is a shallow and rectangular metal pan used in an oven. It is often used for baking flat products such as cookies, pizzas, and more.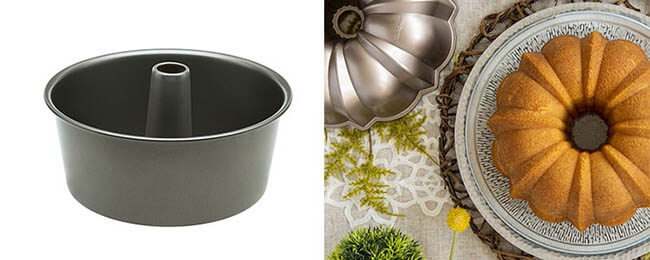 A tube pan is any type of round baking pan that has a hollow tube in its center. The tube allows for more evenly baking. Some tube pans have fluted sides that give cakes a decorative sculpted shape.
6. Cake Decorating Tools Names & Pictures
| | | |
| --- | --- | --- |
| Cake turntable stand | Piping bag | Decorating tips |
| Cake smoother | Cake spatula | Cake Leveler |
| Cake board | Cake topper | |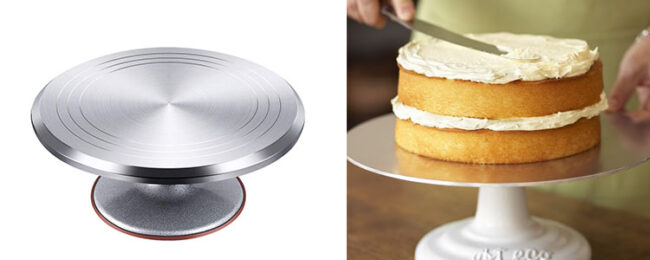 A cake turntable stand is used by placing an undecorated cake onto its rotating surface, then turning it as you smooth sheets of icing, apply buttercream, pipe frosting, or stick decorations on your bake.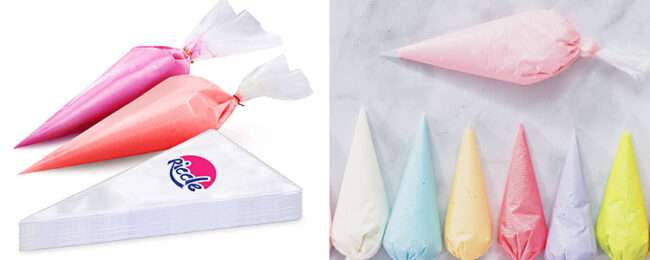 A piping bag is usually used for decorating pastries by squeezing creams on the surface. They are basically made in the shape of a cone. Usually, they're used with piping tips that can make different patterns.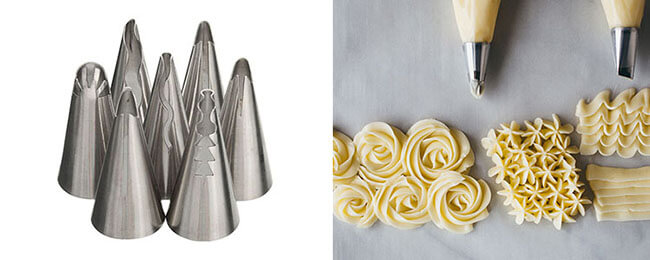 A decorating tip decorates the pastries by being used with a piping bag. They come in various shapes of their opening and sizes. You can make different patterns or write by using different tips. Most decorating tips are made of metal; however, some are also available in plastic.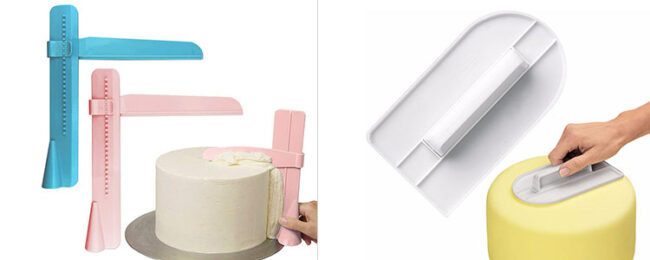 A cake smoother usually has a grip at the corner ends that makes them easy to hold. They're typically used to smooth the top surface of a cake or the sides. Some smoothers have a flat surface with a handle, others are designed with a removable scraper and adjustable height.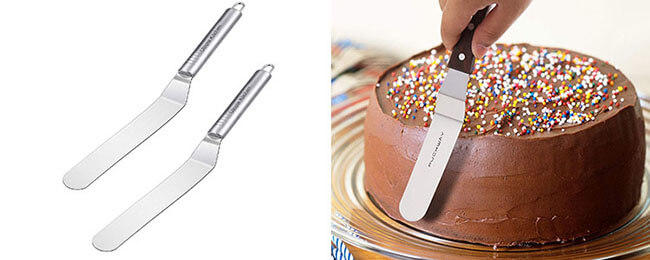 A cake spatula is a narrow spatula built with a thin, flexible stainless steel blade. They're used for smoothing out the buttercream and icing on the side of a cake to create a flat surface.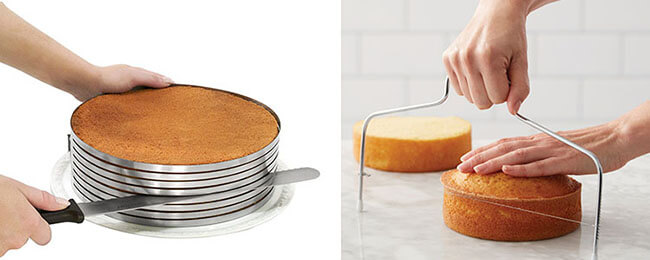 A cake leveler helps to cut and level the cake, and also ensures the stability of the cake. There are two types of cake levelers: one is a ring cutter used with a knife, the other is equipped with one single thin blade or more blades to slice smoothly through the cakes simultaneously.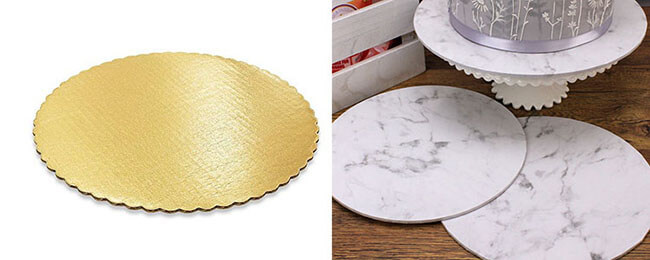 A cake board is a thick piece to support cakes to present the cake better. They come in different shapes, colors and materials. The most commonly used styles are single or double wall corrugated cardboard or marble cake board.
The End
We're Jingsourcing, a leading sourcing company in China. If you want to wholesale or customize baking tools and equipment from China, please feel free to CONTACT US.