Handbags are more of a necessity than an accessory nowadays. The world's handbag market is worth more than $52 billion and is expected to hit more than $78 billion in the next few years.
Handbags are popular, but they come in so many fabrics and additional materials that it becomes almost hard to choose between them.
In this article, you will learn about different handbag fabrics' pros and cons and about additional materials that come with them.
1. 10 Types of Handbag Fabrics
90% of handbags are made from synthetic fabrics because they are cheaper than natural ones and do the same job as natural ones.
The most commonly used fabrics are:
PU Leather
PVC Leather
Nylon
Polyester
Cotton
Denim
Tweed
Burlap
Velvet
Felt
PU leather is also called vegan leather, which is made from synthetic thermoplastic polymer "polyurethane" instead of natural animal skin.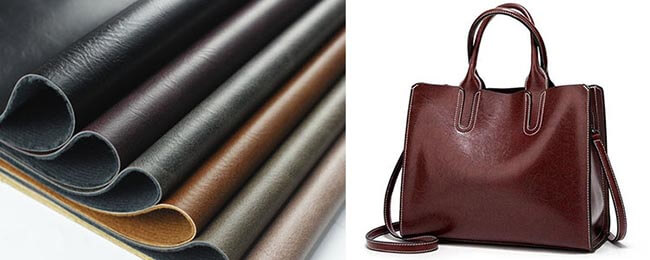 PROS
Waterproof and mildew resistant
Come in many colors
Real leather-like texture and appearance but cheaper
Crack-resistant than real leather in sunlight
CONS
Flammable
No stretchability
Only hand cleaning
Less durable from real leather
Microporous, less breathability than real leather
 PVC leather is also a synthetic leather-like PU leather, but it has more layers underneath. PU leather is made with 2 layers, a base split leather backing and an upper layer of plastic coating. In contrast, PVC leather has 4 layers, a base fabric leather backing, foam layer, skin layer, and at last coated with plastic coating " polyvinyl chloride".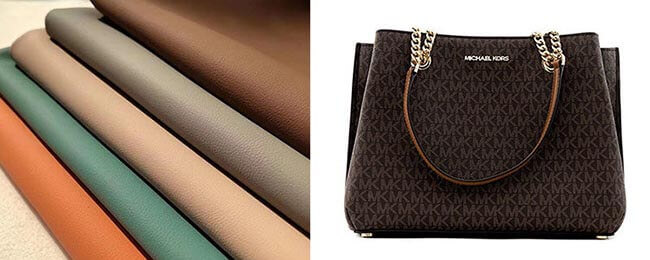 PROS
Waterproof
Come in many colors
Cheaper from PU leather
More stain and mildew resistant than PU leather
More durable than PU leather
CONS
Flammable
No breathability
No stretchability
Only hand cleaning
It is thick, less flexible than PU leather
 Nylon is soft, smooth, and silk-like thermoplastic commonly made from petroleum products.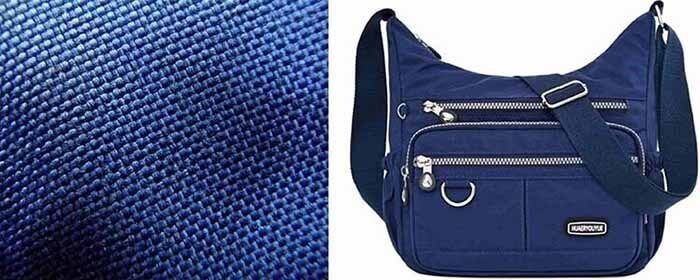 PROS
Cheap
Shrink, abrasive, wrinkle resistant
Mildew resistant
More elastic and stronger than polyester
More flame resistance than cotton 
CONS
No water resistance
Costly than polyesters
Poor Sunlight resistance
Not stain and dirt resistance
Flame-resistance but they can melt and attach to the skin
Polyester is a manmade thermoplastic derived from a chemical reaction of petroleum, air, and water. Polyester is more common than other natural and synthetic materials.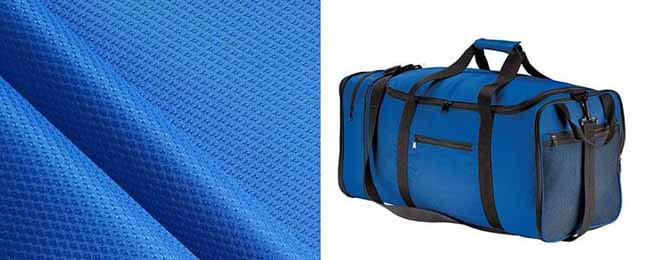 PROS
Cheap
Shrink & Mildew resistant
High breathability & Medium stretchability
More wrinkle resistant than cotton
More durable than most fabrics
CONS
Not waterproof
Nylon is stronger than polyester
Cotton can be woven into many patterns, such as plain-woven cotton called muslin, while twill-woven cotton is called denim, and so on. Different weaving patterns provide different surface textures, durability, e.t.c.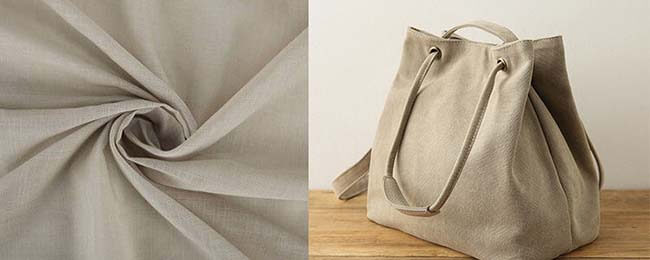 PROS
Durable
High breathability
Medium stretchability
Soft to touch than burlap fabric
Cheaper than linen, wool, and silk
CONS
Not waterproof
Mildew susceptible
Noticeably shrink in the first wash
Being stained easily
Fade in sunlight more easily than synthetic materials
Denim fabric, also commonly known as the jean fabric, is a species in which cotton is woven in a specific pattern known as twill pattern. Denim fabric is widely used to make jeans, jackets, e.t.c.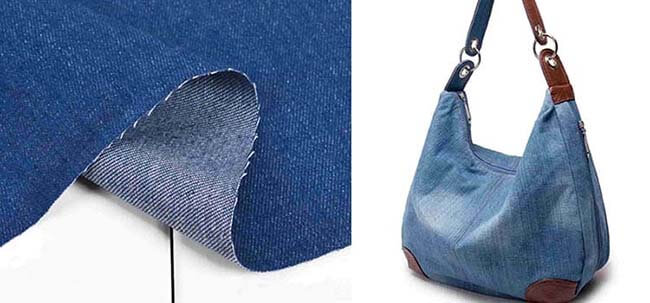 PROS
Washable
High breathability
Excellent wrinkle resistant
Can be dyed into any color
100% recyclable
Excellent abrasive resistance
CONS
Not waterproof
Shrink but slowly
Not stain and dirt resistant
Burn slowly with high flame
Fade in direct sunlight but not very quickly
Velvet fabric is only second to natural silk when it comes to softness and smoothness. Velvet is a woven fabric in which cut threads are evenly spread with a dense pile. It can be made from both natural and synthetic fibers. Velvet handbags give more of an expensive look than other fabrics.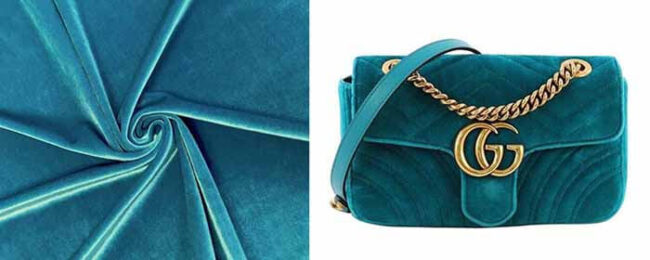 PROS
Premium look
High breathable
Come in many colors
Mold and mildew resistant
Soft, velvety surface
CONS
Hard to wash
Absorb moisture
Not sunlight resistant
Not stain and dirt resistance
Hot water can ruin fabric shape
Tweed fabric is woven mostly from Wool, but it can also be made from Wool and cotton, Wool and rayon, and Wool, and other artificial fibers. It is mostly used to make coats and sofa upholstery.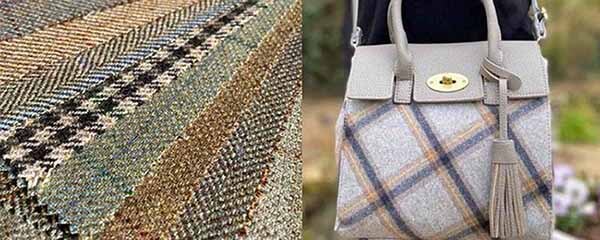 PROS
Wrinkle resistant
Can hide stains very well
Can be dyed into any color
Very durable can last for years
Fire retardant 
CONS
Expensive
Not waterproof
Low breathability
Slowly fade in direct sunlight
Not easily washable only hand washing in cold water is recommended
Burlap fabric, also commonly known as Jute fabric, is a woven fabric made from the skin of sisal fibers or jute plants that may be combined with other materials.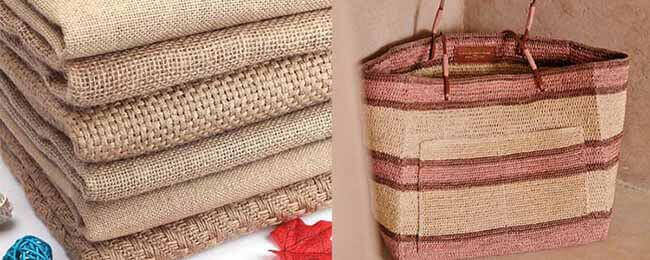 PROS
Durable
High breathability
Low stretchability
Cheaper than cotton but expensive than synthetic materials
CONS
Not waterproof
Very flammable
Not stain or mildew resistant
Fade in the sun very quickly
Only hand wash in cold water
Felt fabrics are made by pressing, matting, and condensing fibers together instead of woven like other fabrics. Felt fabric can be produced from natural materials such as wool or animal fur as well as from synthetic fibers such as plastic, e.t.c.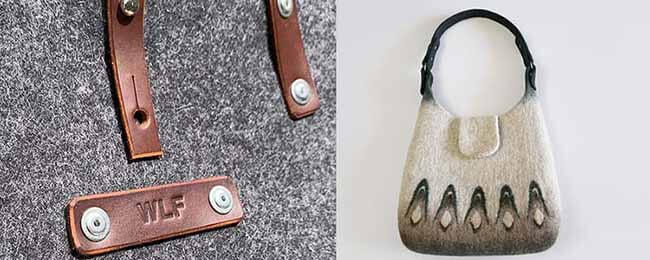 PROS
Affordable
Soft to touch
Fire-retardant
Come in all colors
CONS
Not-waterproof
Not stain and dirt proof
Shrink in water, especially in hot water
2. 5 Types of Handbag Lining Fabrics
You can not decide on the fabric for the handbag's lining based just like you chose the fabric for making the outer surface of the handbag because there are also many choices. The handbag's lining material choice should be more of a practical approach than looks and appearances.
The most useable fabrics for making handbag linings are given below;
Cotton
Oxford
Canvas
Nylon
Polyester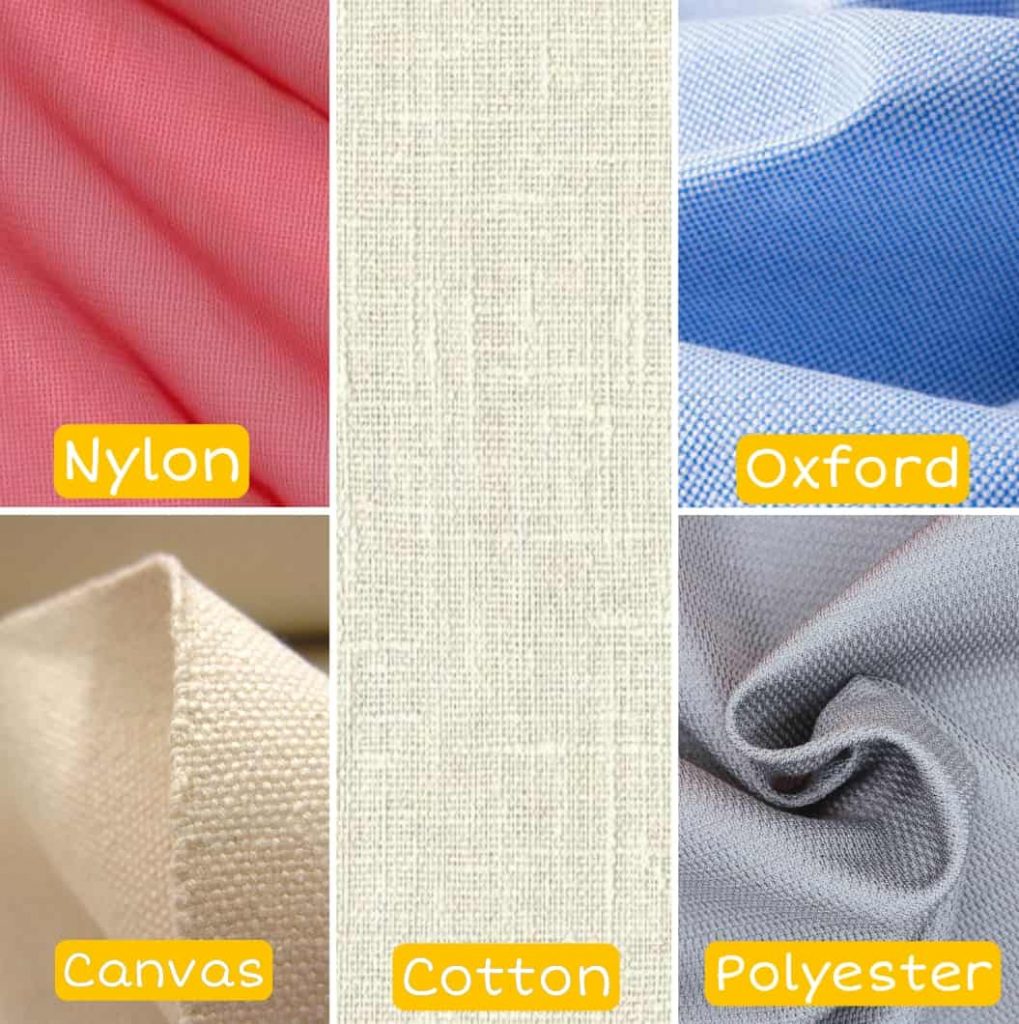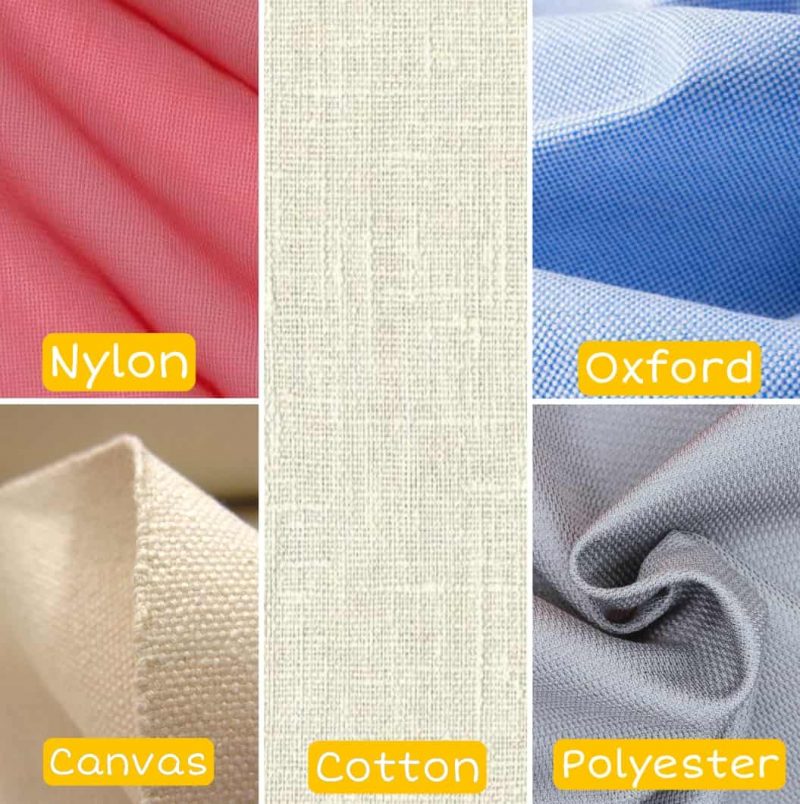 Below are 3 types of natural and synthetic fabrics:
Cotton

Oxford

Canvas

Natural material

Cotton or synthetic materials or both

More Cotton and Less or no synthetic materials

More costly than synthetic materials

Cheaper than canvas

More costly than oxford

Not water-resistant

Water-resistant

The coated canvas is water repellent

More soft

More soft

More soft

breathable

More cotton, more breathability;

More synthetic material means less breathability

More breathable than oxford fabric

Depends on the woven structure, may be stronger than all

Durable

More durable than nylon

Flammable

More cotton composition means easy fire while synthetic materials resist fire

Flammable

Easily washable

Easy to wash and dry than canvas

Less easy to wash and dry than oxford
Below are 2 kinds of synthetic fabrics:
| | |
| --- | --- |
| Nylon | Polyester |
| Synthetic material | Synthetic material |
| Cheaper than natural fabrics, such as cotton, canvas, e,.t.c | Cheaper than nylon and other natural fabrics |
| Water-resistant | More water-resistant than nylon |
| Less soft | Less soft |
| Less breathable | Less breathable |
| More durable than Polyester | Less durable than nylon |
| Not easy to Catch fire | Not easy to Catch fire |
| Easily washable | Easily washable |
How to choose the right material for handbag lining?
Using waterproof material for lining can keep your handbag safe from spills and stains, while breathability saves your bag from foul-smelling.
Synthetic materials are less porous than natural fabrics to make them stain and water-resistant. These days natural fabrics are coated with chemicals or blended with synthetic materials to make them stain and water-resistant as near to synthetic fabrics.
Natural fabrics such as cotton, canvas, e.t.c, are softer than synthetic fibers. But synthetic materials are shinier than natural ones.
Last but not least, synthetic materials are fire-retardant. For example, polyester melts at 220°C and ignites at a very high temperature of 440°C. So, they are safe to use for everyday activities. But natural materials like cotton, linen, silk, e.t.c catch fire instantly. Natural fabrics can be fire-retardant by different coatings or by other methods.
So, when choosing a material for your handbag's lining, check the above features for easy use and a longer lifespan.
3. 8 Types of Handbag Ornamental Materials
When you are done selecting a fabric to sew your handbag's exterior and inner lining, now it is time to add functional and styling materials to make it look beautiful.
Not all of these materials are necessary to add. You can skip as many as you want. But adding more materials makes the handbag look more expensive and presentable.
Below is the list of some handbag materials;
Chains
D rings
Zippers
Buckles
Grommets
Swivel hooks
Magnetic clasps
Handbag bottoms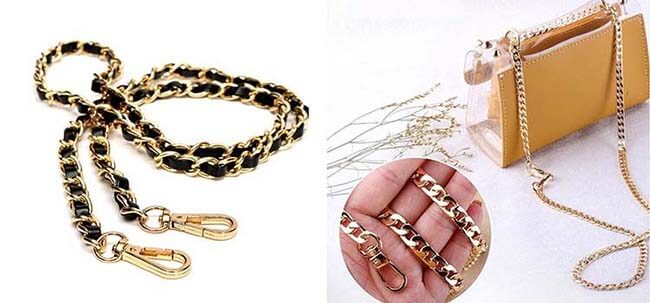 Chains can be functional parts or ornamental parts, or both for any handbag. There are two chain kinds, strap chains and hanging chains. Chains come in mostly golden, black, silver, and more colors. They are detachable, and you can change chains daily according to your liking. 
Chains give your bag an expensive look. Many modern handbags are equipped with both a fabric strap and a chain strap.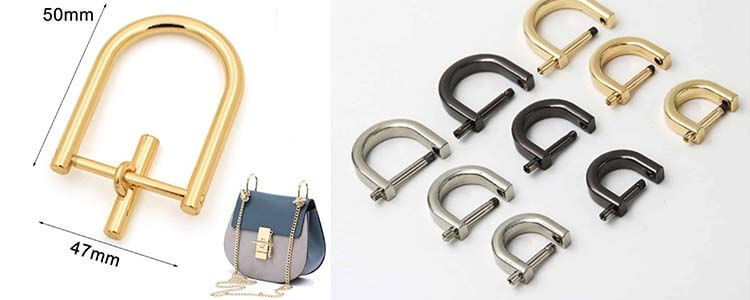 If you have a detachable strap, then D-rings are an option for you. D-rings allow you to change your strap whenever you want, plus they also provide more flexible movement of the strap and lower pressure on the shoulder. D-rings can also be used as decorative materials only. Either way, D-rings enhance your handbag's functionality and look like many folds.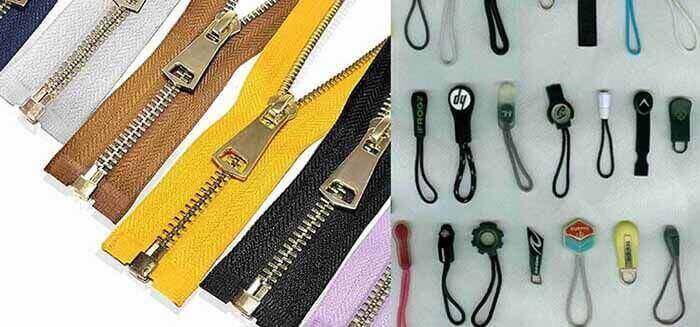 Zippers are a crucial functional part of any handbag. Most handbags in the market have zippers to keep things safe from thieves and falling over. Zippers also provide beauty to your bag. 
Zippers are the most used part of any handbag. You also can add two sliders in the zipper if you want to. They are sewed into a handbag, so getting heavy-duty zippers can define a handbag's premium quality.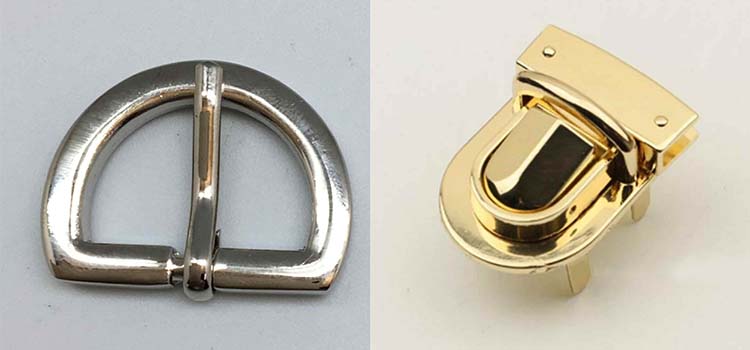 Handbag buckles provide additional security to your objects. Some people do not like zippers, so handbags come with a covering over the zippers to give a more expensive look to the handbags. But to keep the cover in place, buckles are used. 
The most common kind of buckles are belt buckles and push buckles. Belt buckles give the handbag an antique look, while push buckles give a modern look. Push buckles are easier to use. Sometimes buckles are added on handbags only as an ornamental piece.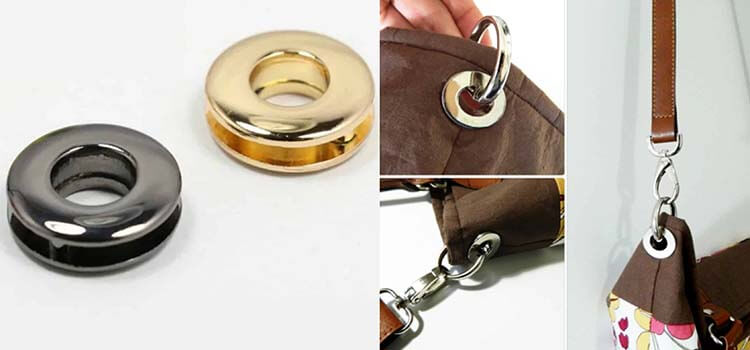 Grommets are replacements for outside loops. Loops are made out of fabric to attach a strap with the handbag. Grommets also serve the same purpose. They are installed by pinching a hole and fixing them in. 
Grommets are more durable than loops because they are made out of metal parts and are smooth, so friction does not wear them out like fabric loops. They can provide beauty to the handbags so they can also be installed just as pieces of ornaments.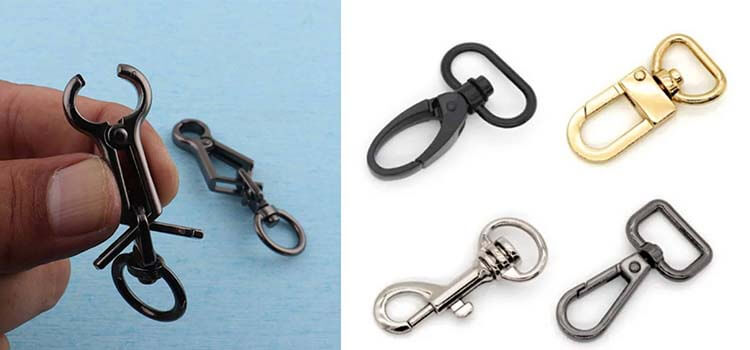 A swivel hook is a part that can give your strap detachability feature whenever you want to. Swivel hooks are helpful if you want to try a different color or material straps every day. Plus, they save a lot of hours when changing a broken strap. Swivel hooks also come in many colors and give your handbag a more elegant look.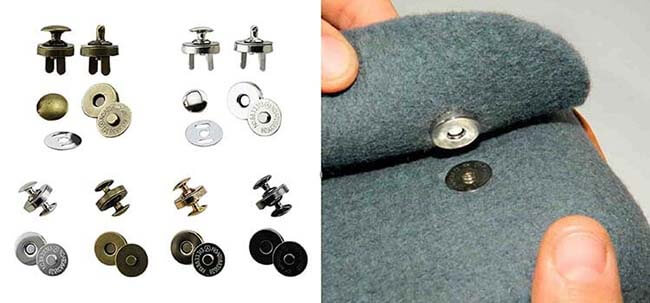 Magnetic clasps are the replacement for buckles. If you do not like a bulky buckle on your handbag, you can go for a small magnetic clasp. A magnetic clasp hides entirely under the cover. Plus, a magnetic clasp can be used quickly, unlike a buckle.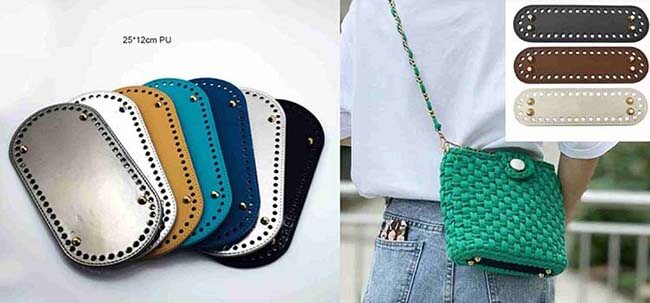 Handbag bottoms are not essential but are handy parts. They can keep your handbag in an upright position and keep things in place and well managed.
In The End
If you have any questions, please leave a message below. If you think it is a useful guide, share it with your friends or on Facebook, Twitter, Reddit, Quora, etc.
We're Jingsourcing, a leading sourcing company in Yiwu, China. We have the cheapest handbag factory resources and our handbag specialists with 10+years' experience can help you find the cheapest spot handbags and make samples to let you satisfied. If you want to wholesale or customize handbags from China, feel free to CONTACT US.