Wooden utensils are of great value these days. The best wooden kitchen utensils exhibit their true features to overcome all sorts of distortion caused while managing metal and steel utensils. Hence, the advantages of wooden cooking utensils are never overruled.
We'll review some of the best wooden kitchen utensils online in this article.
Are wooden kitchen utensils safe?
There's no uncertainty in the fact that metal and plastic utensils are unhygienic. The metallic utensils can react with acidic food, and on the other hand, plastic utensils melt and may discharge chemicals into food leading to health issues.
Whereas wooden utensils are safe, they don't have sharp edges and don't melt or leak chemicals. Hence, wooden utensils will be the right pick.
Why are wooden utensils better?
Wooden utensils are a safer choice. Moreover, being a natural product, wooden kitchen tools are sturdy and strong. But if they do break, they won't be poisoning your food, unlike plastics.
Additionally, the majority of the wooden kitchen items don't let bacteria flourish. However, other materials such as plastic do act as a breeding ground for bacteria.
Alongside sanitary and resistance, wood is eco-friendly. They are natural products and so decompose naturally as well.
What is the best wood for kitchen items?
Wooden utensils differ in quality due to the type of wood used. Several types of wood exist, but hardwoods are considered the best of all. This is due to the even structure and the durable characteristics of the particular wood.
Other woods such as hard maple and beech are even used by the majority to carve utensils. But these woods lack the softness and the flex offered by hardwoods, making it difficult to shape them up as utensils.
16 Wooden Kitchen Utensils Worth Trying
1. Teak Wooden Fish Cartoon Flatware Utensils Set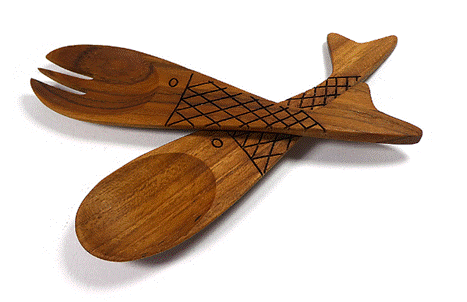 The firm but comfy grip of flatware wooden set and a natural oil finish minimizes the probability of damage while shipping. Alongside, these fish-shaped kitchen items are versatile, so they can be used for multiple purposes, making them customizable and adaptable.
2. Lipper International Acacia Wood Salt/Spice Box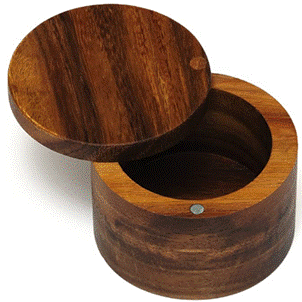 Wholesale price: $1.75-$1.83
Minimum order quantity: 1000-3000 Pieces
Material: Acacia Wood
The hardwood utensils, i.e., the Lipper spice box, is the top-rated product. The round-shaped box stores any spices, salts and keep them safe and covered within the container. This acacia wood product is long-lasting and easy to maintain. But the customization does seem restricted as you can't do a great deal with it except storage.
3. Wooden Bamboo Cutlery Set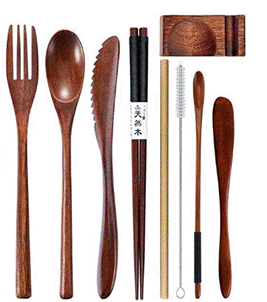 Wholesale price: $1.45-$1.97
Minimum order quantity: 1500-2500 pieces
Material: Bamboo Wood
It's a complete set of wooden kitchen items that includes a wooden knife, wooden tablespoon, wooden straw with a canvas pouch. Being portable, durable, and stylish makes it simple to use these wooden tools for any task; therefore, it's a customizable package.
4. Acacia Wave Serving Bowl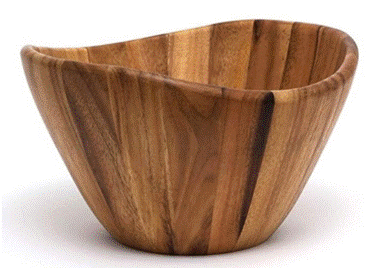 Wholesale price: $1-$1.20
Minimum order quantity: 1000-3000 Pieces
Material: Acacia Wood
Acacia wood utensils are always a pleasure to have in your kitchen.
However, I found a few customers raised quality concerns on Amazon, which also concludes that shipping the bowls would require extreme care. Despite that, the bowl can be adjusted and used for any purpose. For example, it can be used to serve, or can even act as a decor piece.
5. Beauty and the Beast Burned Wooden Utensil Gift Set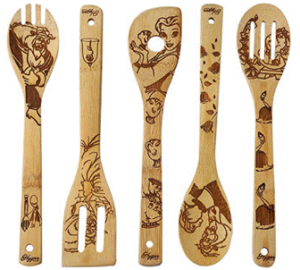 Wholesale price: $2.95-3.15
Minimum order quantity: 1000-4000 pieces
Material: Bamboo Wood
Beauty and the beast gift set are eye-catching wooden kitchen tools. The versatility and portability allow these cooking utensils to adapt to all sorts of user actions, including flipping, baking, etc. The strengthened foundations with 100% bamboo use do eliminate the fear of damage. In addition, the sturdiness and multitasking ability ensure that the user modifies its use with absolute ease.
6. Customize Heart Shape Bamboo Wedding Serving Tray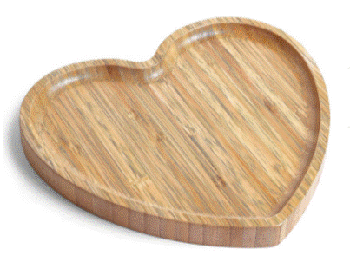 Wholesale price: $1.15-$1.68
Minimum order quantity: 100-1000 Pieces
Material: Bamboo Wood
The heart shape bamboo wooden tray is highly customizable and well-known for its fine grinding and smooth furnish. Shipping anywhere all over the globe is always an easy task if the necessary precautions are taken. However, it can be used for many other purposes as well, so modify the use accordingly.
7. Kitchen Wooden Utensils With Holder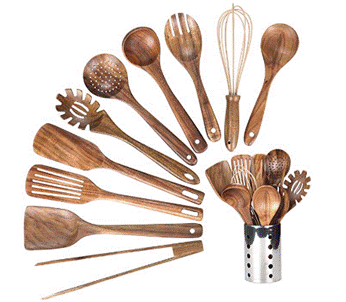 Wholesale price: $2.50-$4.15
Minimum order quantity: 1000-3000 pieces
Material: Natural Teak Wood
The complete set includes spatula, spoon, forks, tongs, server with holder, etc. This wooden kitchen toolset is free from defects and flaws, eliminating the chances of getting scratched.
8. Acacia Wood Calabash Bowls Set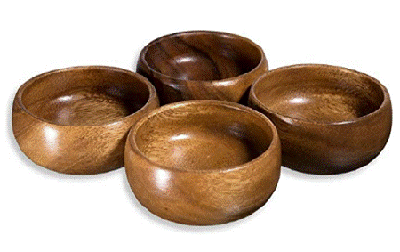 Wholesale price: $2-$9
Minimum order quantity: 500-1000 pieces
Material: Acacia Wood
The beautiful hand-carved acacia wood Calabash bowls are suitable for home food serving with no extra care.
9. Kitchen Wood Stand Hanger Tea Cup/Mug Holder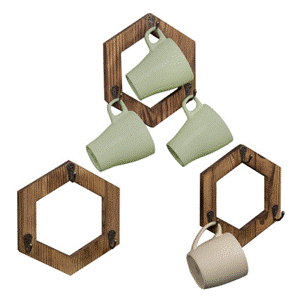 Wholesale price: $3-$6
Minimum order quantity: 300-500 Sets
Material: Natural Wood
The essential requirement for an organized kitchen is to maintain and put things back from where they belong. Hence, this wooden kitchen wall-mounted hanger will be the best selection due to its numerous customized features.
10. Manual Acacia Wood Bottle Pepper Mill/Spice Grinder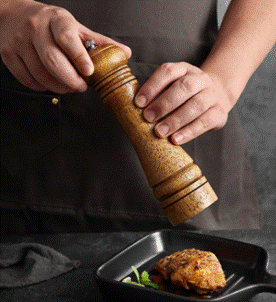 Wholesale price: $1.49-$1.65
Minimum order quantity: 500-2000 Pieces
Material: Acacia Wood
The manual pepper mill or spice grinder is a hot selling product and can be used as desired, which makes it highly customizable. Alongside it, the endurance of the acacia wood and the impervious design ensure smooth shipping.
11. Acacia Wood Divided Snacks Serving Tray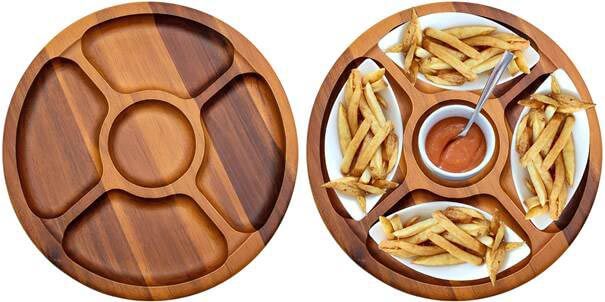 Wholesale price: $1.70-$2.00
Minimum order quantity: 3000-6000 Pieces
Material: Acacia Wood
Purely raised through the use of acacia wood makes this cooking utensil special. Use this round dish tray to serve appetizers and snacks to your guests. Additionally, the heavy-duty aspect of the product hampers the shipping threats.
12. Lipper International Acacia Oblong Salad Servers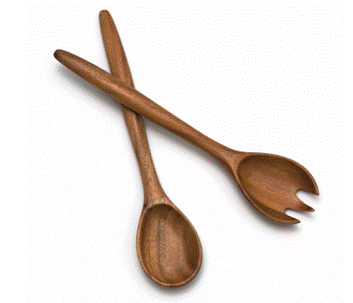 Wholesale price: $1.64-$1.80
Minimum order quantity: 500-1000 Sets
Material: Hardwood
Lipper Salad Server is one of the finest quality wooden utensils. Serve salad with these sorts of innovatively formed servers. More importantly, these servers are shaped up through the hardwood material.
13. Acacia Wood Dinner Plates Set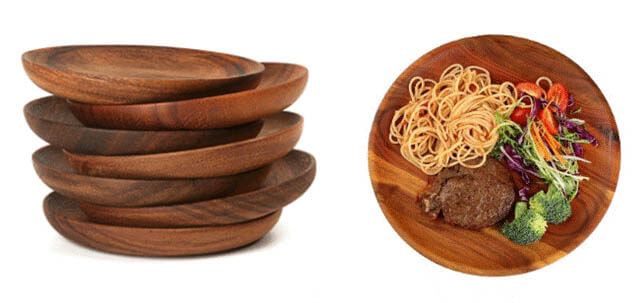 Wholesale price: $2.95-$12.35
Minimum order quantity: 30-2100 Pieces
Material: Vietnam Acacia Woods
Acacia Wood Dinner 7 Plates are deluxe kitchen utensils. These plates are lead to perfection through the use of skillful hands. The firmness and the strength even don't let the crack appear on the surface of the plates. These plates can be used frequently as they tend to last long.
14. Baltique Marrakesh Wooden Spatula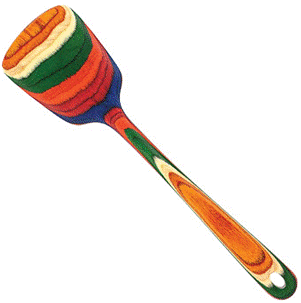 Wholesale price: $6-$10
Minimum order quantity: 100-500 Pieces
Material: Birch Woods
Baltique Marrakesh Spatula is a quintessential spatula that's not available everywhere for sure. And, alongside the colorful appearance, the functionality is never compromised as well. The quality of birch wood also ensures that it will not crack or break while shipping.
15. Removable Bamboo Anti-Iron Mat Pan Rack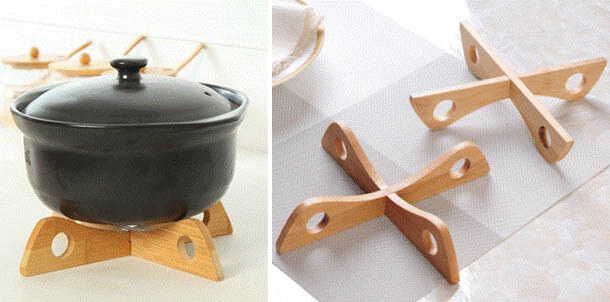 Wholesale price: $1.61-$2.00
Minimum order quantity: 100-500 Pieces
Material: Bamboo Wood
Bamboo Wood Construction and anti-iron mat insulation provide you with safe and firm support to your kitchen utensils. In addition, the high-quality and durable bamboo wood is not easily prone to irregularities. Use it wherever you want, whether outdoors or indoors, or use it for any dishes, pans, and pots.
16. Umite Kitchen Cooking Tools With Silicon (Black Grey)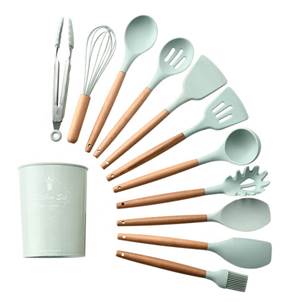 Wholesale price: $11.60-$13.00
Minimum order quantity: 500-1000 Pieces
Material: Wood-Silicone
Umite Utensil set is a classic chef choice. Hold these utensils and decide what to cook, and then you'll feel that these utensils will assist you in the best way possible. Moreover, the use of best-grade silicone and premium wood material will surely make it possible for these utensils to be safely delivered to your home.
The End
Thanks for the reading. We have collectively reviewed the best wooden kitchen utensils in the market to let you create the idea of how to purchase a kitchen item.
We are Jingsourcing, a reputable sourcing company in China. We let our clients to source products from China at reasonable rates. Your interest is in Wholesaling or Customization of the wooden cooking utensils will be considered by us. Do Contact Us.